State A boys: Maroons topple Wildcats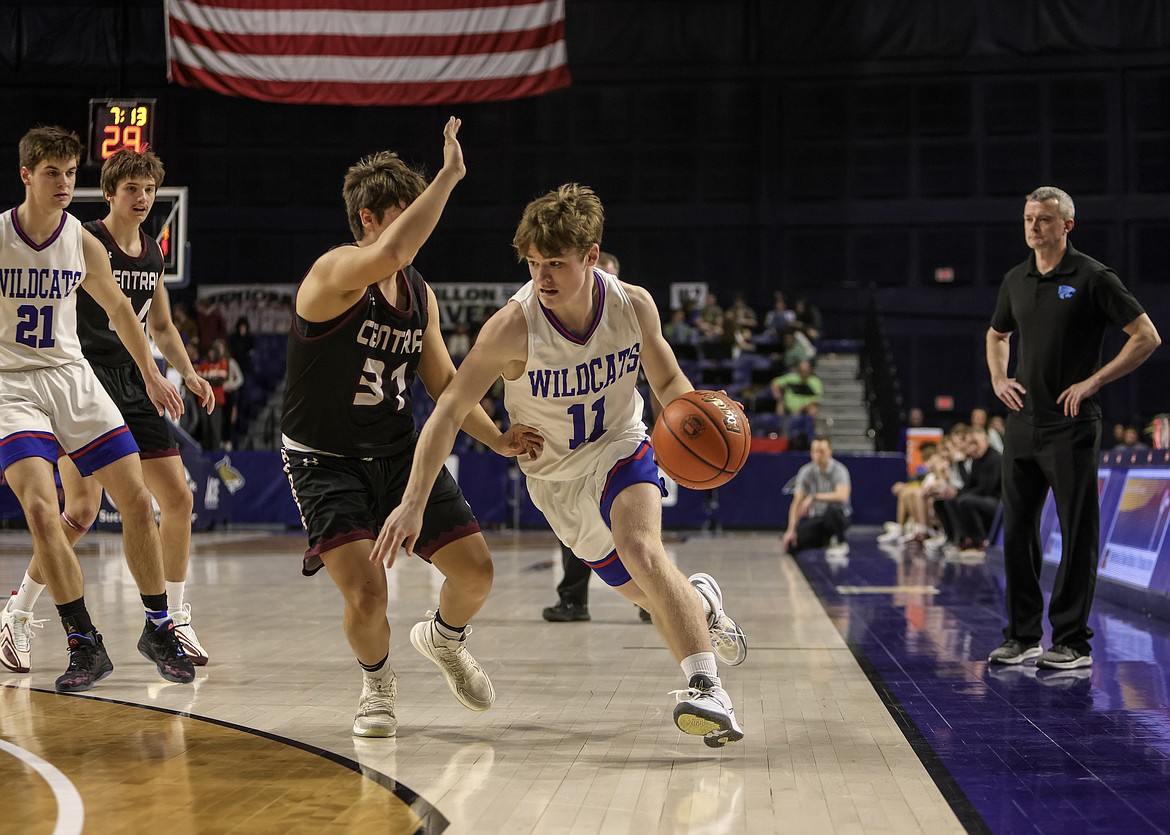 Columbia Falls junior Mark Robison dribbles past a Butte Central player on Thursday, March 9, at the State A Boys Basketball Tournament in Bozeman. (JP Edge/Hungry Horse News)
by
Daily Inter Lake
|
March 9, 2023 11:55 PM
BOZEMAN — Dougie Peoples scored 14 points and helped the Butte Central Maroons hold off the Columbia Falls Wildcats 53-44 in a State A Boys Basketball quarterfinal on Thursday.
Down 10 after the first quarter, the Wildcats battled back to cut the Maroons lead to five twice.
"I'm proud of the way our guys battled," Wildcats coach Chris Finberg said. "We were down 10 after the 1st quarter and I thought we played very well from that point on, we just couldn't get over that hump. Once our kids settled in after that first quarter, the nerves settled."
Jace Hill led Columbia Falls and all scorers with 21 points in an otherwise defensively minded game. Hill hit five 3-pointers, including back-to-back buckets that cut the Maroons lead to 35-30 in the third.
"He had a good game offensively, hit some big shots," Finberg said of Hill. "I thought we did a pretty good job offensively after the first quarter."
Mark Robison hit two treys for six points, and Cody Schweikert scored nine points.
The Wildcats stifled Peoples, who made 6 of 16 from the field.
"You're never going to shut a kid like that down but we held him in check," Finberg said.
Kyle Holter added 12 for the Maroons, who play Dillon in a 6:30 p.m. semifinal today.
Next up for Columbia Falls is Glendive today at noon in a loser-out game. The Wildcats still have a shot at a state placing.
"I told our kids before the tournament, and reiterated it after the game: We're not just happy to be here, we want to win some games," Finberg said. "If we played like we did in that second and third quarter we have a chance to get to Saturday."
Butte Central 20 9 11 13 — 53
Columbia Falls 10 9 13 12 — 44
BUTTE CENTRAL — Dougie Peoples 14, Kyle Holter 12, Eric Loos 10, Owen McPartland 8, Zane Moodry 6, Jack Keeley 3.
COLUMBIA FALLS — Mark Robison 6, Alihn Anderson 3, Jace Hill 21, Bryce Dunham 1, Cody Schweikert 9, Hunter Goodman 4.
Dillon 57, Glendive 46
BOZEMAN — The Dillon Beavers earned their third-straight State A semifinal berth with a 57-46 win over the Glendive Red Devils Thursday.
The Beavers led 14-10 after one quarter and 26-21 at the break. Carter Curnow was Dillon's leading scorer with 12 points.
Glendive's Levi Eaton led all scorers with 23 points.
Frenchtown 52, Billings Central 41
The Frenchtown Broncs used a strong defensive performance to outlast the Billings Central Rams 52-41 Thursday.
Tied 7-1 after the first quarter, Frenchtown turned up the jets and led 19-15 after two and then opened a 36-24 lead in the third.
Frenchtown's Connor Michaud led all scorers with 17 points and 11 rebounds and Eli Quinn added 16.
For the Rams, Kyler Northrop scored 14 points.
Frenchtown awaits the winner of the late game between Lewistown and Hamilton to determine its semifinal opponent.
Recent Headlines
---