Wolfpack Theatre takes audience to River City with classic musical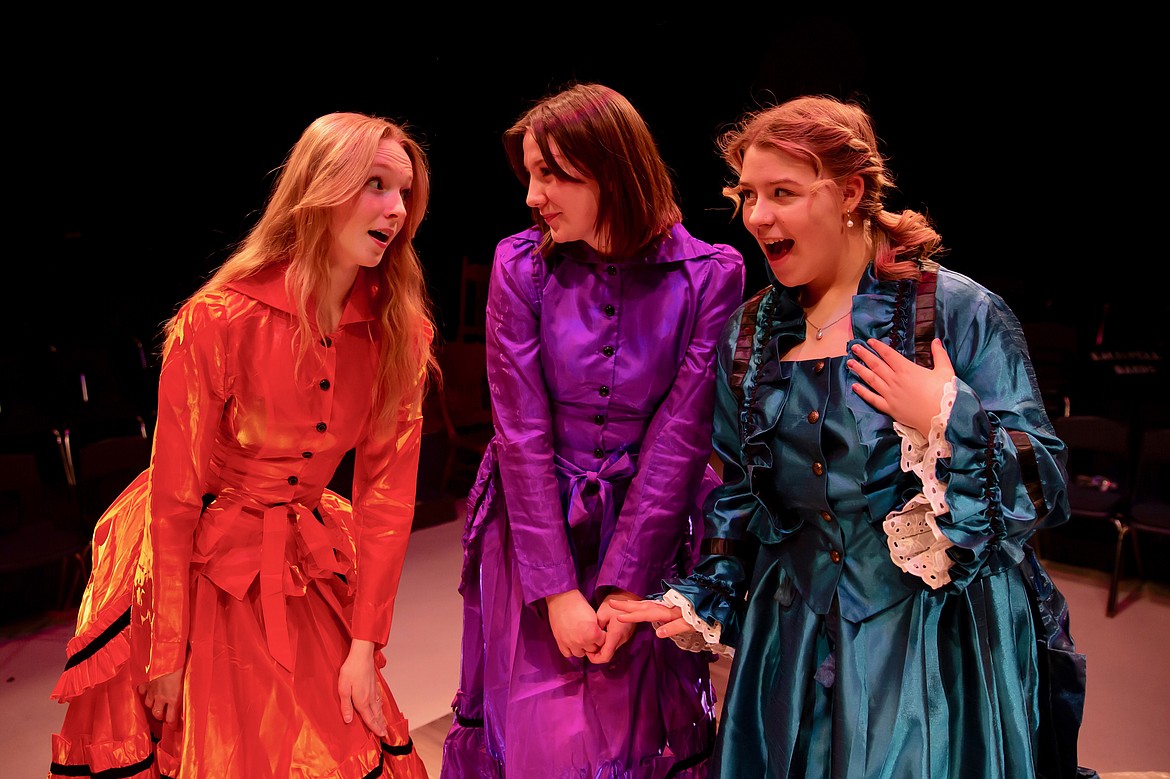 Ellie Fiala, Kaelin Holt and Gabrielle Cantrell-Musson gossip about town in the Wolfpack Theatre Company's production of "The Music Man." (Courtesy photo)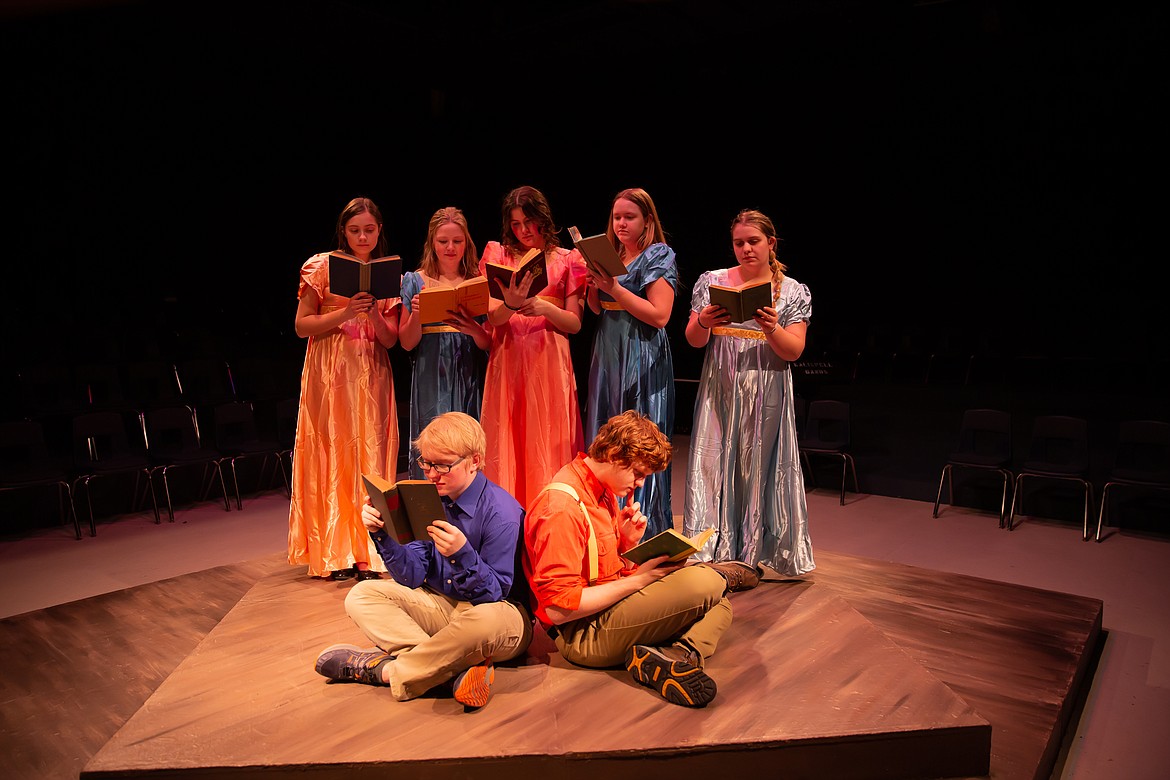 Students of River City, including Anya Rountree, Ellie Knuffke, Ella Halliburton, Isabelle McKoy and Alyssa Conrad, gather in Marian's library to read books in the Wolfpack Theatre Company's production of "The Music Man." (Courtesy photo)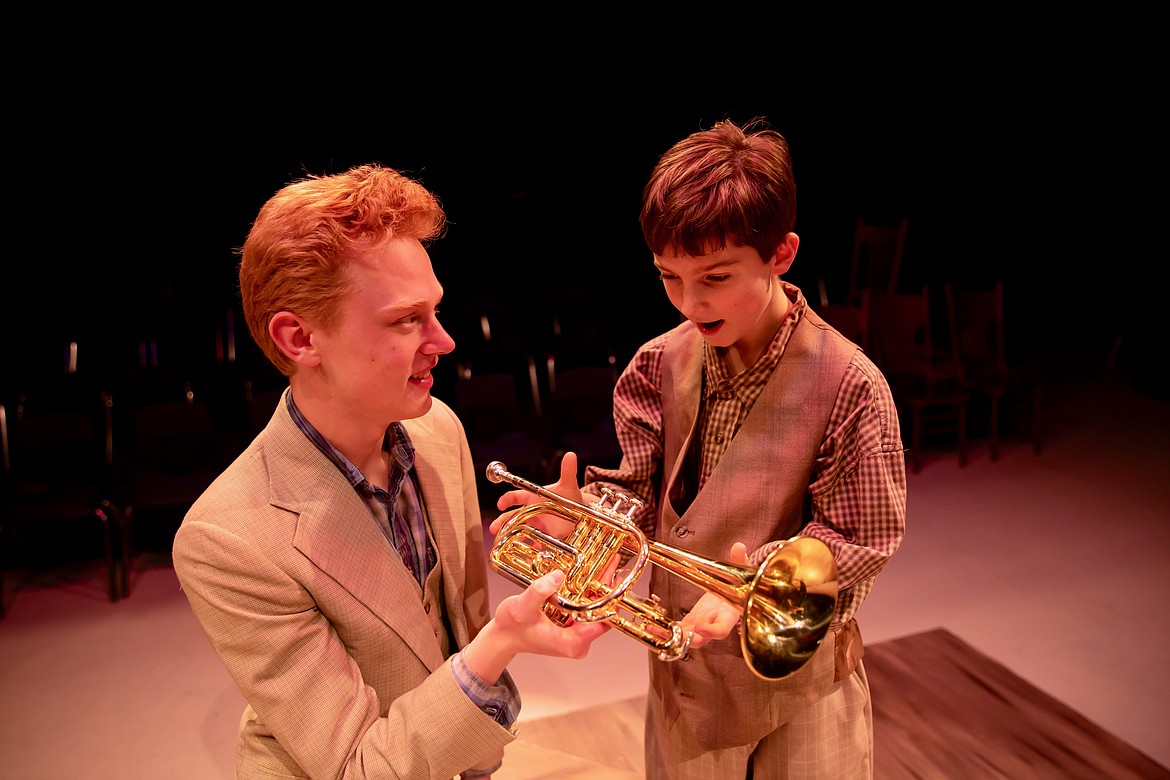 Alden Lamson, as Harold Hill, presents Winthrop, played by Bosley Wakefield, with his gold cornet during the Wolfpack Theatre Company's production of "The Music Man." (Courtesy photo)
Previous
Next
It's going to be a busy week for the fast-talking, con artist, Harold Hill.
He has to convince the residents of River City he's a gifted musician; persuade the Mayor of River City to appoint him as director of the children's band; convince the parents of River City to invest in uniforms and instruments for their young musicians; then get out of town with everyone's money before there's trouble in River City!
The Wolfpack Theatre Company presents one of America's most beloved musicals, "The Music Man" on March 21, 22, 23 and 24 in the Wolfpack Theatre at Glacier High School. Showtime is 6:33 pm.
"'The Music Man' is about a man who comes to a community trying to make a buck and escape unharmed and unaffected. In the midst of executing his plan, he comes to understand what it really means to connect with other people and work towards a common goal. Harold Hill, the ultimate con man, ends up conning himself in a way. He learns what effect the power of belief in something or someone can have and it doesn't hurt that he falls in love with Marian, but also the entire town," said the musical's director, Sara K. Menssen.
As part of his long-range con, Harold Hill brings the "think system" to town. He applies this unique method of learning music without picking up an instrument when the town folk begin to question why their promised musical instruments do not arrive.
"There really is something beautiful about the idea of a "think system." The idea that if we think it and believe in ourselves we all have the ability to make the elusive "it" happen," said Menssen. "I find myself surrounded by students who have less and less self-confidence and drive towards accomplishing much of anything. Perhaps, while focusing on a show that revolves around belief in one's self or belief in possibility, we can inspire a new generation to start solving problems instead of spending hours scrolling and snap chatting on their phones."
Professor Hill's plans seem to go swimmingly until he meets Marian Paroo, the intelligent librarian and only person in town immune to Harold's massive charms. Hill's well-laid plans go awry when he falls in love with the charming Marian. Before Harold knows it, he is leading the big parade and changing the lives of everyone in River City.
Featuring music, lyrics and book by Meredith Willson, "The Music Man" has it all: a humorous and heartwarming story with toe-tapping, memorable music ranging from dynamic marches to tender love ballads. Audiences will hear such popular songs as "Till There Was You," "76 Trombones," "Trouble," and "The Wells Fargo Wagon!"

Combining creative choreography with beautiful vocals, the energetic cast leads the story in song and is backed up by a talented orchestra pit.

"I hope the audience has a fun evening and walks away smiling. It is a simple story with complex characters who learn about themselves along the way. There are important themes of inclusion, acceptance and education that should resonate with our Kalispell audience," said Menssen. "I am so excited to share this play with our community."
The production includes 47 students between the cast and crew and another 24 students playing instruments in the orchestra.
Ivanna Fritz, Director of the Wolfpack Theatre Company, has called on an artistic group of men and women to staff the production. Acting as music director, David Barr leads the pit orchestra while Nathan Connell oversees the vocals for the production. Betsy Cummings is the show's choreographer while Fritz also serves as the production's tech director.
"We have adults directing the show, directing voices, directing musicians, directing the technicians and directing dancing so there are a lot of opinions to work with in order to achieve the common goal," said Menssen. "Following the theme of inclusion, it is really fun to have a varsity basketball player, hockey player, a girls wrestler, tennis and track athletes, and students from all different parts of our building involved. This diversity makes our program stronger and adds to what we are able to do."
The cast of "The Music Man" includes Brenna Ernst, Fiona Fuller, Isaiah Jacobson, Braden Wakefield, Kelsea Bemis, Isabelle McKoy, Calvin Casey, Aiden Schara, Bosley Wakefield, Tensley Conner, Bridger Jones, Kaidrian Buls, Maeve Kintzler, Lane McKoy, Kaelin Holt, Ellie Fiala, Alli Buls, Alyssa Conrad, Elle Plum, Gabby Cantrell-Musson, Anya Rountree, Ellie Knuffke, Ella Halliburton, Gabriel Luehr, Theron Wilton, Zaden Stout, Ben Colby, Trey Engellant and Alden Lamson as Harold Hill.
Behind the scenes, Mac Adkins, Annabeth O'Shea, Charlie Miller, Elise Plum, Emma Carpenter, Andrea Chandler, Gabrielle LeDuc, Jessalyn Hewitt, Kiya Hendershott, Kaylin Stein, Maeva Malcheski, Drew Crane, Stephen Hurly, Brody Cummings, Haley Hill, Toben Mallo and Morgan Pitts make up the stage, lighting, publicity, props and sound crew.
The talented pit orchestra includes Ella Thomas, Kaitlyn Illi, Danner Rourke, Ryan Webster, Meyer Fauth, Caleb Brannon, Rayce Bosque, Ananda Kinkaid, Kaden Wack, Justin Riffle, Troy Harrison, Daegan McVicker, Tim Glanville, Dylan Patton, Dunham McVicker, Bailey Reynolds, Paige Bell, Lilly Mollenkopf, Will Creer, Ava Nyberg, Max Waverek, Aiden Murphy and Erik Kalvig.
Advanced tickets for the show are available on GoFan, Glacier's on-line ticketing service, and at Photo Video Plus. Any remaining tickets will also be sold at the door. Ticket prices for this family-friendly musical are $12 for adults and $10 for children, students and senior citizens. To access the ticketing service, go to gofan.co and search for Glacier High School. Each night of the production is listed for ticket purchase.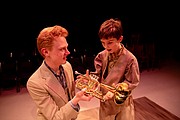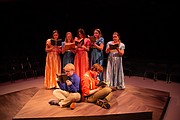 Recent Headlines
---