State AA girls: Flathead falls short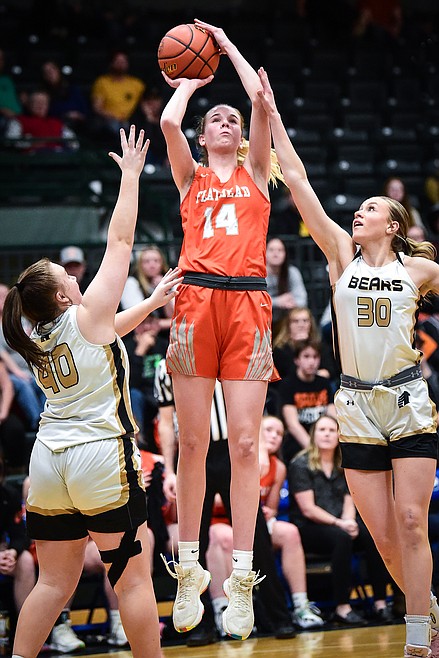 Flathead's Kennedy Moore (14) rises for a jumper between Billings West's Megan Voegele (40) and Ellie Stock (30) in the second half of the girls' Class AA state basketball championship at the Butte Civic Center on Saturday, March 11. (Casey Kreider/Daily Inter Lake)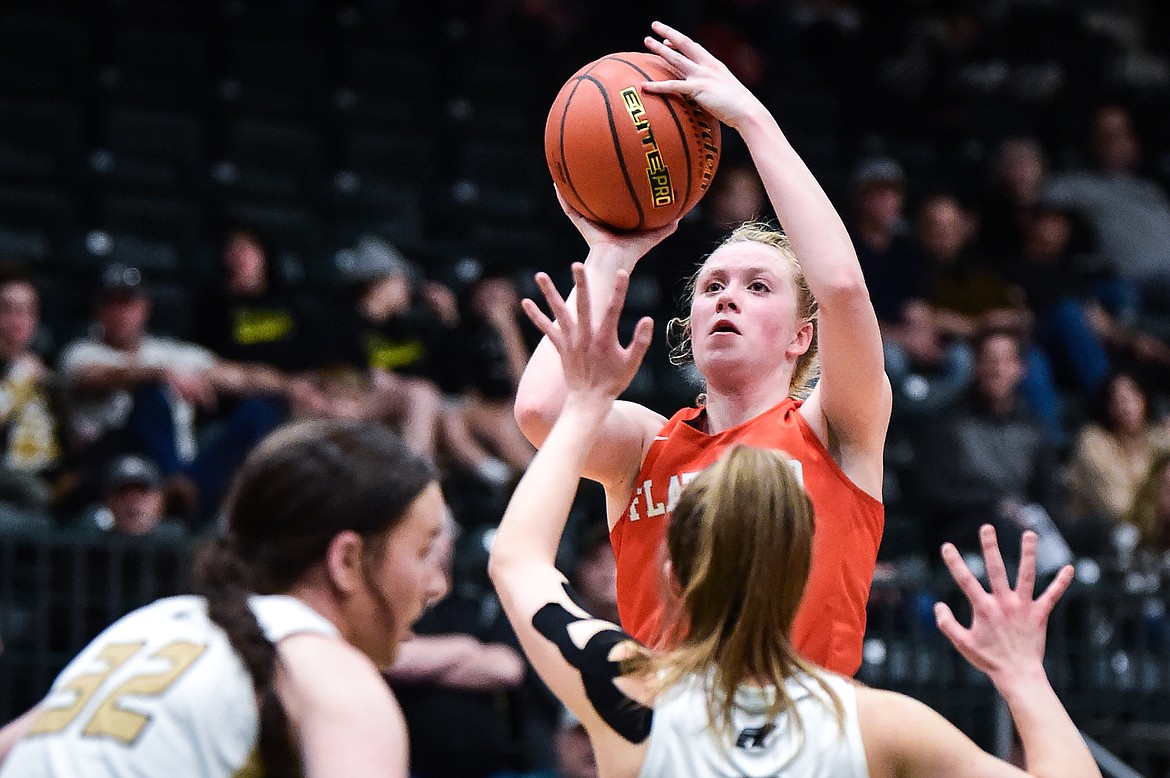 Flathead's Maddy Moy (5) rises for a jumper against Billings West in the second half of the girls' Class AA state basketball championship at the Butte Civic Center on Saturday, March 11. (Casey Kreider/Daily Inter Lake)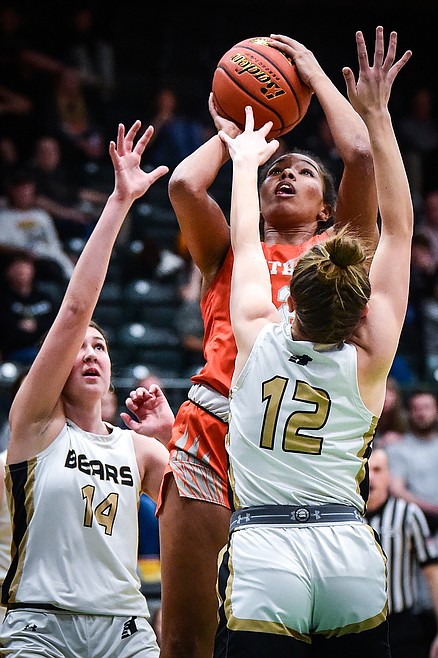 Flathead's Akilah Kubi (12) draws a foul as she shoots against Billings West in the first half of the girls' Class AA state basketball championship at the Butte Civic Center on Saturday, March 11. (Casey Kreider/Daily Inter Lake)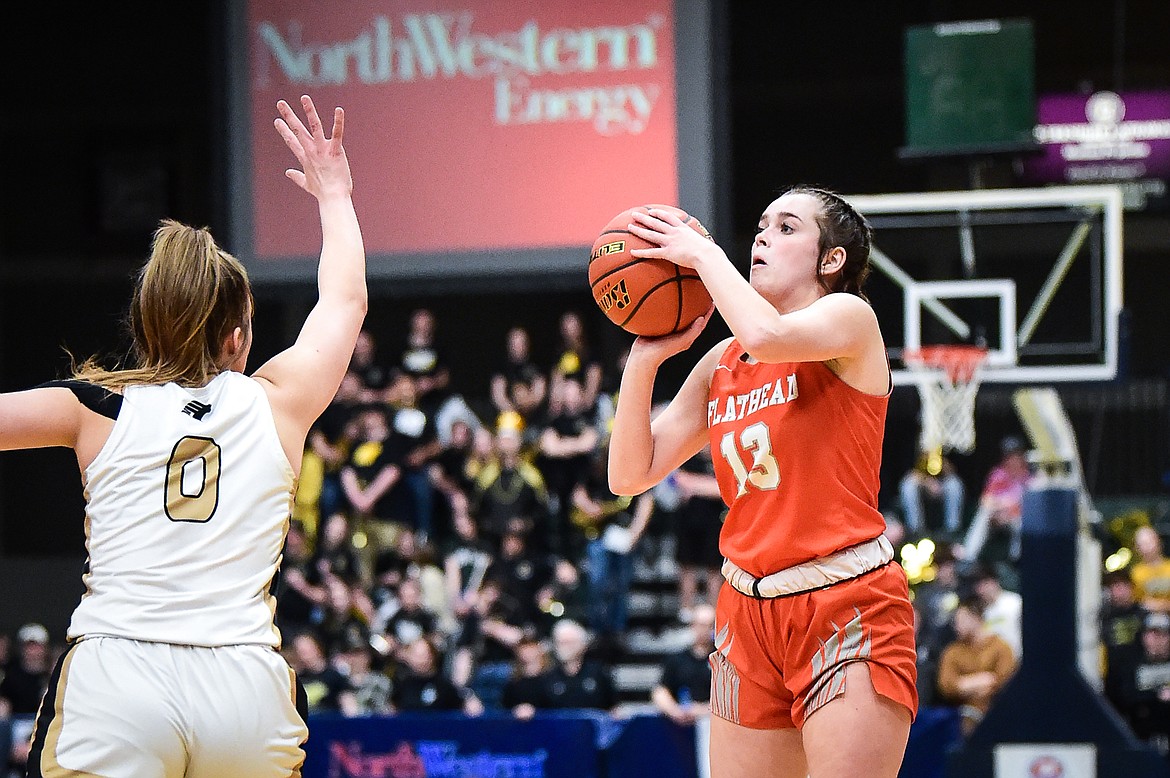 Flathead's Avery Chouinard (13) knocks down a three against Billings West in the second half of the girls' Class AA state basketball championship at the Butte Civic Center on Saturday, March 11. (Casey Kreider/Daily Inter Lake)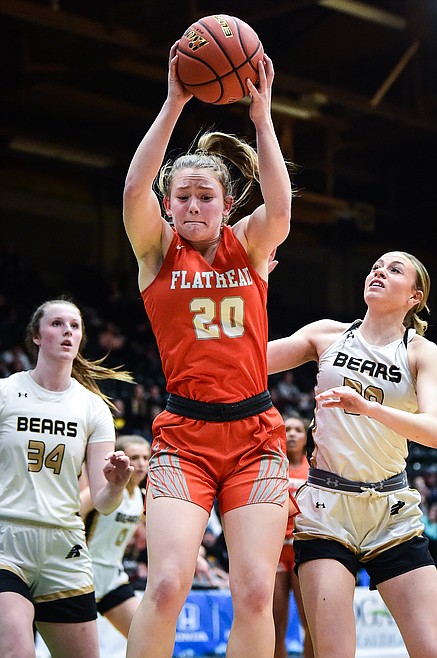 Flathead's Tali Miller (20) secures a rebound against Billings West in the first half of the girls' Class AA state basketball championship at the Butte Civic Center on Saturday, March 11. (Casey Kreider/Daily Inter Lake)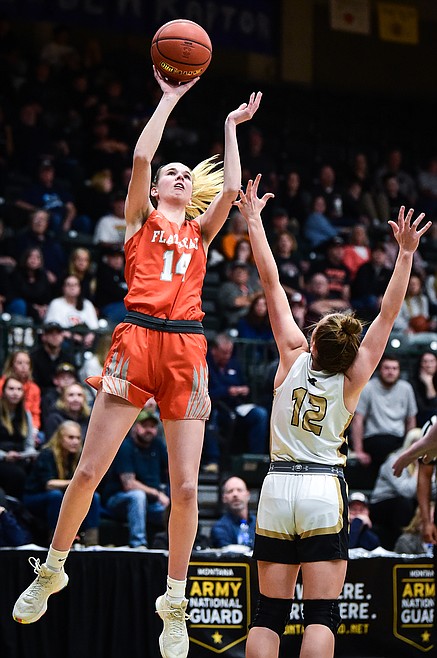 Flathead's Kennedy Moore (14) shoots over Billings West's Maria Ackerman (12) in the first half of the girls' Class AA state basketball championship at the Butte Civic Center on Saturday, March 11. (Casey Kreider/Daily Inter Lake)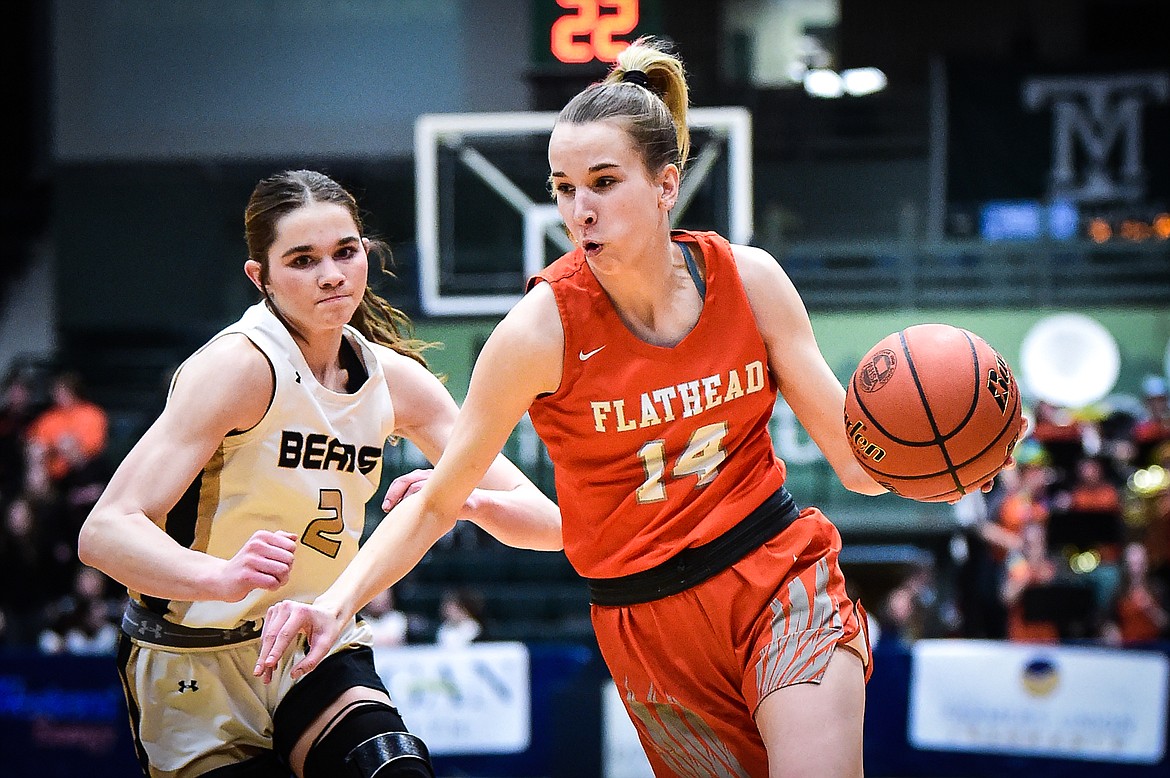 Flathead's Kennedy Moore (14) drives to the basket against Billings West's Kourtney Grossman (2) in the first half of the girls' Class AA state basketball championship at the Butte Civic Center on Saturday, March 11. (Casey Kreider/Daily Inter Lake)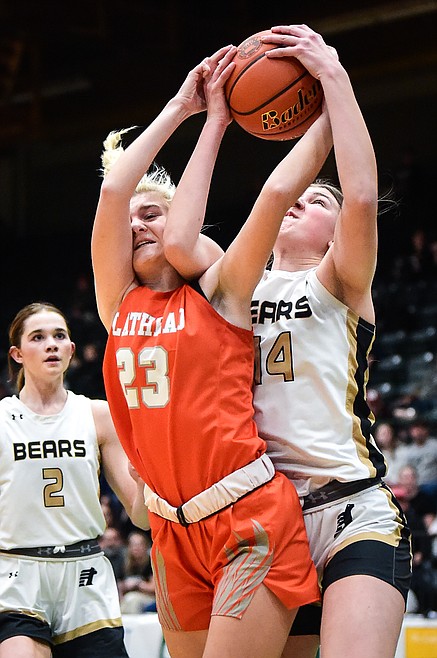 Flathead's Celie VandenBosch battles for a rebound with Billings West's Halle Haber (14) in the second half of the girls' Class AA state basketball championship at the Butte Civic Center on Saturday, March 11. (Casey Kreider/Daily Inter Lake)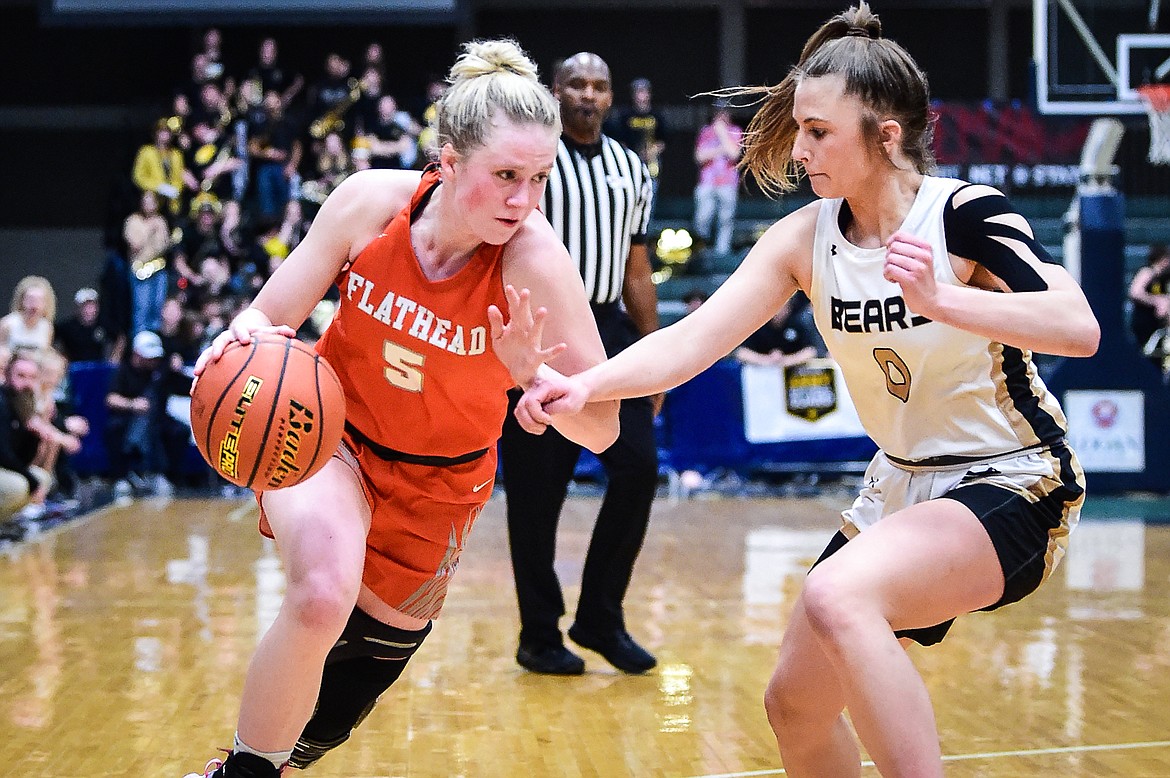 Flathead's Maddy Moy (5) drives to the basket against Billings West's Layla Baumann (0) in the second half of the girls' Class AA state basketball championship at the Butte Civic Center on Saturday, March 11. (Casey Kreider/Daily Inter Lake)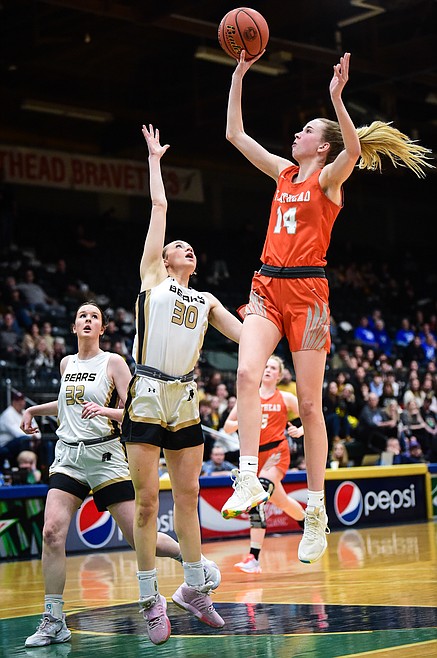 Flathead's Kennedy Moore (14) drives into the lane against Billings West's Ellie Stock (30) in the second half of the girls' Class AA state basketball championship at the Butte Civic Center on Saturday, March 11. (Casey Kreider/Daily Inter Lake)
Previous
Next
by
FRITZ NEIGHBOR
Daily Inter Lake
|
March 15, 2023 3:03 PM
BUTTE — The Flathead Bravettes' run to a state championship hit its usual bumps Saturday night at the Butte Civic Center. This time a couple wheels came off.
A three-point play by Sydney Pierce and a 3-pointer from Kourtney Grossman fueled a late run for the Billings West Golden Bears, who rallied past the Bravettes 48-43 and their first outright title since 2011.
It was a tough finish to a remarkable season for the Bravettes, who followed up their third-place finish a year ago with a runner-up. They led 35-30 in the third quarter and 41-37 with 5:27 left in the game. They got two Akilah Kubi free throws in the final 2:13, and West prevailed.
"I thought those were the two best teams in the state, and it was what should have been," Flathead coach Sam Tudor said. "It was a great game. Unfortunately some shots weren't falling at times."
For a time it mirrored Flathead's semifinal win over Bozeman Friday. West's Layla Baumann answered a three from Flathead's Kennedy Moore to beat the halftime buzzer, giving the Bears a 27-24 halftime lead.
Then Moore had her obligatory hot streak in the third quarter, pouring in eight points before Avery Chouinard hit her second 3-pointer for that 35-30 lead.
West answered with seven straight points — Baumann hit her fourth three to get her team in front 37-35 — before a technical foul on the Bears sparked the Bravettes.
Chouinard made one technical free throw, and then Moore fed Maddy Moy for a jumper. With 5:27 left Moore found Chouinard for another three.
Flathead was up 41-37, and then — bumps.
"It was definitely an intense game," said Moy, one of four seniors who played a ton of minutes alongside the junior Moore. "We definitely had more in the tank to give, but time ran out and that was the end of it. But I think we played really hard and — I wish we could do it over again."
West didn't shoot particularly well, or rule the boards. But Pierce converted her three-point play off an offensive rebound with 3:09 left; Grossman's three in transition came off Kubi's missed free throw with 2:03 remaining. West led 43-42 — for good, as it turned out.
In between Flathead came maddeningly close to expanding its lead, but several shots wouldn't fall. In the end the Bravettes missed their last eight field goal attempts.
Brooklyn Pierce, who scored 10 points off the bench, scored with 1:12 left off a feed from her sister. Then she stole a pass and made two free throws for a 47-42 lead with a minute remaining.
"There were just a couple times at the end we still had a chance, even with four seconds left," said Tudor, who called time with his team down 48-43. "I know what these girls are capable of; I've seen it all year long, and I couldn't help thinking they're saving the best for last.
"Credit to Billings West for being ready for us. I was just absolutely blessed to be a part of this."
Baumann had 12 points and five rebounds for West. Grossman added nine points and eight boards. West shared the title from the pandemic canceled 2020 tournament; this outright championship is the school's fifth.
Moore had 17 points, 11 rebounds and five assists for Flathead, which was chasing its first crown since 2001; Chouinard had 14 points. Tali Miller hauled in seven boards among West's taller timber.
Flathead finished 19-5, completed a two-season run of 38 wins.
"Two years ago I would have never thought we'd be here, and here we are," Moy, who had four points and four steals, said. "I'm pretty proud of that."
Flathead 11 13 11 8 - 43
West 16 11 7 14 - 48
FLATHEAD — Maddy Moy 2-6 0-0, Akilah Kubi 1-2 2-6 4, Kennedy Moore 6-25 4-4 17, Avery Chouinard 5-13 1-2 14, Tali Miller 1-1 0-0 2, Celie VandenBoch 1-2 0-0 2, Harlie Roth 0-2 0-0 0, Sami Dalager 0-1 0-0 0. Totals 16-52 7-12 43.
BILLINGS WEST — Kourtney Gorssman 3-16 2-4 9, Hallie Haberman 3-5 1-3 7, Sydney Pierce 3-7 1-1 7, Layla Baumann 4-8 0-2 12, Maria Ackerman 0-1 0-0 0, Ellie Stock 1-5 0-0 3, Brooklyn Pierce 3-4 4-4 10, Megan Voegele 0-1 0-0 0. Totals 17-43 8-14 48.
3-point goals — Flathead 4-19 (Chouinard 3-10, Moore 1-5, Roth 0-1, VandenBosch 0-1, Moy 0-2), West 6-14 (Baumann 4-6, Grossman 1-1, Stock 1-5, Voegele 0-1, Haber 0-1). Rebounds — Flathead 35 (Moore 11), West 36 (S.Pierce 9). Fouls — Flathead 14, West 13. Technical foul — Stock. Blocks — Flathead 3 (Moore 2, Dalager), West 2 (S.Pierce). Steals — Flathead 7 (Moy 4), West 6 (S. Pierce 3). Turnovers — Flathead 13, West 10.
Skyview 48, Hellgate 34
Rae Smart scored 12 points and Breanna Williams added 11 as defending state champ Billings Skyview bounced back from a semifinal loss to take third.
Hellgate, runner-up the past two seasons, started 6-foot-6 senior Alex Covill but then brought her to the bench two seconds into the game.
What was described as a cumulative shin injury shelved Covill; she played just six minutes in the second half of Hellgate's morning win over Bozeman. Without her presence, the Knights fell behind early and were outscored in every quarter by the Falcons (20-5).
Junior Chloe Larsen had a game-high 16 points and 11 rebounds for the Knights (17-8).
Hellgate 53, Bozeman 37
An early 17-3 Hellgate surge gave way to an evenly played game, with the Knights prevailing behind Covill (14 points, seven rebounds) and Larsen (10 and 10).
Tailyn Black scored 10 points for Bozeman, which went 3-15 during the regular season and then won three games in the postseason to finish 6-19.
Skyview 46, Sentinel 37
Williams poured in 20 points to go with 12 rebounds for the Falcons, and Angel Martin chipped in 11 points.
Lilly Allen led Sentinel with 12 points, and Olivia Huntsinger had 11 rebounds to go with six points. The Spartans finished 11-14.
Recent Headlines
---