State B boys: Vikings clamp down on defense for third place finish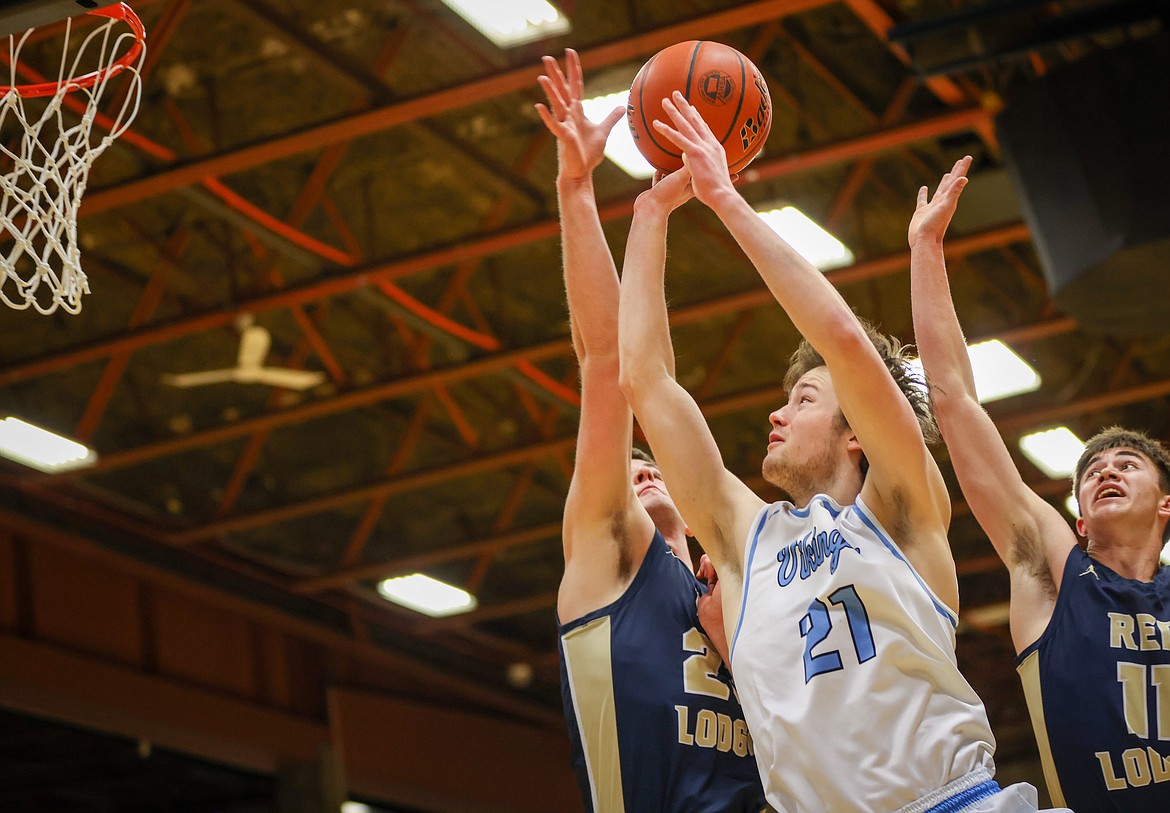 Bigfork's Isak Epperly rises above the Red Lodge defense for two of his 14 points in the consolation final of the State B Basketball Tournament in Great Falls on Saturday, March 11. (Jeremy Weber/Daily Inter Lake)
by
Daily Inter Lake
|
March 12, 2023 12:00 AM
GREAT FALLS — The Bigfork Vikings capped off their final year competing in Class B with a third place finish at state after beating Red Lodge 45-36 on Saturday.
Isak Epperly put up a game-high 14 points while hauling in seven rebounds.
An early Bigfork outburst made things 18-11 after one quarter but after that things slowed down and became a defensive battle with the Vikings holding the Rams to under double-digits scoring in the final three quarters.
Despite the stout defense from Bigfork, the Rams hung around down the stretch and with 1:30 to play Owen Reynold split a pair of free throws for Red Lodge to cut the deficit to three points, 39-36.
With 22 seconds left, Red Lodge was called for an intentional foul that sent Wyatt Johnson to the charity stripe for Bigfork. The Vikings retained possession due to the foul.
Johnson drained both shots to make it 41-36 and the extra Vikings possession set up two more free throws. Jack Jensen stepped to the line this time and knocked down a pair to extend the lead to 43-36 with 16 seconds to play.
Thomas Buchanan was the top scorer for Red Lodge with nine points while grabbing 13 rebounds.
Eli Thorness was the second leading bucket-getter for Bigfork with nine points and Johnson chipped in eight points while grabbing three steals on defense.
Bigfork's defense held Red Lodge to 27 percent shooting from the field overall.
Red Lodge 11 8 9 8 — 36
Bigfork 18 7 9 11 — 46
RED LODGE — Thomas Buchanan 9, Landen Tomlin 8, Walker Boos 6, Jacob Stewart 4, Wyatt Goffena 3, Owen Reynolds 3, Nic Morean 2.
Bigfork — Isak Epperly 14, Eli Thorness 9, Wyatt Johnson 8, Landon Byerman 7, Jack Jensen 4, Bryce Gilliard 3.
Bigfork 53, Columbus 42
GREAT FALLS — Epperly paced three Bigfork scorers in double-digits with 12 points as the Vikings overcame a 16-10 first quarter deficit to beat Columbus Saturday morning and advance to the State B third place game.
The Vikings had strong defensive efforts from Epperly and Johnson who both tallied four steals, Jack Jensen chipped in three more and in total Bigfork had 17 steals.
Mason Meier finished with a game-high 21 points for Columbus while Hayden Steffenson added 10 of his own.
Landon Byerman and Thorness were the other two scorers in double-digits for Bigfork with 11 points each.
Columbus 16 6 7 13 42
Bigfork 10 13 9 21 53
COLUMBUS — Mason Meier 21, Hayden Steffenson 10, Michael Curl 4, Mike Courts 3, Cash Kramer 2, Landon Olson 2.
BIGFORK — Isak Epperly 12, Eli Thorness 11, Landon Byerman 11, Wyatt Johnson 9, Bryce Gilliard 5, Jack Jensen 5.
Red Lodge 67, Wolf Point 57
GREAT FALLS — Thomas Buchanan put together a 23 points and 12 rebounds to lead Red Lodge over Wolf Point and into the third place game.
Red Lodge jumped out to a 14-4 lead after one quarter of play.
Wolf Point cut the deficit to 28-25 at the break after a huge offensive outburst in the second quarter. Red Lodge found their rhythm once again in the second half and at one point they pushed their margin to 15 points and led 50-35.
Kraven Silk led Wolf Point with 20 points.
While Buchanan paced the Red Lodge offensive attack, Walker Boos and Calvin Garman finished with 11 points each while combining to shoot 15-19 from the free-throw line.
Missoula Loyola 65, Malta 55
GREAT FALLS — Missoula Loyola took home the class B championship Saturday night with a win over Malta. Reynolds Jhonston finished with a game-high 22 points for the Rams while Raef Konzen chipped in 14 points and seven rebounds.
The Rams led 25-20 at the break and outscored the Mustangs 18-11 in the third quarter to create separation and pull away.
Jared Eggebrecht and Treyton Wilke had 14 points each to lead the Mustangs but overall Loyola held Malta to 35 percent shooting from the field.
Ethan Stack rounded out the Rams scorers in double-figures with 12 points while making two of three from 3-point range.
Recent Headlines
---