Kalispell's proposed panhandling law draws criticism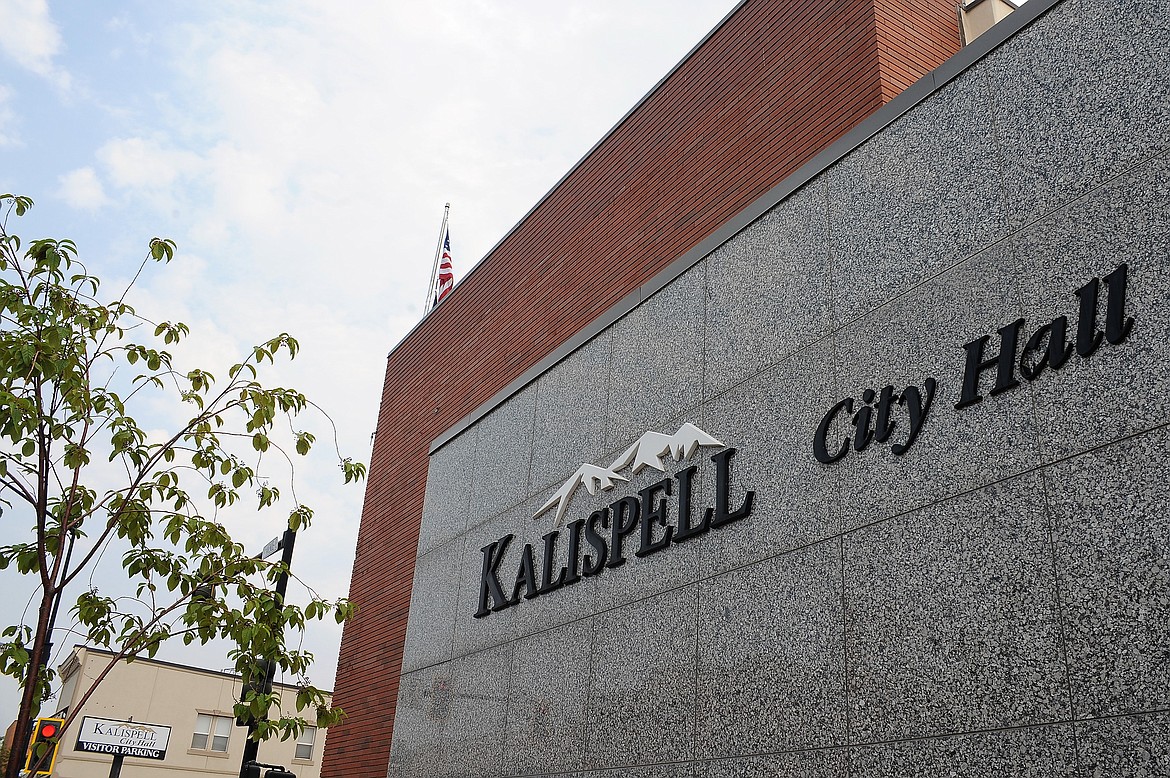 Kalispell City Hall is seen at the corner of First Avenue East and Second Street East in this July 21, 2021, file photo. (Chad Sokol/Daily Inter Lake)
by
ADRIAN KNOWLER
Daily Inter Lake
|
March 15, 2023 12:00 AM
Kalispell City Council on Monday debated a proposed panhandling ordinance that would criminalize soliciting as well as donating on city streets.
At the work session, city staff brought a sample ordinance to the council that would hold both pedestrians and drivers exchanging property or money criminally responsible, punishable by a fine of up to $500. Transactions would be permitted if the vehicle was legally parked.
Councilor Chad Graham said the ordinance as written would not specifically target panhandlers, and said his priority was maintaining the free flow of traffic on the city's streets. He had previously said that panhandling had become so prevalent that it posed a safety hazard to pedestrians and motorists.
Last year, there were 33 police responses to the city's existing panhandling ordinance, and two citations were issued, according to data provided by Police Chief Doug Overman.
The existing law prohibits panhandling within 20 feet of an intersection, on mass transit, at a bus stop or on private property. It also prohibits behaviors that could be considered aggressive, such as following, blocking or harassing while soliciting donations.
During the public comment period, residents spoke in opposition to the proposed ordinance.
Audrey Neuharth-Ponaski felt that the council would be overstepping by prohibiting donations, and said she hasn't seen any instances of panhandling creating a safety hazard in her 40 years in Kalispell.
"I've been in town since 1983, and not one time have I been held up or seen a 'close call' or whatever. Not once," she said.
"Let us use common sense on how to help people and let us choose," she implored the council in an emotional plea. "Don't try to fine me for trying to help someone along the way. It would really hurt my heart."
In a comment submitted by email, Keith Blaylock blasted the council's decision to even entertain the idea. He wrote that he felt city staff time dedicated to drafting the ordinance amounted to a waste of taxpayer dollars.
"Punishing citizens with a potential $300 fine for giving a few bucks to a person in need is beyond ridiculous in my opinion," he wrote. "It appears that City Councilor Chad Graham should spend more time outside in our community looking for more important issues to tackle than picking on people who are obviously in need of assistance."
Previous weeks' comments supported stronger measures such as the proposed ordinance.
In an email to council, Colin Johnson told the council to "keep up the good work."
"The idea of handing out fines to idiots that encourage panhandling by giving them money is a great idea," Johnson wrote.
Jamie Quinn, director of the Flathead Food Bank, criticized the proposed ordinance as part of a continuing agenda to "criminalize poverty."
Monday's debate came only weeks after the council enacted several ordinances limiting public park facilities access in response to public complaints about the visible presence of homeless people in the Depot Park gazebo.
Quinn criticized the council for seeking social service community input after Collaborative Housing Solutions, a coalition made up of members from multiple local nonprofits, submitted a letter to council saying they would no longer engage with local government as a reaction to the parks ordinances.
"Our work is only made harder by policies and letters that … make it more difficult and even dangerous for those who struggle on the streets," the Feb. 24 letter read.
Councilor Jed Fisher praised social service providers such as the Flathead Warming Center, and said he thought the proposed ordinance would push well-intentioned donors to give to those nonprofits rather than giving directly to panhandlers.
Quinn also pushed back against Fisher's notion that banning direct donations would lead to any benefit for her organization.
"Somebody isn't going to give us more money at the food bank because you have criminalized this," she said.
COUNCIL ALSO discussed increasing planning fees and parks and recreation fees following briefings by city staff.
Although he did not pitch specific increases for planning fees, Planning Services Director Jarod Nygren did inform the council that the city's fees, levied on new development, had not increased since at least 2015, with some rates going back another decade.
The group was generally supportive of increases, but council members said they didn't want to see fees rise to a level that would disincentivize development that might improve the city's affordable housing crisis.
Councilor Ryan Hunter said he wouldn't want to increase the fees on nonprofit developments trying to increase housing supply for lower-income residents.
Parks and Recreation Department head Chad Fincher brought some proposed parks fee increases to the body, and most members seemed to support certain increases.
Members spoke about keeping pool access and group swim lesson costs low to maintain wide access for children and working families. Currently it costs $5 to swim, which Fincher said was below comparable facilities like the one in Columbia Falls, and well below the nearly $18 it would cost to run the pool as a revenue neutral endeavor.
Council member Fisher said he thought it was important for pool fees to keep up with inflation and rising payroll costs, but didn't want the department to raise them to a point where they would restrict access among lower-income families.
Russell said that staff would bring proposed recreation fee increases to the council for their meeting next Monday.
*The story has been updated
Reporter Adrian Knowler can be reached at 758-4407 or aknowler@dailyinterlake.com
Recent Headlines
---