Detective details inconsistencies in shooter's stories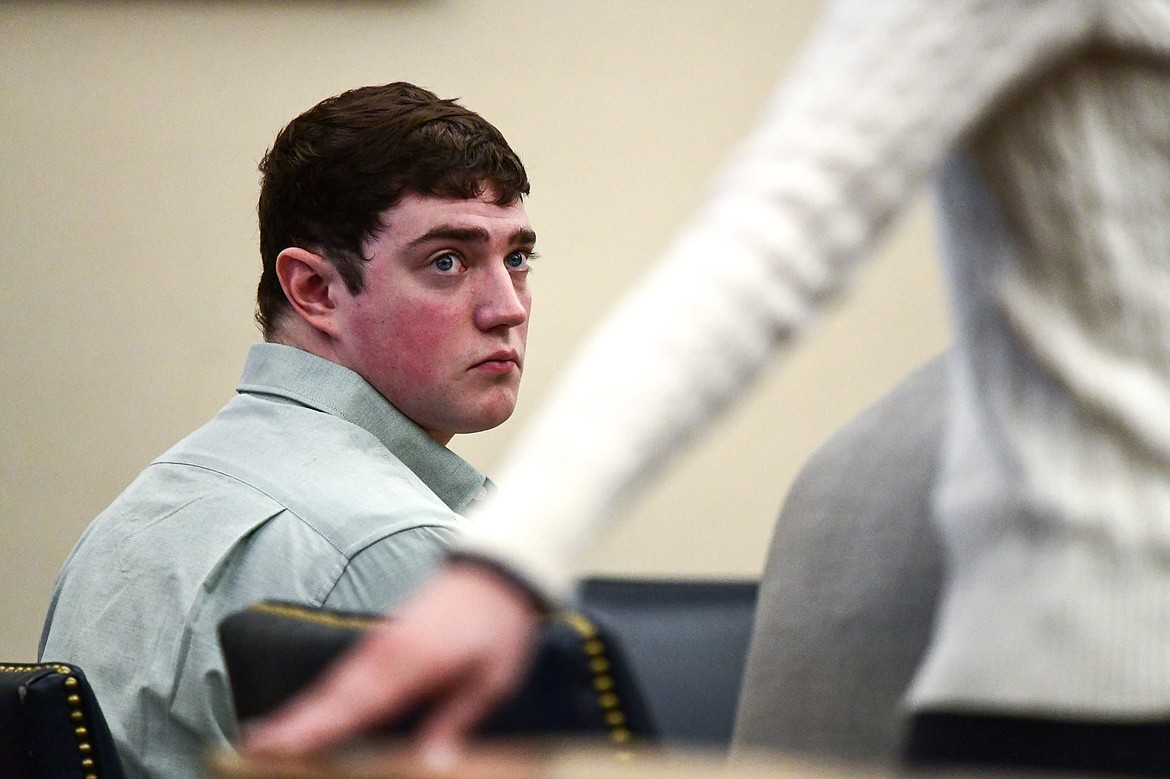 Zackary Matthew Maas watches as his fiance Anna Kirchner takes the stand during his deliberate homicide trial in Flathead County District Court on Tuesday, March 14. (Casey Kreider/Daily Inter Lake)
by
DERRICK PERKINS
Daily Inter Lake
|
March 16, 2023 12:00 AM
The man accused of firing the shot that eventually killed Gabriel Wagoner last year broke into tears at the defendant's table in Flathead County District Court on Wednesday.
Zackary Matthew Maas, 26, bowed his head and sobbed as jurors reviewed video of his interview with Kalispell Police Department detectives in the wake of the March 13, 2022 shooting on the 700 block of First Avenue West. Wagoner, shot in the back, later succumbed to complications from the wound in Seattle's Harborview Medical Center. Prosecutors brought Maas up on a deliberate homicide charge shortly thereafter.
In it, Maas, then clothed in an inmate's orange uniform, gave his first version of the events of that early morning, one wherein he and his alleged accomplice, Jerum Auclaire, went to Wagoner's home looking to obtain drugs. Wagoner was angry, he told Detective Sgt. Karen Webster, and Jerum had to put him in a headlock. The pair decided to leave, with Auclaire in the lead, when Wagoner grabbed a baseball bat and took off after Maas' friend, wielding it like a slugger at the plate, Maas said.
"[Wagoner] grabs this baseball bat off his wall and runs up the stairs, so I don't know what to do, so I just pointed and shot …," he can be heard telling Webster before breaking into jagged crying. "... I was scared."
It was not, Webster said while testifying from the witness stand on Wednesday, the only version of events he gave in interviews.
Under questioning by Deputy County Attorney Ashley Frechette, who is prosecuting the case alongside County Attorney Travis Ahner, Webster recalled Maas eventually offering four differing accounts for the events leading up to the shooting.
Prosecutors have argued that Maas, joined by Jerum Auclaire, went to confront Wagoner after months of threats over his alleged involvement in the theft of items from the home of the 26-year-old's father. Webster testified that Maas later acknowledged wanting to talk to Wagoner about his potential role in the break-in.
She also read aloud messages sent by Maas, some via Facebook, regarding the theft and Wagoner in the months preceding the shooting. In the messages, which span November and December 2021 and then start up again in February 2022, Maas identifies Wagoner as his primary suspect and tells friends he's planning on waiting so as to catch him unawares.
"If I run into [Wagoner] though, he's [expletive]. I'm going to beat the life out of him," Maas wrote to a friend in February, according to Webster.
Maas also messaged Wagoner directly, accusing him of being behind the theft and warning him to watch out, as per the records Webster read aloud for the jury.
"I'm going to take your life away," Maas wrote at one point.
"Get yourself right with the big man, because your time is coming soon. Not actually going to kill you [Wagoner], just want my [expletive] back," he wrote in a different correspondence.
Frechette also walked Webster through a series of searches Maas made on Facebook on the day of the shooting. Those included local community pages on the social media website as well as the Flathead County Sheriff's Office's page, according to Webster.
Maas told her that he used a Glock 48, she testified. He said he left it in Auclaire's pickup, she recalled. Investigators never recovered the weapon, Webster said.
Prior to Webster's turn on the stand, Maas' ex-partner Timberli Veyna repeated what Maas told her days after the shooting, but before Wagoner's April 14, 2022 death.
"He told me he did it in self-defense, that he was going to claim he did it in self-defense," she said.
"Did he use the word 'claim?'" asked Ahner.

"Yes," Veyna said.
DURING HIS turn questioning Webster, defense attorney Stephen Nardi focused on the consistencies in Maas' versions.
While prosecutors accused Maas of shooting Wagoner out of revenge, his defense thus far has revolved around whether Wagoner was preparing to drive a baseball bat into Auclaire's head as the trio left his basement apartment.
Webster agreed with Nardi that the 26-year-old maintained Wagoner was about to kill Auclaire with a baseball bat throughout the interview with authorities. He has consistently disputed hitting or striking Wagoner prior to the shooting, Nardi said, and maintained he had no intention of harming Wagoner beforehand.
Webster also agreed that Maas admitted throughout that he should have called emergency responders and stayed at the scene, under questioning by Nardi.
Turning to Wagoner, Nardi pressed Webster on changes in his story and differences between what he told authorities and the accounts he gave his brothers afterward. He told relatives he grabbed the bat, which was found near where Wagoner fell, for protection, according to Nardi.
But to first responders arriving at the scene following the shooting, he said he used it to run Maas and Auclaire out of his house. Webster agreed that she had heard both versions during the investigation.
Wagoner also said he was struck with a gun during the confrontation, Webster confirmed for Nardi. Pressed on whether there was any evidence he was struck in the head or the face, she answered in the negative.
"That's right, not that I have seen or heard," she said.
EARLIER IN the day, Nardi took Maas' accomplice to task for his statements to detectives and testimony in court.
Auclaire testified Tuesday that he looked over his shoulder as he exited Wagoner's home on the morning of the shooting and saw the other man following him with a baseball bat. He reported not feeling threatened by Wagoner or the bat.
But under cross examination by Nardi, Auclaire admitted never seeing a bat.
"I lied to the detectives when I told them he had a bat to cover my friend's back," Auclaire said.
That prompted Nardi to note he had given the same story in court under questioning from prosecutors.
"The first time I heard that he had a bat was from [Maas]," Auclaire said.
Nardi also pressed Auclaire on whether Maas hit Wagoner prior to the shooting. Auclaire had said he restrained Wagoner when the other man moved toward Maas during the confrontation. He let go, though, when Maas struck Wagoner, he said.
But under questioning from Nardi, Auclaire admitted he could not say whether Maas struck Wagoner.
Nardi pointed out that Auclaire faced a felony charge for his role in the shooting. Taking the stand for the prosecution, Auclaire said that he had not been offered a plea deal or any other advantages for testifying against his friend.

"You're smart enough to know which side of the bread your butter is on?" Nardi asked him.
"Yeah," Auclaire replied.
News Editor Derrick Perkins can be reached at 758-4430 or dperkins@dailyinterlake.com
Recent Headlines
---