Upset-minded Bobcats ready for K-State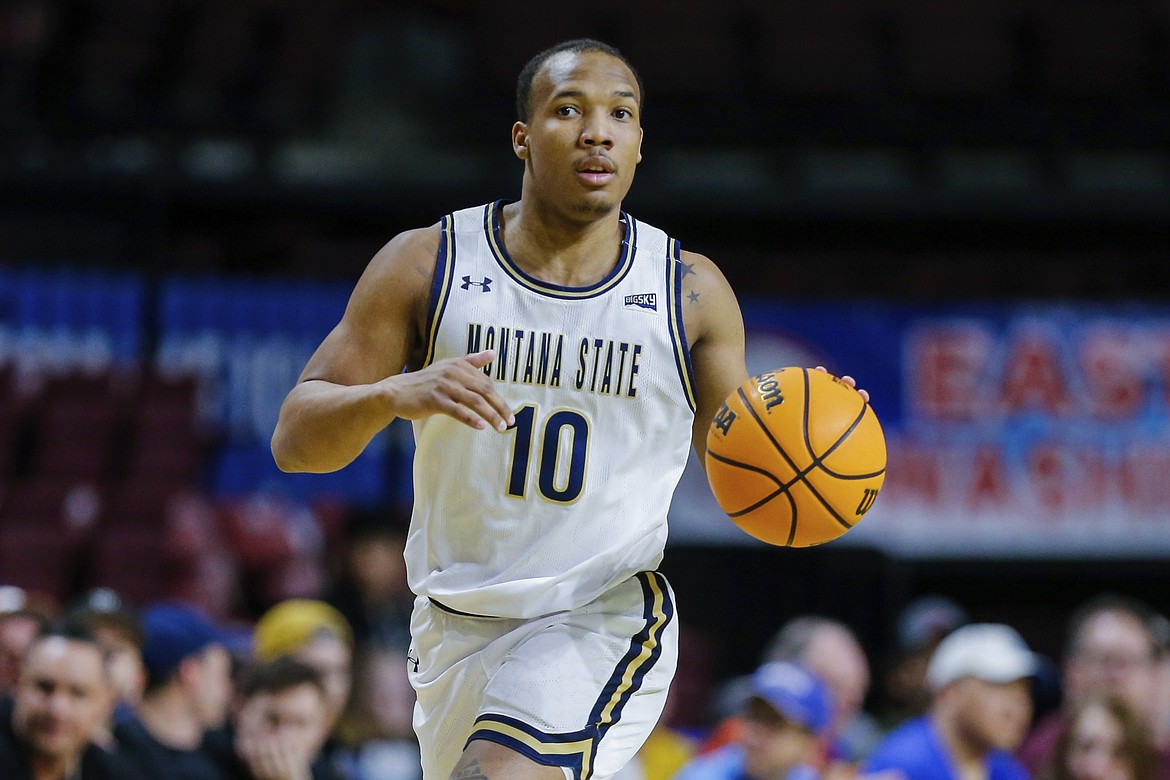 Montana State guard Darius Brown II (10) brings the ball up court against Northern Arizona in the first half of an NCAA college basketball game for the championship of the Big Sky men's tournament in Boise, Idaho, Wednesday, March 8, 2023, in Boise, Idaho. Montana State won 85-78. (AP Photo/Steve Conner)
by
FRITZ NEIGHBOR
Daily Inter Lake
|
March 16, 2023 11:55 PM
A few hours after Montana State's RaeQuan Battle, Jubrile Belo, Darius Brown II and coach Danny Sprinkle had their press conference in Greensboro, N.C., 15th-seeded Princeton knocked off Arizona 59-55 Thursday at the NCAA Tournament.
To the list of reasons the No.14-seeded Bobcats might pull an upset of third-seeded Kansas State, add that there have already been serious bracket-busters.
The Bobcats are reportedly 7.5-point underdogs ahead of Friday's 7:40 p.m. Mountain tip-off; and if a person wanted to pick a No. 14 seed, this could be the one.
Why not? Montana State is making its second straight appearance in the NCAAs; has back-to-back 25-win seasons; and has history on this court, since a 59-56 win at powerful UNC-Greensboro in 2019 was the signature win of Sprinkle's first season as coach.
"I think we're an aggressive team; we're a big, physical team," senior post Jubrile Belo said Thursday. "We drive the ball hard, we make the right plays. We get to the line a lot, and that comes down to us being aggressive."
Kansas State coach Jerome Tang noted Thursday that the Bobcats "make more free throws than their opponents shoot," and he's close: MSU has 605 makes this season, and its rivals have shot 642. The Bobcats also led the Big Sky Conference in scoring defense and steals and ranked second in blocked shots.
There's also the easy pick for last week's Big Sky Tournament MVP, RaeQuan Battle, and the 2022 league MVP, Belo, leading the way. The 6-foot-9 Belo — after playing on a torn knee ligament in last year's 97-62 loss to Texas Tech — is also healthy.
"Last year I kind of had a different mindset toward this game because I was really hurt," he said. "I'm trying to focus on the game and am excited to compete against these guys."
"I think we're ready to compete at a different level," Sprinkle said. "I think the experience from last year will help tomorrow night; it was kind of 'shock and awe' last year."
Before you get too amped up, there are several reasons Kansas State is favored. Two of them are 6-6 forward Keyontae Johnson and 5-8 point guard Markquis Nowell. The former transferred from Florida after a scary collapse during a December 2020 game against Florida State ended his career with the Gators; Nowell came over from Arkansas-Little Rock.
Johnson is all-Big 12 after averaging 17.7 points and seven rebounds; Nowell averages 16.8 and 7.6 assists.
"Really great pick-and-roll ball handler, and can shoot it from anywhere," Brown, the Big Sky's defensive player of the year, said of Nowell. "It's going to be a test."
"They play so fast," Sprinkle said. "If you turn the ball over, in two seconds it's through the net. They have a lot of NBA players in terms of talent and length. They attacked the (transfer) portal as well as anyone in the country last year."
Tang came to K-State from Baylor, where he was an assistant on the 2021 national champion Bears. He recalled playing the University of Washington early that season; his team won 86-52 and Battle led the Huskies with 10 points.
Battle is among four 4-year transfers on the Bobcats. Every player in Tang's eight-man rotation started their college career at a different Division I school, including Virginia Tech transfer Nae'Qwan Tomlin, who is averaging 10.2 points and six rebounds.
These Wildcats are good, but Sprinkle relishes the opportunity.
"When you play in a one-bid league, this is what you play for," he said. "Especially after last year — I don't think we represented ourselves or the league last year, score-wise."
Texas Tech, also a No. 3 seed, sprinted out to a 26-7 lead last March 18. Battle (nine points off the bench), Belo and Great Osobor combined for 18 points in the loss.
This season Battle blossomed into a league MVP candidate, averaging 17.4 points. Belo checks in at 13 ppg and the 6-8 Osobor, 10.0.
They're seasoned, big and beneficiaries of a sturdy schedule that includes November losses at Oregon, Grand Canyon and — in Montreal — to UNC-Greensboro, Quinnipiac and Middle Tennessee.
"We played really good teams," Sprinkle said. "Long Beach State. Arizona. We lost all three games (in Montreal) and all three came down to the last two minutes. I think it kind of set the stage for us. I think we've lost four games (out of 26) since that point."
Their current win streak is eight. Nine will be a tough one, but not impossible.
"It's going to be a key for us to cover those ball screens and get on the boards," Battle said. "I'm excited. I'm going to take every minute in and make sure we're in the right spot at the end of the game."
Recent Headlines
---