Murder suspect testifies he fired gun to save friend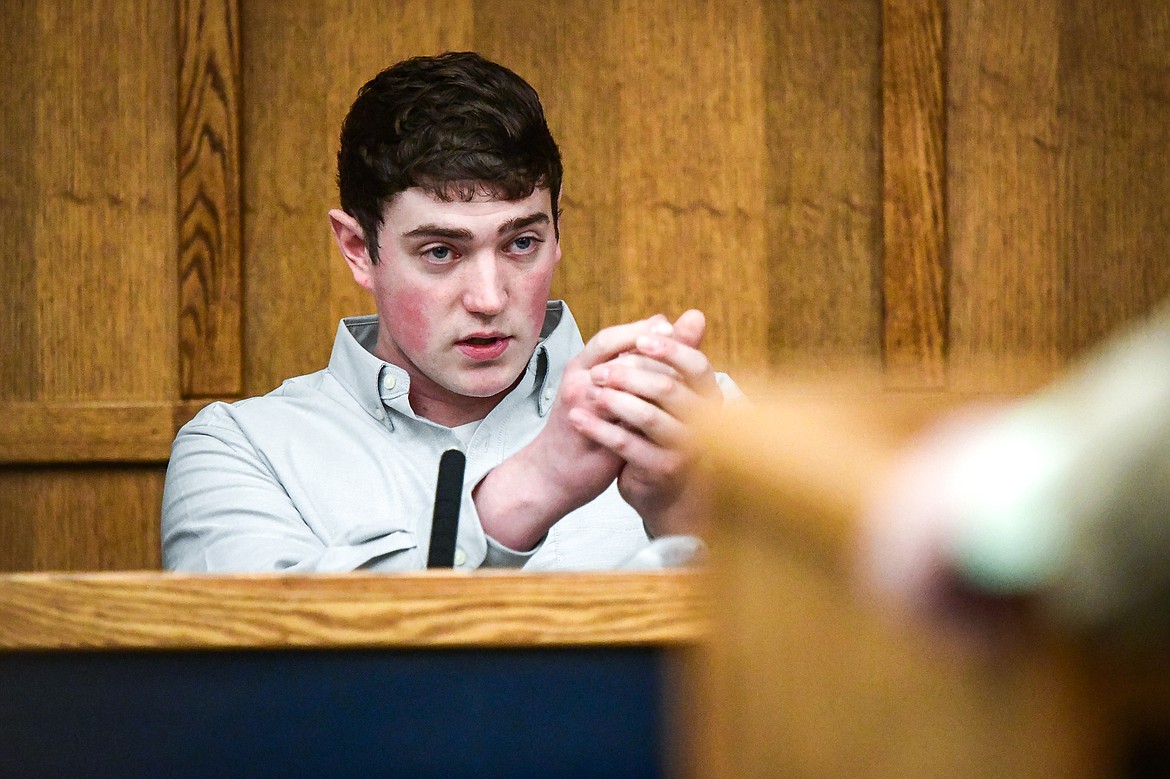 Zackary Matthew Maas testifies about the act of shooting Gabriel Wagoner during his deliberate homicide trial in Flathead County District Court on Wednesday, March 15. (Casey Kreider/Daily Inter Lake)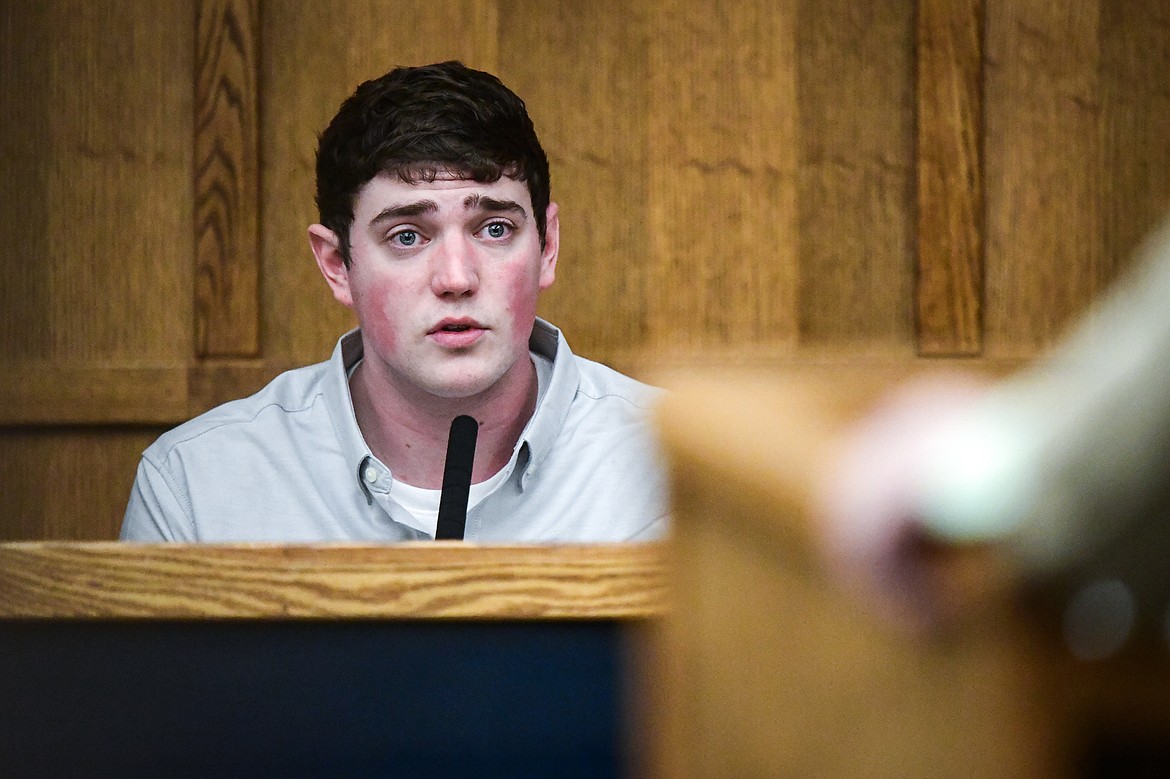 Zackary Matthew Maas testifies during his deliberate homicide trial in Flathead County District Court on Wednesday, March 15. (Casey Kreider/Daily Inter Lake)
Previous
Next
by
DERRICK PERKINS
Daily Inter Lake
|
March 17, 2023 12:00 AM
Accused killer Zackary Matthew Maas held fast to his assertion that he shot Gabriel Wagoner out of fear the other man was about to attack his friend under cross-examination by County Attorney Travis Ahner on Thursday.
"[Wagoner] was about to swing the bat at him and that's when I took out the gun and shot him," Maas said in Flathead County District Court while Ahner walked him through the events of March 13, 2022.
Maas, 26, of Columbia Falls is standing trial for deliberate homicide for Wagoner's death. Although Wagoner survived the early morning shooting near downtown Kalispell, he eventually succumbed to complications from his wound at Harborview Medical Center in Seattle on April 14, 2022.
Maas' defense attorney, Stephen Nardi, has sought to paint the shooting as a matter of self defense, portraying Wagoner as an addict and drug dealer with a violent streak. Wagoner, in Nardi's version, gave Maas no choice but to shoot by picking up a bat and threatening Maas' friend and alleged accomplice, Jerum Auclaire, whatever mistakes the 26-year-old made up to that point.
Prosecutors, meanwhile, contend that Maas confronted Wagoner about an alleged break-in at his father's house after sending threatening messages to the victim. After entering his Kalispell home in the early morning hours of March 13 with a gun drawn, holding him at gunpoint and roughing him up, Maas shot Wagoner in the back, in their telling.
Ahner, who is prosecuting the case alongside Deputy County Attorney Ashley Frechette, walked Maas through that series of events during Thursday morning's cross-examination. The exchange capped off the four-day trial, presided over by Judge Dan Wilson, and left the case in the hands of the jury.
Under oath, Maas agreed he and Auclaire, a childhood friend who also faces a felony charge in connection with the shooting, arrived at Wagoner's 700 block First Avenue West basement apartment about 4:30 a.m. Maas knew where Wagoner kept a spare key and pocketed it after gaining entry.
Heading downstairs, Maas said he announced himself and hoped to smooth things over with Wagoner after their previous disagreements. At that, Ahner asked Maas about the gun — reportedly a Glock 48 though investigators never found the firearm — he carried with him.
"Have you always racked a round into the chamber [upon walking] into his room?" Ahner asked.

"No," Maas replied.
"But you did?"
"I did," Maas said.
In Maas' telling, Wagoner moved toward him aggressively as he entered the bedroom and Auclaire, following behind, restrained him. Maas said he ensured Wagoner could see he was armed, but holstered the gun. In Auclaire's hold, Wagoner calmed down, Maas said.
The three talked and, according to Maas, Auclaire pitched the idea of the trio heading to a fourth man's house, the man Wagoner said was behind the theft at Maas' father's house.

"You're not going to the Kalispell Police Department to help sort out this crime of theft are you?" Ahner asked. "The plan is to go to another private residence … with three guys and a gun you have correct?"
"That's right," Maas replied.
Auclaire headed up the stairs first with Wagoner following. Maas confirmed that Wagoner swore and appeared to back out of the plan, but not before grabbing a baseball bat and running toward Auclaire, who was by now up the stairs and near the front door.
"I realized what [Wagoner] was going to do with the bat and I yelled, 'Jerum, he's got a bat,' and I took off after them," Maas said.
FIRST RESPONDERS found Wagoner lying with his torso resting on the floor of the foyer, legs sprawled out behind him on the stairwell, a baseball bat resting nearby. Earlier in the trial prosecutors played body camera footage of the early efforts to treat Wagoner and move him to an ambulance.
It was in that period that Wagoner allegedly referenced running his attackers out of his home with a baseball bat. Nardi seized on the statement, made in the infancy of the investigation and then only, to lay the groundwork for Maas' self-defense argument. Wagoner revised his story prior to his death, telling investigators and relatives he was shot while cooperating with Maas and after being threatened at gunpoint and beaten.
Auclaire, the only other person present for the shooting, told the court earlier in the week that he never felt threatened by Wagoner and did not hear Maas shout, though he later admitted lying to investigators under Nardi's cross examination.
Ahner walked Maas through those moments, noting that the stairway and foyer were unlit by interior lights. Maas said he could see Wagoner and his proximity to Auclaire by the light of an exterior fixture, which was on.
Still, Ahner noted, the steps were darkened. While the foyer was small, there remained space between where Auclaire stood and Wagoner collapsed, he said. Ahner also noted the tight quarters of the stairway leading up to the foyer and the challenge it might have presented to someone winding up a baseball bat.
He also pointed out that Maas and Auclaire drank alcohol earlier in the night, though Mass said he had subsequently sobered up.
"You, under the influence of alcohol, you see [Auclaire] at the exterior door and [Wagoner] a couple of stairs down and decide the only course of action I have is to shoot [Wagoner] in the back," Ahner asked.
"Yes, if I didn't he would have hit [Auclaire] in the head with a baseball bat," Maas said. "That was the only thing on my mind."
Ahner pushed him on the actions they took afterward, with Auclaire running off and Maas rushing past a wounded Wagoner after his friend. Why not call authorities, Ahner asked.
"I was more scared than I'd ever been in my life," Maas said. "I did not know what to do. I was in shock."
Maas, Ahner pointed out, failed to stop and offer aid and never called first responders. He went with Auclaire and briefly stopped at the latter's mother's home before returning to fetch his child and fiancee from a hotel. Ahner noted that surveillance footage showed the young family leaving the hotel about 4:55 a.m.
"And in between you got rid of the gun you used to shoot [Gabriel] Wagoner?" Ahner asked.
"I didn't want it," Maas said, testifying that he left the firearm in Auclaire's vehicle, which they used to get to and from Wagoner's home. "I didn't want to think about it. I didn't want to see it."
That was because "you knew you had no right to use it?" Ahner asked.
"No, that's not correct," Maas said.
MAAS REPRESENTED the defense's final witness. Called to the stand by Nardi on Wednesday afternoon, the 26-year-old testified to his relationship with Wagoner, who had once been in a relationship with Maas' mother and later provided him with drugs, among them methamphetamine.
In questioning Maas, Nardi sought to explore in more detail the alleged theft that, in part, led to the early morning confrontation. He also sought to explain the threatening messages Maas sent Wagoner and the allusions to taking violent action against Wagoner to other people.
"You realize in hindsight that saying those things on the internet is just incredibly stupid," Nardi asked.
"I was talking big," Maas replied. "I think a lot of kids my age kinda do that. They talk [expletive] over the internet and then they never actually back it up. That's pretty much what I was doing."
Maas said he never intended to harm Wagoner.
Instead, Maas said he and Auclaire went to Wagoner's home partially to continue partying — the two hoped Wagoner had drugs — and to get to the bottom of the alleged theft from Maas' father's house. Maas' text message referencing taking revenge, sent to his fiancee in the minutes before the shooting, were intended for the perpetrator of the theft, an individual Maas said Wagoner knew. But not Wagoner, he said.
"I wanted to get my stuff back," he said. "I wanted to get to the bottom of everything. Maybe revenge was too strong of a word to use."
Discussing the aftermath of the confrontation and subsequent shooting, Maas said he followed Auclaire's lead in fleeing from the home. Older, Auclaire was always more of the leader of the two, Maas said.
As to why he failed to contact authorities or turn himself in to police – Maas was arrested while shopping several days later – he said he wanted to protect his young daughter from his actions.
"Did you think this was all going to magically go away?" Nardi asked.
"No, I knew I was going to have to deal with it," replied Maas, who has spent much of the last year in the Flathead County Detention Center awaiting trial.
Nardi also highlighted Maas' cooperation with investigators, meeting with Kalispell Police Department detectives without an attorney present. Under Nardi's questioning, Maas attempted to explain the varying version of events he gave investigators. He wanted to protect himself and his friends.
"I was scared to get into more trouble," Maas said. "I was trying to make it look a little better on my part and for the other people involved."
Given the lies, did Maas invent the threat Wagoner posed to Auclaire the morning of the shooting, Nardi asked.
"I didn't feel like I had a choice," Maas said. "I don't feel like I had a choice. It was either take action and shoot him or I don't think Auclaire would be alive."
News Editor Derrick Perkins can be reached at 758-4430 or dperkins@dailyinterlake.com.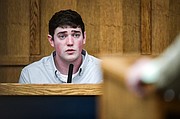 Recent Headlines
---