James Keith DeLong, 76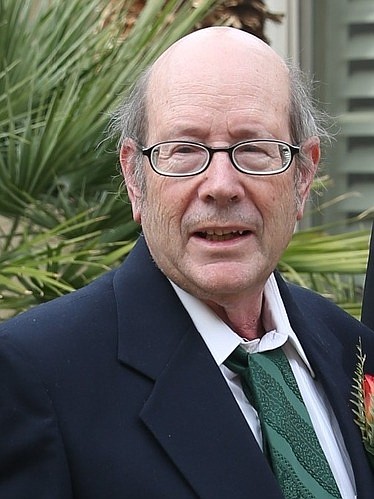 |
March 19, 2023 12:00 AM
The picture of Jim and Carol, wasn't their normal look, this happened on Jan. 27, 2016, when I, Larry, married. It took my marriage for Jim to wear a suit.
On Jan. 23, 2023 my brother James Keith DeLong went to heaven. Jim had dementia/Alzheimer's, which took his life.
Jim was born Dec. 25, 1946 Christmas morning in Kalispell. Mom and dad were beyond happy. On Aug. 14, 1950 Larry was born, to complete the family. During that period Jim had a collie/shepard named Ring. Ring was one fine dog, he would walk with Jim on his way to school, go home, and come back in the afternoon and bring Jim home.
In fall of 1955 we moved to a ranch/farm in the Bigfork area of Holt. It had about a mile of Flathead River frontage. One morning Jim got up early and went hunting. I can still see him with that happy smile, with a goose. He had shot with his single shot 16 gauge. Jim enjoyed hunting, fishing and huckleberry picking.
Jim graduated from Bigfork High School in 1966, that fall went to Montana State University, Bozeman. Five years later graduated with a double major, electrical engineering and math. My brother got all the brains. It took a couple of years to get a career going, finally he was a power engineer for Bonneville Power. Jim was always trying to better himself, and moved to Billings, with Western Energy.
A few years later Jim met Carol Schmeling, they fell in love and were married March 20, 1980. On Sept. 13, 1983 Charles David DeLong (Charlie) was born, in Billings. Jim and Carol, and dad were totally thrilled; at 70 he thought he would never see a grandchild.
Jim was on the move again, he wanted a better career position, and went to the Nevada test site as power engineer. The family moved to Las Vegas. On Oct. 30, 1985 Allen James DeLong, joyful, was born. I was blessed with a wonderful brother, when I graduated from Eastern Montana College in March, 1985. Thanks to Jim, I got a position with Holmes and Narver, at the Nevada test site, summer 1986. Now both brothers are in Las Vegas.
Jim and Carol with Charlie and Allen were often going all over Southern California, see the sights. Jim really liked rock and roll, which was great as the old bands were showing up in Las Vegas. Even though Carol could barely hear, she enjoyed also. They had a lot of fun together.
Jim retired from the Nevada test site in 2002, 31 years with the government. And got a really good pension. Now Jim is in retirement mode. On April 6, 2003, our Dad, Daniel DeLong went to heaven, at 90. In fall of 2004, our mother Avis fell down and recuperated at their home in Las Vegas. Mom was diagnosed with Alzheimer's and Jim decided to take care of mom, until here passing Aug., 15, 2016 at 97. Thanks to Jim, our mother never had to go to a nursing home, mom was always around those that loved her.
Oct. 19, 2022 Carol his loving wife of 42 years went to heaven succumbed from Multiple Sclerosis. Carol had an accident and needed to be cared for; Jim did his best to care for Carol until he couldn't. When Jim started signs of dementia in 2018, it was hard for Jim to take care of Carol, would not have been able to without their help from their sons Charlie and Allen.
Jim's heart was always in Montana, loved going home to the Flathead Valley, especially during huckleberry season. Jim made the best pies.
Jim was proceeded with our mother (Avis) and father (Dan); Carol's mother (Barbara), father (Dale), and Carol (his sweetheart).
There is just Charlie and Allen, Carol's sister (Laura), brother (Paul) plus numerous relatives, friends and myself.
Instead of flowers, a donation to the Alzheimer's Association, would be wonderful. There is no cure as of yet.
There will be a graveside service held for Jim March 24, 2023 at Glacier Memorial Gardens at 2 p.m.
Recent Headlines
---