Moore, Moy are All-State; Moore top offensive player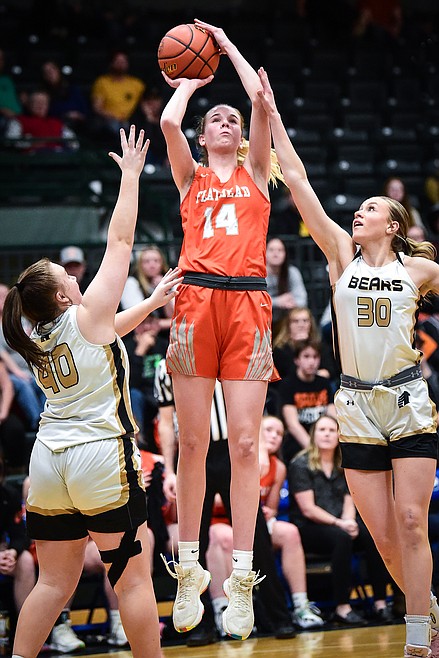 Flathead's Kennedy Moore (14) rises for a jumper between Billings West's Megan Voegele (40) and Ellie Stock (30) in the second half of the girls' Class AA state basketball championship at the Butte Civic Center on Saturday, March 11. (Casey Kreider/Daily Inter Lake)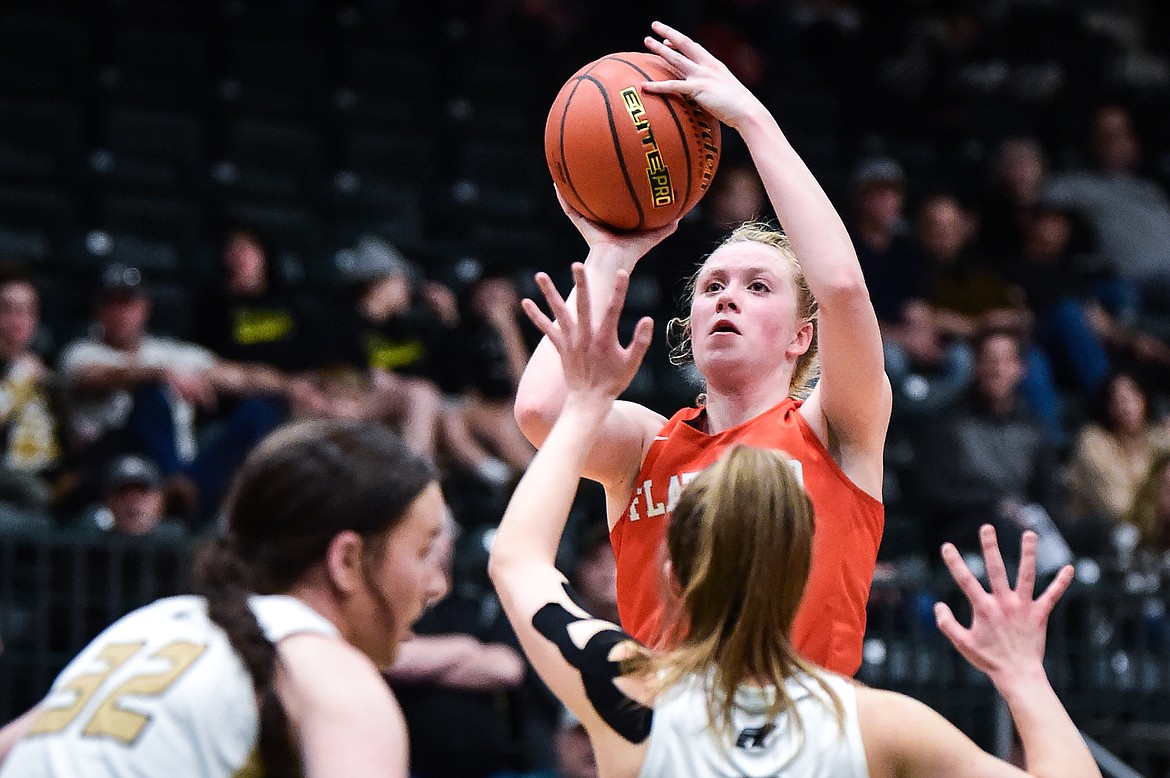 Flathead's Maddy Moy (5) rises for a jumper against Billings West in the second half of the girls' Class AA state basketball championship at the Butte Civic Center on Saturday, March 11. (Casey Kreider/Daily Inter Lake)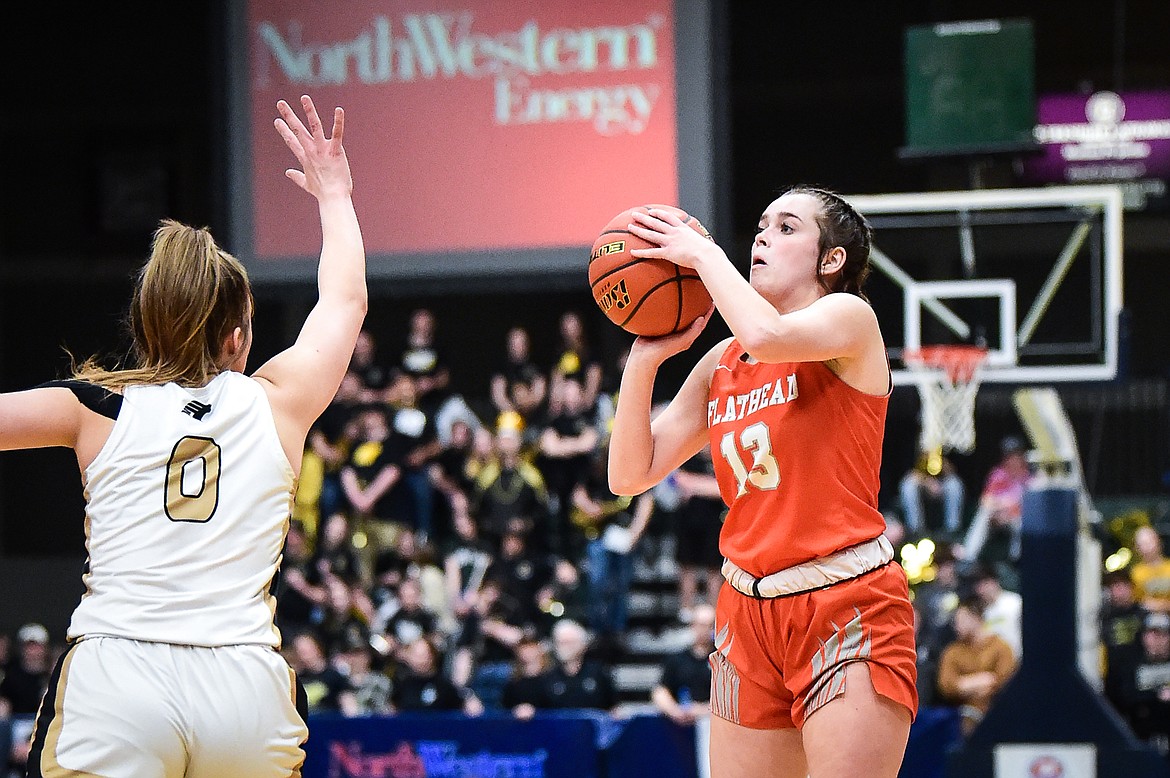 Flathead's Avery Chouinard (13) knocks down a three against Billings West in the second half of the girls' Class AA state basketball championship at the Butte Civic Center on Saturday, March 11. (Casey Kreider/Daily Inter Lake)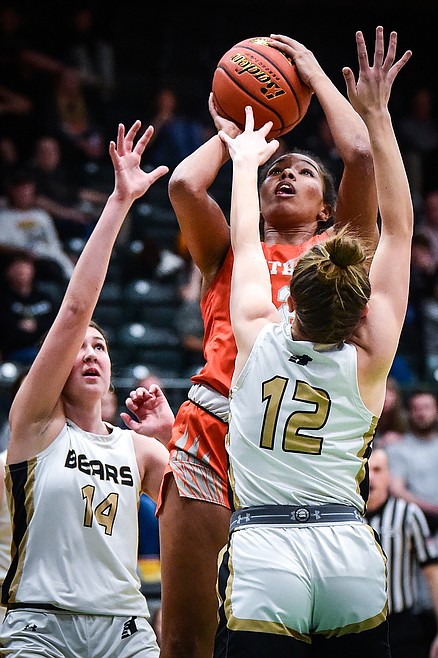 Flathead's Akilah Kubi (12) draws a foul as she shoots against Billings West in the first half of the girls' Class AA state basketball championship at the Butte Civic Center on Saturday, March 11. (Casey Kreider/Daily Inter Lake)
Previous
Next
by
Daily Inter Lake
|
March 22, 2023 1:25 PM
The Flathead Bravettes' sterling basketball season netted them more hardware this week — as in two All-State picks and the Western AA's offensive player and coach of the year.
Kennedy Moore was named the conference's best player on offense in year-end voting by the league coaches. The 6-foot-2 junior averaged 17.1 points and 8.2 rebounds a game — those numbers came up from 16.4 and 7.9 in the regular season — for the 19-5 Bravettes, who lost to Billings West in the State AA championship.
Moore was joined on the 12-player All-State team by senior teammate Maddy Moy, who came back from a torn ACL to average 7.7 points in 20 games. Moy, a 5-9 guard, scored 12 and 17 points in two of Flathead's bigger postseason wins, against Missoula Hellgate in the Western AA Divisional title game and against Billings Skyview in the State AA semis.
Sam Tudor, whose Flathead teams have won two, 19 and 19 games in his three seasons leading the program, was named the Western AA's coach of the year.
Additionally, Flathead senior forward Akilah Kubi was named second-team all-Western AA, and senior guard Avery Chouinard was named honorable mention.
Kubi averaged 8.0 points and 7.1 rebounds. Chouinard averaged 8.3 points and was among AA's leaders in 3-pointers made with 42. One of them beat the buzzer and gave Flathead a 46-45 win over Hellgate in the Western AA championship.
Glacier's girls had two honorable mention picks in sophomore Reese Ramey and junior Noah Fincher. Fincher averaged 8.6 points and 3.9 rebounds a game for the Wolfpack; Ramey averaged 6.5 points and 3.4 rebounds.
Missoula Hellgate's 6-6 senior center, Alex Covill, was the Western AA's defensive player of the year. Covill was joined on the All-State team by Hellgate teammate Chloe Larsen, Helena High's Alex Bullock and Kadynce Couture of Missoula Big Sky.
Class AA basketball honors
GIRLS
All-Western AA
First team
Alex Covill, 6-6, sr. Hellgate
Kennedy Moore, 6-2, jr. Flathead
Kadynce Couture, 5-9, so. Big Sky
Alex Bullock, 5-11, sr. Helena
Chloe Larsen, 5-11, jr. Hellgate
Maddy Moy, 5-9, sr. Flathead
Second team — Jada Clarkson, 5-7, sr., Capital; Emily McElmurry, 5-9, jr., Sentinel; Avery Kraft, 5-5, jr., Helena; Akilah Kubi, 5-10, sr., Flathead; Avory DeCoite, 5-5, fr., Big Sky; Olivia Huntsinger, 6-2, sr., Sentinel.
Honorable mention — Laura Rosenleaf, sr., Butte; Avery Chouinard, sr., Flathead; Cadence Graham, 8th grade, Butte; CC Size, sr., Sentinel; Gracie Mokel, jr., Capital; Reese Ramey, so., Glacier; Noah Fincher, jr., Glacier; Brityn Stewart, so., Butte.
Most Outstanding Player, Offense — Kennedy Moore, Flathead.
Most Outstanding Player, Defense — Alex Covill, Hellgate.
Coach of the Year — Sam Tudor, Flathead.
All-State
Breanna Williams, 6-2, jr. Billings Skyview
Jada Davis, 5-8, fr. Gallatin
Layla Baumann, 5-9, sr. Billings West
Lauren Cummings, 6-0, sr. Billings Senior
Kourtney Grossman, 6-0, jr. Billings West
Ashlyn Jones, 5-6, sr. Great Falls
Sydney Pierce, 6-4, jr. Billings West
Alex Covill, 6-6, sr. Missoula Hellgate
Kennedy Moore, 6-2, jr. Flathead
Kadynce Couture, 5-9, so. Big Sky
Alex Bullock, 5-11, sr. Helena
Chloe Larsen, 5-11, jr. Hellgate
Maddy Moy, 5-9, sr. Flathead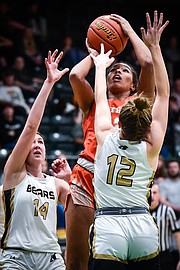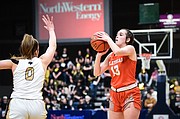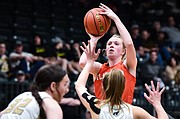 Recent Headlines
---