Flathead alum Osweiler seeks happy campers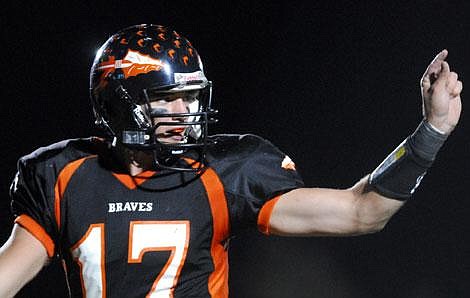 Flathead Quarterback Brock Osweiler gestures to his coach how close the Braves are to the goal line during second-quarter action against Glacier at Legends Stadium in this 2008 file photo. Osweiler scored a touchdown on a quarterback sneak on the next play. (Garrett Cheen/Daily Inter Lake FILE)
by
FRITZ NEIGHBOR
Daily Inter Lake
|
March 22, 2023 11:55 PM
Second-year Flathead football coach Caleb Aland figured it couldn't hurt to reach out to Brock Osweiler, the former Braves quarterback who ventured onto an NFL career.
He got more than he bargained for: And what he bargained for was some help running a 7-on-7 passing camp for Flathead and surrounding teams in late June.
"I thought it might take some convincing," Aland said Wednesday. "But he was like, 'Man, I've been looking for ways to get involved.'
"Then he called back and said, 'I want to do more.'"
More are a pair of free camps on July 1. The Osweiler Young Camp for grades 4-8 will run from 9:30 a.m. to noon; the Osweiler High School Camp for grades 9-12 will run from 2:30-5 p.m. Both are free, and both will be at Legends Stadium.
It's another way of giving back for who is possibly, with apologies to Sam McCullum, Lex Hilliard and Alice Ritzman, Flathead High's most famous alumnus.
Osweiler has certainly done it before, and it is notable that because of the pandemic he didn't make it to Kalispell for the opening of the Osweiler Performance Center in 2020. He footed the bill for a tear down and rebuild of Flathead's weight room.
It was overdue, because nothing much had changed in that room from Osweiler's days of working out there from 2006-09. Who knows how far those curl bars went back in the school's now 120 years.
Osweiler was an athletic wunderkind at the school, playing so well on the hardcourt that he verbally committed to Gonzaga's basketball team after his freshman year. Then he started firing passes all over Legends Stadium, and Arizona State wound up with the services of a 6-foot, 7-inch quarterback.
A 7-year NFL career followed, and Osweiler has been retired since the 2018-19 season. It's an amazing run that probably ended too soon.
To hear Aland tell it, Osweiler has fondest memories of summer camps on the Legends turf.
"He said, 'My favorite thing growing up was going to Braves football camps. I want the area kids to have something like that,'" Aland said.
Flathead is preparing a brochure for all of its summer camps, but currently the best contact for Osweiler's is Aland; he can be reached at fhsbravesfootball@gmail.com.
"He's going to cover the expenses, so the camp is free for the kids — he didn't want it to be a holdup for kids not to come," Aland said. "It's going to be an awesome deal."
Fritz Neighbor can be reached 758-4463 or fneighbor@dailyinterlake.com.
Recent Headlines
---