Polson student D.C. bound after winning state poetry reading contest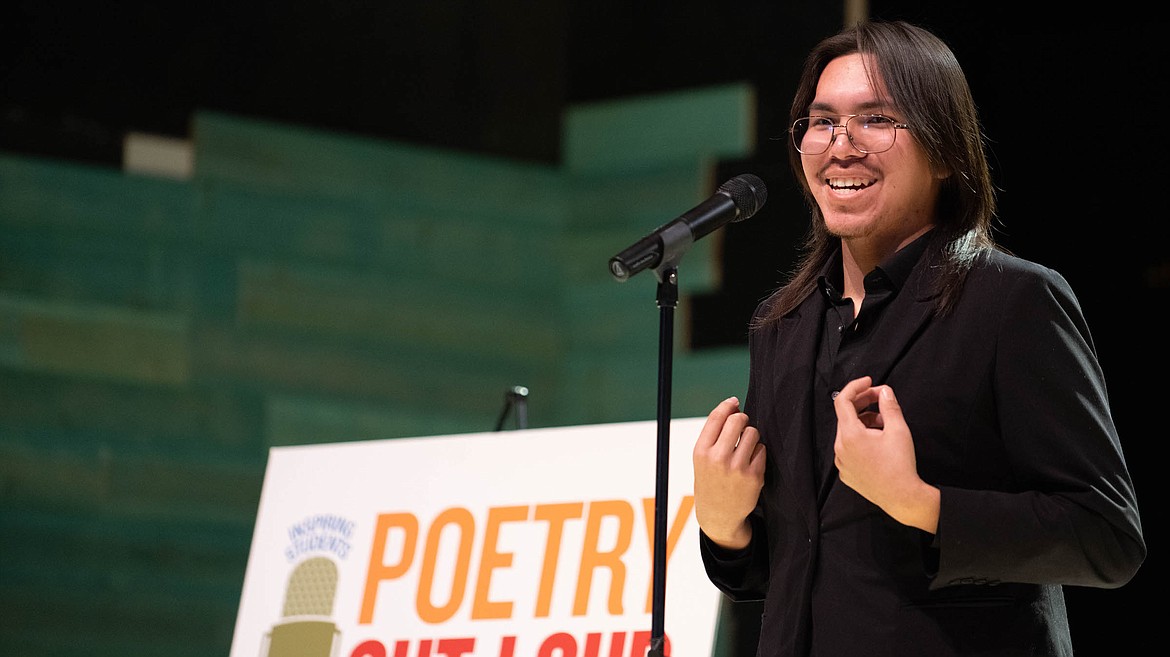 Polson student Wica-ta-wi Brown delivers his winning recitation at the Montana Poetry Out Loud contest in Helena. (Katie Knight photo)
by
KRISTI NIEMEYER
Hagadone News Network
|
March 25, 2023 12:00 AM
As Wica-ta-wi Hoksina Brown inhabits the poem that won him the state Poetry Out Loud championship, he does so carefully, his voice almost conversational at first, then growing in strength and passion.
The Polson High junior recited "We Are Not Responsible" by Harryette Mullen, a poem he chose precisely because it invited him "to be able to speed it up and be loud, different from the rest." He also chose the poem for its content, which "talks about police violence and hints at microaggressions" towards people of color. Not easy subjects for the reciter, who is Oglala Sioux and Salish, or for the listener.
But Brown clearly doesn't take the easy path. The poems he chose for both Poetry Out Loud and for Oral Interpretation in Speech and Debate are often edgy, asking listeners to pay attention to realities beyond their own lives.
Poetry Out Loud is a national poetry recitation contest, sponsored by the National Endowment for the Arts, the Poetry Foundation and in Montana by the Montana Arts Council. Brown, who is also a member of Polson's Speech and Debate team, participated as a freshman, and again this year, beginning in Katrina Venters' English class.
He advanced to the Polson High contest, and from there to regional and finally to the state event, held March 11 at Grandstreet Theatre in Helena, where he competed against 18 students from across Montana. His friend and classmate Isabel Seeley also qualified for the state finals but wasn't able to attend.
"Wica-ta-wi dedicated his own time to learning the poems and delivering them well," says Venters. "He provided his own motivation for the project – he gets all the credit for his accomplishment!"
Brown prepared three poems for the contest. "We Are Not Responsible" met the requirement to share a poem that is 25 lines or less; and "No, I wasn't meant to love and be loved" by Urdu poet Mirza Asadullah Khan Ghalib, which met the requirement to recite a pre-20th century poem. His third poem, Natalie Diaz's "Abecedarian Requiring Further Examination of Anglikan Seraphym Subjugation of a Wild Indian Rezervation" was perhaps the most personal.
"It's the one I picked that would reflect my Native identity," he said. "I like bringing that to what I'm reciting – it helps me relate to it more."
The poem, which he read at the end of the semi-final round in Helena, was also a crowd pleaser. "Even the judges were coming up to me and saying 'that one was really good and really sold me.'"
Brown traveled to Helena with his dad, Don Brown Jr., his aunt, Dawn Marie Brown, and a younger cousin, on March 10. The Arts Council provided contestants with hotel rooms, and they had an opportunity to mingle that evening.
Although he has traveled with the Speech and Debate team, Brown said "even staying in the hotel was a little bit of a culture shock."
It helped, he said, that he knew some of the participants from Speech and Debate, as well as from the district POL contest. Most of the students were from larger AA schools, and only a handful of state winners come from smaller schools.
"What really made the competition feel less nerve-wracking was knowing that I had a couple of friends there," he said.
Most contestants also participated in Speech and Debate, and several competed in his event, Oral Interpretation, which involves giving a dramatic rendition of a piece of writing.
"I think dramatic interp people are really good at doing this poetry thing."
Also, Grandstreet Theatre, while elegant, isn't nearly as large as Polson High School's auditorium.
"Given that it wasn't super huge I wasn't that nervous," said Brown. "But what lubricated the whole experience and made it better was the people."
Brown says he was worried about whether his family would enjoy the event. "I was kind of nervous because most of my family are very sports-oriented."
"They were actually really excited for me – even crying too," he said. "I was so happy they were pumped for me."
His statewide win earned him $200, and an all-expense paid trip to the National Poetry Out Loud contest, May 8-10 in Washington, D.C. His mom, who was unable to attend the state contest, also receives a free trip to the nation's capital, as will Venters. In addition, Brown's win earned his school $500 for the purchase of poetry books.
In Washington, he'll be competing against more than 50 students, representing each state and territory. Brown plans to tweak his recitations beforehand and will choose a new pre-20th century poem for the national contest, since his current selection was the poem recited by last year's national champion.
Montana Poet Laureate Mark Gibbons, who was one of the judges for this year's event, has offered to coach Brown prior to his trip.
"I look forward to listening to him again before he heads to the National Poetry Out Loud competition," he wrote, calling him "a most deserving champion."
"Wica-ta-wi Brown is exceptional in every aspect of oral recitation, and he is a generous and humble young man with visionary plans for the future," Gibbons added. "He will make Montana proud at the national recitation competition in Washington D.C."
Brown notes that his win came after a frustrating end to his Speech and Debate season.
"I was having a really good season up to a point, then suddenly a big decline. I was going through a period of many losses over and over again, so I was feeling kind of beaten down." Still, Brown and his six-member team did well enough at state to compete in the National Speech and Debate Qualifier in Missoula, where his teammate, Kai McDonald, took first place, making him Polson's first-ever student to compete at the national event this June in Phoenix.
Brown hopes, going forward, that these twin accomplishments will earn more recognition for Speech and Debate from the school and community.
"Everyone has said good job to me. I just wish words followed action," he said. "I wish our school was less oriented toward sports and more oriented toward arts – or at least showed more recognition."
"What makes this so much more impactful is that I'm not the only state champion or national qualifier from Polson," Brown added. "I tell Kai, 'we're even now.'"
Recent Headlines
---