AI tool assists with backcountry meals
by
SUMMER ZALESKY Daily Inter Lake
|
March 26, 2023 12:00 AM
After finishing California's long-distance John Muir Trail in 2017, a group of friends, inspired by their epic expedition, decided to share their knowledge and resources with new and veteran hikers.
Now, their Flathead Valley-based outdoor company Right On Trek is giving adventurers the opportunity to find their perfect trail, collaborate with friends, rent gear, and choose customized backcountry meals by combining their love of the outdoors with state-of-the-art technology.
While navigating Montana's backcountry can be an intimidating feat, Right On Trek is making the planning process simple. Director of Meal Products and Chief Sustainability Officer Eric Boxer encourages hikers to "Leave all the planning and organization to us, so you have more time to enjoy the trail."
Right On Trek offers an easy-to-use gear rental service for backpackers looking to streamline their trips to Glacier National Park, the Bob Marshall Wilderness and surrounding areas. The gear rental facility which is located between Kalispell and Columbia Falls is known as "The Wilderness Edge" or the "Edge." The Edge is open 24/7 and can be used as a pick-up location for gear as well as backcountry meals.
Right On Trek's meals, which are freeze dried, provide vegetarian, vegan, keto, gluten free and dairy free options so that backpackers can spend less time worrying about their shopping list and more time crafting the perfect adventure.
"We wanted to bring the age-old experience of cooking and sharing food back to people and make food a way to enhance a backcountry trip," Boxer said. "There's lots of advantages to our meals: the value, convenience, and great taste of having food anywhere."
The meals come in 100% bio-based and 60% compostable packaging without compromising durability. Boxer explained that backcountry meals need to endure severe climates which is why their packaging is waterproof and durable.
"We don't use any heavy plastic or aluminum and we're always looking for ways to improve. There's room to reduce our packaging size even more. It's something to work towards," Boxer said. "Plus, it's a meal that cooks itself. Instead of using tinder, you can actually use our backcountry pouch. They also prepare faster than 90 percent of freeze dried meals which can take 25 to 45 minutes to cook, especially at elevation. Ours cook within five to 12 minutes and our portion sizes are honest and able to feed hungry backpackers after a long day."
In addition to the innovative packaging and nutrient density, the meals are locally sourced. This season, Right On Trek will bring back their award winning mac and cheese with noodles from Pasta Montana in Great Falls.
"We're always looking for ways to include local ingredients in our food. All our products are assembled here in Kalispell so we're very much a locally made product. We don't do any co-packaging outside of our facility," said Boxer.
Indeed, no hiker is left behind when it comes to the meal planning process. Right On Trek's first in industry artificial intelligence meal planner ensures this. The AI tool, which can be found on their website, gives hikers an easy way to create customizable meal kits that they can look forward to after a long day on the trail. Boxer explained that their AI meal tool is more than just for planning.
"It's not only a meal planner. It's for planning, organizing, purchasing, and delivering all these meal kits to your door. Depending on how detailed you want to get, you could take five minutes and plan and purchase and get food delivered for a two to 14 day adventure and you can trust that the food will be well organized and that all the portions will be to your specific indications based on your caloric needs and dietary preferences," Boxer explained. "[The tool] is convenient and we ship anywhere in the United States. Whether you don't want to go to 10 different grocery stores to get the right, lightweight food or you just can't get to a good grocery store, you can minimize the time it takes to go shopping."
From gear rentals to individually designed meals to helping create the perfect backcountry itinerary, Right On Trek hopes to give all outdoor enthusiasts equal access to the beauty of the outdoors.
Learn more at rightontrek.com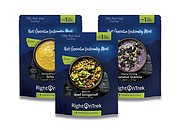 Recent Headlines
---