Ponderosa Pottery provides space for creativity
by
SUMMER ZALESKY Daily Inter Lake
|
March 26, 2023 12:00 AM
As a school psychologist, Nicky Shepard knows the importance of taking time to do the things one loves. Her new pottery studio, Ponderosa Pottery, is designed to give people the space to have fun, grow, and even heal.
"When you're going through difficult times, the process gives you a lot of time to think. It can be really cathartic and healing when you're making pieces and just getting lost in making art," said Shepard.
After finding pottery in college, Shepard said that she bought her own pottery wheel and was "hooked."
Now, Ponderosa Pottery in downtown Kalispell is a fully family-owned and operated business as Shepard runs the studio with the help of her husband, Carleton Gritts, and two children, Natalie and Spencer. Their family's hope is to provide the valley with an inclusive and family-friendly space to create art.
"When I make things, it's really calming and I hope that feeling inflicts on other people and makes them feel better. I just want people to have a fun experience," said Spencer.
The studio opened in mid-January and has already hosted several workshops, lessons, and open studio access for more experienced potters. In addition, handprint/footprint making workshops are available for new parents, families, and even pet parents.
"Lessons are across five weeks so students get a deeper understanding of the clay, glaze, and firing schedules and by the end, they'll have a fired piece that they made. In lessons, students can actually fire their piece in a kiln offsite whereas in the workshops students can throw, but we end up glazing it," Shepard explained.
During the process, students make pieces which turn into "greenware," according to Shepard. When the piece dries, it goes into the kiln for the first firing, and it becomes "bisqueware". Students then glaze their pieces, decorate them, and put it back into the kiln for 12 hours at 2,200 degrees Fahrenheit. After this process, students will have their final product.
All workshops and lessons are designed to include as many people as possible and have unique classes for date nights, seniors, families, and for locals or tourists to make Montana state decorations.
"I want to hit a big demographic of people from toddlers up to seniors and make them feel included and create a fun environment to make art. When you're making pottery, it can be funny sometimes so we just want people to be having fun and laughing and give them the space to do that," said Shepard.
While the family will use the store to sell their own pottery, Shepard hopes to provide other Flathead Valley artists with another space to display their work.
"Currently, we have a photographer's work in here that's for sale, and hopefully we can bring in other artist's pieces too and facilitate that for them," said Shepard.
Ponderosa Pottery is located at 415 S Main St, Kalispell. The studio can be contacted by phone at 406-250-0534 or email at ponderosapotteryllc@gmail.com. For more information or to register for workshops or lessons, visit ponderosapottery.com.
Reporter Summer Zalesky may be reached at szalesky@dailyinterlake.com.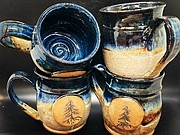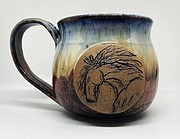 Recent Headlines
---