Senate Bill 99 protects the next generation of Montanans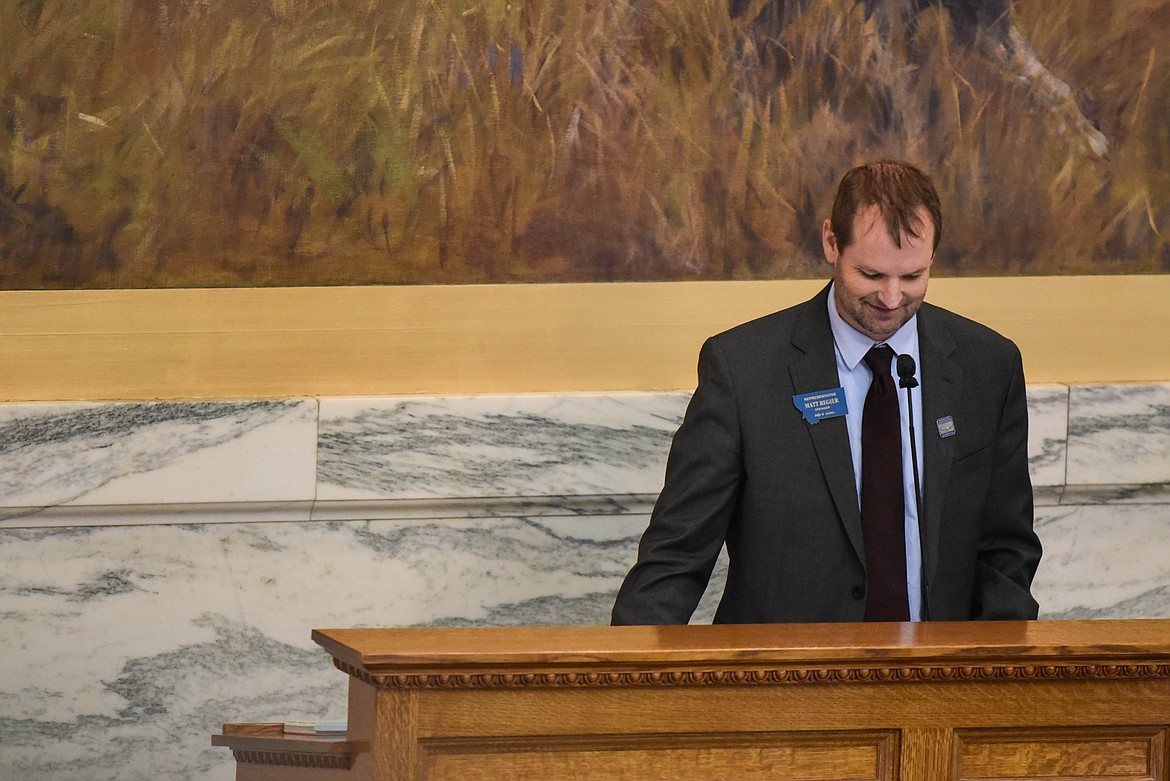 Speaker of the House, Matt Regier, R-Kalispell, is seen at the Montana State Capitol in Jan. 2023. (Kate Heston/Daily Inter Lake)
by
Matt Regier
|
March 26, 2023 12:00 AM
There is a reason Montana is the Last Best Place in the country. Over the last decade, the Montana Republican Party has made tremendous progress in advancing our priority of protecting the future generation.
This continues to be a priority for House Republicans as we advance Senate Bill 99 this legislative session. SB 99, a bill that prevents gender transition surgery until our children become adults, is an important step in safeguarding our youth.
Within the last few years, the medical industry has taken a new approach which has pushed a far-left agenda to treat minors with gender dysphoria. It is crystal clear that health care professionals have an incentive to promote sex change surgeries for minors.
A "bottom surgery" costs between $25,000 and $100,000; the hormones prescribed to transgender individuals cost hundreds or thousands of dollars per month. By promoting invasive, drastic and elective surgery, the medical industry can sell a lifetime of medication and other interventions.
In addition to the expensive procedure, data shows there have been multiple negative effects, as well as suicide rates increased, among individuals that get a sex change surgery. Suicide is the fourth-largest cause of death for 15- to 19-year-olds globally each year. Within that age group, a recent study shows that nearly 34,000 transgender teens in the U.S. have shown alarming high rates of suicide attempts, depression and anxiety across liberal and conservative regions.
As Republicans in Montana, we must prevent these elective procedures for our children's physical and mental health. Montana's youth should not be able to make life-altering decisions before they are even eligible to vote or legally get a tattoo.
We heard Montanans who identify as transgender express remorse about participating in a life-changing body alteration. Montana Republicans have seen other states and countries recognize the threat that gender affirmation surgery has posed on adolescents. In total, there are eight states that have passed policies restricting sex change surgeries for minors as well.
We have even seen progressive European counties such as England, Sweden and Finland block child transgender surgeries. I hardly ever agree with liberal European countries, but in this case, it's time for Montana to follow suit and pass SB 99, which is compassionate and protective of our youth.
Rep. Matt Regier is Speaker of the Montana House of Representatives. He lives in Kalispell.
Recent Headlines
---