FHS student shows compassion for others through community service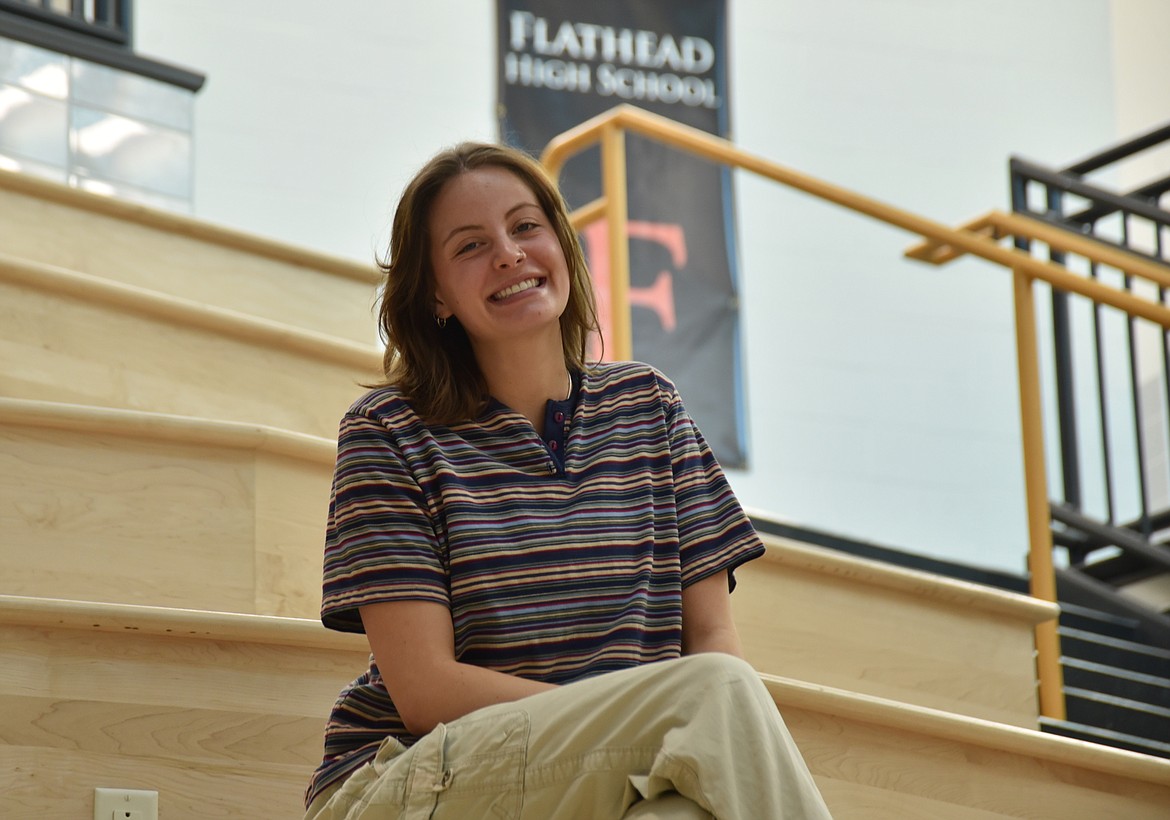 Ivy Gannon at Flathead High School, Monday, March 2, 2023. (Hilary Matheson/Daily Inter Lake)
by
HILARY MATHESON
Daily Inter Lake
|
March 27, 2023 12:00 AM
Flathead High School student Ivy Gannon is someone who meets people where they are in life with compassion and respect.
The caring and talented senior is a recipient of the Winslow Nichols Leadership Award, which recognizes the academic achievement and community involvement of high school students who contribute to improving the lives of others.
"Ivy is an enthusiastic, talented and kind-hearted leader at Flathead High School who has set a great example of leadership in our school community and holds great promise to lead as an education professional in the future," Flathead Career Center head Kristin Bay said in her nomination letter. "In her classes, Ivy's teachers describe her as very intelligent, analytical and hard working."
During a March 20 interview at Flathead, Gannon contemplated what qualities she thinks make a good leader.
"I think it definitely starts with just being kind to everyone, and also, always having the mentality of inclusion," she said.
"I think leadership also starts with volunteering and widening your perspective on things, especially since we all live in like a pretty sheltered community, I would say," said Gannon, who started volunteering at the Flathead Warming Shelter this year, where she's helped serve dinner, clean the kitchen and make beds.
"Being more aware of problems in our community I think has made me a better leader," she said.
After graduation, Gannon plans to attend the University of Colorado Boulder, majoring in sociology to pursue a career as a special education teacher or a disability support coordinator.
One of the extracurriculars that have made an impact in her choosing her career path has been serving on the Youth Activation Committee. The student group brings together youth with and without intellectual disabilities through activities and sports such as Special Olympics, which the Flathead members fundraise and volunteer for. YAC members also seek to motivate their peers to be "agents of change" by advocating for the "respect, inclusion, and acceptance of all people, regardless of abilities," according to www.specialolympics.org.
"Ivy shares genuine and sincere consideration for the students she works with in the Special Olympics," Bay said in her nomination letter. "Ivy is selfless in her actions and she is the first to build relationships with all types of people. Whether she is organizing a community Easter Egg hunt for Special Olympic athletes, serving as an executive mentor in our Brave Mentoring program, or sharing a positive attitude on our varsity basketball team, Ivy is kind-hearted and considerate," Bay said.
INCLUDING OTHERS was something that became important to Gannon at a young age.
"When I was in kindergarten, I had a really good friend with Down syndrome named Jonathan, and we were friends all throughout elementary school, which sort of sparked the passion for working with people that have disabilities," she said.
High school opened up a wide range of opportunities to participate in programs and extracurriculars to pursue her interests and move into leadership roles. One of these programs that made an impression on her was Brave Mentoring where freshmen are paired with upperclassmen who show the ropes of navigating high school. She recalled the experience of being a freshman coming from Somers Middle School.
"It really helped me with the transition from such a small school. And that really helped," she said, with making friends and trying new clubs and sports. "I really wanted to get involved."
Gannon continued to seek other ways to help her peers and became a student representative for a school group called Sources of Strength, which meets monthly to discuss ways to reach students on the topic of mental health.
"We work with the counselors here to sort of be focused on mental health. So we plan videos, and we choose kids that we think represent certain ideas of taking care of your mental health to be in the videos," she said.
Gannon herself drew strength from her involvement in the group.
"I think just myself — along with the other students in the group — we've all experienced a lot of heartbreak with mental health in the valley the past couple years. So I think being a part of this is really important to me because I want to make sure students at our school are safe and their mental health is OK, but just being part of it makes me less scared," Gannon said.
Helping others to build self-confidence and "bringing out the best in everyone," Bay said, is not lost on her peers who voted her as the 2022 high school homecoming queen.
As part of the Winslow Nichols Leadership Award, recipients are given $250 to donate to an organization. She plans to donate it to the Flathead chapter of the National Honor Society to use toward a community service project.
As president of the Flathead chapter of the National Honor Society, Gannon honed her public speaking skills including through serving as an emcee at the school-wide Veteran's Day assembly, which was the biggest audience she's addressed.
Outside of academics, Gannon was an academic All-State basketball player for three years and is on the cross country team, where she's received a most improved award.
"Her [cross country] coach said she will miss Ivy's spark as she graduates, but we all agree her spark will be a gift to everyone around her in her future career …" Bay said.
The Winslow Nichols Award is sponsored by Logan Health in collaboration with the Daily Inter Lake.
Reporter Hilary Matheson is 758-4431 or hmatheson@dailyinterlake.com.
Recent Headlines
---