Pizza shop owner stretches for win at World Pizza Games
Ranger Joe's Pizza owner Joe Ledwidge practices his dough stretching ahead of the World Pizza Games in Las Vegas this week. (Taylor Inman/ Daily Inter Lake)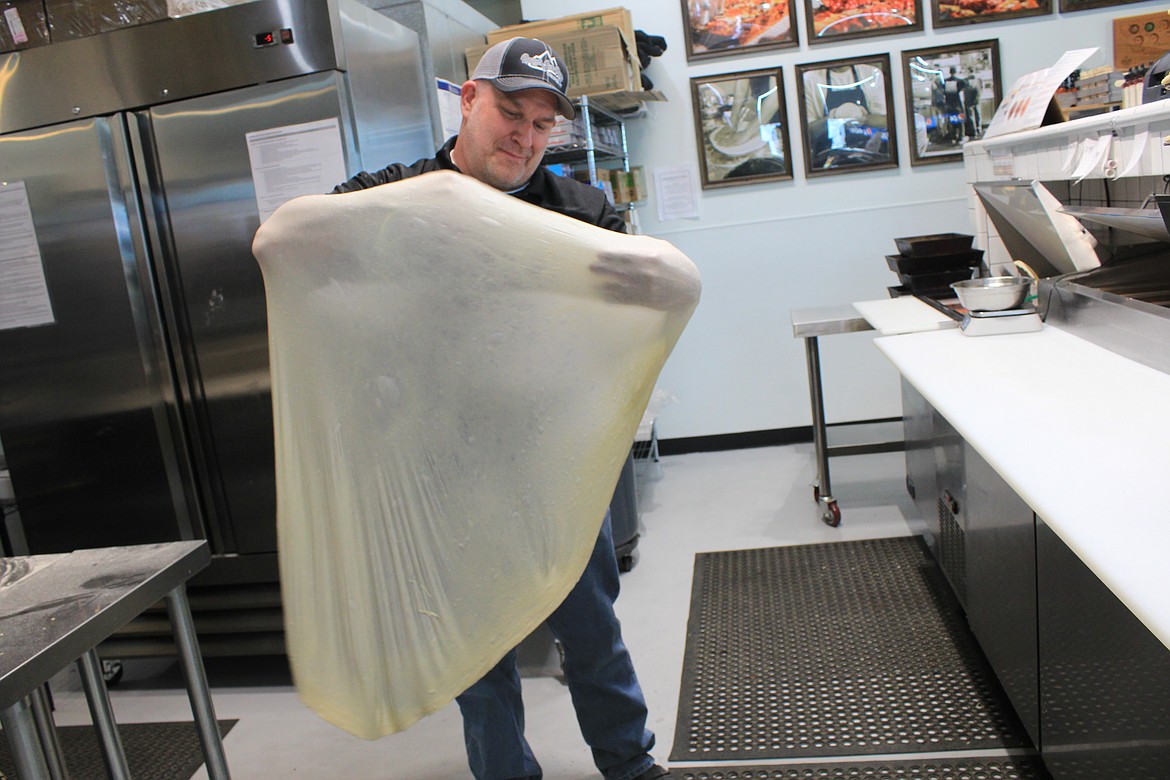 Ranger Joe's Pizza owner Joe Ledwidge uses his arm and shoulder to stretch the dough to its full capacity at his pizza shop. (Taylor Inman/ Daily Inter Lake)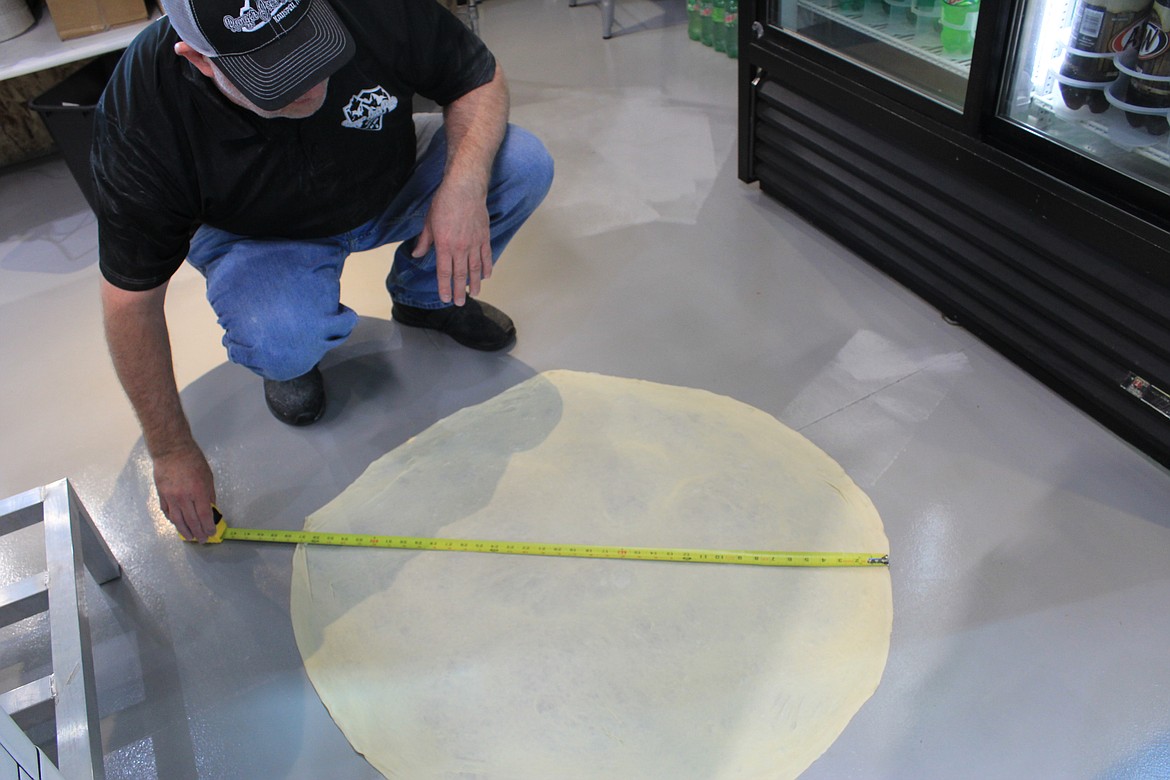 Ranger Joe's Pizza owner Joe Ledwidge is preparing World Pizza Games at the International Pizza Expo in Las Vegas. In competition, he has to stretch the dough and then has 20 seconds to move the dough to the judging area where it will be measured on the floor. This dough was only used for practicing his stretching technique. (Taylor Inman/Daily Inter Lake)
Previous
Next
by
TAYLOR INMAN
Daily Inter Lake
|
March 29, 2023 12:00 AM
Does Joe know his dough? He thinks so — enough to compete in the World Pizza Games at the International Pizza Expo in Las Vegas this week.
Joe Ledwidge, owner of Ranger Joe's Pizza, has been practicing his dough stretch for what his industry calls "the Olympics of pizza." He'll have five minutes to stretch out 18 ounces of dough as large as he can without breaking it.
It starts out as any other pizza would, pulling apart the edges of the dough inch by inch as it grows bigger and bigger. But, things take a turn when it's slung over his arm. Ledwidge uses his shoulder to stretch the dough out further and when the dough is almost as tall as he is, it's impressive to see no tearing. After five minutes are up, he has 20 seconds to take it to the measuring area, plop it on the floor and get out a measuring tape.
Lately, he's been getting up to 38 inches, supremely close to previous winners.
"I went last year and I watched the competitions. I watched all the people tossing dough and doing their thing — they have the fastest box folding competition, the fastest you can stretch out five pizza doughs within a certain amount of time. So I said, 'you know, I should enter this thing.' I'm kind of older, but you know, you're never too old to start something new," Ledwidge said.
It's a workout for the hands and arms. There's a lot of muscle memory involved, says Ledwidge. He starts with a technique called "breaking the edge," continually pulling at the edge of the dough until it stays stretched out.
"It might be like three feet tall when you're stretching it like this, but when you put it on the floor it snaps back. Because there's gluten inside the dough and it acts like a rubber band, so you really have to break that edge," Ledwidge said.
In addition to the dough stretching competition, Ledwidge is also competing in the International Pizza Making Challenge in the non-traditional division. Competitors can use any ingredients they want beyond the traditional division which is strictly a large pizza with red sauce and cheese. Wanting the creative freedom of the non-traditional division Ledwidge chose a Korean barbecue pork belly pizza for his entry.

"It's New York style, hand-tossed and round. We start with pizza sauce and then we also have a Korean barbecue sauce, red onions — then we put the marinated pork belly on the pizza and we put some sausage in there also. After that, we put on our mozzarella cheese and we put a three-cheese blend on top of that. Then it goes in the oven, and after it comes out we put sriracha mayo on top," Ledwidge said.
He's been slinging pizzas at his South Kalispell location for two years, making Detroit deep dish and Sicilian-style pizzas, calzones, cheese bread and more.
He grew up in Florida in his father's pizza restaurant, Hungry Howies, which went on to have several locations on the East Coast. The family eventually sold the restaurants, and Ledwidge enjoyed a 19-year stint in law enforcement instead of working in the pizza business.
While Ledwidege wanted to revive the family pizza recipe he was not looking to get into the restaurant business until he started getting rave reviews of his pizza.
"All my friends and family were like 'this is the most amazing pizza ever!' So when I wanted to get out of law enforcement, I could have just not worked. But I wanted to do something and I said, 'let's open up a shop,'" Ledwidge said.
Overall business has been good and they are looking to open a second location somewhere in Kalispell. Following in the footsteps of his pizza patriarchy, Ledwidge is training his son to one day take over the family business.
If Ledwidge is successful in the Las Vega competition this week, he could go all the way to the top. The first and second place winners of the non-traditional pizza division move on to a final round to compete against each other, then onto a blind pizza making competition where competitors will be given ingredients and something secret to use in their pizzas. The winner is dubbed World Pizza Champion.
"You could get a chef coat that has World Pizza Champion on it and you become part of a fraternity of very special pizza people — so that's what I'm hoping to do," Ledwidge said.
For more information about Ranger Joe's Pizza, visit rangerjoespizza.com.
Reporter Taylor Inman can be reached at 406-758-4433 or by emailing tinman@dailyinterlake.com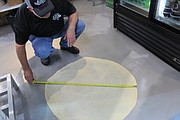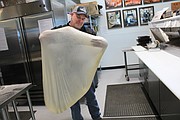 A previous version of this article said competitors had to stretch 80 ounces of dough, it has been changed to reflect the correct amount which is 18 ounces.
Recent Headlines
---