Canceled election costs West Valley School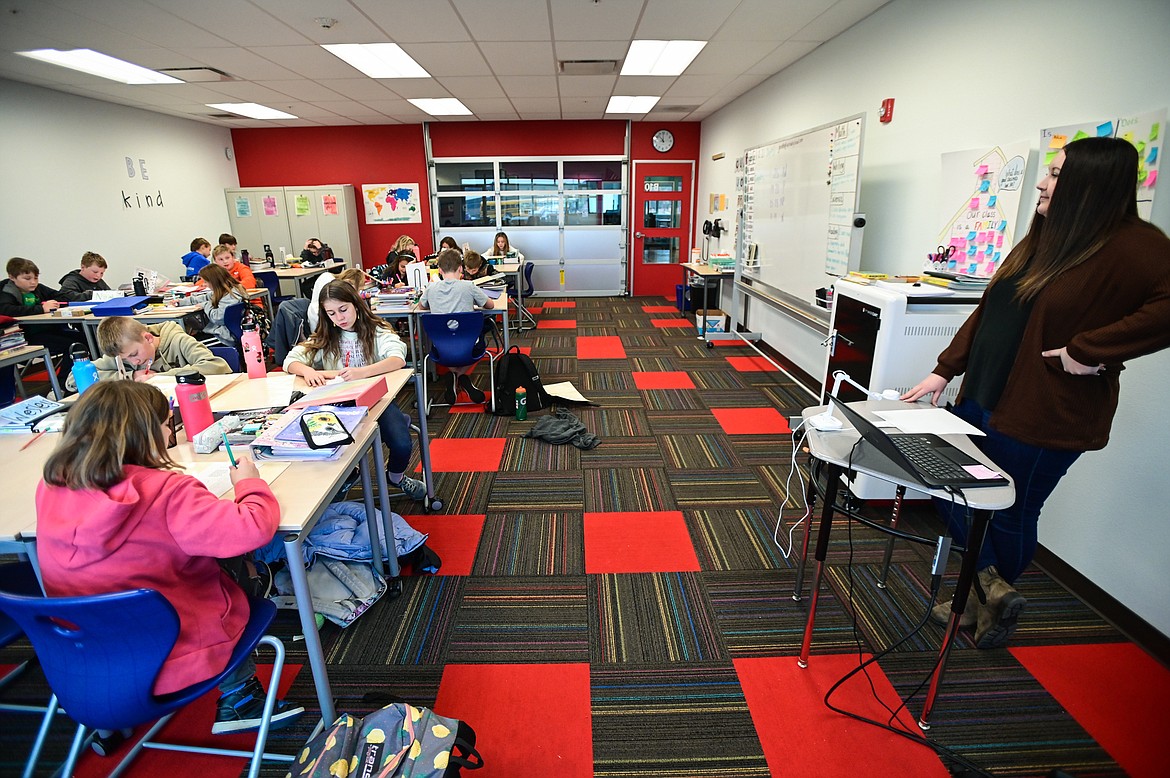 Fifth-graders go over a spelling test at West Valley School in this Nov. 12, 2021 file photo. (Casey Kreider/Daily Inter Lake file)
Canceling May's mail ballot election at the eleventh hour because of an overlooked deadline cost the West Valley School about $3,183 and district trustees this week decided to forgo another attempt at running a levy this year.
Officials cited the potential to cause confusion for the decision to hold off on a levy request. By the time the district canceled its planned May 2 election, some 4,000 ballots had been sent out to registered voters.
The ballot put a request before voters for a $300,000 general fund levy, which can cover a broad range of day-to-day costs.
The May election was canceled after trustees missed a March 31 deadline to pass a resolution stating the exact levy amount in order for the clerk to certify ballots (which means preparing the final ballot form and listing all propositions to be voted on).
Officials called for an election on Feb. 13, but the levy wasn't put on the board agenda until April 24, when it was declared invalid.
By this time ballots were in the hands of voters.
The canceled election cost West Valley $2,500 to print ballots and $683 in postage, according to West Valley Business Manager/Clerk Cecilia Lewellen.
Discussion about the levy amount popped up during West Valley Superintendent Cindy Risher's regular informational report at an April 10 board meeting. But by then the ballot form was with the printers with the $300,000 general fund levy request on it.
During subsequent board discussion it became apparent that confusion abounded about school election deadlines, timelines, board involvement in the process and ability to change the levy amount at this late stage.
And amid the confusion and debate, trustees placed Risher on leave.
AT AN April 19 special board meeting, trustees voted 3-0 to place Risher on administrative leave with pay. Montana School Boards Association lawyer Debra Silk was present to "assist in the process and protect privacy rights."
Silk summarized her understanding of the situation, mentioning contractual discussions between Risher and the board.
"I think the board was expecting a response by 5:30 [April 14] in terms of the superintendent's intent to fulfill the contract for next year," Silk said. "And I also understand there's been some discussion, or proposal, over a three-year contract with modifications of terms the board is also aware of."
Trustee Jeff Meredith made the motion to "Place Dr. Risher on leave with pay while we continue to discuss options with the MTSBA," which was seconded by Trustee Stefanie Hanson.
"I can see this is the best way to get this resolved quickly and fairly," board Chair Marilyn Hedstrom said, later adding. "The best way is to put it in the hands of capable lawyers and that's what we're doing by making this motion."
Silk said Risher's status was not necessarily reflective of any disciplinary action.
"It is not a motion that insinuates that anybody did anything wrong," Silk said. "I think in this instance, and you guys correct me if I'm wrong … what you're looking for is a little bit of breathing room to figure out where you are in terms of this employment relationship. Is that fair to say?"
"That's exactly right," Hedstrom replied.
Hedstrom declined to comment any further on the details or the duration of the leave.
Risher took on the superintendent position July 1, 2022, replacing Cal Ketchum after he became the Flathead County Superintendent of Schools. Risher joined West Valley from a principal position at Ocosta Elementary in Westport, Washington.
In the meantime, Hedstrom said the elementary and middle school principals are taking on some of her responsibilities.
ON MAY 8, trustees discussed whether or not to hold a general fund levy election in July. During public comment, West Valley resident and parent Dan Nelson spoke about how receiving another ballot in the same school year could add to voter confusion, particularly among community members who do not have children enrolled in the district and weren't aware the May election was canceled.
"My parents didn't know this was canceled until I told them," he said.
Nelson received a text message from the school on April 25, which went out to parents notifying them that the levy election was canceled. The school also posted a notice on its website.
At Monday's meeting Nelson also expressed frustration that trustees didn't ask questions about the levy in board meetings leading up to the election.
"I assume that some words or emails were exchanged before the April 10 meeting because the superintendent came with options related to all the things the school board should have been asking about during the previous two meetings," Nelson said. "Rather than focusing on those options, members complained about the things they never bothered to ask about prior. None of you were denied the opportunity to be thoughtful about the levy, you just didn't take the opportunity when you had it."
He later said he's never voted against a levy, but "that's changed" based on how the board has handled things.
After public comment concluded, the board decided against holding a levy election in July and indicated it would instead wait until the next school year, allowing for more time to communicate district needs to voters. A few trustees also voiced concern about low voter turnout if an election was held during summer vacation when school is out.
Reporter Hilary Matheson may be reached at 758-4431 or hmatheson@dailyinterlake.com.
Recent Headlines
---