Blacktail backpacking event proposed for fall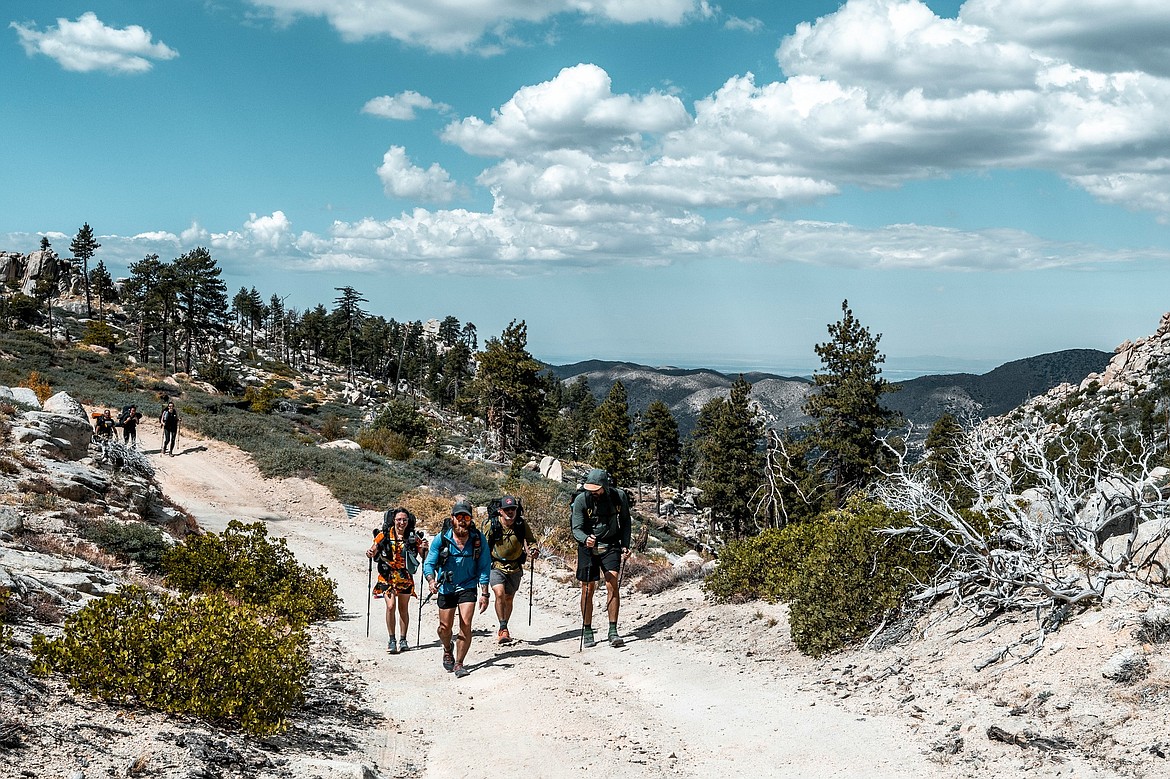 Hikers take part in the Highlander backpacking event at Big Bear, California. (Highlander photo)
A multi-day backpacking event around Blacktail Mountain is among the two dozen special-use permits under consideration by the Flathead National Forest.
The Highlander backpacking and hiking event would be held Sept. 19-23 on the Swan Lake Ranger District, with a maximum of 100 participants and support staff. Discover Kalispell is working with Highlander to bring the event to the area.
The 60-mile course would start and end at Blacktail Mountain Ski Area, and would follow the Foys to Blacktail Trail and Lakeside to Blacktail Trail, as well as the Blacktail OHV Trail, other Forest Service roads and nordic ski trails in the area.
The event will also offer a 30-mile route that is on private property southwest of Blacktail Mountain and is not included in the special-use permit application.
Participants would stay at campsites on private or state land, and would be required to follow leave-no-trace etiquette and learn about wildlife safety. The campsites would include portable toilets and water stations.
Croatia-based Highlander hosts similar events across the U.S. and in 20 countries, including Croatia, Serbia, Spain, Portugal, Italy and the United Arab Emirates. They work in partnership with the Spartan Race brand, which holds its annual obstacle-course race in Bigfork.
Diane Medler, director of Discover Kalispell, said the tourism bureau has been working with Highlander for more than a year on planning and logistics. She participated in the company's event in Big Bear, California last year and was impressed with how well it was managed.
"There's a strong focus on leaving no trace and being careful with minimizing the impact on the land," Medler said.
Highlander emphasizes that their events are not races. Their mission is to create "once-in-a-lifetime adventures at iconic destinations for a fresh perspective on life."
The events are targeted at participants who are less experienced with outdoor activities, Medler said.
"It's a guided trip, in a sense," she said.
From the tourism bureau's perspective, the event would attract people to the area during Montana's slower shoulder season. Medler anticipates the scope of the event will grow with more routes offered in subsequent years.
For now, though, organizers are purposely limiting capacity and the number of courses.
"The first year will be smaller to get it kicked off and show the Forest Service how well it's run and managed," Medler said.
OTHER NEW special-use permit requests include:
• Glacier Institute is requesting to host the Le Grizz ultra-marathon, 10k, 5k, and one-mile fun run from their facility located at the Big Creek Environmental Education Center. All races are to begin and end at the Big Creek Environmental Education Center.
• BikEternity is requesting a guided bike tour that starts in Canada and follows the Great Divide mountain bike route going south.
• Rooted Heart is requesting to provide guided forest therapy/bathing trips at the Round Meadow Trails.
• Caprakhan is requesting to provide two guided six-day goat-packing trips to Trinkus Lake using the Bond Creek Trailhead.
• Ravenwood is requesting an overnight trip on July 9, with a group size of 20, at the Red Meadow Lake developed site.
• Northwest Montana Field Journal is requesting authorization for a guided four-day hike and camp from Moose Creek Trail #9 to Trail #26 (Whitefish Divide) to Trail #74 (Blue Sky) ending on Forest Service Road 114, Lewis Creek Road on the Kootenai National Forest.
The Flathead National Forest is taking public comment on the new permit proposals through May 26. Comments can be submitted at comments-northern-flathead@usda.gov with "2023 Summer Rec Special Use" in the subject line.
An additional 18 proposals were resubmitted for a new permit, having been granted a permit previously. Those include permits for Adventure Cycling Association, Logan Health Cedar Creek Marathon, Kiwanis Rec Event, Whitefish Legacy Ultra, Ride WF-Last Best Ride, Mountain Archery Fest, USA Cycling, Action Rentals, Alpine Running Guides, Whitefish Shuttle, 406 Docks, Flathead Outdoors, Montana Outdoor Science Academy, Montana Adventure Shuttle, Great Northern Wilderness Guides, Northwest Montana Adventure, Big Sky Bible Camp, and Whitefish Bike Retreat.
Recent Headlines
---