Familar faces lead 2023 Range Riders into opener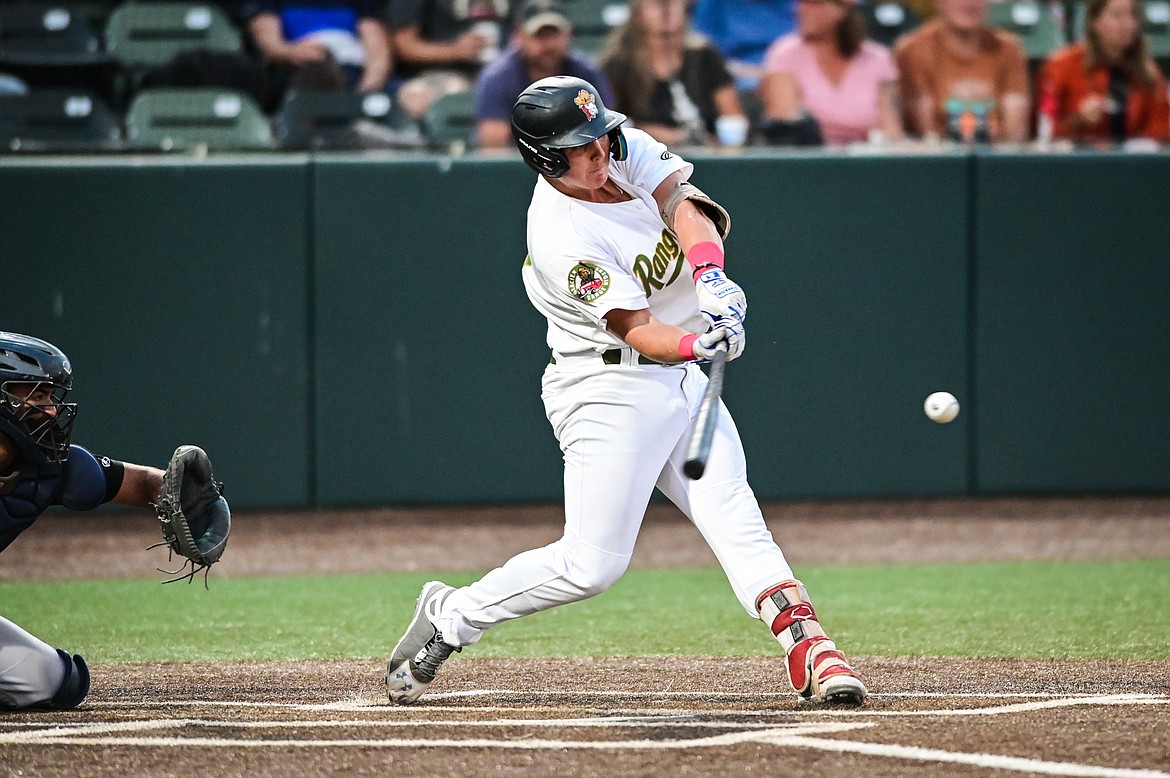 Glacier's Dean Miller (30) connects on a two-run home run in the first inning against the Great Falls Voyagers at Flathead Field on Wednesday, Sept. 7. (Casey Kreider/Daily Inter Lake)
by
FRITZ NEIGHBOR
Daily Inter Lake
|
May 23, 2023 8:54 AM
Some familiar names dot the 2023 Glacier Range Riders roster ahead of the start of their second season, which begins Tuesday night in Great Falls.
Right-handed pitcher Noah Barros is back for starters, and he'll start the Pioneer League season opener against the Voyagers at 7 p.m. at Centene Stadium.
He'll have 2022 Range Riders at catcher (Austin Bates), first base (Dean Miller), second base (Ryan Cash or Mason Dinesen) and shortstop (Gabe Howell).
Ben McConnell, who scored 82 runs for last year's squad, will start in left field.
A pair of players who stood out for last year's Billings Mustangs, third baseman Jackson Raper and right fielder Crews Taylor, are penciled into the starting lineup as well.
A new face of sorts is Stu Pedersen, who moved up from his bench coach role a year ago to take over the manager's spot. He likes what he has seen so far this spring.
"Defensively, we're very strong," he said Monday. "We're very strong offensively.
"I think we have a good group of players, not only talent-wise, but who get along together and are very professional-like. We'll see how the season goes but I think we should do really well."
Pedersen has Kingston Liniak, who was drafted by the Detroit Tigers in 2018, starting in center field.
A trio of players — catcher Drew Sims, pitcher Michael YaSenka and outfielder Sam Linscott — are injured currently. That leaves catcher Keenan O'Brien, infielder Edie McCabe and infielder Benjamin Fitzgerald as candidates for designated hitter.
Behind Barros, Pedersen's rotation is all righties: Jonathan Pintaro, Pat Miner, Rob Hamby and Tanner Solomon. The 6-foot-7 Hamby and 5-10 Solomon each won four games for last year's Range Riders.
Pedersen also lists Lyle Hibbits as a potential starter/long reliever. If one of his starting five can't go deep into a ball game, Hibbits is first out of the bullpen.
"We have another guy that's built up and ready to go," he said of Hibbits, who pitched at New Mexico State. "He'll be pitching in relief sometime in the first five games, or if not he'll start the sixth game. I think highly of him. He's more than good enough to come in and take that (starting) spot."
The Range Riders' two left-handers, Roy Robles and Andrew Holweger, will be in the pen. Pedersen hasn't settled on a true closer, but rather three late-inning guys: Robles and 2022 returnees John Natoli and Nathan Thomas.
That leaves Luke Dawson, Ryan Cloude and Justin Coleman — Coleman had six saves for last year's team — as middle relief. Matchups will help dictate who pitches late in games, and the season starts right away.
The Range Riders are scheduled to play seven games in Great Falls before coming back for their home opener May 30 at Glacier Bank Park, against the Billings Mustangs. That will start a nine-game home stand: Six games with Billings and three with the Missoula Paddleheads.
Recent Headlines
---