Hiring of Flathead hoops coach tabled by board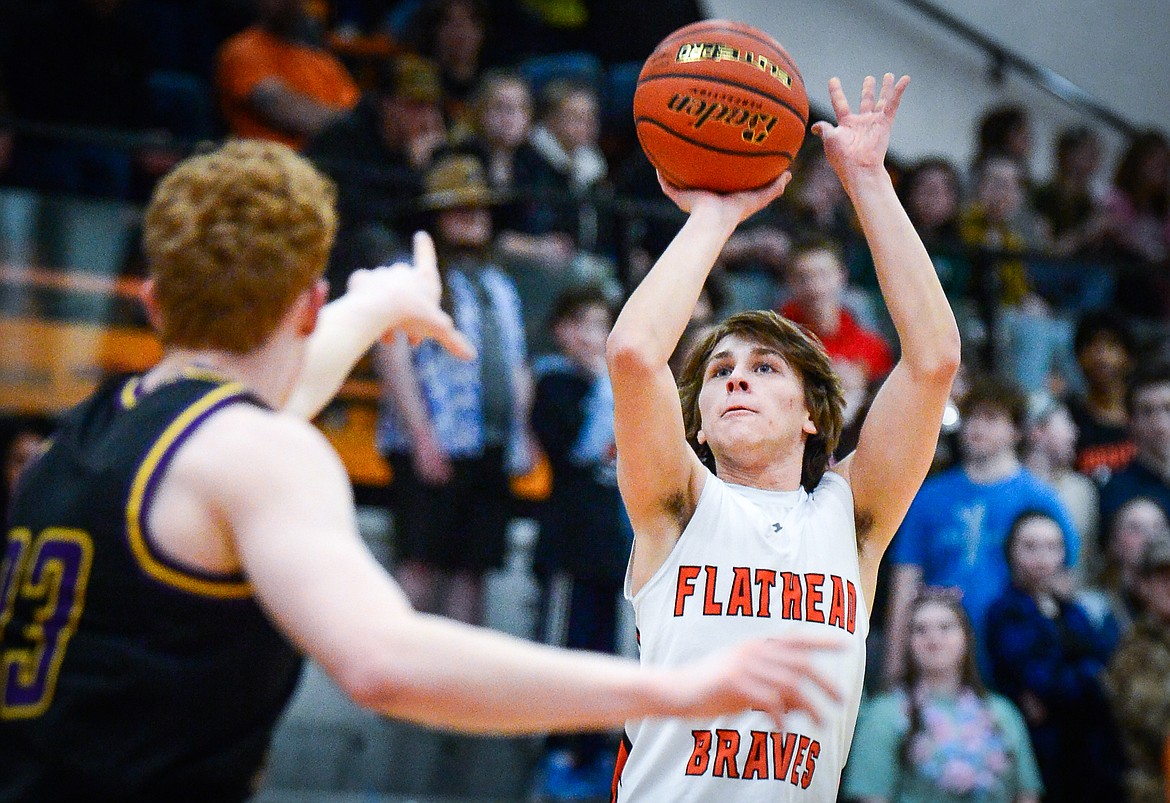 Flathead's Joshua Eagleton (2) shoots a three in the first half against Missoula Sentinel at Flathead High School on Friday, Feb. 3, 2023. (Casey Kreider/Daily Inter Lake)
by
FRITZ NEIGHBOR
Daily Inter Lake
|
May 24, 2023 11:55 PM
In another left turn in Flathead High School's search for its next boys basketball coach, the hiring of Dan Trageser has been tabled by the Kalispell School Board.
The board held a special meeting and work session Tuesday, with an agenda that included approval of faculty hirings. Heather Asher, the new chair, said the board voted to table Trageser's hiring after receiving public comment on the basketball position.
"We had a few public comments," Asher said Wednesday. "We had three gentlemen come up, and we decided we needed some more information."
Mark Weed was one of those who spoke.
"There weren't very many of us there, but we showed," he said Wednesday. "It turned out better than I thought it would."
Weed read from a statement that said, in part, a hiring committee formed and interviewed four finalists before recommending a new coach — and that its decision agreed with that of a Flathead players' committee that was formed for the first time.
That choice never reached the school board; instead, the statement reads, "The superintendent stepped in and blocked the two committees' decision to hire their chosen candidate."
This would have been in late April or early May. The choice of Trageser to be next coach was released Monday, almost two months after Dirk Johnrud's departure after three seasons was announced on March 24.
The superintendent is Micah Hill, who was at the meeting. Hill, who as superintendent can stop a recommendation, did not respond to a voicemail left Wednesday afternoon. He has also been hired to be superintendent of Missoula County Public Schools this coming school year.
Asher said that the public comments were a surprise.
"Everything that was brought up last night was news to me," she said. "And that's why we decided to table it."
She later added: "I have no idea who the first, original choice was."
Weed is a school district parent and local business owner who also is chair of the Greg Bauska Memorial Scholarship. He was to hand out $8,000 in scholarships Wednesday to Flathead students.
His statement mentioned no other finalists for the job, though multiple sources told the Daily Inter Lake they were Trageser, Flathead alum Jeff Epperly, longtime assistant coach Phil Jackson and Flathead alum George Sherwood. Sherwood was recently named boys basketball coach in Ronan.
Epperly, the son of the late Bill Epperly, was JV coach for a time under Johnsrud, who stepped down after a 1-19 season in 2022-23.
Meanwhile, in-person off-season coaching for basketball, an important time for the development of programs, begins June 1. It could take beyond that to settle on the next Flathead coach.
"It's going to depend on how long this process takes," Asher said. "The matter will be investigated by the board chair and vice-chair (Scott Warnell). I know how important the program is, how big a deal it is for the boys. So this is a priority and we will get going on this as soon as we can."
Weed felt bad about the timing, but also felt the whole matter had come to its rightful conclusion weeks ago.
"Realistically, they've told two different coaches they had the job," Weed said. "And right now neither coach has the job."
Recent Headlines
---