New angling opportunities in Montana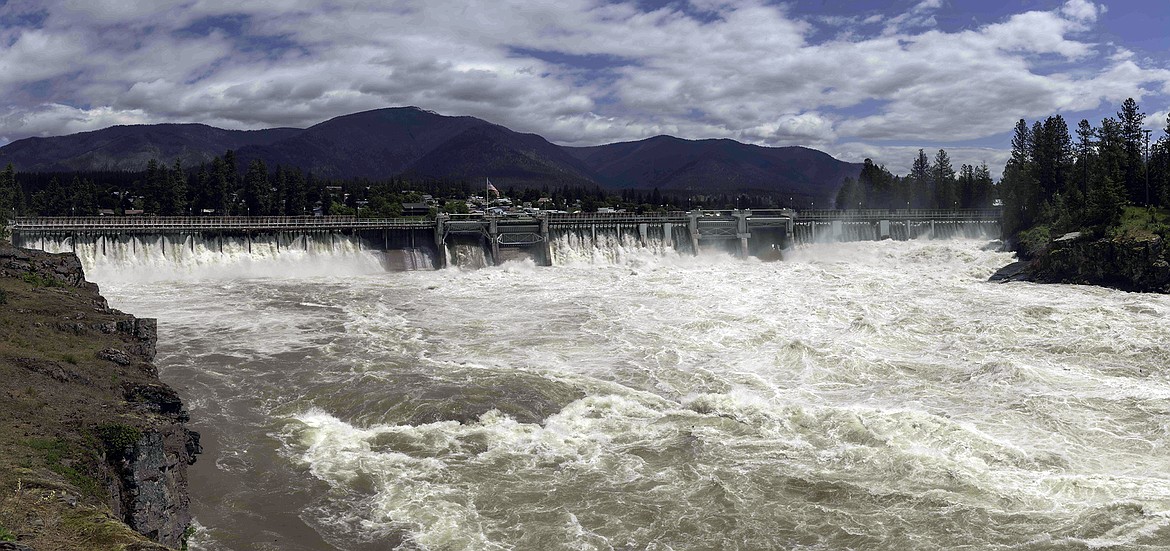 Water flows over the Thompson Falls Dam on Wednesday, June 15. (Tracy Scott/Valley Press)
by
Warren Illi
|
May 25, 2023 12:00 AM
Similar to most fishermen, or should I say anglers since there are some very dedicated local lady anglers, I am always looking for more information about how to catch more fish and especially about new angling opportunities. During the last week or two, I have been reading Montana's 2023 Annual Fishing Newsletter. This is an annual publication by FWP that highlights some of the fish management projects around the state. It is great reading and very informative. It will show you how some of your fish license dollars are being spent.
This newsletter, about 87 pages long, is organized by FWP regions, starting with Region 1 or Northwest Montana, our backyard. The Region 1 section of the newsletter highlights the fish ladder at the Thompson Falls dam on the Clark Fork River. My understanding is that this fish ladder was paid for by the dam owner, Northwestern Energy. As I recall, the fish ladder cost in excess of $6 million, paid for by the customers of the energy company. The intended purpose of the fish ladder was to permit upstream migration of bull trout, a threatened species. Above this dam, there are hundreds of miles of rivers and creeks suitable for bull trout spawning.
The fish ladder, is a series of progressively higher stair step-like small pools that allow fish to jump up from pool to pool, eventually reaching the top of the dam where they can swim upstream to their spawning grounds. Some of the pools have windows and cameras, so that every fish using the fish ladder is recorded.
Over the 11 years the fish ladder has been finished and used by migrating fish, over 39,000 fish have used the fish ladder. While the fish ladder was primarily built to facilitate bull trout moving upstream, only 20 bull trout have used the fish ladder over 11 years. But over 19,000 suckers and 7,800 northern pike minnows have used the fish ladder.



When the fish reach the top of the dam, there is a larger pool where fish are held temporarily for study and tagging. Tagged fish have been recovered as far as 189 river miles up the Clark Fork and Blackfoot Rivers. Some fish have moved as much as 9 miles upstream in a single day. So, in spite of not allowing many bull trout to move upstream, lots of good fish biological data has been gathered.
The newsletter has another long article on how rainbow trout are managed in Browns Lake in the Blackfoot Valley. Browns Lake is a favorite lake for many local anglers because it produces tons of great eating and hard fighting rainbow trout. Brown's Lake is a very productive prairie lake and is managed as a "put-grow-and take fishery." Trout are managed on a two-year cycle, with most of the fish caught being only 2 to 3 year old fish. A few trout escape the planned capture or catch target dates, so they live to become trophy fish over 22 inches long.

Another interesting article is from Southwest Montana in the Big Hole River country, where FWP is trying to save the very rare Arctic graying. The rare grayling are in danger of having their rare genetics diluted by other fish. So, a local Flathead Valley lake, Handkerchief Lake in the South Fork of the Flathead River, is being used to store and grow genetically pure Arctic graying stock for re-introduction back to the Big Hole country.

There are many other similar articles on fishery management in this great newsletter. According to a note on the back cover of this publication, only 4,000 copies of this newsletter were printed statewide. So, if you want a free copy, I recommend calling the folks at FWP's office (406-752-5501) on Meridian Road and reserve a copy, then hustle down and pick up your copy. Good reading!
Also, remember your antelope license applications need to be submitted by June 1.
Recent Headlines
---