Blackfeet Nation's Lily Gladstone in spotlight for role in Martin Scorsese's new film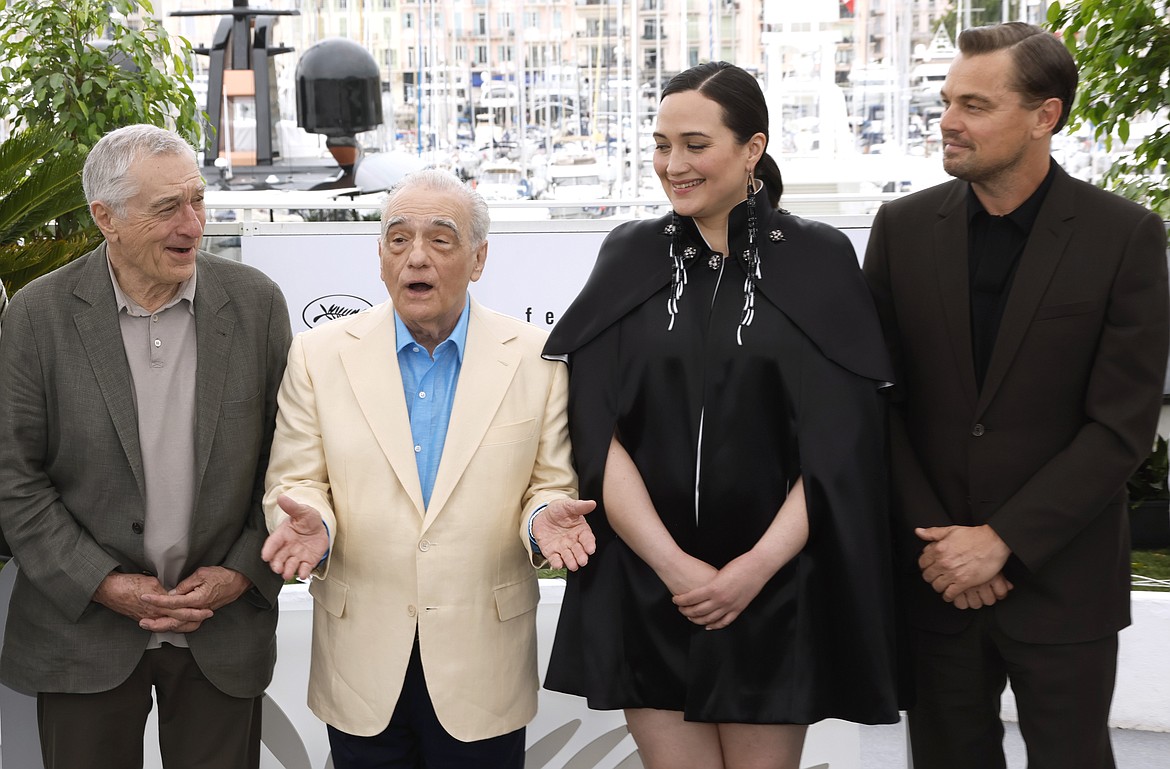 Robert De Niro, from left, director Martin Scorsese, Lily Gladstone and Leonardo DiCaprio pose for photographers at the photo call for the film "Killers of the Flower Moon" at the 76th international film festival, Cannes, southern France, Sunday, May 21, 2023. (Photo by Joel C Ryan/Invision/AP)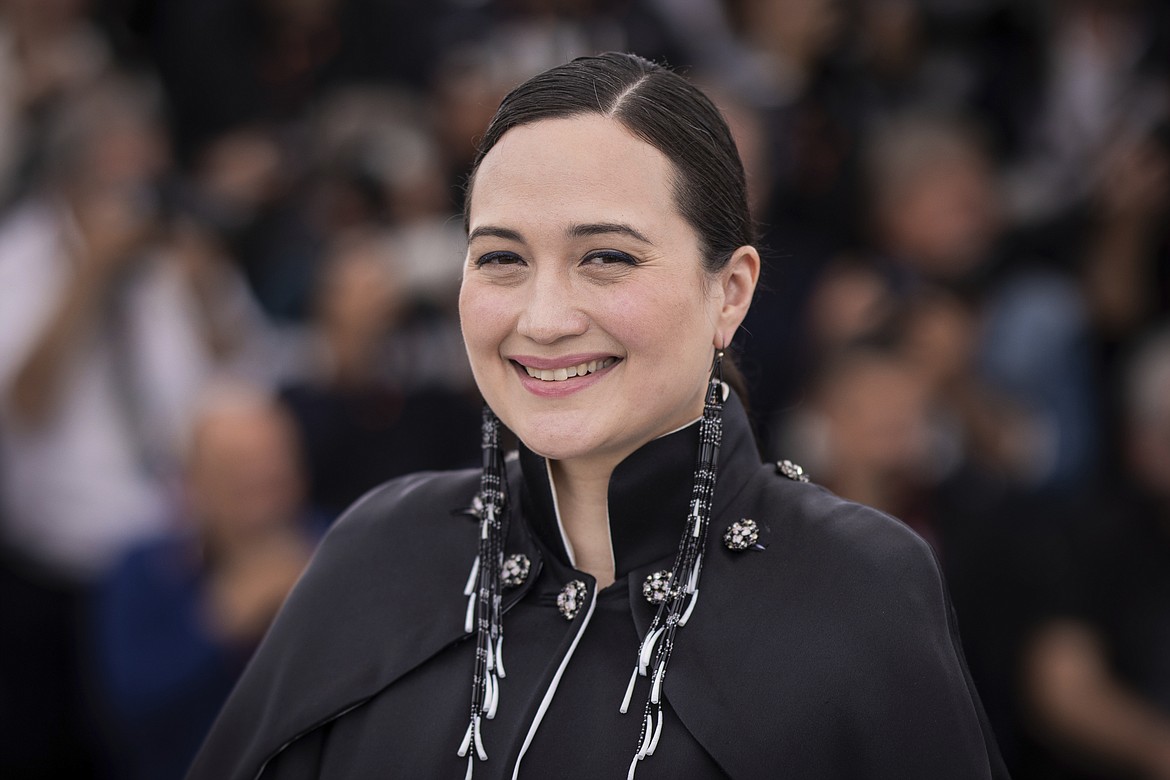 Lily Gladstone poses for photographers at the photo call for the film "Killers of the Flower Moon" at the 76th international film festival, Cannes, southern France, Sunday, May 21, 2023. (Photo by Vianney Le Caer/Invision/AP)
Previous
Next
by
TAYLOR INMAN
Daily Inter Lake
|
May 26, 2023 12:00 AM
Actress Lily Gladstone of the Blackfeet Nation has been making international headlines for her role in director Martin Scorsese's new film "Killers of the Flower Moon."
Her cousin is acclaimed singer-songwriter, poet and speaker Jack Gladstone, who helped found Glacier National Park's Native America Speaks program, the longest running program of its kind in the national park system. He remembers Lily spending her early years on the Blackfeet Reservation, dreaming of becoming a dancer. That love of performing carried on into a successful career as an actress.
When he heard the news of her getting the role in 2020, Jack knew it would be her most impactful so far.
"I cried for about a half-hour because I understood that this would provide a platform for more than just the family to be grateful … But this would provide a platform to examine, as human beings, how we have treated one another as cultures," Jack said.
Lily graduated from the University of Montana in 2008 with a Bachelor of Fine Arts in acting with a minor in Native American studies. Her breakout acting role came in 2016 with Kelly Reichardt's "Certain Woman," a performance that earned her several awards and nominations.
In her latest role, Lilly stars alongside Leonardo DiCaprio and Robert De Niro, in the film that chronicles the series of killings that took place throughout the Osage Nation in 1920s Oklahoma. The Osage were then enormously rich from oil on their land, and many white barons and gangsters alike sought to control and steal their money, according to an Associated Press article. Dozens of Osage Native Americans were killed before the FBI, in its infancy, began to investigate. The film is based on the nonfiction book by David Grann, "The Killers of the Flower Moon: The Osage Murders and the Birth of the FBI."
The film debuted at the Cannes Film Festival in France last weekend to thunderous applause, with Lily having one of the most-praised performances, the Associated Press reports.
Jack said Lily learned how to speak some Osage and worked with a language coach from the University of Oklahoma to get down the "Oklahoma drawl." She wanted to "cross her t's and dot her i's" when it came to being as accurate as possible for her part.

During the film's early stages, it focused more on the events and the formation of the FBI. But after Scorsese spent more time consulting members of the Osage tribe during the film's delay at the beginning of the pandemic, it became more about the betrayal felt by the Native people.
"It will be good medicine, I think, for those who are willing to be challenged in their perspectives on culture, on race and on aspects of our American experience," Jack said.
He feels gratitude for Lily's accomplishments and that she is part of sharing an important story on such a large stage.
"You can look up her work record. You know, she's worked her tail off in getting to this position and nothing is given to you at that level. But now she's comfortable working with the best people in Hollywood," he said.
Telling Native American stories is a family thread.
Jack is about to embark on another busy summer in Glacier Park, where he drives for Sun Tours and gives presentations for Native America Speaks. The program, entering into its 41st season, features talks from many different Native speakers of local tribes on a wide range of topics.
Jack's daughter Mariah Gladstone will join him in her 12th season of giving presentations in the park. A Columbia University graduate, Mariah's efforts center on reclaiming traditional Indigenous recipes and ingredients through her project Indigikitchen.
Jack said the next generation of Blackfeet people are participating in telling Native stories.
"There is a second generation that is percolating towards the presentations — my daughter is in that, you know, she's the next wave coming up … There is mentoring that is going on, with re-evaluation and refocusing the lenses and trying to present things, whether they be songs, or words, or stories or all of the above … This will allow us to become the best versions of ourselves and maybe the best version that our country can become," he said.
"Killers of the Flower Moon" will be released to select theaters on Oct. 6, followed by a wide release on Oct. 20.
Reporter Taylor Inman can be reached at 406-758-4433 or by emailing tinman@dailyinterlake.com
Reporter Taylor Inman can be reached at 406-758-4433 or by emailing tinman@dailyinterlake.com.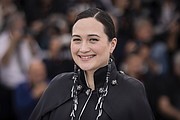 Recent Headlines
---