Businesses addressing local child care shortage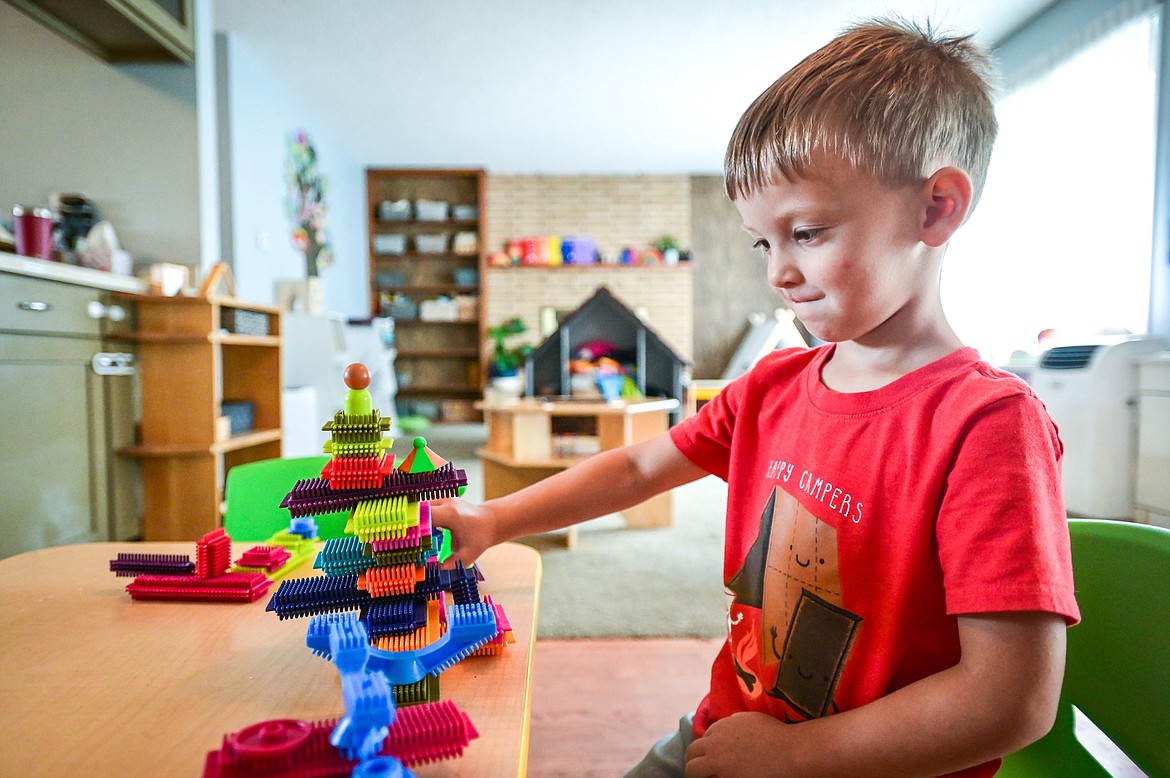 Noah plays with a set of building blocks inside the preschool at The Birds Nest Early Learning Village on Friday, Aug. 26. (Casey Kreider/Daily Inter Lake)
by
ADRIAN KNOWLER
Daily Inter Lake
|
May 26, 2023 12:00 AM
Local businesses and child care centers are looking to partner up and offer child care benefits in an effort to attract and retain employees, with a lack of early childhood education and preschool options keeping would-be working parents at home to take care of young children.
A study commissioned last year by the Kalispell Chamber of Commerce found that 80% of families reported challenges in finding child care in the Flathead Valley, with the same portion of respondents saying they would change jobs if offered a role at a workplace that offered child care assistance.
The survey found that monthly child care expenses ranged from $850 to $1,500, and even more for infant care. Half of respondents reported missing over a week of work in the previous year to care for their kids.
In conversations with employers, the chamber has identified the child care shortage as a major barrier to meeting workforce needs, according to Lorraine Clarno, director of the Kalispell Chamber of Commerce.
Clarno hopes that employers stepping in to sponsor or provide child care as employment benefits will help lessen the burden on working families and attract more people to work in the early childhood education field.
The chamber has identified facilities that could boost availability by about 1,000 slots, but Clarno said that the lack of workers remains the biggest obstacle to meeting the gap.
A few of the area's largest employers are among those trying to meet the need, with a handful already providing on-site child care, according to Clarno.
Kid Kare, operated by Logan Health, serves 129 children of hospital employees, according to Logan spokesperson Chris Leopold.
Flathead Valley Community College is in the process of selecting a provider to reopen its on-campus early childhood center, which has been closed since 2020, according to Clarno. The facility could accommodate up to 75 children when in service.
Retirement community operator Immanuel Lutheran Communities has a conditional use permit coming before the Kalispell City Council next month that would allow them to relocate and expand their in-house child care center.
Immanuel has reached an agreement with Northridge Lutheran Church to occupy underused church facilities for a marginal fee of $1 per month, according to Northridge Pastor Carol Seilhymer.
The church is offering use of classrooms, a gym and an outdoors playground area, with the goal of expanding its programs to accommodate up to 100 children using American Rescue Plan Act grant funding.
Known as Growing Roots, the existing center opened last October and currently cares for 32 children, many of whom are the children of Immanuel Lutheran employees, according to Director Leigh Ann Downie-Economy.
Downie-Economy has kept up on how corporations around the country are trying to meet the child care needs of employees, and pointed to an Allstate Insurance program that provides early childhood education to employees in Illinois.
She thinks the idea is gaining traction locally.
"I think that it will start to catch on in the valley when other companies can see how well it's working, and see the quality of the care," she said.
"We've had nothing but fantastic feedback and it's great to have [employees] talking about it at work," added Downie-Economy. "We want people to be talking about it, talking about it in the moms' [social media] groups. We've started 14 new kids in the last few weeks."
The Bird's Nest, a Kalispell early childhood education center, has also received $1 million in federal grants to expand their services to a new building by next spring.
Owner Corinne Kuntz wants to work with employers to reserve child care slots for their employees, and has spoken with a few of her clients who are local business owners. The new facility will be licensed to educate up to 125 children, and Kuntz wants to initially reserve 25 or so slots for local companies.
Her program is only in the early stages, but Kuntz says she wants to talk with local businesses to get them on board.
"Now that we have a more accurate construction timeline, I will start solidifying the details of our priority waitlist and dedicated space business partnership option," Kuntz said. "I am ready to have those initial conversations."
Even as certain programs ramp up, it can feel like two steps forward and one step back.
This week, Columbia Falls child care center Nature Kids announced its closure at the end of May, forcing 50 families to find other options, according to a report by The Hungry Horse News.
Nature Kids was forced to shutter because of increasing rents, state regulations and the inability to pay competitive wages, according to Director Nicole Brown.
"The need continues to grow as the economy and our community grows," said Clarno.
Reporter Adrian Knowler can be reached at 758-4407 or aknowler@dailyinterlake.com.
Recent Headlines
---