Columbia Falls High School senior pushes through grief to find strength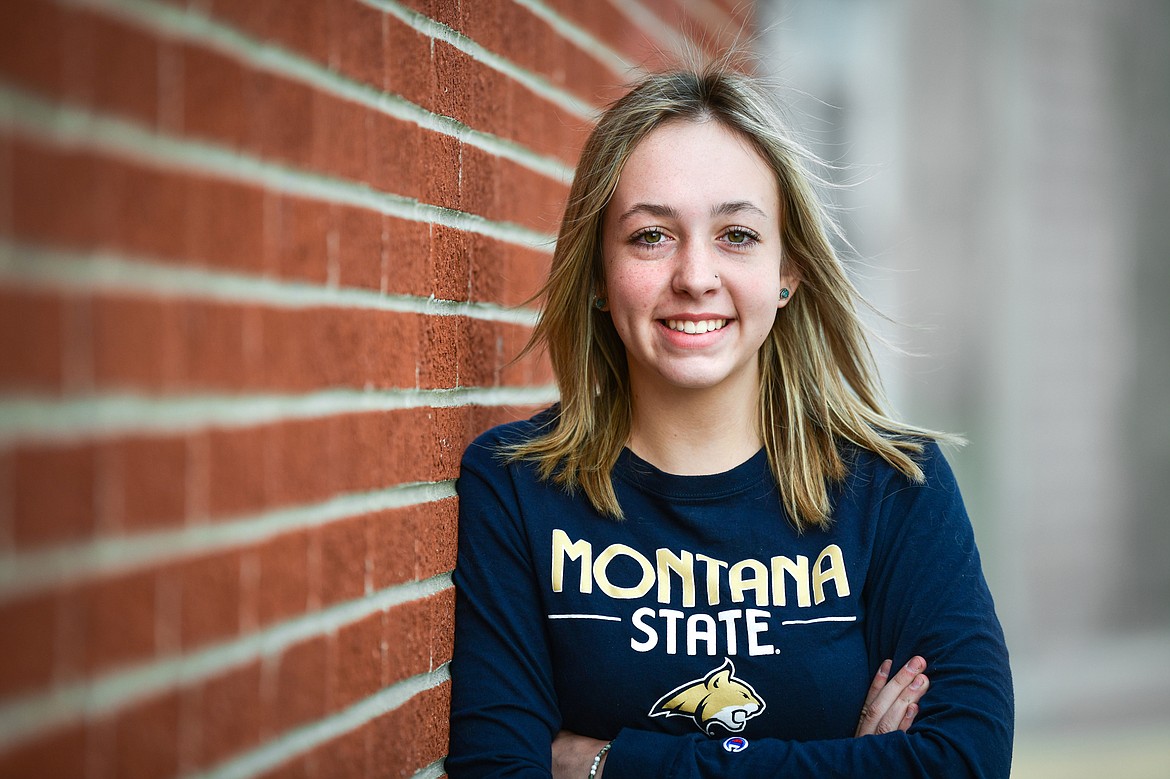 Columbia Falls senior Carli Harrah on Thursday, May 18. (Casey Kreider/Daily Inter Lake)
by
TAYLOR INMAN
Daily Inter Lake
|
May 28, 2023 12:00 AM
Columbia Falls High School senior Carli Harrah is ready for the next chapter. Facing grief head-on as an underclassman, she came out stronger on the other side and ready to pursue a career in the medical field.
When she lost her father to suicide a couple of years ago, Harrah said it became very difficult to find interest in school.
"At the time, I felt like I could have done better things to help with my mental state and I felt like school was just not helping with anything ... It was just hard being around people when something so big happens to you and they can't really go through it with you— they don't know what you're going through and nobody can really help," Harrah said.
One of the only helpful things about school was chatting with Columbia Falls High Counselor Brian Crandell.
"Carli is one of the strongest people I have ever met. She went directly at all the feelings and psychological baggage that come with a parent dying. She was open, candid, vulnerable and honest about just how much it hurt to lose her dad," Crandell said.
Harrah doesn't shy away from difficult parts of life, the teen has goals of working in emergency rooms much like her grandfather who was an emergency room doctor. While normal school work is unengaging for her, she thrives when taking college-level medical courses at Flathead Valley Community College.
"I've always loved learning how to help people and I've always loved blood and guts, and like all that stuff. It's fascinating to me and I always enjoy finding what's wrong, just learning about different diseases or anything that has to do with the human body," Harrah said.
She said there are some things that are intimidating about trauma care, like how fast personnel have to make decisions in emergency situations, but she enjoys the adrenaline. Whenever she hears an ambulance in town, she said she wonders where it's going and what's going on.
"I could never work as a family health doctor, that sounds so boring," Harrah said.
This drive to get into the medical field one day helped her push through the desire to let school fall by the wayside. When she reflects on that difficult time in her life following her father's death, she said her younger sister helped her stay strong.
"We both feel the same feelings for the most part and we know each other really well. She's like my baby and I do anything for her," Harrah said. "But, that was the reason I stayed strong and kept pushing through. It's just to be good for my sister and be like a good influence."
Her younger sister is a freshman this year, so the two got to spend some time in the same building together before Harrah graduates. She said it's been nice to watch her experience her first year of high school.
"I love just getting to go home for lunch with her and getting to hang out. Because, you know, in junior high you don't get to do anything, you just have to wait all day. And to be fair, when she was in junior high, we weren't really that close, but we're a lot closer now," Harrah said.
Her mother Miranda Harrah said it's sad to see her daughter growing up, but heartwarming to watch her find her passions and come out the other side of an emotionally difficult time.
"She's an amazing kid and I'm really proud of her, obviously it's very emotional … I think she finally found something that she's interested in that is driving her to want to be something awesome," Miranda said.
After graduation, Harrah is planning to attend Montana State University in Bozeman to study microbiology and pre-med. She'll have to leave the state for medical school, potentially going to Arizona, she said. But she has plans to return and work in her home state when she's completed all of her schooling.
She's looking forward to living somewhere other than Columbia Falls, but admits the unbridled freedom has her feeling a little hesitant.
"It actually gives me a lot of anxiety. It's a lot of freedom, a lot of responsibility and everything and like, I got to learn how to be able to live on my own. Which, I'll be fine, I'll be good," Harrah said.
As someone who has worked through hard changes in the past, those who care about Harrah know she is headed toward success in whatever she puts her mind to.
"It is rare to see someone be ripped wide open by events yet still have the strength and grace to carry on. I feel privileged to have been with her on her journey from complete devastation to her graduation with a bright future," Crandell said.
Columbia Falls High School holds its commencement ceremony for the Class of 2023 on Saturday, June 3. The ceremony begins at 11 a.m. in the high school gym, at 610 13th St. W., Columbia Falls. Around 135 students are anticipated to graduate.
Reporter Taylor Inman can be reached at 406-758-4433 or by emailing tinman@dailyinterlake.com.
Recent Headlines
---