Whitefish High School senior finds opportunity in life's challenges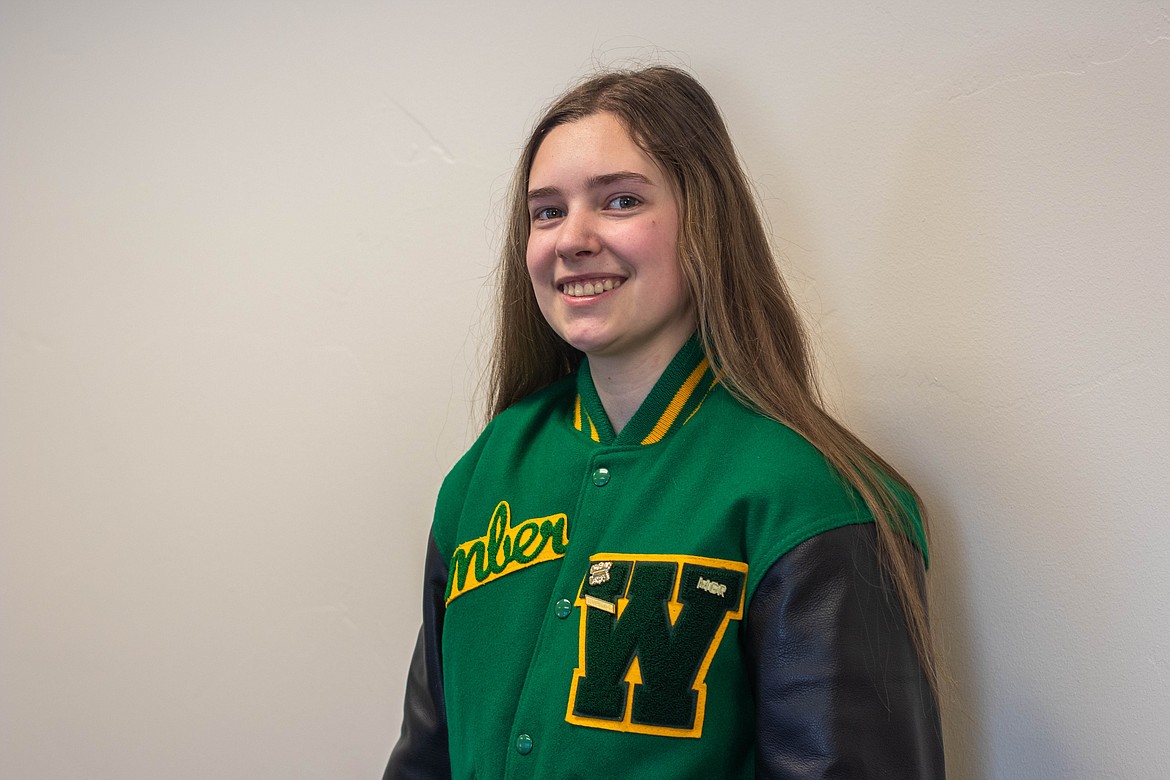 Amber Samuels, a 2023 Whitefish High School graduate, stands for a portrait on May 10, 2023. (Kate Heston/Daily Inter Lake)
by
KATE HESTON
Daily Inter Lake
|
May 29, 2023 12:00 AM
Amber Samuels, as her teachers describe her, has a profound impact on those around her.
Likewise, Samuels, who will graduate from Whitefish High School on Saturday, attributes all the good experiences she has had in the school system to her teachers.
"I'm definitely just really thankful for all of the teachers I have had," Samuels said. "They are amazing teachers."
Samuels was born hard of hearing. Born in Kalispell and growing up in Whitefish, she often found it difficult to interact with other kids because she couldn't really understand them. At 6 months old, she got her first pair of hearing aids which she used up until the end of middle school.
She was the first — and for a while the only — deaf student to go through the Whitefish school system.
As a child, she attended human speech therapy sessions while on horseback in the Flathead Valley. Samuels recalls walking in circles on the horse while Bob, the therapist, would talk to her and get her to practice her speech. According to her mother, Christine Samuels, the program was amazing and was so much more than just speech.
"As I got older though, my hearing got worse over the years and the hearing aids started to not work as well," Samuels said.
Now, today, thanks to cochlear implants, she doesn't hear with her ears, she hears with her brain.
After dozens of visits to the Seattle Children's Hospital in high school, Samuels got her cochlear implants. Her ears are nonfunctional now — sound, rather, is streamlined to her brain. She can even control the volume, check the battery, and play music via an app on her phone.
Samuels, despite her disability, has not shied away from opportunity. She started drama at the beginning of high school, managed the track team, and took advanced classes in biotech, chemistry and medical classes.
She also has a full-time interpreter with her at school named Bonnie Kuehne. Kuehne is retiring this year after Samuels graduates — the pair is having a combined graduation and retirement party to celebrate.
When Covid forced its way into daily life, Samuels suddenly felt at a disadvantage. While wearing masks, she couldn't read lips, which she uses to understand what people say, and the sound was muffled. Online classes lacked proper closed captioning ability. Face shields, which she had to wear for drama, just bounced her own voice back into her cochlear implants which were painful.
As a result, Samuels made an effort to find a system that worked for her — while some kids utilized hybrid learning, Samuels was in the classroom with teachers, getting her back on track. Online learning in the face of Covid was a difficulty for many students, and Samuels recognized that her unique situation required change.
"Just as a mom, Covid taught her how to advocate for herself. She did amazing," her mom, Christine said. "She became so much better at advocating for herself because she had to."
Not only does she advocate for herself, but she takes risks and tries to do the things that interest her. Most recently, Samuels joined the school choir her senior year.
"I actually was debating with myself about whether or not I should join," Samuels said. "My whole motivation behind it was to better use my voice, or my speech really. Plus my sister is in choir."
So Samuels joined choir, led by Whitefish High's choir director Sky Thoreson. According to Thoreson, while Samuels wasn't matching pitch at first, as noises sounded different with her cochlear implants, she put in extra work, training herself as to what the pitches should sound like.
"She chose to do something very vulnerable," Thoreson said. "Even when she doesn't sing something perfectly in tune, she gets a huge round of applause because the kids are just, I think, very inspired by her vulnerability and her willingness to put herself out there."
But her work ethic is only an aspect of what makes Samuels a great student, according to Thoreson. Simply put, she is just awesome.
"She is the sweetest person. She is such a joy to interact with, she is the most positive student I have," Thoreson said. "She has such a positive attitude… and has played an integral role in leadership by action in the class."
Samuels is looking forward to her next adventure — studying to become a veterinarian technician at the Pima Medical Institute in Tucson, Arizona.
"For some reason, ever since I was a kid, I've always liked animals, honestly," Samuels said. "As the years went by, of course, I changed my views — like I wanted to be a cop, I wanted to be a firefighter — but now I'm right back to square one: veterinary technician. I literally cannot see myself doing anything else for a living."
Samuels was originally looking at going to the Pima Medical Institute in-state in Dillon, but had to transition after the school shut down. According to Samuels, it was panic mode. But, after visiting Tucson and talking with the school, she looks forward to starting her new journey — even though change can be scary.
But those who know Samuels are excited to see what she does next.
"She's taken what would be, for a lot of people, a hardship and made it into her story, and it's a really beautiful story," Thoreson said. "I think because of her disposition and bright light, there is no way not to respect her because she's confident and has taken the cards that were given to her and made a royal flush out of it."
At the end of the day, nothing will or can stop her. According to Thoreson, giving up is not in her vocabulary.
The Whitefish High School holds its commencement ceremony for the Class of 2023 on Saturday, June 3. The ceremony begins at 1 p.m. in the high school gym, 1143 Fourth St. Around 125 students are anticipated to graduate.
Reporter Kate Heston can be reached at kheston@dailyinterlake.com or 758-4459.
Recent Headlines
---