Gary Mahugh blazes into next phase of life with business transition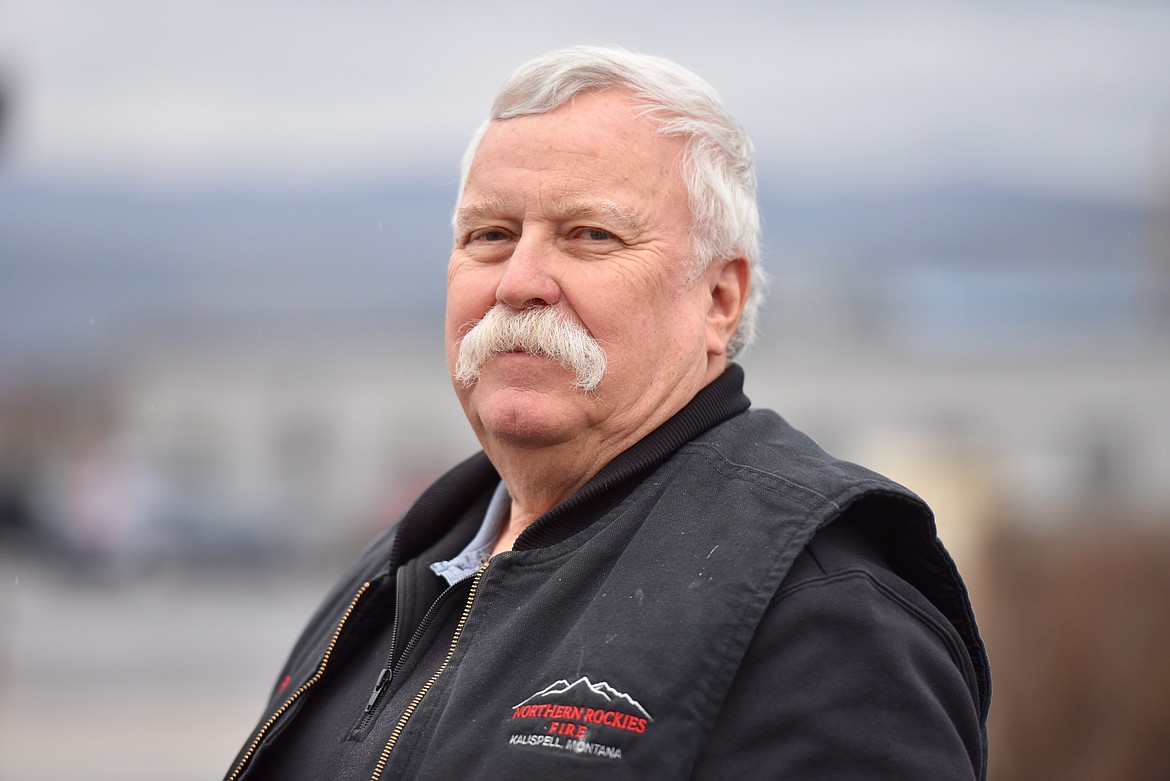 Gary Mahugh is the owner of Northern Rockies Fire. (Matt Baldwin/Daily Inter Lake)
by
KATE HESTON
Daily Inter Lake
|
November 14, 2023 12:00 AM
After 23 years of business, Gary and Luann Mahugh have sold Evergreen's Mahugh Fire and Safety to focus more on their other business, Northern Rockies Fire. 
"I want people to know that we are not going away," Gary Mahugh said. "We are just focusing on the equipment side now. To be able to help people when they truly are in need is a really big deal for us."
Mahugh, born and raised in Creston, has been around fire since he was a kid. His father was a training officer for the Creston Fire Department and Mahugh joined the force himself in 1974 just after he turned 18 years old. From forest fires to house fires, Mahugh knew he wanted to be involved in firefighting.
"People say firefighting is either in your blood or it isn't," Mahigh said. "It's a passion for me, it's in my blood."
In 1982, Mahugh became the Creston Fire Department's Chief, a position he still holds to this day. In the field, Mahugh quickly realized that, as a firefighter, equipment is everything. After a 23-year career with Flathead Electric Co-op, Mahugh wanted to take the importance of equipment to the next level. 
In late 2001, Mahugh purchased Dick's Fire and Safety, a local company, changing the name the next year. In 2006, the company acquired Accurate Fire Systems, Mahugh's biggest competitor, and the company significantly grew. 
"We became about four times bigger overnight," Mahugh said. 
The company did two main things. Notably, it sold and serviced fire extinguishers, an essential device for fire safety. After acquiring Accurate Fire Systems, Mahugh began getting into restaurant and industrial engineering fire suppression systems, meant to put out a fire in an immediate way. 
Around 2005, interested people began showing up at the business in search of equipment that Mahugh did not yet sell, such as fire hose, protective clothing and pumps. When the demand increased, Mahugh started to expand the equipment available but overtime realized it would make more sense to create his own fire equipment company. 
Hence, Northern Rockies Fire was created in 2018 and began selling firefighting equipment to local businesses, fire departments and residents. The goal, Mahugh said, is to equip people and businesses with the tools to protect themselves. 
"Helping people to be safe and just helping when they're having a lousy day is my favorite part of this," Mahugh said. 
Mahugh Fire and Safety has been sold to Summit Companies, a national conglomerate of fire protection companies. 
Now, Mahugh and his wife, whom he met while she was working for Wheatland Fire Equipment in Wyoming, look forward to taking some time for themselves and expanding the business they created together. 
"It's an exciting time for us," he said. 
Northern Rockies Fire is located at 1735 Montana 35. For more information, visit https://northernrockiesfire.com/
Reporter Kate Heston can be reached at kheston@dailyinterlake.com or 758-4459. 
Recent Headlines
---