Trending up: McDowell keys Grizzlies' win over Bobcats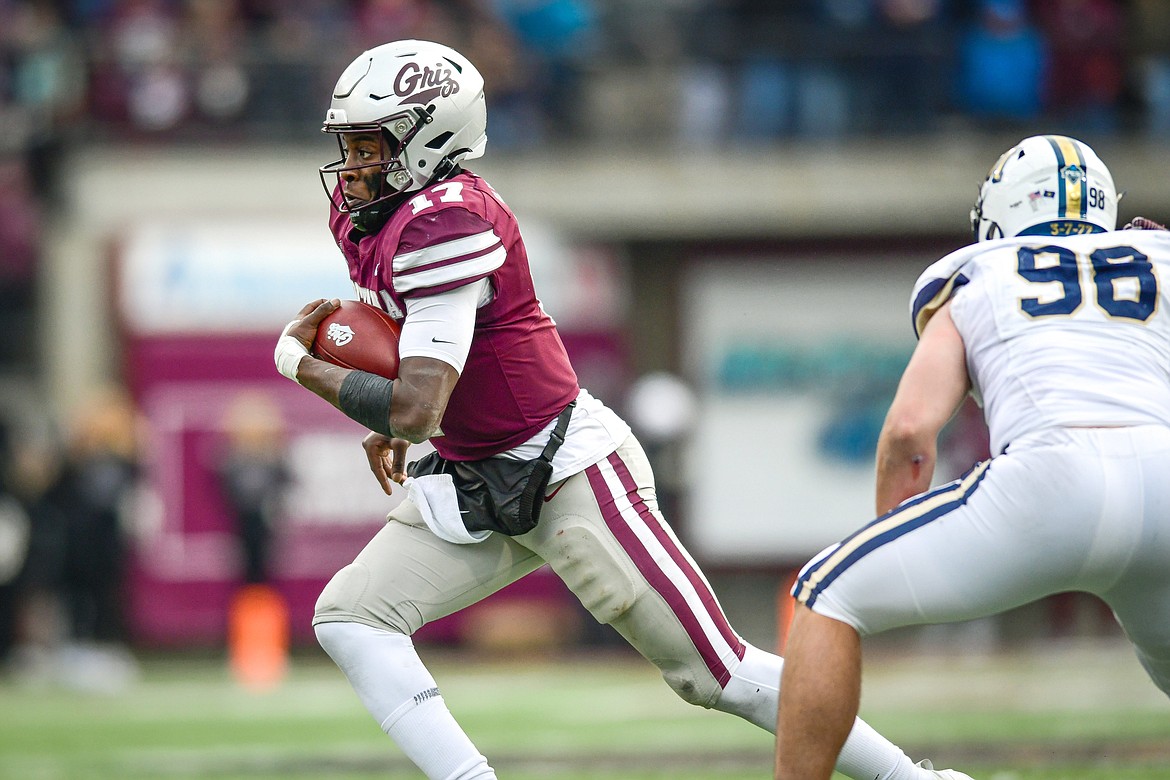 Montana quarterback Clifton McDowell (17) scrambles for a gain in the third quarter against Montana State in the 122nd Brawl of the Wild at Washington-Grizzly Stadium on Saturday, Nov. 18. (Casey Kreider/Daily Inter Lake)
Casey Kreider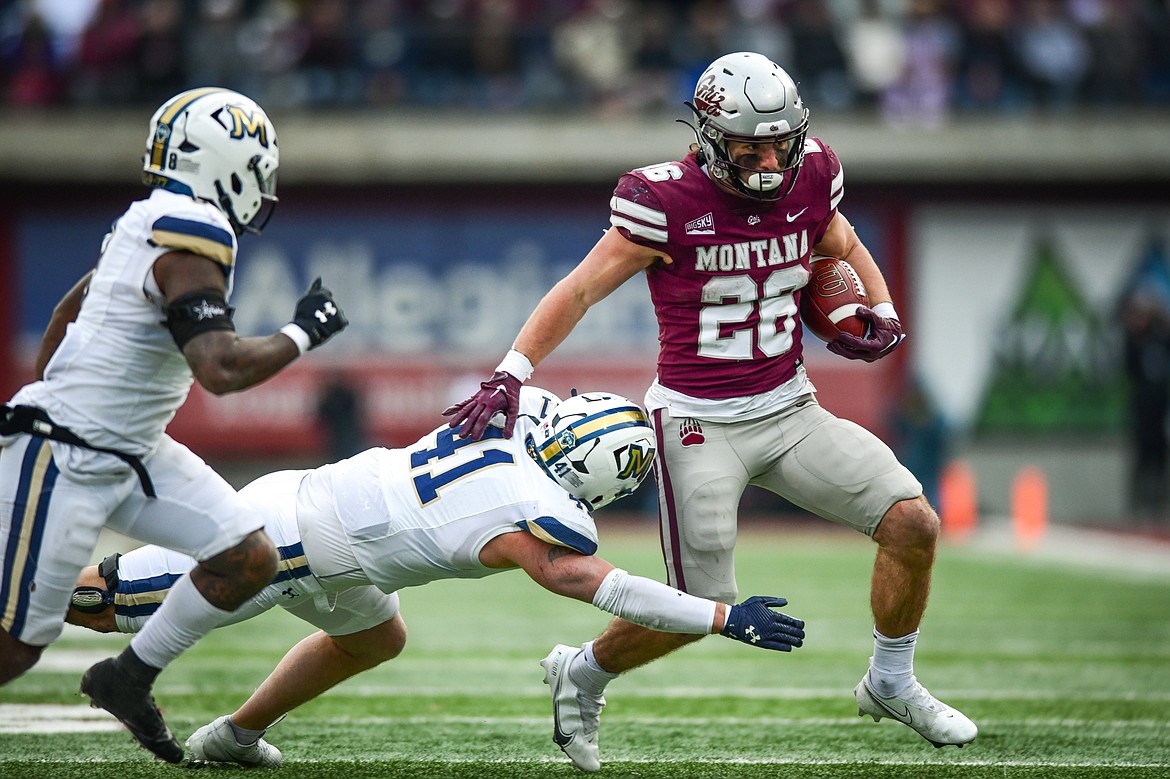 Montana running back Nick Ostmo (26) picks up yardage on a run in the third quarter against Montana State in the 122nd Brawl of the Wild at Washington-Grizzly Stadium on Saturday, Nov. 18. (Casey Kreider/Daily Inter Lake)
Casey Kreider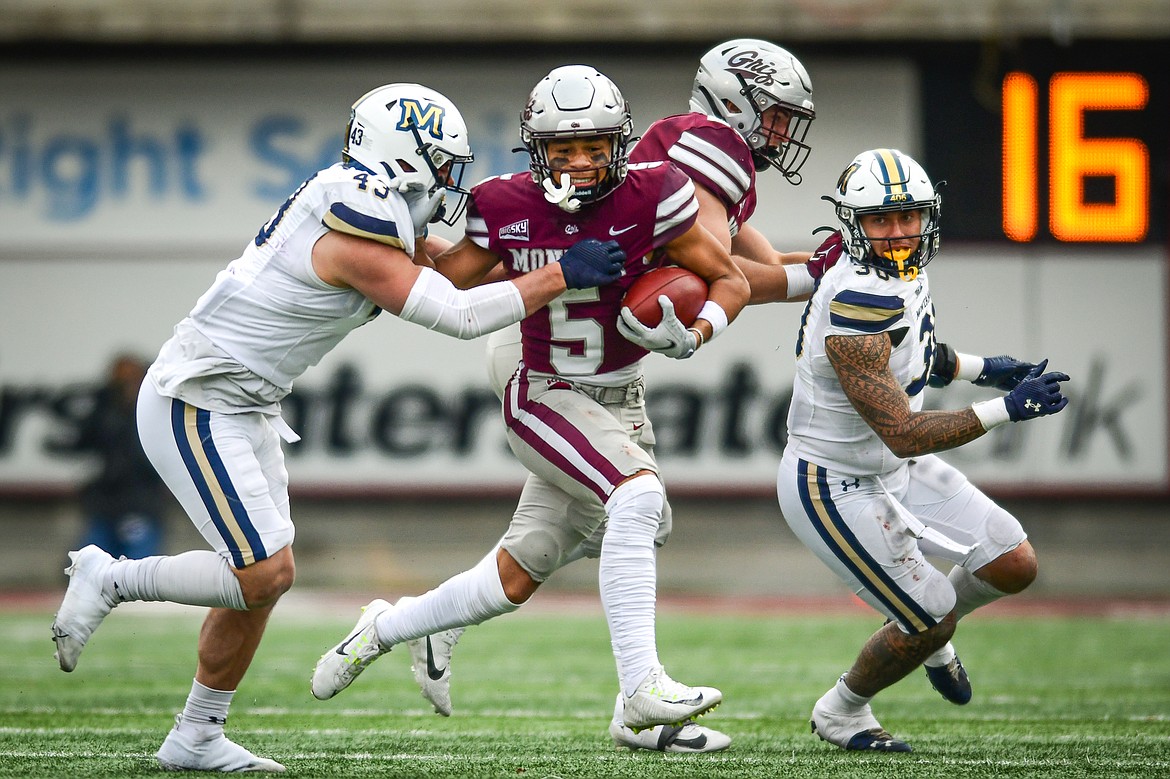 Montana wide receiver Junior Bergen (5) picks up yardage on a run in the third quarter against Montana State in the 122nd Brawl of the Wild at Washington-Grizzly Stadium on Saturday, Nov. 18. (Casey Kreider/Daily Inter Lake)
Casey Kreider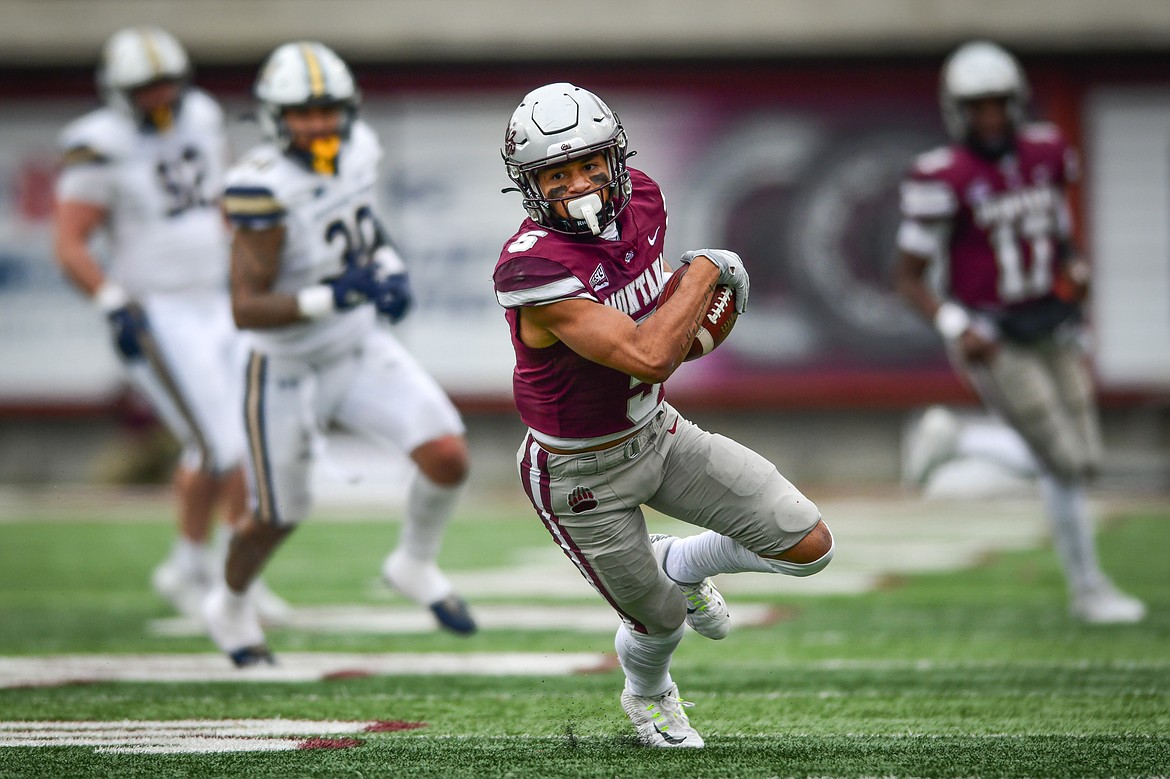 Grizzlies wide receiver Junior Bergen (5) heads upfield after a reception in the first quarter against Montana State in the 122nd Brawl of the Wild at Washington-Grizzly Stadium on Saturday, Nov. 18. (Casey Kreider/Daily Inter Lake)
Casey Kreider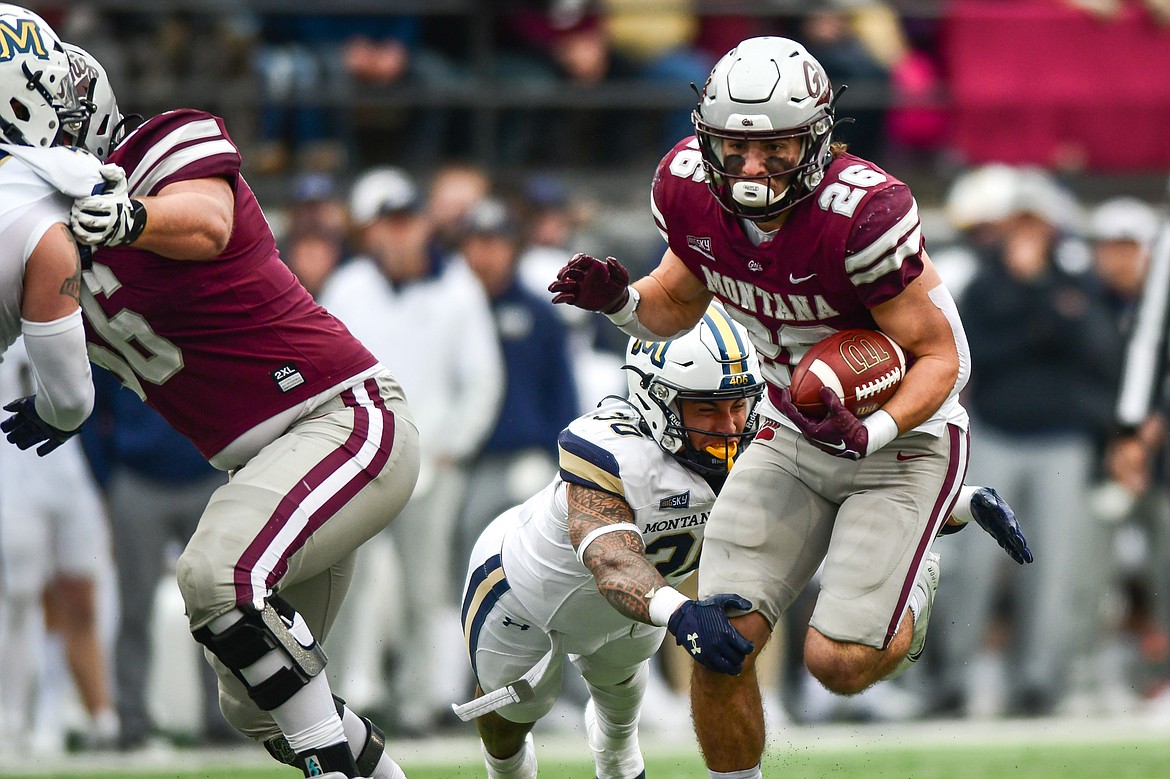 Grizzlies running back Nick Ostmo (26) picks up yardage on a run in the first quarter against Montana State in the 122nd Brawl of the Wild at Washington-Grizzly Stadium on Saturday, Nov. 18. (Casey Kreider/Daily Inter Lake)
Casey Kreider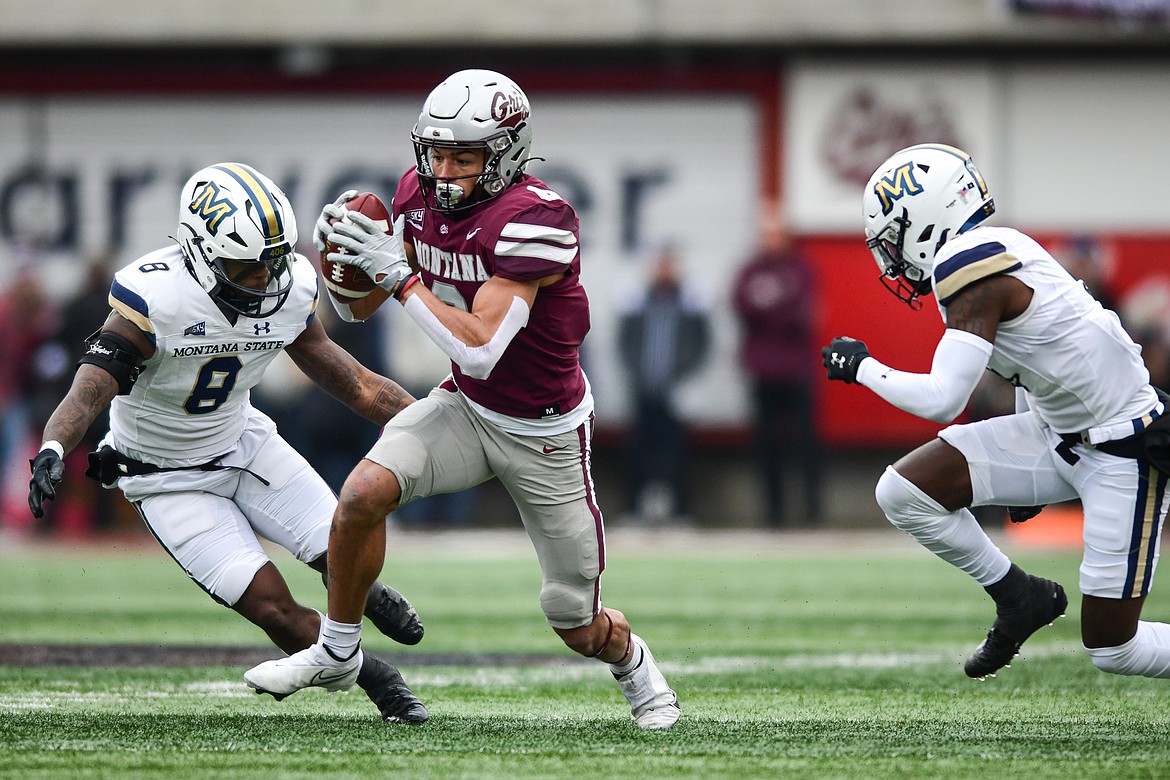 Grizzlies wide receiver Keelan White (6) picks up yardage after a reception in the first quarter against Montana State in the 122nd Brawl of the Wild at Washington-Grizzly Stadium on Saturday, Nov. 18. (Casey Kreider/Daily Inter Lake)
Casey Kreider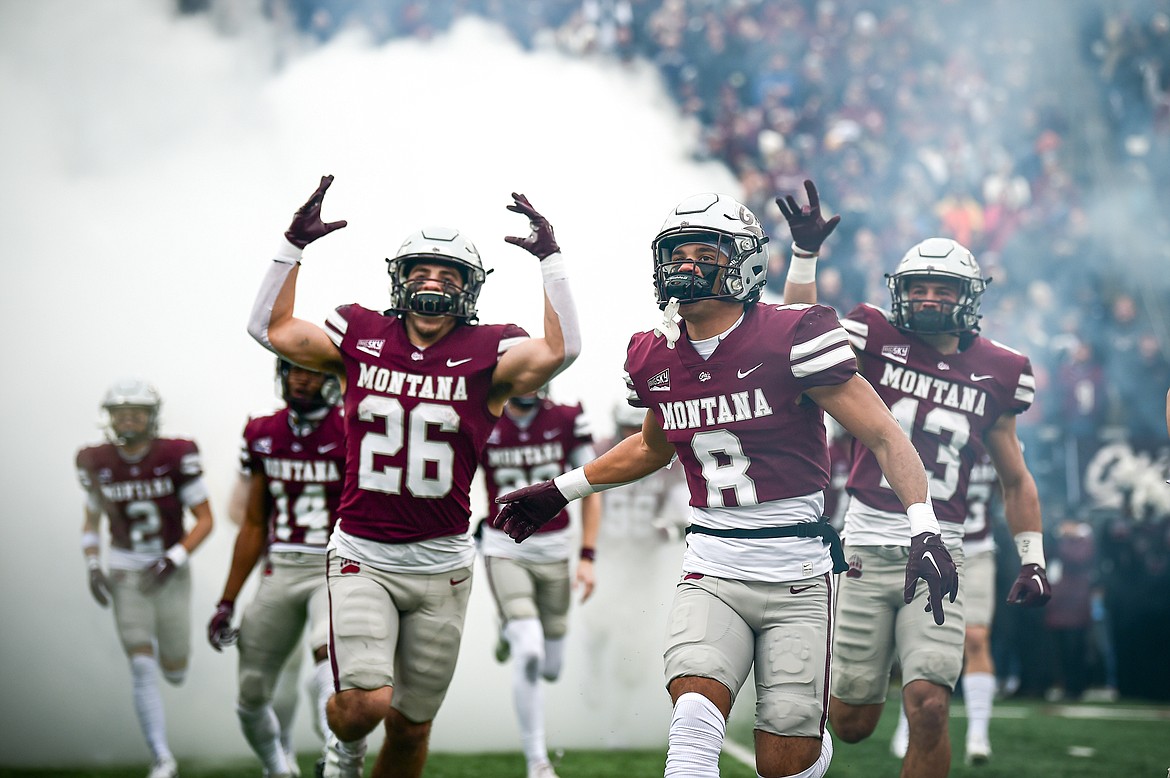 Nick Ostmo (26), Corbin Walker (8), Ryder Meyer (13) and the Montana Grizzlies take the field against Montana State for the Brawl of the Wild at Washington-Grizzly Stadium on Saturday, Nov. 18. (Casey Kreider/Daily Inter Lake)
Casey Kreider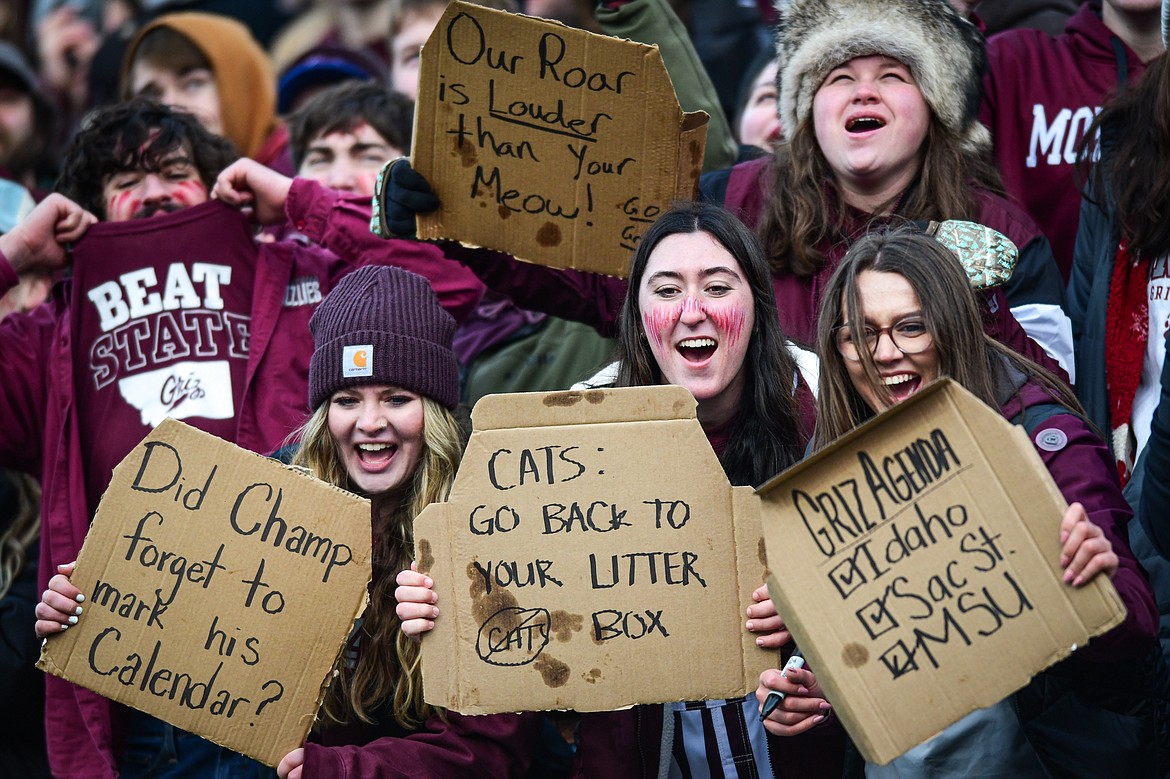 Griz fans hold signs in the fourth quarter of the team's 37-7 win over Montana State in the 122nd Brawl of the Wild at Washington-Grizzly Stadium on Saturday, Nov. 18. (Casey Kreider/Daily Inter Lake)
Casey Kreider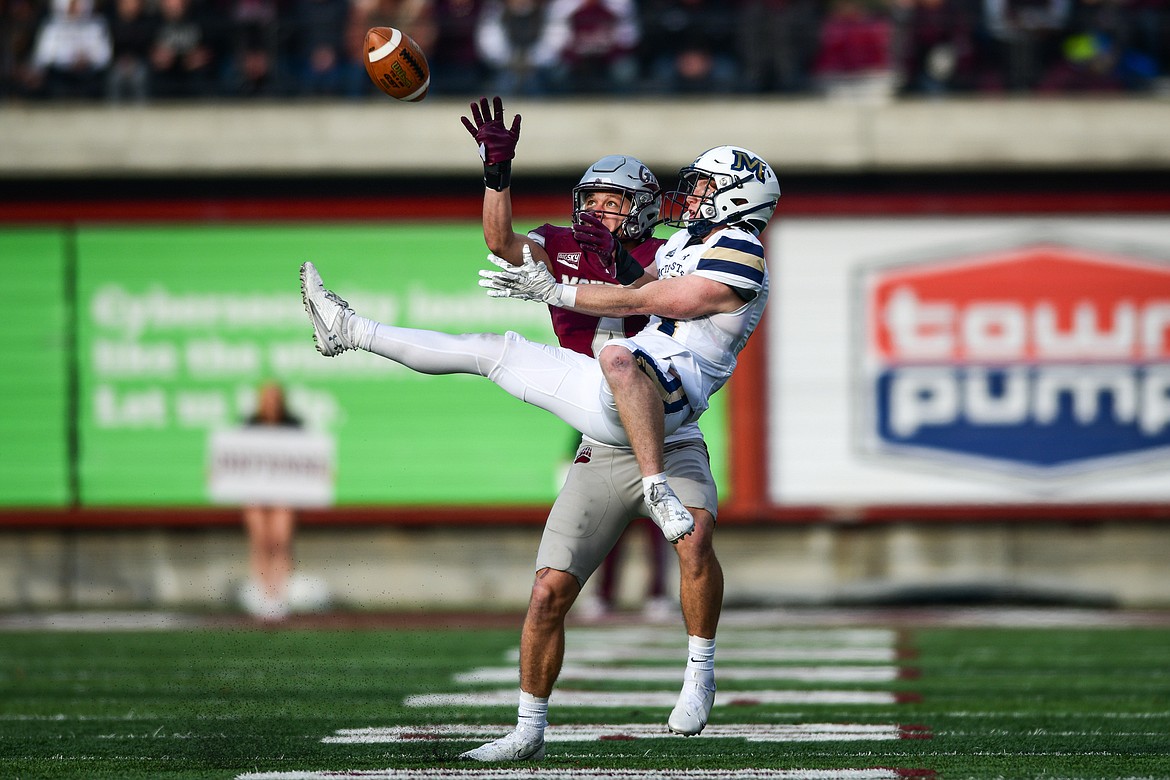 Bobcats wide receiver Taco Dowler (14) holds on to a reception in the third quarter against Montana in the 122nd Brawl of the Wild at Washington-Grizzly Stadium on Saturday, Nov. 18. (Casey Kreider/Daily Inter Lake)
Casey Kreider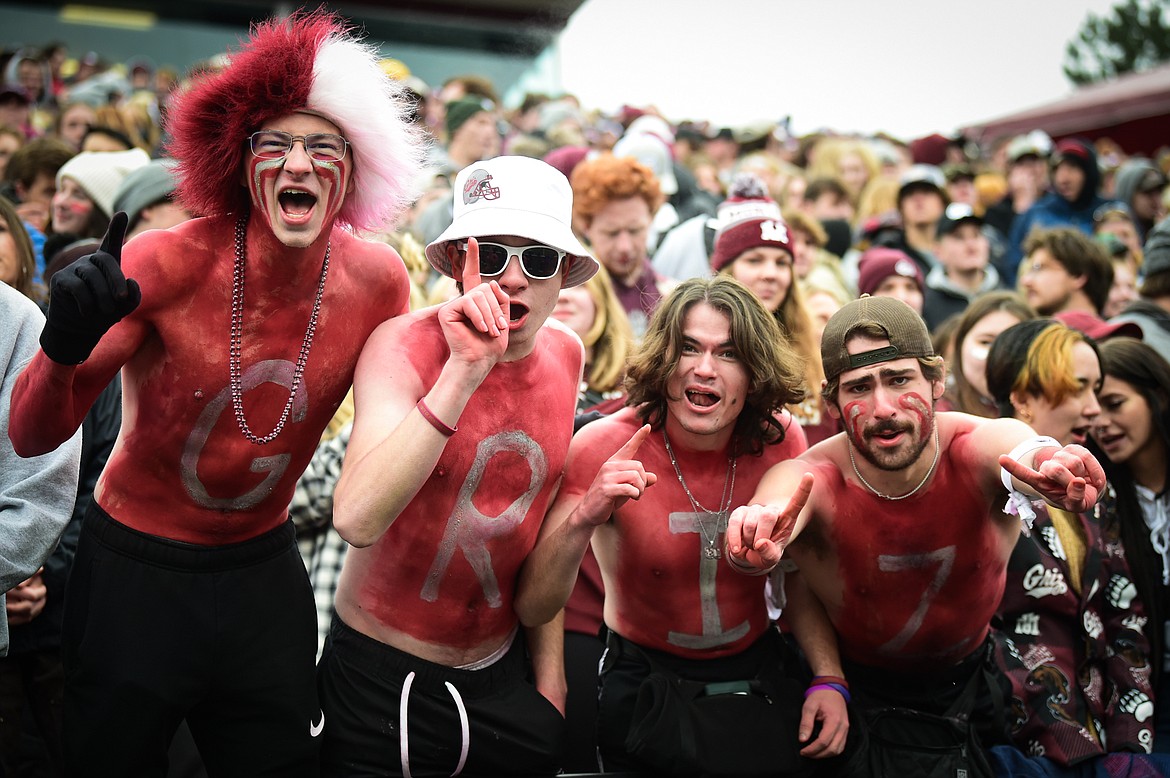 Montana fans cheer on the Griz against Montana State in the 122nd Brawl of the Wild at Washington-Grizzly Stadium on Saturday, Nov. 18. (Casey Kreider/Daily Inter Lake)
Casey Kreider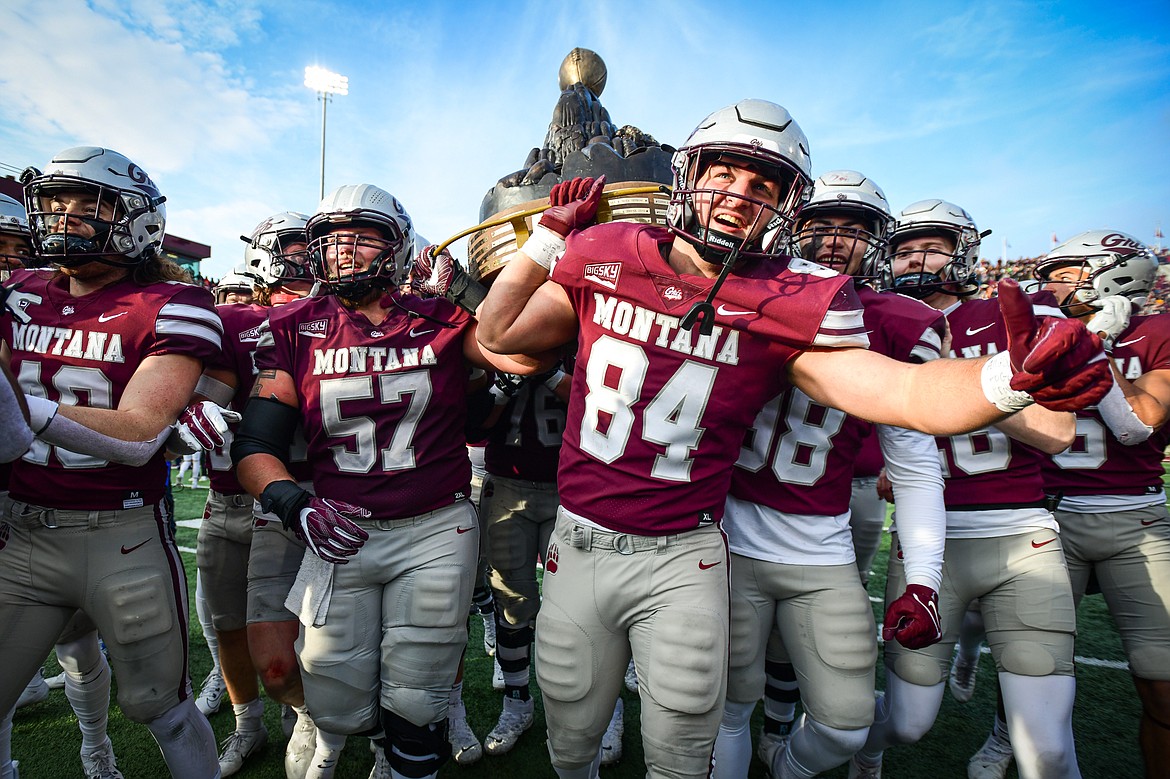 The Grizzlies carry the Great Divide Trophy after a 37-7 victory over Montana State in the 122nd Brawl of the Wild at Washington-Grizzly Stadium on Saturday, Nov. 18. (Casey Kreider/Daily Inter Lake)
Casey Kreider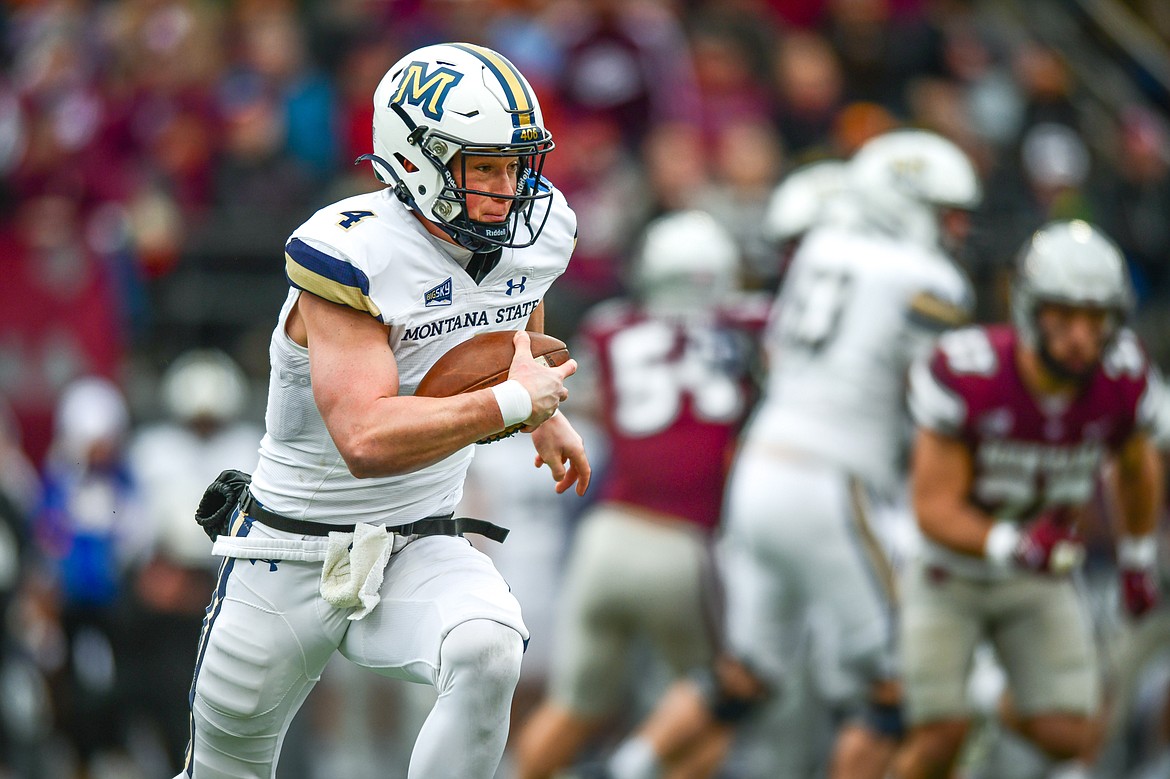 Bobcats quarterback Tommy Mellott (4) looks for running room in the first quarter against Montana in the 122nd Brawl of the Wild at Washington-Grizzly Stadium on Saturday, Nov. 18. (Casey Kreider/Daily Inter Lake)
Casey Kreider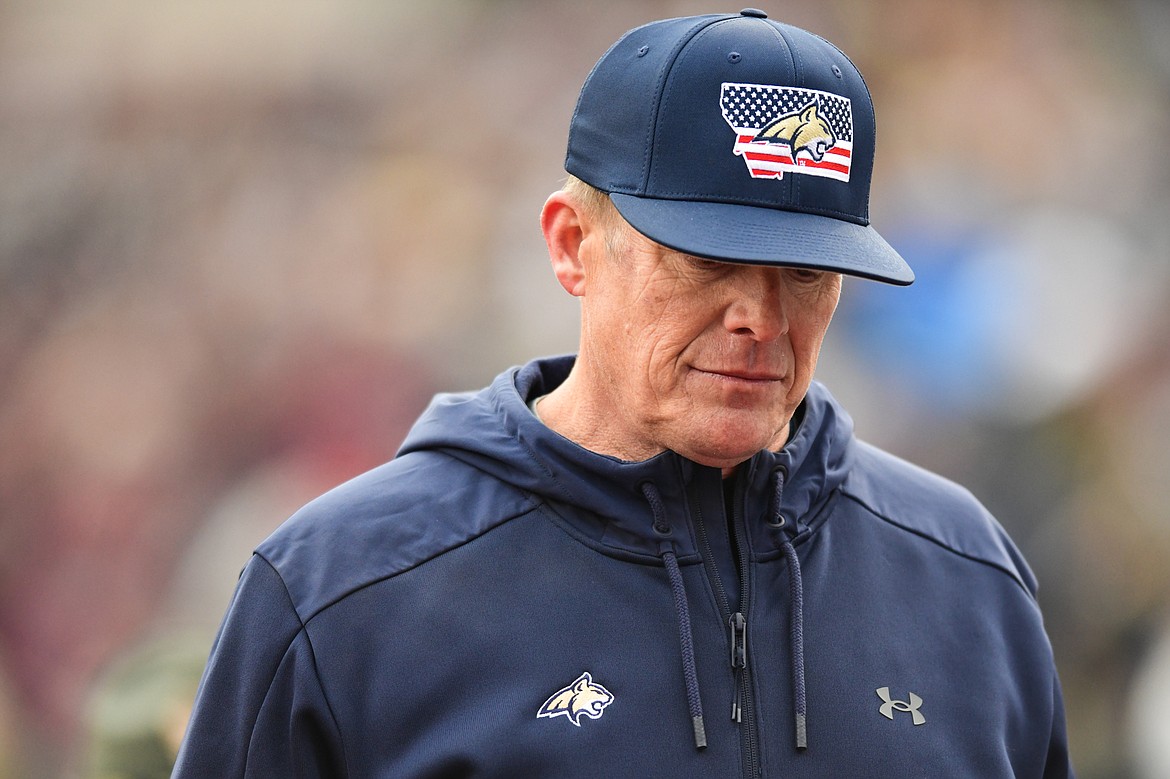 Montana State head coach Brent Vigen looks on in the second quarter against Montana in the 122nd Brawl of the Wild at Washington-Grizzly Stadium on Saturday, Nov. 18. (Casey Kreider/Daily Inter Lake)
Casey Kreider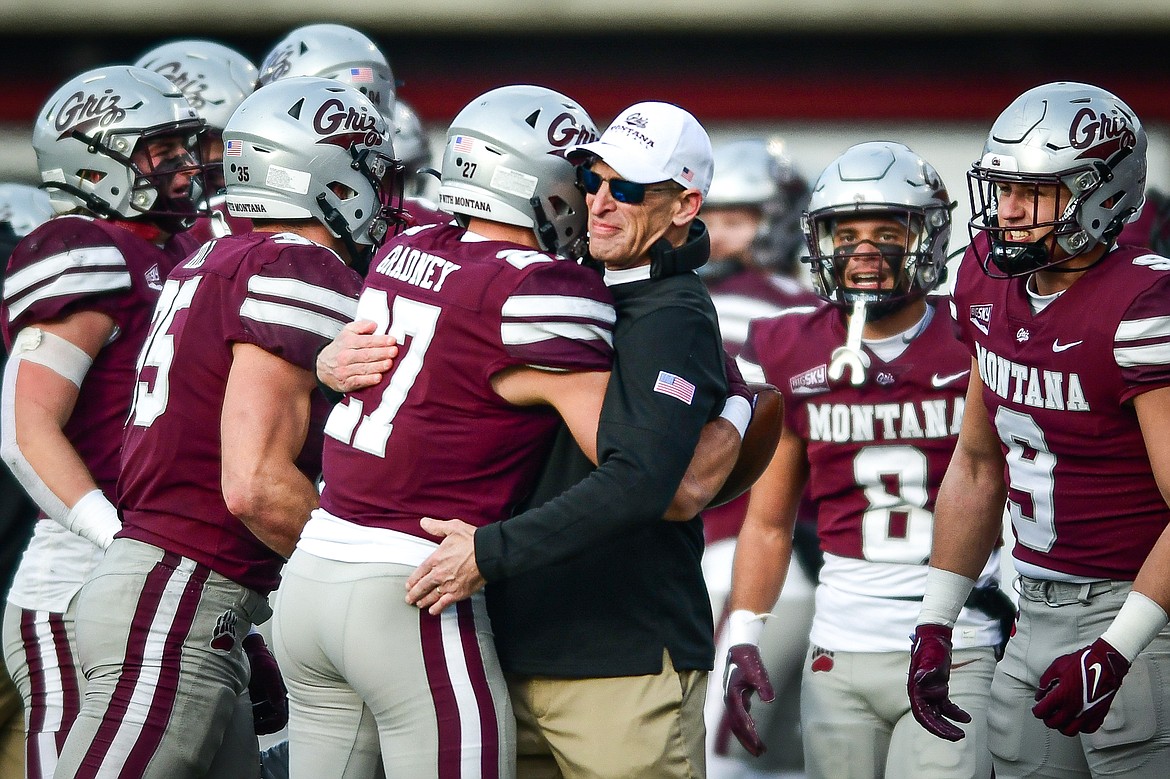 Montana head coach Bobby Hauck congratulates Trevin Gradney (27) and the defense after Gradney's interception in the fourth quarter against Montana State in the 122nd Brawl of the Wild at Washington-Grizzly Stadium on Saturday, Nov. 18. (Casey Kreider/Daily Inter Lake)
Casey Kreider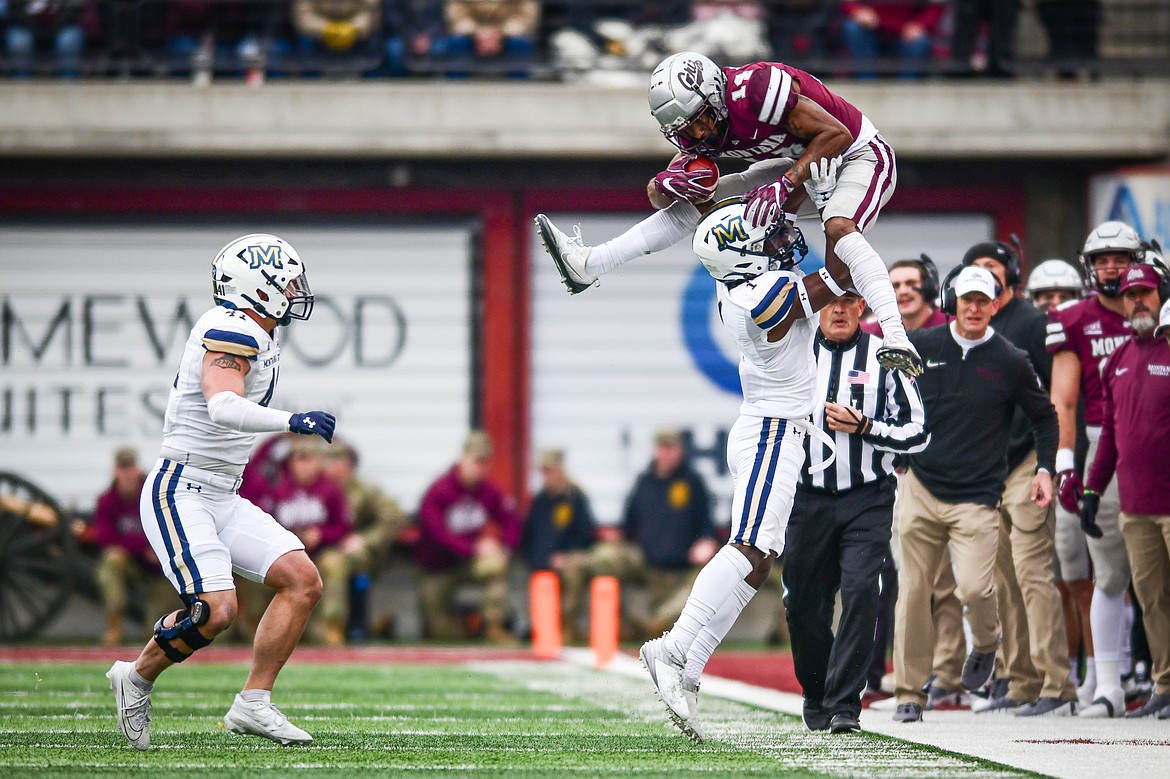 Grizzlies wide receiver Aaron Fontes (14) is pushed out of bounds by Bobcats cornerback Andrew Powdrell (1) after a reception in the first quarter of the 122nd Brawl of the Wild at Washington-Grizzly Stadium on Saturday, Nov. 18. (Casey Kreider/Daily Inter Lake)
Casey Kreider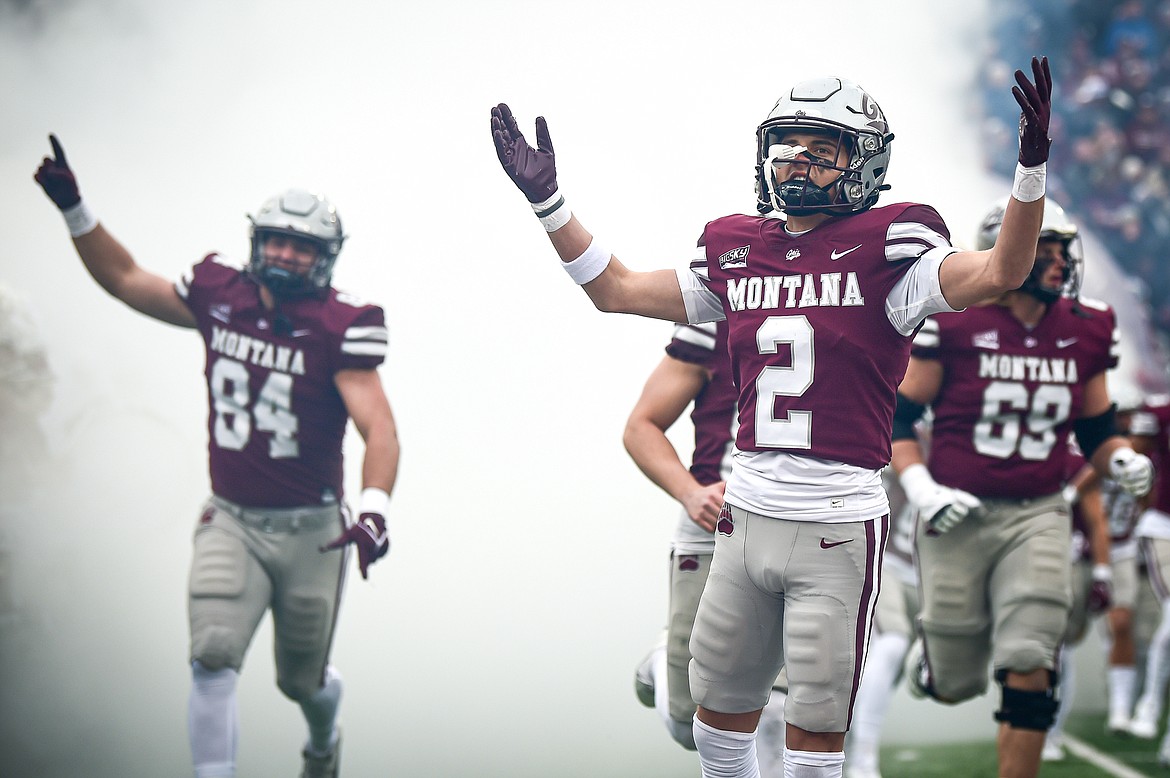 Wide receiver Drew Deck, from Glacier High School, and the Montana Grizzlies take the field against Montana State for the Brawl of the Wild at Washington-Grizzly Stadium on Saturday, Nov. 18. (Casey Kreider/Daily Inter Lake)
Casey Kreider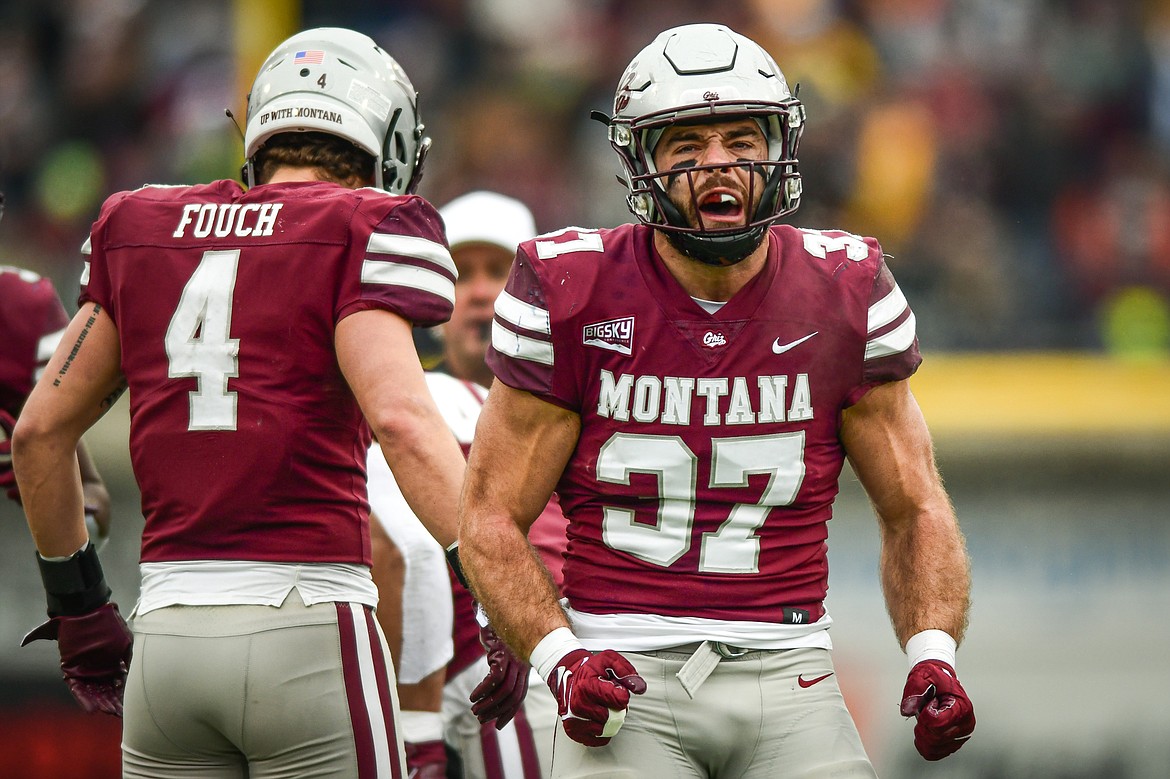 Grizzlies linebacker Levi Janacaro (37) celebrates after a stop in the first quarter against Montana State in the 122nd Brawl of the Wild at Washington-Grizzly Stadium on Saturday, Nov. 18. (Casey Kreider/Daily Inter Lake)
Casey Kreider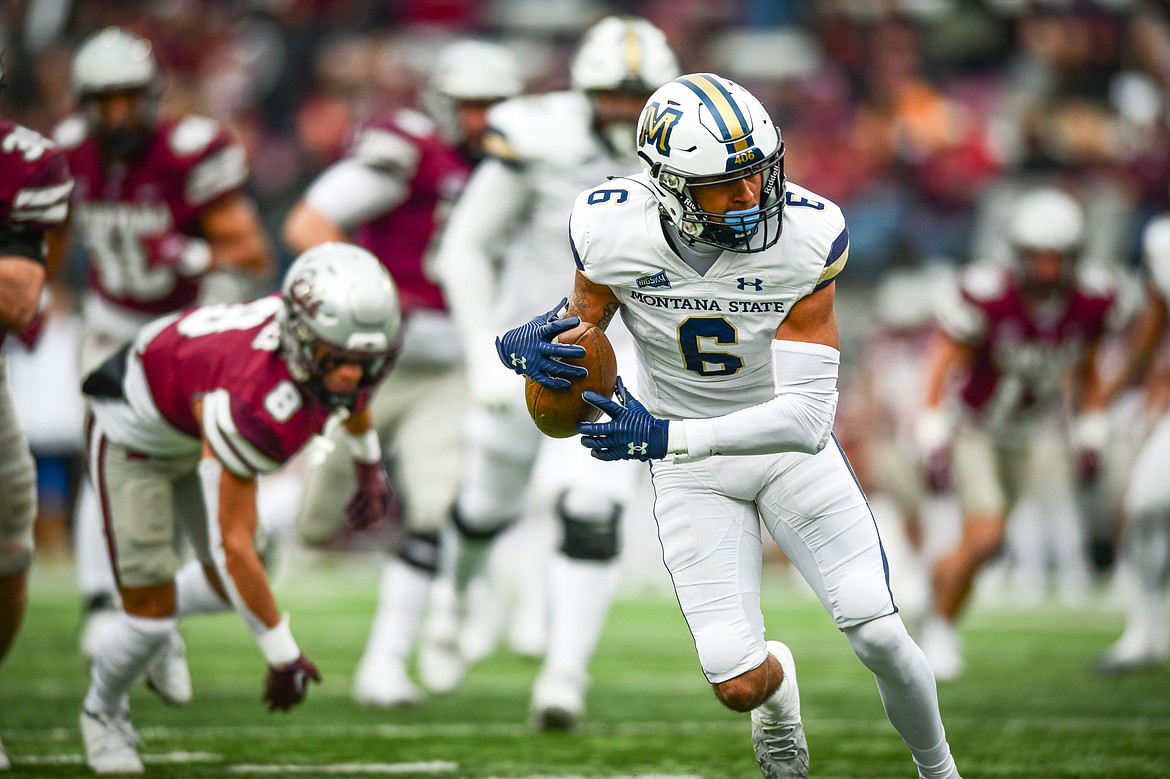 Montana State wide receiver Ty McCullouch (6) scores a touchdown on a 19-yard reception in the third quarter against Montana in the 122nd Brawl of the Wild at Washington-Grizzly Stadium on Saturday, Nov. 18. (Casey Kreider/Daily Inter Lake)
Casey Kreider
Previous
Next
MISSOULA — The Montana Grizzlies are No. 3 with a bullet after beating Montana State decisively, 37-7, in the 122nd Brawl of the Wild at foggy Washington-Grizzly Stadium.
Nick Ostmo, Clifton McDowell and Eli Gillman all ran for touchdowns as the Grizzlies improved to 10-1, and claimed the outright Big Sky Conference football championship in front of a stadium-record crowd of 27,178. 
And thanks to No. 2 Furman's loss to Wofford Saturday, they're a lock to be the No. 2 seed into the FCS playoffs.
McDowell had his finest game in his short tenure as UM's starting quarterback; Junior Bergen, as he was two years ago on this same turf, was a Bobcat slayer. He set up his own 20-yard touchdown catch with a 49-yard kick return early in the third quarter.
That made it 27-7 and stripped the Bobcats of their remaining starch.
"What a great job by our players and our coaches, getting ready to play this game," said Griz head coach Bobby Hauck, after securing the first Big Sky title of his second tenure at Montana. "We're very, very excited to get the 74th win over our rival, and I'm proud of my football team. I love my guys, as I've said numerous times."
Montana State's run game gashed the Griz at times, and both quarterback Tommy Mellott and running back Julius Davis went over 100 yards rushing. But the Bobcats couldn't finish drives against a Montana defense led by linebackers Braxton Hill and Tyler Flink, who each had eight tackles. 
The visitors fell to 8-3, and 6-2 in league games.
"We didn't come out and play the way certainly we'd expected to or hoped to," third-year MSU head coach Brent Vigen said. "I think we got beat in all three phases."
"The [defensive] plan was really good," Hauck said. "There were three big runs, for the most part. On two of them we kind of had a mental breakdown, which is triple option-ish."
Down 14-0 after McDowell's 4-yard scoring run at 4:21 of the first quarter, the Cats threatened when Mellott tore off a 46-yard burst down to UM's 14-yard line.
But after Montana's Riley Wilson blew up an option play to Davis for a 7-yard loss, Casey Kautzman missed a 42-yard field goal.
Soon Montana was on the march again, with a 24-yard reverse pass from Sawyer Racanelli to Bergen, putting UM in the red zone. The Griz finished the drive with a 40-yard field goal from Nico Ramos for a 17-0 lead.
Ramos hit three field goals, the last at the end of the third quarter, just as the sun broke through the fog that shrouded the valley and hid a pregame fly-over. "A sound-over," one fan called it.
It was 30-7 going to the fourth quarter and Ostmo provided an exclamation point with a 64-yard touchdown burst with 7:11 left.
Little went right for the Cats, including a bizarre end to the first half in which Sean Chambers was sacked for a 14-yard loss on fourth down, and with one second left. That led to Griz kicker Grant Glasgow missing a long field goal attempt, but he was roughed by MSU; then Ramos came on and hit a 33-yarder for a 20-0 halftime lead.
Vigen bemoaned his team not executing a Hail Mary attempt that should have eaten up the last five seconds of the half; or recovering McDowell's fumble on UM's first drive (Ostmo corralled it).
The Bobcats did come out and score to start the third quarter, Mellott finding Ty McCullouch in the right flat for a 19-yard touchdown. 
Then Bergen returned the ensuing kickoff to midfield. Quickly the lead was back to 20..
"If we can back that score up with a three-and-out, a stop, I think then momentum is on our side," Vigen said. "Then we gave up a kickoff return to midfield, and then they got the score,
"And then you know, special teams, they absolutely got us on that kick return alone."
McDowell set up his touchdown run with a 38-yard pass to Bergen. The 6-foot-4 senior has started all seven games of UM's current win streak, and — like the Griz — is trending up. He was 17 of 22 passing for 200 yards and ran for another 69.
"His completion percentage was terrific," Hauck said. "He may have had games where he did certain things better, but in terms of running it, throwing it, managing the game? He's made great progress and today was his best game, in my estimation."
Montana State, ranked No. 4 coming in, could still land a top-8 seed and a first-round bye into the playoffs. The FCS selection show is at 10:30 a.m. Sunday on ESPNU.
"This game does not end our season," said Vigen. "We'll find out tomorrow what our next step is going to be. And we've got to go back to work. 
"We lost three games against three teams that are certainly going to make the playoffs. We lost two games to the top two teams, is how I think it's going to play out. "
Hauck feels that way too.
"We're good at home," he said. "Somebody's going to have to come in here and beat us. Not that that can't happen; certainly it can. 
"The best part of this whole deal is the way the playoffs are set up these days, is that we don't play next weekend, so we get to sit and enjoy this. Marinate in it for a week before we even know who we play."
Montana St.    0    0    7    0    -    7
Montana    14    6    10    7    -    37
First Quarter
UM — Eli Gillman 4 run (Nico Ramos kick), 8:50
UM — Clifton McDowell 4 run (Ramos kick), 4:23
Second Quarter
UM — Ramos 40 FG, 9:31
UM — Ramos 33 FG, :00
Third Quarter
MSU — Ty McCullouch 19 pass from Tommy Mellott (Casey Kautzman kick), 12:59
UM — Junior Bergen 20 pass from McDowel (Ramos kick), 10:08
UM — Ramos 29 FG, :03
Fourth Quarter
UM — Nick Ostmo 64 run (Ramos kick), 6:50
A-27,178
MSU    UM
First downs    13    20
Total Net Yards    280    430
Rushes-yards    35-213    40-202
Passing    67    228
Punt Returns    2-(-8)    1-4
Kickoff Returns    1-29    1-49
Interceptions Ret.    0-0    1-0
Comp-Att-Int    4-16-1    19-25-0
Sacked-Yards Lost    1-14    4-15
Punts    4-39.2    4-36.5
Fumbles-Lost    0-0    1-0
Penalties-Yards    6-38    8-75
Time of Possession    25:16    34:44
INDIVIDUAL STATISTICS
RUSHING—MSU, Mellott 10-108, Julius Davis 14-107, Scottre Humphrey 5-11, Jared White 4-4, Sean Chambers 2-minus 17. UM, Ostmo 7-85, McDowell 12-679, gillman 11-33, Isaiah Childs 6-15, Bergen 2-14, Aaron Fontes 1-minus 4, Keali'i Ah Yat 1-minus 10.
PASSING—MSU, Mellott 4-13-1-67, Chambers 0-3-0-0. UM, McDowell 17-22-0-200, Ah Yat 1-2-0-4, Sawyer Racanelli 1-1-0-24.
RECEIVING—MSU, McCullouch 2-24, Taco Dowler 1-30, Clevan Thomas Jr. 1-13. UM, Bergen 6-91, Aaron Fontes 4-43, Ostmo 2-31, Keelan White 2-22, Drew Deck 2-18, Gillman 2-17, Evan Shafer 1-6.
MISSED FIELD GOALS—MSU, Kautzman 42.
Recent Headlines
---