Evergreen Chamber ambassadors connect businesses with their community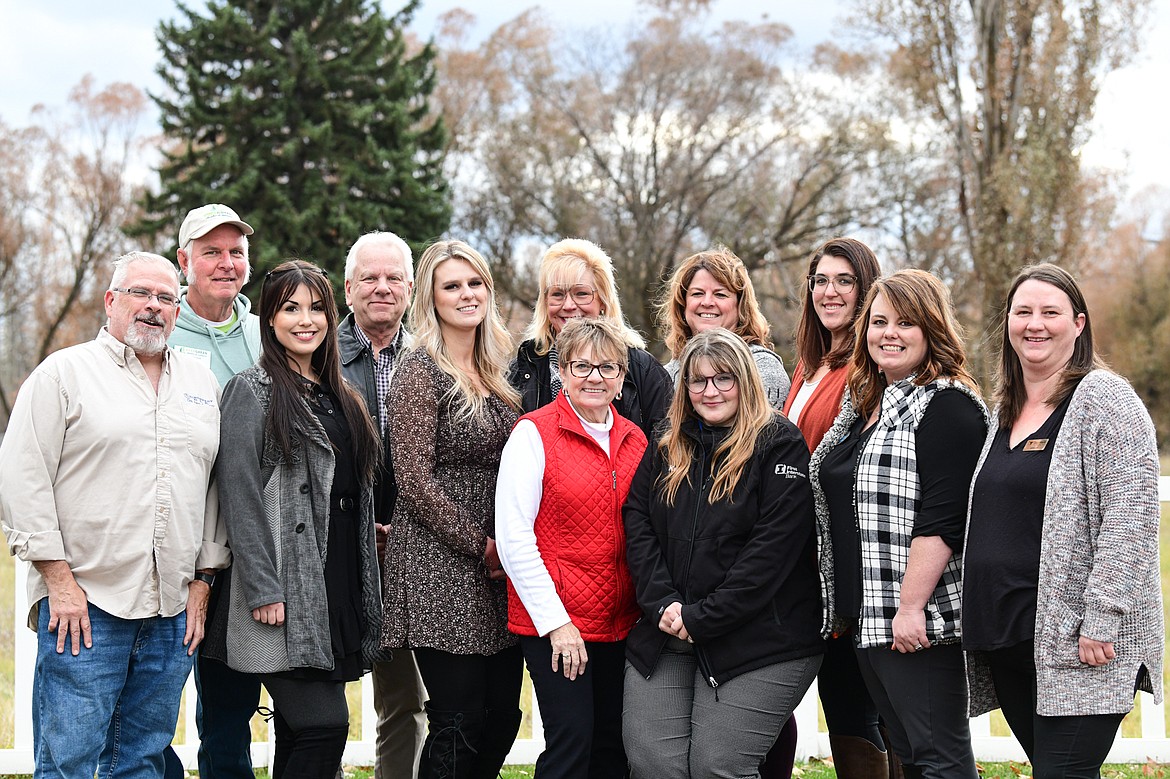 Evergreen Chamber of Commerce Ambassadors on Wednesday, Nov. 8. (Casey Kreider/Daily Inter Lake)
Casey Kreider
by
TAYLOR INMAN
Daily Inter Lake
|
November 19, 2023 12:00 AM
Ambassadors with the Evergreen Chamber serve a unique function within the organization, volunteering their time to connect with other businesses throughout the community. 
Chamber Executive Director Connie McCubbins said these members are the heart and soul of the organization. 
"They're at all the events, they're the first face people see of the Chamber. And when they're working with other businesses, they mention the Evergreen Chamber of Commerce," McCubbins said. 
Ted Luehr with Advantage Water Conditioner said he's been a chamber ambassador for nine years, since the program began. He said Evergreen has changed a lot in that time, noting the addition of many new businesses. The chamber is involved with many different projects throughout Evergreen, and Luehr said he's proud of their work to secure sidewalks in the community, among many others. 
Luehr said there is real value in having a chamber of commerce in Evergreen. 
"All the businesses probably wouldn't know each other if we didn't have the chamber to combine us. And to be a part of that, I think it's a great asset to this community," Luehr said. 
Ashley Gibbs with TrailWest Bank said her company has been part of the Evergreen Chamber since its inception, sponsoring events and taking part in community outreach.
"It's really important to us that our name is out there and people know that we're very community involved. So, it's important to have a good ambassador to represent the bank," Gibbs said. 
Gibbs said she enjoys being around people and taking part in the events. The bank recently hosted one of the Chamber's monthly Energizers, a monthly mixer for members. 
A lifelong resident of Evergreen, Gibbs said being a chamber ambassador is fulfilling. 
"It makes me feel like I'm making a difference in the community. I was born and raised in Evergreen, my kids go to Evergreen school, I live in Evergreen now as an adult. So it's important to me to be part of the positive events in Evergreen," Gibbs said. 
Another event she enjoys taking part in is the High Noon luncheons, where members get a presentation about a topic pertinent to Evergreen. She said one recent presentation went over updates with Evergreen Water and Sewer District, and next year, she said TrailWest Bank is planning to give a presentation on how to protect against hackers and fraud. 
Don Weakly, owner and instructor with Northwest Basic Life Support, is a new chamber ambassador. He started Northwest BLS to teach CPR and first aid to individuals and businesses. 
As a new small business, he said he's already benefited from the networking opportunities the chamber provides.
"Small business owners, single operators, honestly we have to make the best out of every networking event we can … I do want to get out there and let people know who I am, what I do and how they can get a hold of me. And every event that we have, I try to be right there to help the chamber," Weakly said. 
He recently took part in the Evergreen Trunk or Treat ahead of Halloween and said it was nice to see so many people involved with the community. Soon, he'll take part in the chamber's annual Pie Auction and Light Up on Nov. 21, bringing his famous smoked apple pie to the table. 
"I'm not the greatest cook on earth or smoke or chef but I tell you what, it is awesome, it's the best I've ever had," Weakly said. 
At the Two Brothers Cafe during a gathering, McCubbins runs through a list of needed volunteer opportunities in a room full of ambassadors just ahead of a busy holiday season. As different members sort out how to help get the work done, it's clear the group serves a vital function for the organization. 
McCubbins said there are currently 16 chamber ambassadors for the Evergreen Chamber of Commerce. For those interested in learning more about the ambassador program, contact McCubbins at connie@evergreencofc.com. 
Reporter Taylor Inman can be reached at 406-758-4433 or by emailing tinman@dailyinterlake.com.
Recent Headlines
---