Sports facility at ABS Park brings opportunity for young athletes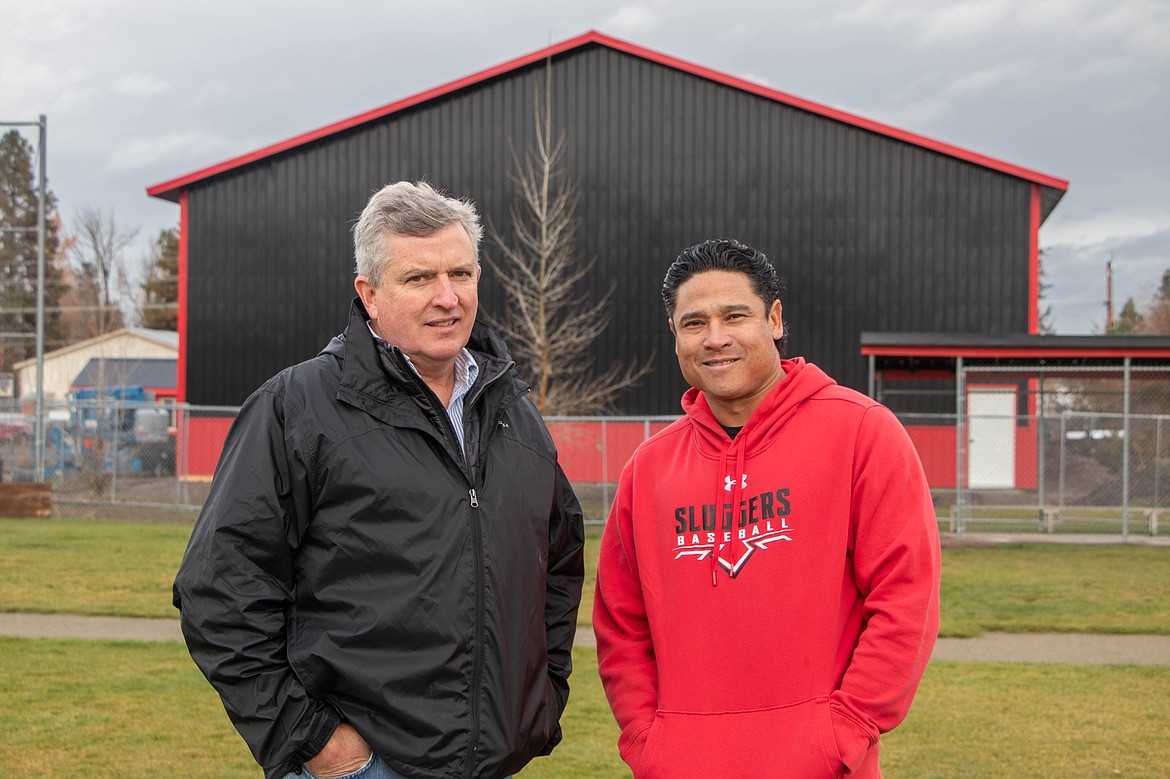 Frank Garner and Chris Gillette are board members for ABS Park. The black and red building is the park's new indoor training facility. (Kate Heston/Daily Inter Lake)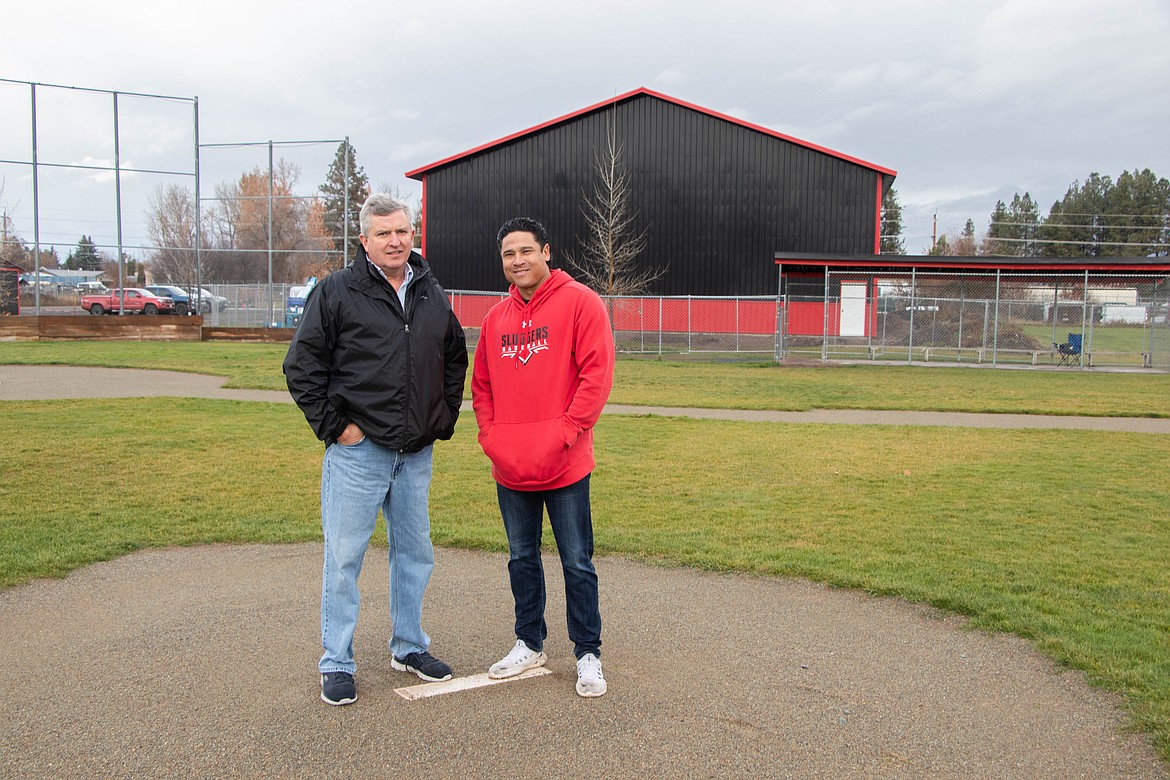 Frank Garner and Chris Gillette are board members for ABS Park. The black and red building is the park's new indoor training facility. (Kate Heston/Daily Inter Lake)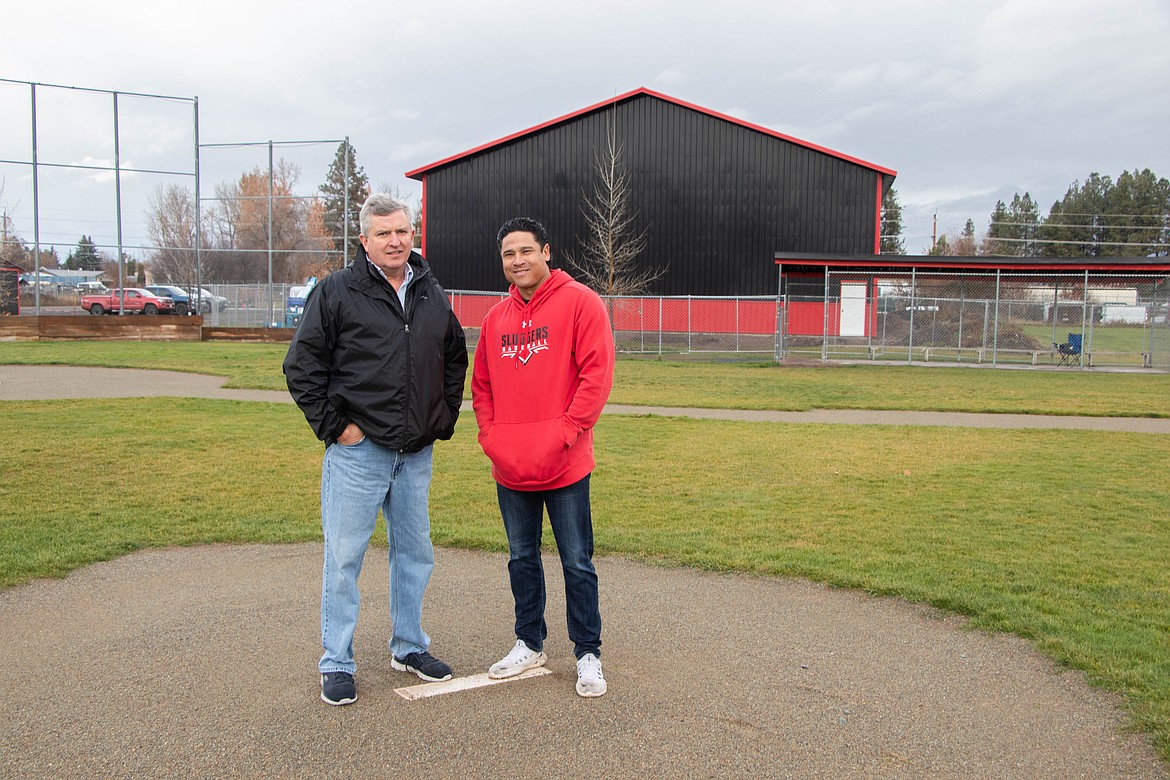 Frank Garner and Chris Gillette are board members for ABS Park. The black and red building is the park's new indoor training facility. (Kate Heston/Daily Inter Lake)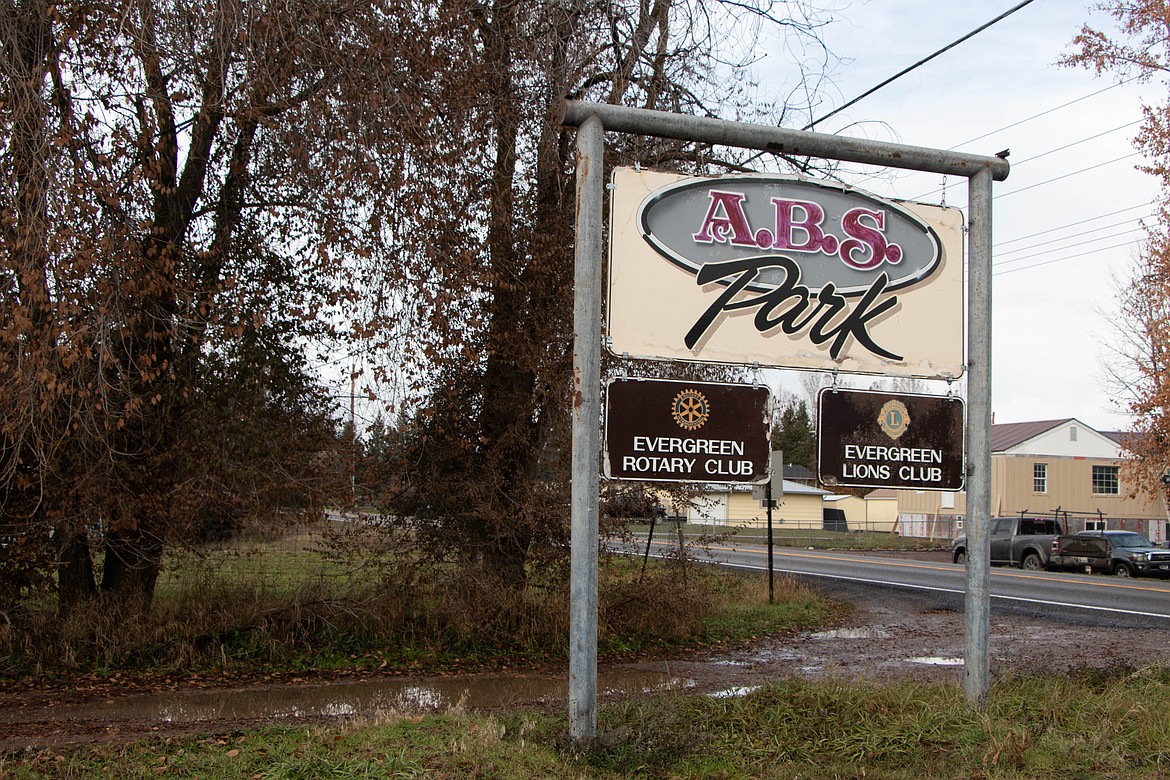 ABS Park in Evergreen, Montana. (Kate Heston/Daily Inter Lake)
Previous
Next
by
KATE HESTON
Daily Inter Lake
|
November 19, 2023 12:00 AM
Construction is nearly done on an indoor training facility at the ABS Park in Evergreen, a nonprofit organization and baseball facility providing low barrier athletic opportunities for local children.
Chris Gillette, youth sports director for ABS Park and creator of Sluggers Baseball, has looked forward to the project's completion for months.
"We're all about the kids," Gillette said. "We want to spread the love of baseball for everybody while showing them the real game."
ABS Park, off of East Reserve Drive in Evergreen, is a sports complex home to a baseball field, Little League field, conditioning field and a playground. It also boasts more space for future additions. 
It is a place where kids can gain passion for baseball, Gillette said. 
The organization's stated aim is to ensure that "no one under 18 years of age is denied the opportunity to participate in sports because of a financial barrier." Its foundation was laid over two decades ago when Ralph and Karen Wisher, Evergreen residents, donated more than 20 acres of land on Spring Creek to encourage children to engage in youth sports through a nonprofit organization. 
The Wisher family business, Able Body Shop, was a major backer of the effort, eventually lending its name to ABS Park.
In 2021, ABS Park LLC partnered with Gillette's Sluggers Baseball initiative. Sluggers Baseball is a more advanced baseball academy for kids in the area. The league is intended to complement all the existing youth baseball leagues in the valley, such as Kalispell's PeeWee Baseball and Babe Ruth Baseball leagues, Gillette said. 
The academy offers two programs: one requiring tryouts and another open to all. Interested kids can apply to join the program by inquiring at https://www.abspark.org/contact or emailing abspark9@gmail.com. 
Gillette's goal with Sluggers Baseball is to instill a love for the game into children. Youth sports often lack experienced coaches or advanced training, which isn't necessarily a bad thing, Gillette said. 
But Gillette, a former college baseball player, wanted to offer a more advanced program for children in the area to better prepare them for the game. Sluggers attempts to fill that gap in the existing programs, he said. 
"I want kids to get a real taste of the real thing," Gillette said. 
The connection between the two organizations, ABS Park and Sluggers Baseball, happened through mutuals at the Evergreen Rotary Club, including Frank Garner. 
Frank Garner, president of ABS Park LLC, and former Kalispell police chief and state legislator, said that ABS was looking for a user group for the complex when he met Gillette. The connection was a "happy accident," Garner said. 
"We exist because of the good will of the community," Garner said. "That is the only reason I get to stand here."
The partnership between ABS and Sluggers changed the park "overnight," Garner said. It rapidly began to grow and improve. All of the projects and improvements, both Gillette and Garner said, are the result of community outreach and community volunteers.
Dozens of volunteers and organizations have helped get the park to where it is today, the pair said. From drilling wells for a sprinkler system to constructing roads to providing coaching, the community has been essential in ABS Park's success. 
"We're here for everybody and, if anyone wants help, our door is open," Gillette said. 
The Evergreen Rotary Club erected the playground and restrooms, Flathead Electric Co-op installed fencing and backstops while local Evergreen businesses and the Evergreen Chamber of Commerce, among others, helped with community support and contributions. 
"The response has been more than we ever expected," Garner said. "It's the Evergreen pride." 
As a result, ABS Park holds no debt and continues to find help in supporting the area's kids, Gillette said. The kids also have to put in work to maintain the facilities, Gillette said. 
"These fields… you can just see the care they put into it," he said. 
The park also supports the community by being a place where people can gather together. The park has hosted corn hole tournaments, lacrosse games, birthday parties and more, all regulated through the nonprofit. It also hosts its own baseball tournaments, bringing in kids from other leagues. 
While the park is planning future projects like the installation of a Wiffle ball field and several other sport and multi-use fields, the impending completion of the indoor training facility is the latest achievement Garner and Gillette have to celebrate. 
The new facility will have three batting cages, turf floors, two diving nets, ball pens, a workout area and video programming abilities. For Gillette, it has everything a good training facility needs. 
"It's all for the use of the kids," Garner said. "Especially our Evergreen kids." 
Reporter Kate Heston can be reached at kheston@dailyinterlake.com or 758-4459. 
Recent Headlines
---