Paul Cannaday, 98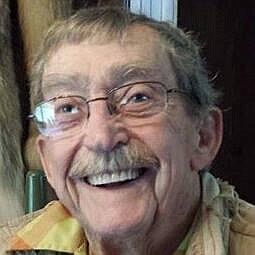 |
November 19, 2023 12:00 AM
Paul Augustus Cannaday, 98, passed away Oct. 10, 2023, with family by his side. He was born in Roanoke, Virginia, to Paul and Mary (Blount) Cannaday on Dec. 24, 1924. He was raised at the Cannaday farm which later became the Roanoke Airport. 
He joined the Marine Corps in 1943, attending boot camp at Parris Island, South Carolina. He also attended Ordinance School, and Naval Air Technical training. Paul's group left Cherry Point, North Carolina, to San Diego, California, in open-air box cars, enduring hot days, and cold nights. His 533rd Marine Air Group deployed from Hawaii on a converted aircraft carrier in March of 1944 to the Pacific Islands. He was an aviation ordinance and plane captain on an F6F Grumman Hellcat, serving on the Marshall Islands, Eniwetok, Okinawa, Guam, and Shima Islands. 
While in basic training, he became good friends with Lee Marvin who would later become a famous Hollywood actor. They later lost touch after the war. Paul was honorably discharged Nov. 25, 1945, in Bainbridge, Maryland. Paul was a proud Marine. Semper Fi.
Returning home to Virginia, he started school in January 1946 at Virginia Polytechnic Institute, better known today as Virginia Tech University. He was a lifelong Turkey/Hokies fan. Paul attended a football game a few years ago with his cousin, experiencing their VT's FAN-tastic tail-gate party and had a chance meeting with VT's Head Football Coach.  
After graduating in 1949 with a civil engineering degree under his belt, he headed west in his convertible to work for the Bureau of Reclamation during the construction of the Hungry Horse Dam. 
It was there he met Patrecia Barrow and the two were married in 1951. After construction of the dam, they moved for a brief time to Washington where Paul worked for the Handford Project. They moved back to the Flathead when Paul took a job in the engineering department at Anaconda Aluminum Company in Columbia Falls, retiring from Atlantic Richfield, as the purchasing manager in 1982. Paul's many hobbies included raising Boxer dogs, and various outdoor activities.  
Being a double amputee never stopped him from enjoying an active lifestyle of hunting, camping, and fishing. He especially liked Bass fishing and was a longtime member of the local Bass Club. He spent his winters in Florida on Lake Kissimmee where he continued his love of bass fishing. Paul was an avid skier in his earlier years, hauling his kids and neighbor kids, every weekend to Big Mountain. He was regularly active in the Kalispell Ski Club when his son, Greg, was on the local ski team. He helped organize the races and gave lessons to young skiers.  
Using his engineering brain, he spent much of his time fixing and improving everything he owned. He designed horse trailers, house plans, and even designed a rubber and leather boot similar to the popular Sorel brand, long before those were ever developed. Paul was well known for writing his initials on almost everything he owned, usually with fluorescent orange paint. There was never any doubt who owned Paul's belongings. 
In 2014 he participated in the Montana Big Sky Honor flight when he and fellow World War II veterans flew to Washington, D.C., where they were honored at a special dinner and visited the National Monuments, including the World War II and Marine Corp Memorial. The trip ended at Billings Airport with an emotional welcome home celebration honoring the attendees' military service in World War II. 
His fortitude and strong independence defined his life. Few knew he was a double amputee as he resumed his daily life and activities. At the age of 96, while renewing his driver's license, the examiner was hesitant to get in his car when she saw he had two artificial legs (Paul wore shorts all year long). With reassurance from Paul's son, Greg, she continued the exam and stated he was a better driver than most she had experienced.  
He loved spending time with family, especially summers at the lake with all his kids, grandkids, and great grandkids. He never missed any family member's birthday. Besides his love of football, he was a huge fan of tennis, watching every major tournament and sharing facts about every player in the world. 
He is preceded in death by his parents; former wife, Patrecia L'Allier; son-in-law, Rod Campbell; and in-laws, Henry and Ruth Hewitt.  
He is survived by his three children, Sheri Anderson (Don), Greg Cannaday (Marie), and Kirby Campbell- Rierson (Ron); he is also survived by his grandchildren; and great-grandchildren, Ian Anderson, (Courtney) and Raime of Spokane; Isaac Anderson (Dawn Ann), Slade and Trace of Kalispell; Elise Moodie (Phil), Annsyn and Audrey of Great Falls; Chad Campbell of Kalispell, Corey Campbell (Brittany), Keeley and Kyleigh of Missoula; and Kaleb Paul Cannaday of Kalispell.
Recent Headlines
---