Hans Christian Rensel, 54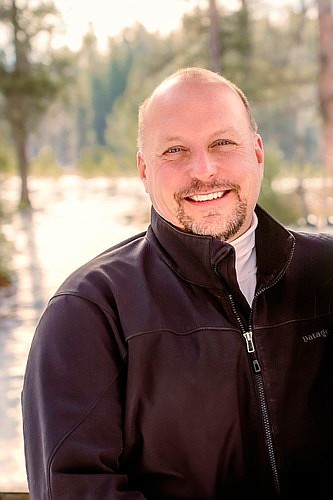 |
November 20, 2023 12:00 AM
Hans Christian Rensel was born the second son of Richard and Sharon Rensel on Dec. 3, 1968. Raised in West Glacier, he attended West Glacier Elementary where his Dad was a teacher before transitioning to Columbia Falls for junior high and high school. Spending his weekends hunting or skiing with Mike Strouse, he graduated from Columbia Falls High School in 1987. The family property where he was raised held a special place in Hans' heart; making memories with his Dad hunting and working the land.
Shortly after graduation at age 19, Hans would be hired by UPS as the youngest full-time driver on record. Not an easy schedule at any age, Hans would excel at his career, getting to know every client he delivered to, often giving his personal cell number to ensure no one went without their medication or receiving their holiday gifts on time. Clients quickly became friends and would call with concern if he ever took a day off! He reached retirement just over two years ago after 33 years of service and earning the rare 25 Years of Safe Driving record bestowed upon only 0.01% of employees. Even after retiring, his coworkers knew he could be counted on for helpful advice and the "right" route to take anywhere in the Flathead Valley.
Hans finally met the love of his life, Tangie Dickinson, in September of 1996. Her family quickly wrapped their arms around the kind, patient man who had captured their daughter's heart. With them, he gained an extended family — the size of which he could never have imagined. The pair were married by Pastor Bent on May 12, 2001, in a gorgeous ceremony at Christ Lutheran Church surrounded by family and friends.
They started their journey as parents in 2003 when their daughter, McKenna, was born. Hans was enamored with her beauty and added her middle name, Skye, as a tribute to his love for the blue Montana skies. He was always filled with awe for his firstborn, the one that made him a Dad.
Demye Loren arrived in 2005 filled with her father's determination and fire and quickly became Daddy's little sidekick. He will forever be her biggest (but quietest) fan. 
When their son was born and immediately had the Rensel mischievous grin and twinkle in his eyes, Christian Richard was the perfect name to honor his father. Hans would share countless fishing and hunting adventures with his son, just like his father had done for him. He had found his outdoor adventure partner in crime.
Hans and Tangie would build their life on 10 acres off Kuzmic Lane where they could enjoy the outdoors, a bit of privacy, and instill their work ethic upon their children. Neighbors knew that Hans was just a phone call away and they could rely on him to look after their property and always lend a helping hand.
If ever a man could be as tough as nails and softhearted at the same time, it was Hans. He could cut a load of firewood faster than anyone and remember to pick his wife wild trilliums for Mother's Day. Every year. He could reach his hands into a burning fire to rotate a log and bring his mother-in-law flowers on her birthday. Every year. He always stood up for what was right, yet he melted with pride at the mere mention of his beautiful family. He held his family at the heart of every decision he made and loved them beyond measure. "Love you more" was his favorite goodbye phrase.
Hans will be remembered by his friends and family as a fantastic storyteller, the master of music trivia, someone you could always go to for advice, an avid gun collector, loyal, and as honest as the day is long.
As we all grieve the loss of his huge presence and contagious, booming laughter, we take comfort knowing he spent his final hours on a mountain, gun in hand, doing what he loved with his son by his side. Tangie, McKenna, Demye, and Christian will remember their beloved husband and father from memories they made in the outdoors — downhill skiing, hunting, fishing, and camping, their family vacations to Hawaii and Alaska, and simply sitting around the family fire. As Hans would tell them, GLYASDI, God Loves You And So Do I. Hans stands now with God and his Dad, scoping out the next meadow just beyond the next ridge.
Hans is preceded in death by both parents, Richard and Sharon Rensel; uncles Jack and Bill Rensel; and Aunt Neen Rensel.
Hans is survived by his wife, Tangie, and children McKenna, Demye and Christian; his brother, Bear, and wife, Michelle, with children Jacob and Jaclyn; In-laws Phil and Susan Dickinson; brothers and sisters-in-law Collin and Treena Mitts with son, Matthew; Scott and Tricia Rodgers with sons Kamron and wife, Chloe; and Nathan; family members from Pennsylvania, Eric and Suzanne Rensel and family; Sue and Denny Shaffner and family; and Dave and Wendy Yohe and family; Oklahoma relatives Dusty and Candi Dove with Rowdy and Tasha and their families; Shirley Rensel and family in Utah, and the many friends he made along the way. Never forget, if you were his friend, to him you were his family and there was nothing more important than family.
Services will be held at Christ Lutheran Church on Wednesday, Nov. 22, at 4 p.m. Please attend and share a story or two about Hans.
In lieu of flowers, an account has been established at Whitefish Credit Union as a trust for the Rensel children.
Recent Headlines
---