Lincoln County woman gives back to the community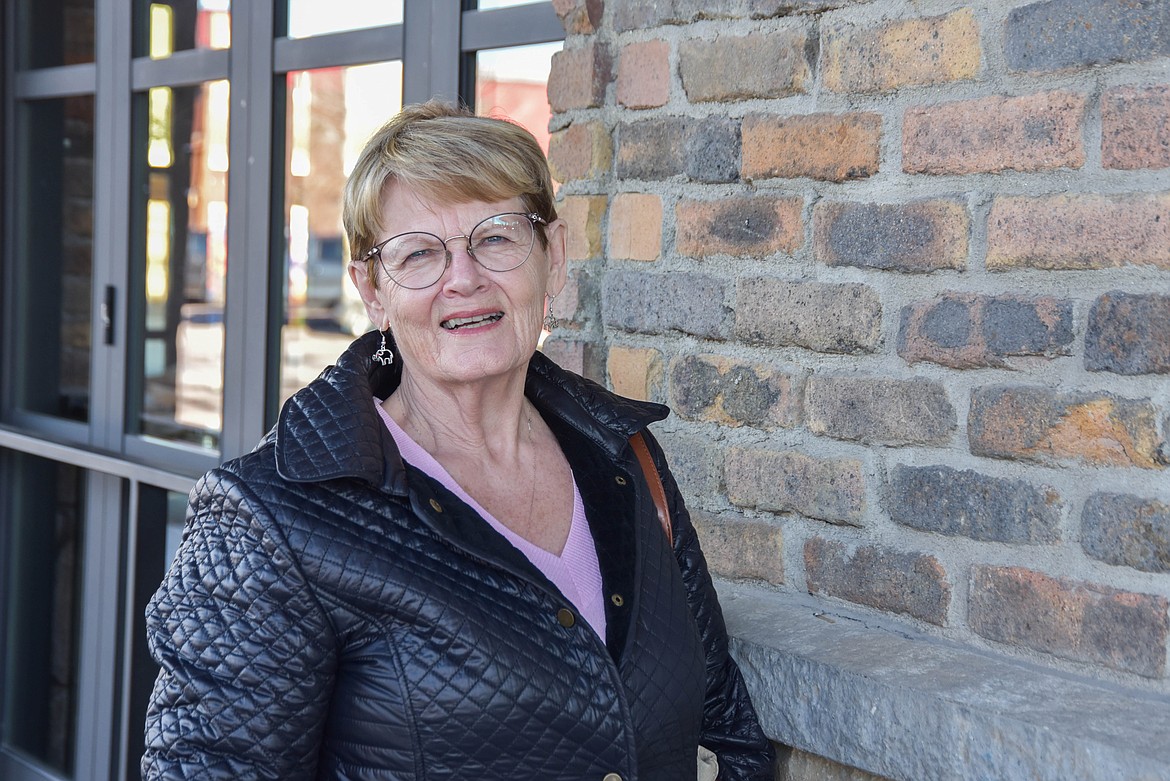 JoAn Cuffe serves her community through many volunteer positions. (Kate Heston/Daily Inter Lake)
by
KATE HESTON
Daily Inter Lake
|
November 20, 2023 12:00 AM
JoAn Cuffe is a trailblazer. From her career in banking, to working with women's organizations, to the chamber of commerce to raising two kids, Cuffe has spent her entire life investing back into her community. 
Through her busy schedule and successful ventures, Cuffe says that fortunate is the word that comes to mind.
Born in Lakeview, Michigan, as the second oldest of four children, the other three all boys, Cuffe spent her early years with her family, not particularly wealthy. When she was 8 years old, her family moved to Waldo, British Columbia to a home with no electricity near the Canada-United States border. 
Their daily water consumption was from the Kootenai River, and today, the town of Waldo itself is below the surface of Lake Koocanusa, a flooding that happened after the construction of the Libby Dam in 1972. 
"The place I grew up in is literally under water," Cuffe said. 
Prior to the completion of the dam, the family moved to Eureka. Cuffe's mother wanted to move back to the United States and Eureka was close and familiar to the family. Cuffe was a senior in high school when they moved, making the transition incredibly difficult. 
However, it was there that she met her now husband, Mike Cuffe, now a Montana state senator, beginning a life of over 55 years together in 1968. Their first born, Matthew, was born in 1970. Molly, their second child, was born in 1973.
Cuffe knew she wanted to go into banking. In a primarily male-dominated field, she slowly worked her way up in the ranks. She attended three colleges, two of which she completed after raising her children. From Calgary, Canada to Norman, Oklahoma, Cuffe moved herself across the continent by herself in search of a good education. 
"I knew what I was in for," Cuffe said. "It's hardest to get through the glass ceiling. I just always just thought, 'if a man could do it, why couldn't a woman do it?'"
Home, however, was always Libby, where her and Mike moved together and where they raised their family. They lived in Libby for 26 years before moving to Eureka again in 1998.
The banking career turned successful for Cuffe. She worked at First National Bank in Libby for over 23 years before she moved to serve as branch manager of the Whitefish Credit Union in Eureka in 2002. The bank was a massive success, Cuffe said. 
"I feel the best about that. It was an amazing experience and I think it did amazing things for the community," she said. 
Outside of banking, however, Cuffe invested, and still does, into the community that is Lincoln County. For years, she was extremely active in the women's helpline in Libby, ultimately becoming an administrative advisor for the helpline's board. 
Cuffe wears a lot of hats. She has chaired the Rendezvous Days parade committee for 13 years, served as the Eureka Area Chamber of Commerce president for two years, the treasurer of the family's church since 2009, the treasurer for the GOP Central Committee, a board member for both the Tobacco Valley Senior Citizen Council and a member of the Area 6 Council on Aging, among other things. 
"If you want to do it, you have to not be afraid to stand out," she said. "In this day and age there isn't anything that you can't do."
She was recently appointed to the Montana Facility Finance Authority Board as well by Gov. Greg Gianforte, where she will be able to help fund nonprofit, rural medical facilities. 
"I don't need to do this stuff, but it seems to all fall onto my lap," Cuffe said. She spoke highly of her husband's admiration for positivity and taking on tasks as some inspiration behind her jam-packed schedule. 
Cuffe retired from banking on Dec. 31, 2014 after a long and successful career, creating a highly successful Whitefish Credit Union branch, but still remains active and engaged through the various board positions and councils.
Cuffe looks forward to the time she spends with their two grandchildren and three great-grandchildren. She hopes that, like she and her husband did with their children, to instill positive thinking and being a good person within them. 
"Everyone has something to offer, you just have to want to," Cuffe said. "I feel fortunate to help make the community the best it can be."
Reporter Kate Heston can be reached at kheston@dailyinterlake.com or 758-4459.
Recent Headlines
---