Montana's general big game season enters final week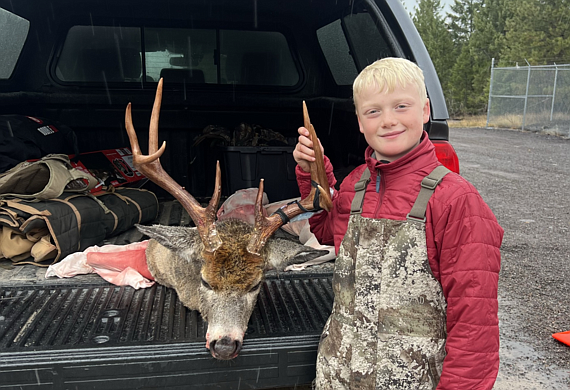 First-time hunter Preston Penhall stands next to his harvested deer at the Swan check station. (FWP photo)
Montana's general deer and elk hunting season wraps up Sunday, Nov. 26.
So far this season, more than 8,100 hunters have appeared at regional game check stations in Northwest Montana. Harvest results remain slightly down compared to a year ago, while the number of hunters reported is slightly higher.
So far, hunters have checked 540 white-tailed deer, 381 white-tailed bucks, 79 mule deer and 35 elk.
Sixteen elk have been checked at the U.S. 2 station west of Kalispell, with 15 at the Thompson Falls station.
As the season wraps up, Montana hunters can thank landowners for access and share stories through a new online portal. Montana Fish, Wildlife and Parks is offering this opportunity to say thank you to landowners who have provided access and helped to make your hunting season great. FWP will collect these expressions of gratitude and share them with the specific landowners at the end of the season. Notes can be submitted online at www.surveymonkey.com/r/thank-a-landowner. 
Other general hunting seasons underway include black bear (Sept. 15-Nov. 26), bighorn sheep (Sept. 15-Nov. 26), moose (Sept. 15-Nov. 26), mountain lion (fall season without dogs, Oct. 22-Nov. 27), mountain goat (Sept. 15-Nov. 26), turkey (Sept. 1-Jan. 1), and wolf (Sept. 15-March 15, 2024).
While the general hunting season ends after this week, hunters will still have opportunities into winter. Certain areas have continued elk hunting opportunities, and there is also Montana's muzzleloader heritage hunting season for deer and elk, Dec. 9-17.
Check stations are open on weekends during general deer and elk hunting season from 10 a.m. to approximately 1.5 hours past sunset. The regional stations are located at U.S. Highway 2 West of Kalispell, Montana Highway 83 north of Swan Lake, Highway 200 west of Thompson Falls, and Highway 93 near Olney.
Hunters must stop at any check station they encounter whether they harvested an animal or not. The counts at the stations represent a sampling of the harvest and do not represent the complete number of animals taken.
Recent Headlines
---