Residents concerned about proposed grizzly management rules that include killing on public lands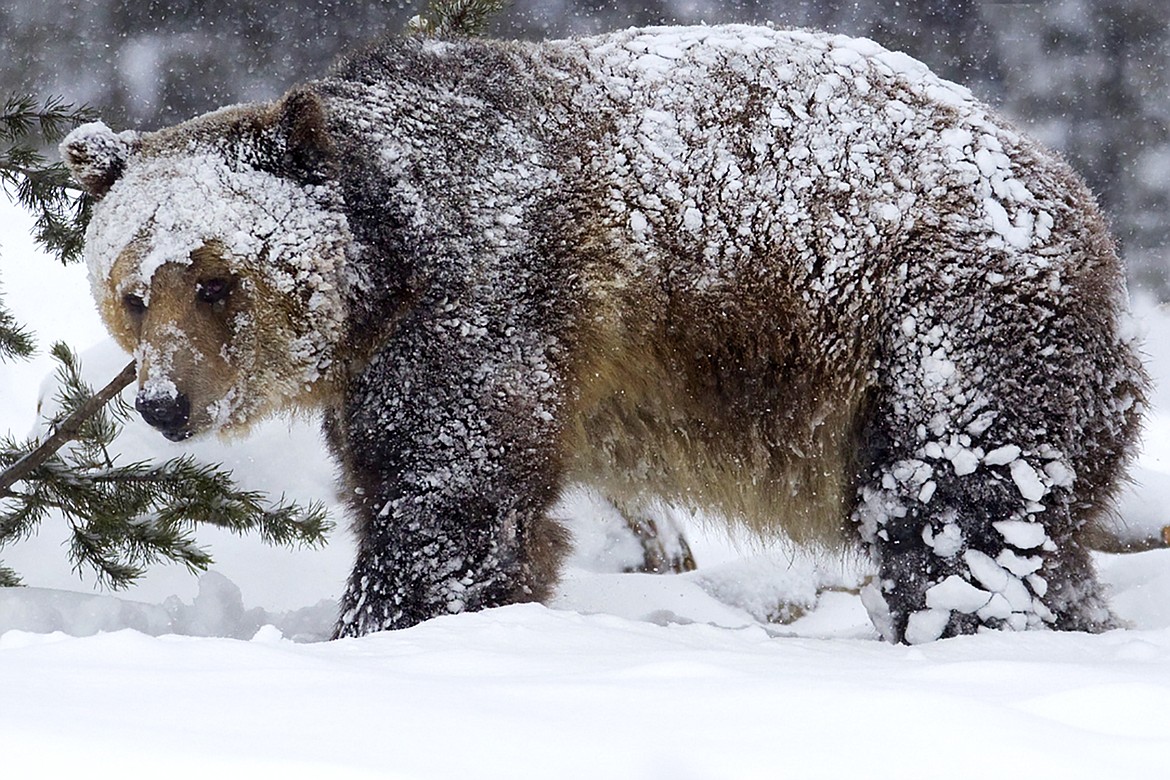 A grizzly bear in Yellowstone National Park is seen in this file photo.
A public comment session on Montana Fish, Wildlife and Parks' administrative rules proposal for managing grizzly bears should the federal government delist them from Endangered Species Act protections in parts of the state showed there remain concerns from some in Montana about killing the bears – particularly on public lands.
The written public comment period for the proposed rules was open through 5 p.m. Monday, but on Friday, the Fish and Wildlife Commission took comments in a virtual meeting from more than a dozen people – many of them representatives of various conservation groups or citizens who said they would still like to see further changes to the proposal or for the commission to scrap it and start over.
The rulemaking process started in June after the Legislature passed Senate Bill 295, sponsored by Sen. Butch Gillespie, R-Ethridge, which requires the commission to set up a framework to manage grizzlies in the event they are delisted by the U.S. Fish and Wildlife Service, which is in the midst of a yearlong study to decide whether grizzlies should be delisted in the  Northern Continental Divide Ecosystem (NCDE) in western Montana and the Greater Yellowstone Ecosystem (GYE), which sits in Montana, Idaho and Wyoming.
In August, the commission amended the proposed rule to require ranchers to try nonlethal means to deter grizzlies threatening their livestock on public land before they can receive a permit to kill a grizzly following pushback from the public.
Several people who spoke at Friday's meeting said they appreciated the amendment, but still feel uncomfortable that the FWP director could issue a permit to kill a grizzly on any public land when a livestock owner has told FWP they have tried non-lethal measures of hazing.
"That language is so weak, I believe it negates the intent of Commissioner (Jeff) Burrows' proposal. The language should say 'livestock owner has used non-lethal or preventative measures to resolve the conflict,'" said Jim Bell of Bozeman. "If we're going to use taxpayer money to kill an animal just removed from the Endangered Species list on public lands, the criteria for issuing a kill permit must be far more stringent."
Andrea Zaccardi, the carnivore conservation legal director for the Center for Biological Diversity, agreed that wildlife habitat should be prioritized for public lands over livestock and said the language regarding when a bear is "threatening" livestock is overly vague and open to interpretation.
"I mean, if a grizzly bear is in the vicinity, is that threatening livestock? Nobody really knows what that will look like and how it will be implemented," she said.
Others said they wanted to see the rule require documentation of non-lethal management that livestock owners used prior to a permit being issued so the department can learn from the data. And some speakers said they felt the non-lethal preventative measures should also have to apply on private land.
Several speakers said they appreciated the state would not allow for any hunting of grizzlies for at least five years in the event they are delisted, but some also said the rules lacked clarity on how quotas might be selected and adjusted due to other human-caused mortality, including the fact that the current proposal says bears killed by FWP, USFWS or someone in self-defense would not count toward the quota.
There was only one speaker, Karli Johnson with the Montana Farm Bureau Federation, who opposed the preventative non-lethal amendment for public lands, saying ranchers should be able to defend their livestock on both private and public lands at any time.
"We're not asking for open season; we're asking for the ability to address problem bears that are threatening our livestock regardless of where they meet," Johnson said.
But much of the comments surrounded the kill permits on public lands and what the majority of the speakers said are threats not only to the animals and their connectivity between the two grizzly bear ecosystems, but also to the general public.
"Going back to one basic principle – grazing is not a right, it's a privilege. And the idea we're going to allow ranchers to kill grizzly bears on public lands has multiple reasons to be wrong," said Stephen Capra, of Bold Visions Conservation.
Capra said ranchers should be able to mitigate bear attacks on their livestock but not kill them on public lands. And he presented an example of a rancher shooting a bear but not killing it on public lands, saying that bear then presented an even larger threat to the public because of its wounds.
"This seems like a reckless situation you're setting up," he said. "… Any business has a risk, and ranchers are using overt political power with your agency to push this agenda and they should not be permitted to do so. These are our public lands and you cannot endanger the public with a reckless policy driven by legislators."
The Fish and Wildlife Commission will consider public feedback to the proposal ahead of a vote to adopt the rules.
Blair Miller is a Helena-based reporter. The Daily Montanan is a nonprofit newsroom. To read the article as originally published, click here.
Recent Headlines
---