Lois Barbara Nathe-Hammett, 91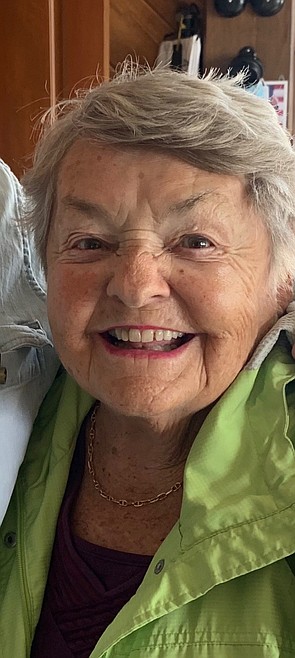 |
November 26, 2023 12:00 AM
The forever 18-year-old spirit of Lois Barbara Nathe-Hammett exited her exhausted 91-year-old body, at home as she wished, on the morning of Nov. 14, 2023. 
If it is possible to "Give it Hell" in Heaven, Lois is undoubtedly leading the charge, and we pity any in the spirit world who think they can stop her freshly turbocharged soul. 
Born in Balsam Lake, Wisconsin, in 1931, Lois and her family moved to Sauk Center, Minnesota, when she was in seventh grade. She graduated from Sauk Center High School in 1949, and shortly thereafter the family left Sauk Center to make a new life in Montana. She didn't realize it at the time, but she had landed in a place big enough and wild enough to quench her enormous thirst for fun and adventure. 
She married John Hammett in St. Matthew's Catholic Church in 1954, and they enjoyed nearly 70 years together raising six children and living life at warp speed. 
She was ferociously social, and her parties were legendary, particularly her Christmas Eve Midnight Mass "brunches," where she served mountains of hot dishes, cinnamon rolls, gigantic plates of Christmas cookies, and fruit of every kind. All this was washed down with coffee and more than a few Harvey Wallbangers and other Christmas "spirits." The parish priest and parish nuns were always honorary guests, and an invite to one of Lois's brunches was considered a high honor.
She was created for motherhood, and she was an elite practitioner of the craft. She was working as a telephone operator in Kalispell when she found out she was pregnant with the first of her six children. As soon as she got the news, she jumped up from her switchboard and walked out the door. Immediately after quitting, she beelined it to Kelly Main Street Furniture and bought a rocking chair (creaky rockers being a must) in anticipation of future nights soothing her babies to sleep.
An expert cook and baker, she specialized in the comfort foods of the '60s and '70s, and constantly challenged herself with new recipes over the years. She was fearless when faced with a cooking challenge. If she was rendering bear fat provided by the family hunters or cooking seven-course meals on an old-fashioned wood stove at some secluded backwoods cabin, she never hesitated; she attacked and conquered.
She was a woman of action and only moved forward, always in high gear, she was a human perpetual motion machine. Whether it was cleaning her home, cooking meals, hiking in the mountains, downhill or cross-country skiing, bicycling, camping, playing cards with her girlfriends, or entertaining party guests, she played hard, worked harder, and was most alive in the center of swirling commotion; she simply never wanted to miss anything.
She had incredible energy and an unyielding personality. She never sugar coated anything and shot straight from the hip, but she also had a tender side and was one of the warmest people on earth. There were no strangers in Lois's world, only new friends. When she met someone, the first thing she would do was flash her brilliant smile, her eyes would twinkle, and she would place a hand softly on her new friend's forearm or shoulder. At this point, now completely entranced, her friend would share their deepest joys and sorrows with her. These meetings would end as often with a shared cry as with a hearty laugh. Human connection and deep empathy were possibly her greatest gifts, and if you ever saw Lois during one of these interactions, you were awed; watching the hand of God working through her. 
Lois's husband John wanted everyone to know that she loved her home of 60 years, all her neighbors, St. Matthew's School and being a room mother when her children attended the school, Mass with her church family, spending time at the old schoolhouse cabin in Essex and visits from her children, grandchildren, great-grandchildren, and friends. 
She leaves behind her husband of 69 years, John; sons, Jeffery, Michael, Richard, and Matthew (Stephanie); daughters, Jane (Rod) and Lisa (Brian); 12 grandchildren, five great-grandchildren, and numerous nieces and nephews, as well as her lifelong motto, "Give it Hell while you can," which she managed to accomplish every day for 91 years.
Mass of Christian burial will be held at 11 a.m. on Dec. 1, (Lois's birthday), with rosary at 10 a.m. at St. Matthew's Catholic Church in Kalispell.
In lieu of flowers, donations in the name of Lois Hammett can be made to St. Matthew's School or any children's charity.
Recent Headlines
---