Flathead residents take part in timber industry training program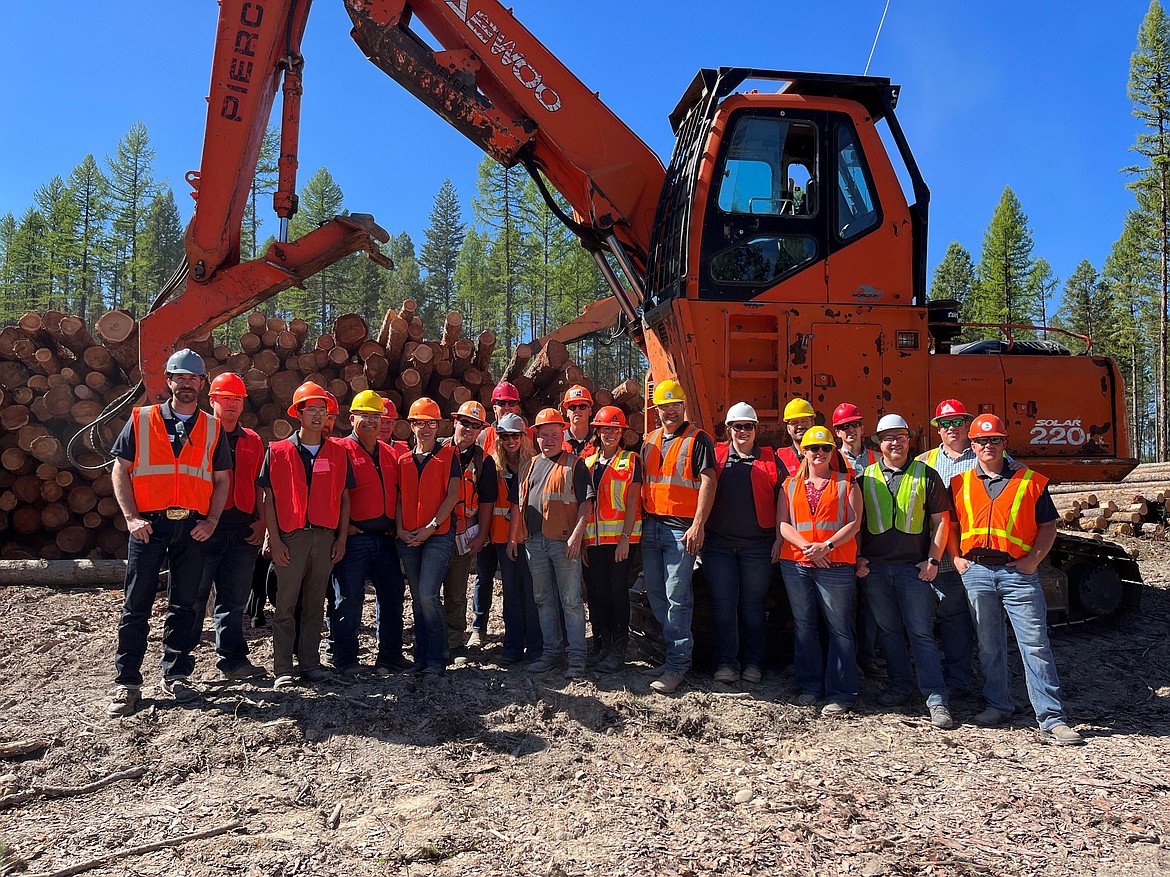 Class V and guests visit a timber harvest site Sept. 14. Back row, Chisholm Christensen, Clay Redding, Peter Taylor, Taylor Brown, Cameron Wohlschlegel, Cassi Hammerness, Brian Hogue, Simon McCann, Weston Merrill, Jessica Murray, Joshua Senecal, Tyler Tintzman, Tim McEntire. Front row, Micah Jam, David Crasco, Katie Kuhr, Neil Pluid, Shauna Dunn, Lacey Morrison, Christopher Anderson, Shelby George. (Photo provided)
|
October 1, 2023 12:00 AM
Flathead Valley residents Shauna Dunn, Shelby George, Brian Hogue, and Cameron Wohlschlegel recently completed three days of local training as part of REAL Montana (Resource Education and Agriculture Leadership).
For REAL Montana Class V, this was the sixth session in their two-year educational program.

The seminar was held Sept. 14-16, and experts presented on the current state of Montana's timber industry, forest health, state and federal regulation, and how timber harvest impacts local economies. The class toured a timber harvest site, the F.H. Stoltze Mill, and Weyerhaeuser's MDF facility. The seminar also included cultural training on Montana's Indigenous Peoples' tribal, family, and land structure.

Shauna Dunn, Whitefish resident and corporate safety manager for Weyerhaeuser, was re-elected as Class President during the seminar.
"Our working forests play a vital role in supporting our way of life here in Northwest Montana. They provide us with a sustainable wood supply, which is essential for building homes and producing everyday products, and they serve as crucial wildlife habitats. These forests help clean our air, filter our water, and provide our communities with access to nature and the outdoor activities so many of us love. Our region's forests and manufacturing facilities also create excellent career opportunities and support the local economy."

Twenty of Montana's emerging and established leaders were competitively selected from a pool of qualified candidates representing various agriculture and natural resource industries across the state to participate in Class V of REAL Montana. Each seminar includes a mix of educational speakers, tours, and professional skill-building designed to build a network of informed and engaged leaders to advance the natural resource industries in Montana.
The mission of REAL Montana is to create a network of informed and engaged leaders to advance the natural resource industries in Montana.
REAL Montana is funded by partnering with Montana State University Extension and private industry. An advisory board of industry leaders provides oversight. The program will begin accepting applications for Class VI starting Jan. 1, 2024.
Complete program information is available at www.realmontana.org or by contacting the REAL Montana staff at REALMontana@montana.edu.
Recent Headlines
---