Whitefish couple fashions custom hats made to last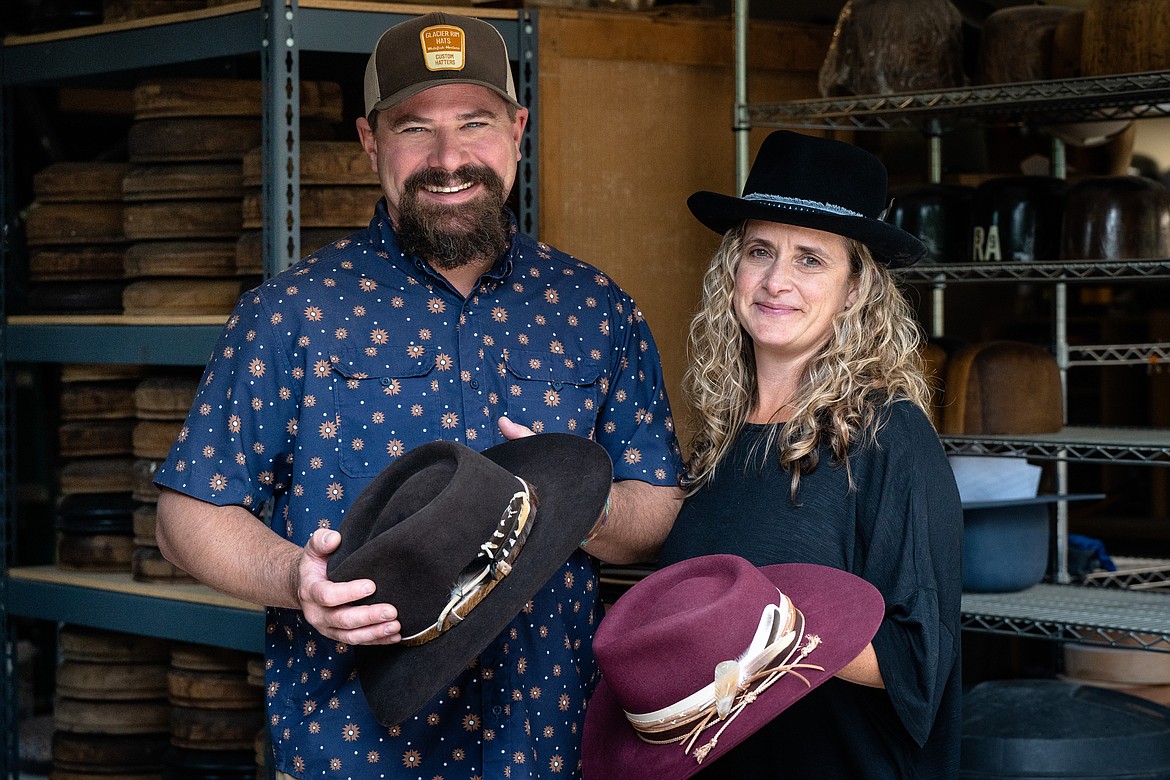 Becky and Todd Horning are owners of Glacier Rim Hats in Whitefish, Montana. (Photo courtesy of Kyle Stansbury)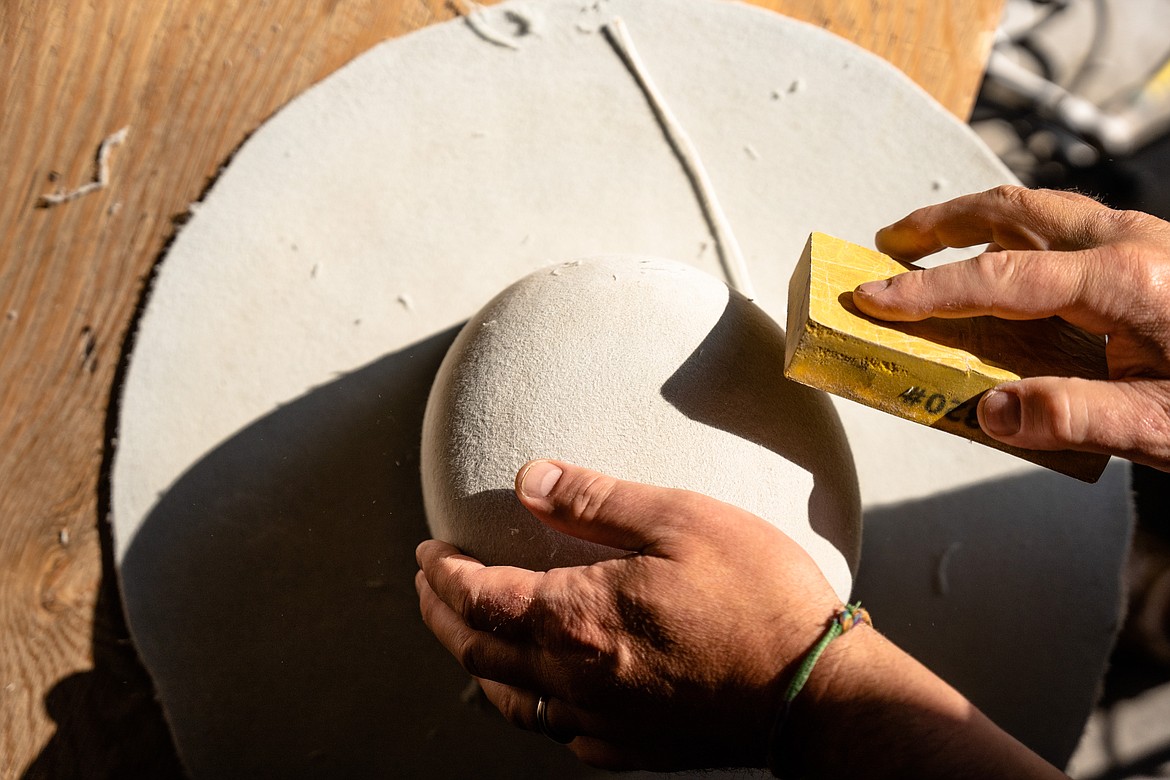 Glacier Rim Hats makes custom hats, based out of Whitefish. (Photo courtesy of Kyle Stansbury)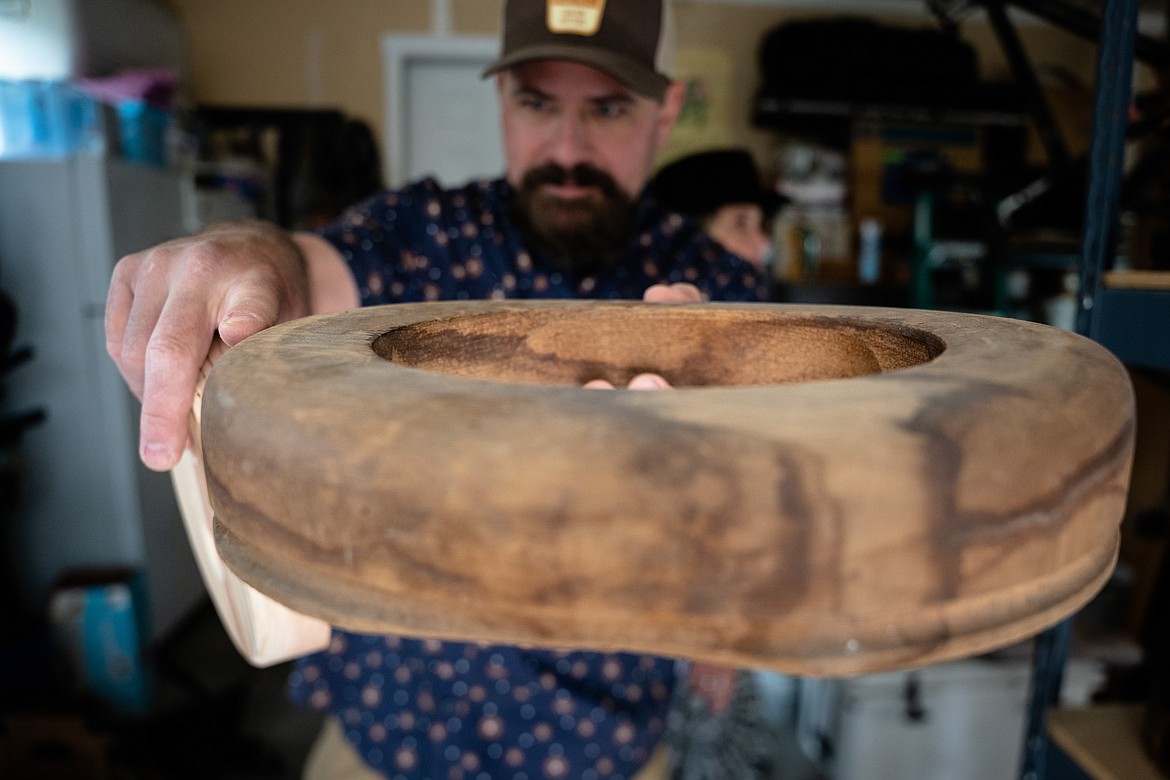 Todd Horning works on a hat for Glacier Rim Hats. (Photo courtesy of Kyle Stansbury)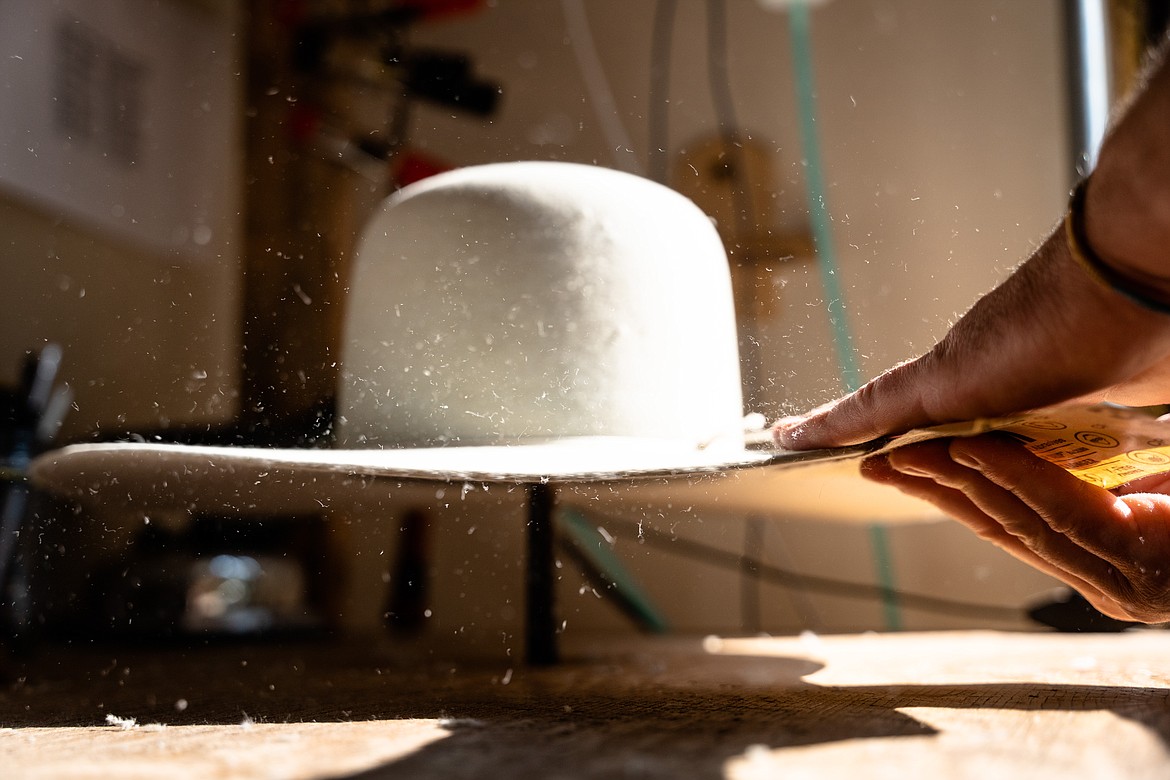 A custom hat is seen, made by Becky and Todd Horning of Glacier Rim Hats. (Photo courtesy of Kyle Stansbury)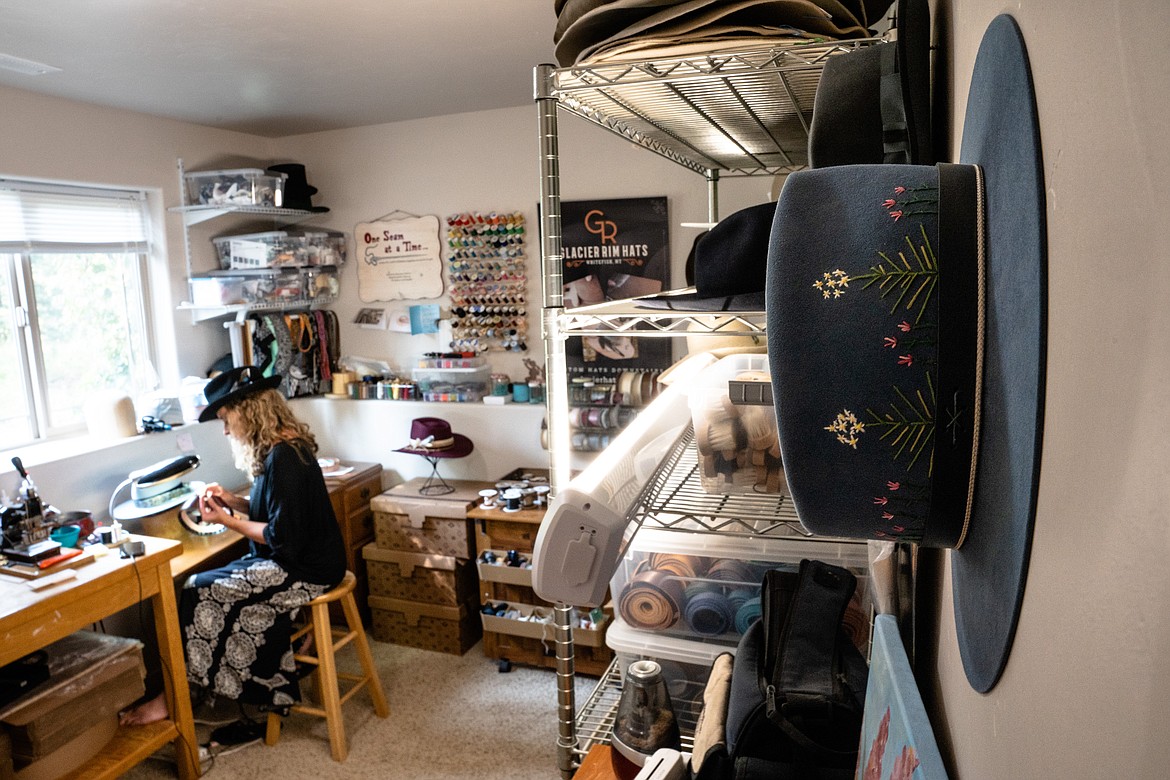 Becky Horning, co-owner of Glacier Rim Hats in Whitefish, Montana, works on a hat. (Photo courtesy of Kyle Stansbury)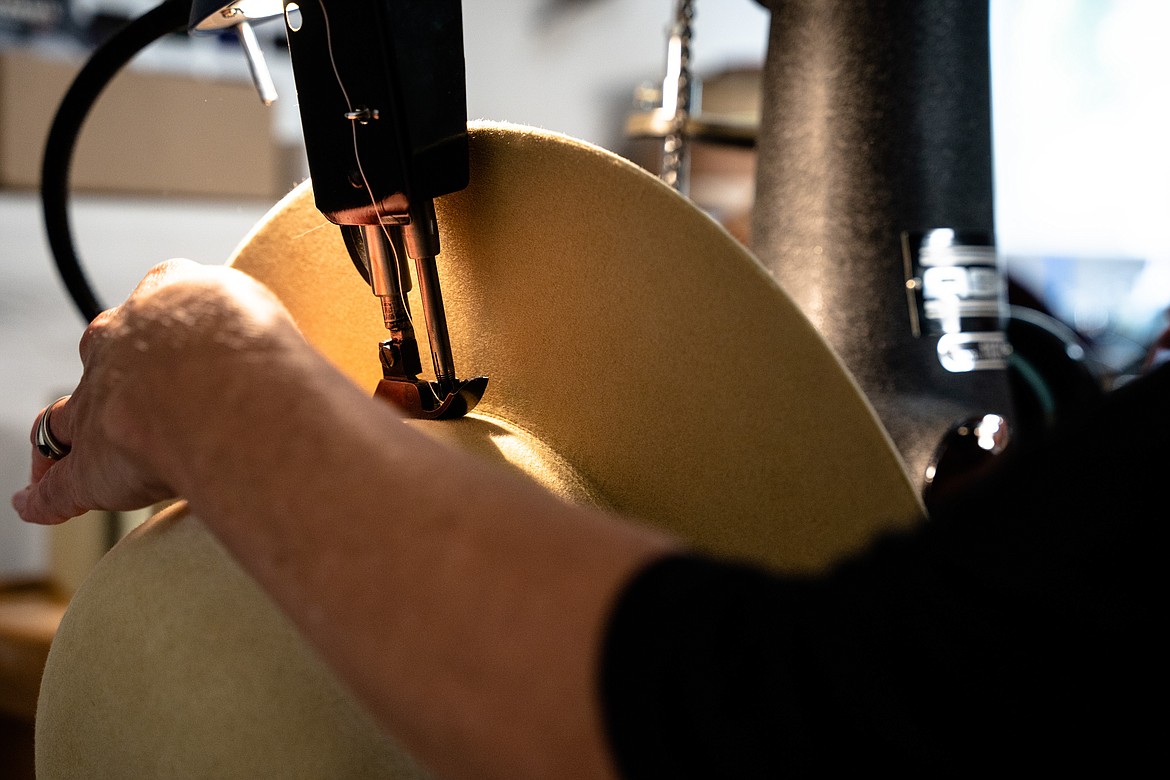 Todd Horning, co-owner of Glacier Rim Hats in Whitefish, Montana, works on a custom hat. (Photo courtesy of Kyle Stansbury)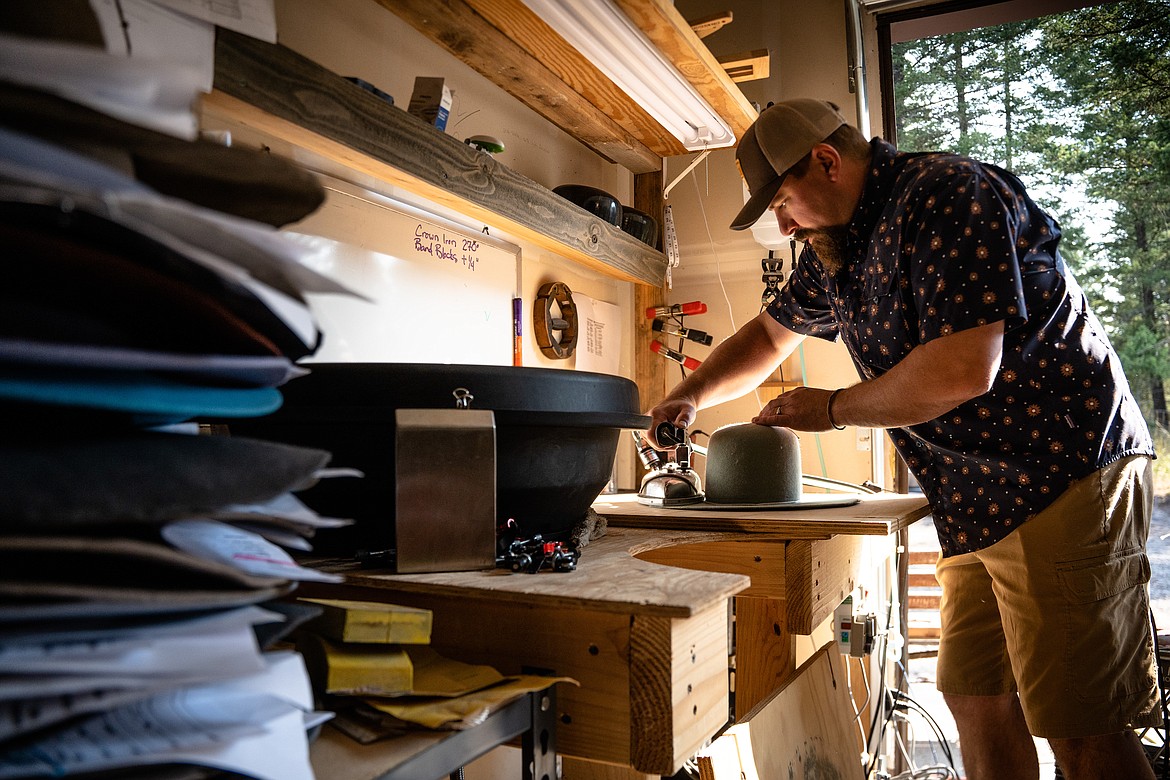 Todd Horning, co-owner of Glacier Rim Hats in Whitefish, Montana, works on a hat. (Photo courtesy of Kyle Stansbury)
Previous
Next
by
KATE HESTON
Daily Inter Lake
|
October 8, 2023 12:00 AM
For Becky and Todd Horning, making things has always been an essential part of their lives.
From crepes to photography, the Hornings have enjoyed working to produce things. Along with their son and daughter, the family now dedicates their craftsmanship to a more niche profession — custom hat making.
Glacier Rim Hats, the couple's current business, is based out of the family's Whitefish home, operating out of a spare guest room and garage.
But the job is more than just creating a hat, Becky said, it's about the creation of an heirloom.
"It's an investment too," Becky said. "It's something that can either be a fashion hat or a good solid working hat. Years round, when the grandkids find it, it's an heirloom."
A custom hat, which fits perfectly, is a special thing that will last, Todd said. Whether used for work or fashion, the Hornings focus on quality hats that can be versatile.
Both Todd and Becky grew up in Montana and moved to the Flathead Valley two decades ago. In 2005, the pair started Amazing Crepes, a crepe shop in downtown Whitefish, their first business. They sold the cafe in 2018.
"We kind of went from mobile to brick and mortar and then it got to the point where we felt like we needed to transition to something else," Todd said.
Their next adventure in turn happened across the street from Amazing Crepes, where the pair opened up a historic, old time photo studio in 2018. Patrons, Becky observed, often asked where the costume hats were from and if they were for purchase.
Hats were something that interested Becky. In 2002, saving up her tip money, she got her own custom hat made. More than 20 years later, the hat is still in good condition, she said.
"I just got to thinking, like, how did they do it? How does someone make a hat?" Becky said.
In light of a global pandemic, Becky spent four days in Salt Lake City, training with a hatter, acting on an interest that both sparked her attention in 2002 and still did two decades later. After selling the photo studio in 2021, the Hornings were inclined to start another business.
"Although it is scary starting a new business when you're older, paying a mortgage and have kids," Becky said.
"But we realized the potential of what we're doing," Todd said in response.
In their first year of business, the Hornings sold their hats at the Under the Big Sky music festival in Whitefish in 2021 — it was the push they needed to confirm that making these hats could support their family. They continue to sell their hats at the festival year after year.
THE PROCESS for making a custom hat starts with the size and shape of the client's head.
"That's what makes a custom hat custom," Todd said. "It fits to your head. It's a little bit more intense than a lot of people realize."
After connecting, clients meet Becky at The Toggery in downtown Whitefish, in a meeting space, to get an imprint of their head.
Then Becky and Todd pass the hat back and forth between them, working on a series of steps including blocking felt, pressing the brim, smoothing the felt out, making a custom band and creating the homemade liner.
Start to finish, the process ranges in time, often taking around a week to complete a hat. Currently, they are four to five months out from order to completion.
Clients can choose from four felt types. Naturally water repellent, beaver felt is a good felt to choose for a working hat, according to the Hornings. Another option is coypu or nutria felt, a sustainable alternative to beaver fur felt that still is water resistant and durable.
The Hornings also offer 50% beaver, 50% rabbit hats, a semi-water resistant, more durable option. Rabbit fur felt is the third option, a less durable and more cost effective option.
Each custom hat comes with a hatband, the client's name and date stamped into the leather sweatband and a custom wood band lock to maintain proper shape and size.
Depending on the composition, custom hats can range from nearly $700 to $1,100. Some people hear those numbers and say they are expensive, but when looking around at hat prices, they are pretty inexpensive comparatively, Becky said.
Eventually, the Hornings would love to build a more designated hat studio on their property. Regardless, they are passionate about the creation of their hats.
"I guess what I really kind of fell in love with was the process of it. It's just a really cool, old craft," Becky said.
Ready-to-wear hats are locally available at The Toggery in Whitefish, Clydesdale Outpost, Rhinestone Cowgirl in Big Sky and the Yellowstone Club.
Learn more about Glacier Rim Hats by visiting https://www.glacierhats.com/.
Reporter Kate Heston can be reached at kheston@dailyinterlake.com.
Recent Headlines
---