Fake rehab centers scam Native Americans far from home, officials warn during investigations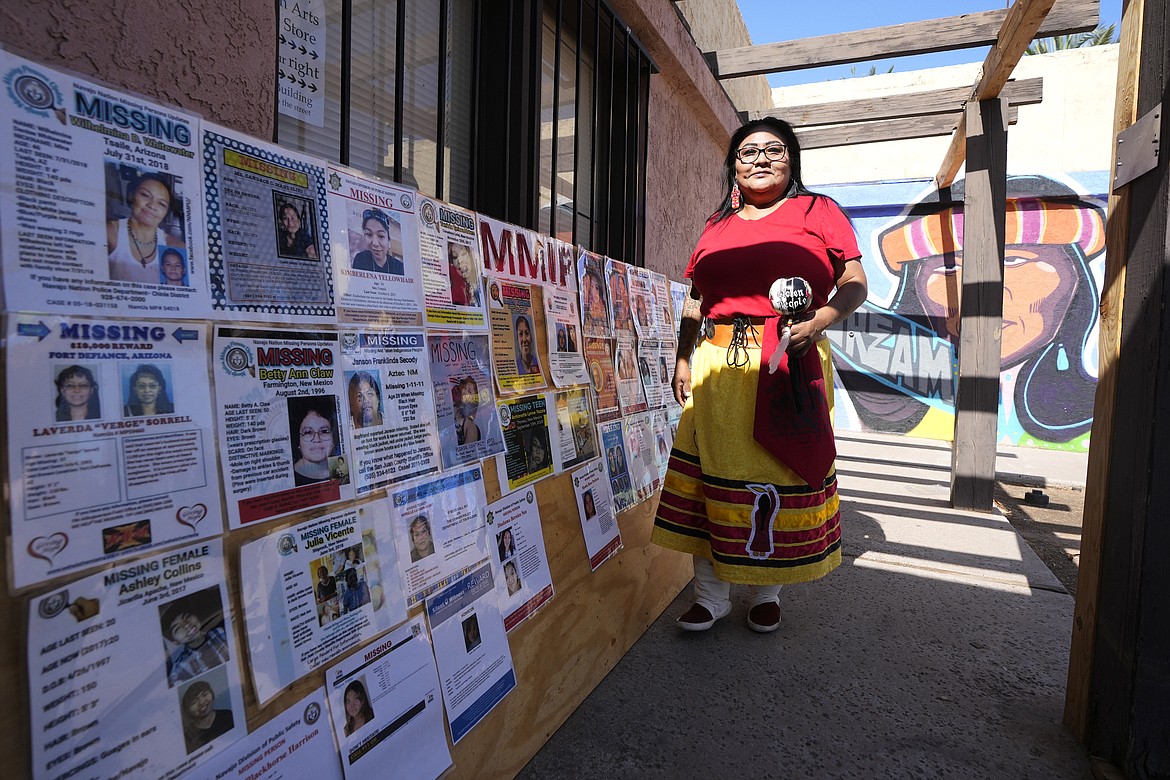 Grassroots advocate Reva Stewart walks outside the headquarters at Drumbeat Indian Arts, Monday, July 31, 2023, in Phoenix. Stewart and the women working with her are trying to help find lost Native Americans who were left without a place to stay after the phony treatment centers in the Phoenix area abruptly shut down when Arizona cut off their Medicaid money amid investigations into widespread fraudulent billing. (AP Photo/Ross D. Franklin)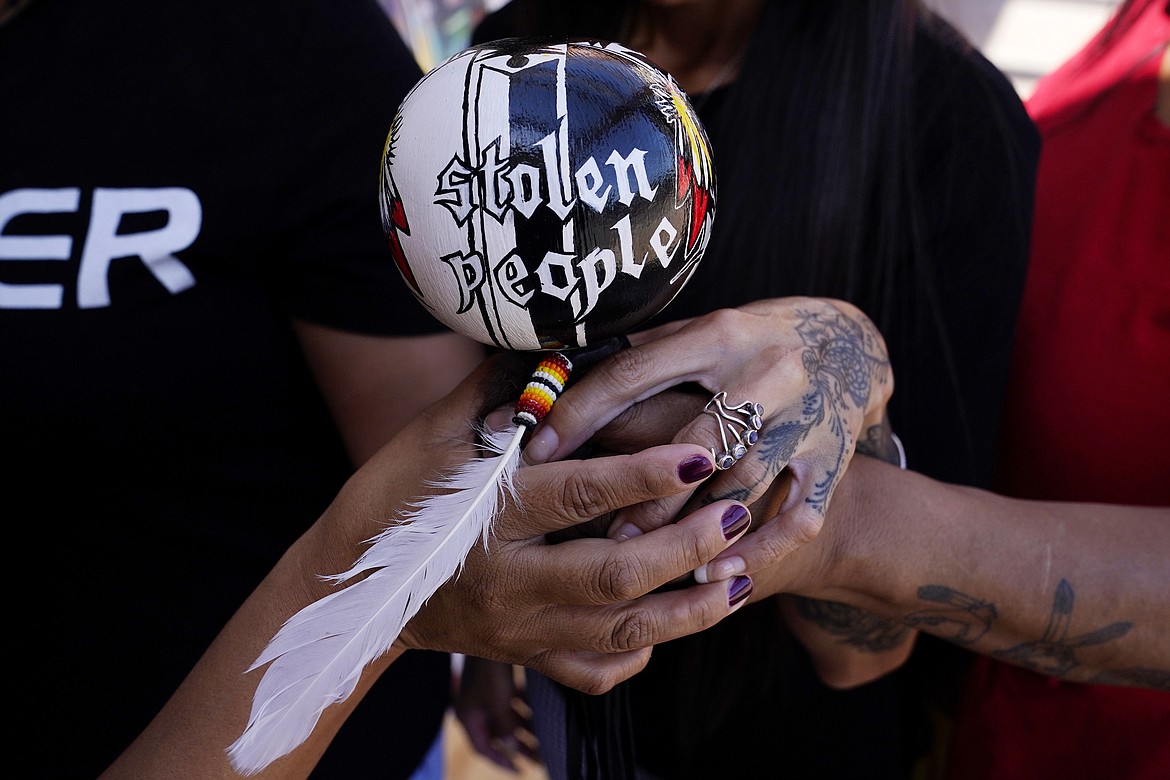 Grassroots advocates hold a Native American gourd rattle at Drumbeat Indian Arts, Monday, July 31, 2023, in Phoenix. The women are trying to help find lost Native Americans who were left without a place to stay after the phony treatment centers in the Phoenix area abruptly shut down when Arizona cut off their Medicaid money amid investigations into widespread fraudulent billing. (AP Photo/Ross D. Franklin)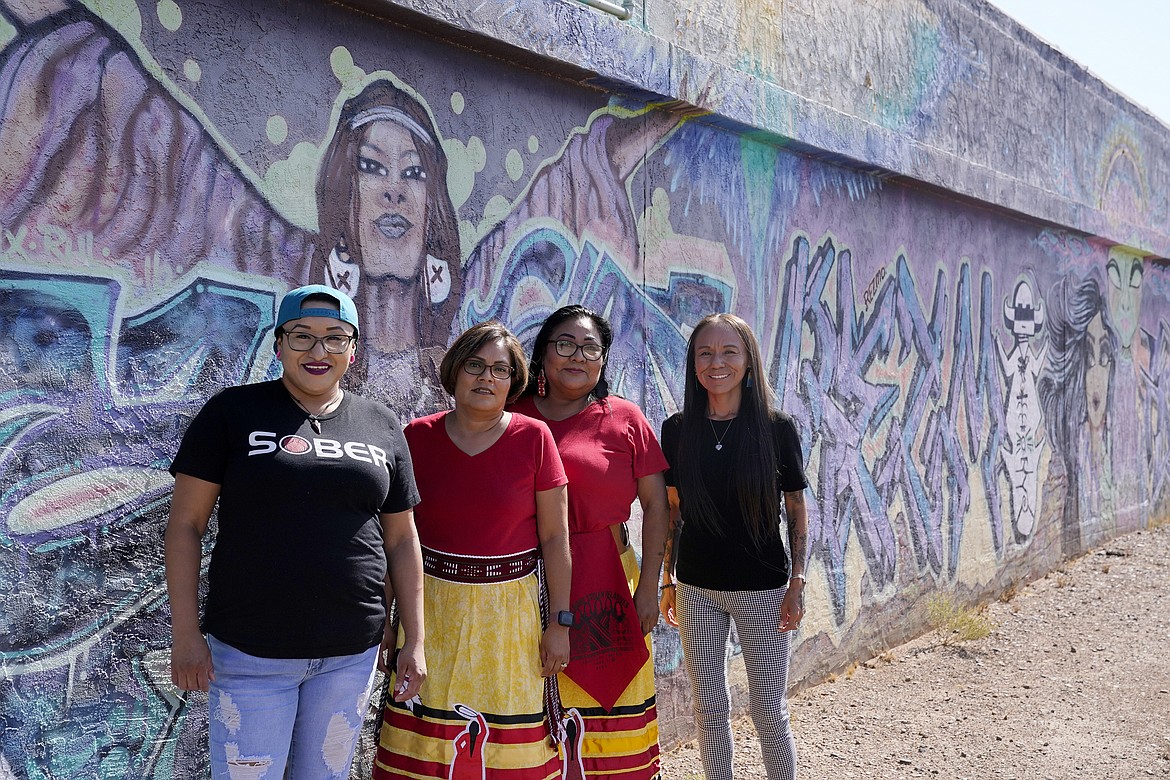 Grassroots advocates Raquel Moody, left, Coleen Chatter, second from left, Reva Stewart, and Geri Long, right, stand outside their headquarters at Drumbeat Indian Arts, Monday, July 31, 2023, in Phoenix. The women are trying to help find lost Native Americans who were left without a place to stay after the phony treatment centers in the Phoenix area abruptly shut down when Arizona cut off their Medicaid money amid investigations into widespread fraudulent billing. (AP Photo/Ross D. Franklin)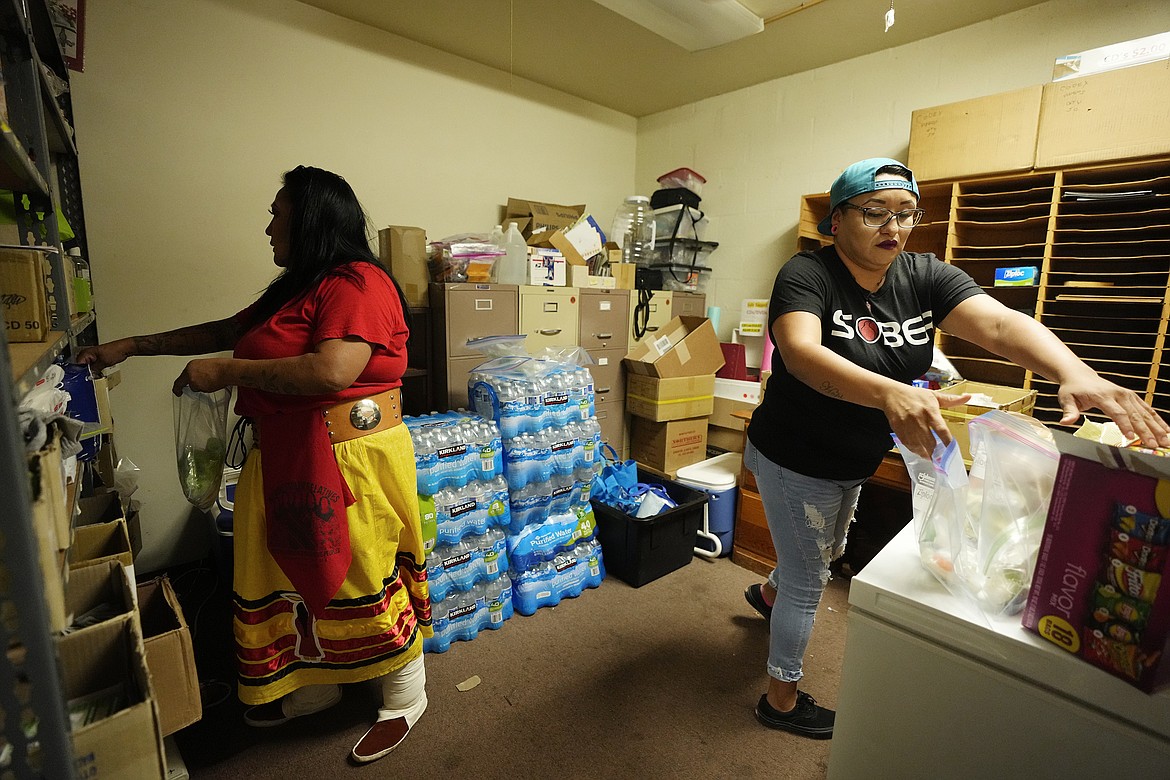 Grassroots advocates Reva Stewart, left, and Raquel Moody, right, pack up individual hygiene kits for clients at Drumbeat Indian Arts, Monday, July 31, 2023, in Phoenix. The women are trying to help find lost Native Americans who were left without a place to stay after the phony treatment centers in the Phoenix area abruptly shut down when Arizona cut off their Medicaid money amid investigations into widespread fraudulent billing. (AP Photo/Ross D. Franklin)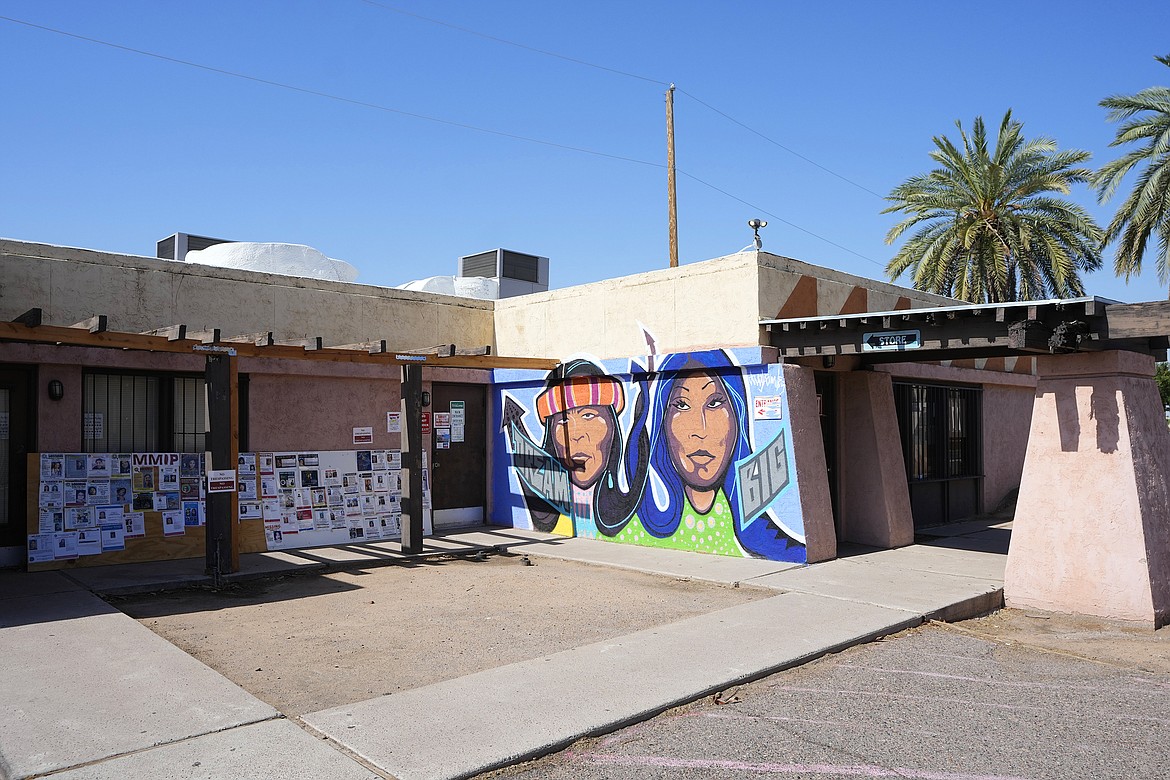 The Drumbeat Indian Arts headquarters, where a small group of grassroots advocates work to help Native Americans cut off from their Medicaid money amid investigations into widespread fraudulent billing, is shown Monday, July 31, 2023, in Phoenix. (AP Photo/Ross D. Franklin)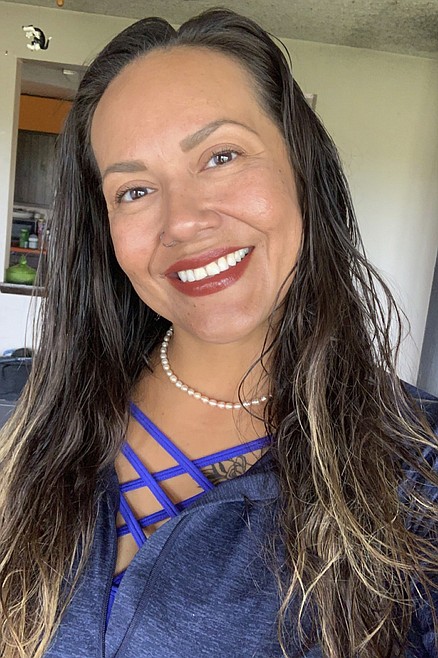 This undated photo shows Autumn Nelson. A member of the Blackfeet Nation in Montana, Nelson was recruited to a treatment center for alcohol addiction in the Phoenix area, but was left on the street after she questioned how it was being run during a widespread investigation into fraudulent billing at such places in Arizona. Now back on her reservation, Nelson is among hundreds of Native Americans from around the West who have been recruited to centers with false promises of treatment for their addictions. (Autumn Nelson via AP)
Previous
Next
PHOENIX (AP) — Autumn Nelson said she was seeking help for alcohol addiction last spring when fellow members of the Blackfeet Nation in Montana suggested a rehabilitation center in Phoenix, far to the south.
The 38-year-old said the center even bought her a one-way airline ticket to make the 1,300-mile (2,100-kilometer) journey. But Nelson said after a month, she was kicked out after questioning why there was one therapist for 30 people and no Native American staff despite a focus on Native clients.
"All of a sudden I was out in the 108-degree heat in Phoenix, Arizona," said Nelson. "I was scared, and didn't know where to go."
Now back on the Blackfeet reservation, Nelson is among hundreds of Native Americans who have been targeted by Phoenix-area scammers. The billing schemes often left clients homeless and in some cases financed lavish lifestyles for the fraudulent providers, authorities have said. Arizona has been defrauded in recent years out of hundreds of millions of dollars through such scams, state officials estimated.
The fraudulent charges were submitted mostly through the American Indian Health Program, a Medicaid health plan that allows providers to bill directly for reimbursement of services rendered to Native Americans and Alaska Natives.
Federal law lets Native Americans enrolled in federally recognized tribes choose the fee-for-service plan or a managed care plan. The state Medicaid program known as AHCCCS — Arizona Health Care Cost Containment System — contracts with managed care organizations to provide health services to most Medicaid members in Arizona, while the fee-for-service plan allows Native Americans to use any provider registered with AHCCCS.
The scams' far-reaching consequences are now becoming known as warnings are sounded by state and tribal governments outside Arizona, as well as Montana's U.S. Sen. Jon Tester, a Democrat, and Gov. Greg Gianforte, a Republican.
Arizona Gov. Katie Hobbs and Attorney General Kris Mayes — who has said authorities believe a Nevada-based criminal syndicate launched the first scams — in May announced they were stepping up an investigation on fraudulent Medicaid billing begun before they took office in January. The FBI and the U.S. Attorney General's Office have joined Arizona prosecutors in the probe. And Tester has called on the Centers for Medicare and Medicaid to investigate as well.
Non-medical transport companies that reportedly have taken Native Americans from their reservations to phony programs should also be investigated, said Arizona State Sen. Theresa Hatathlie, a Democrat and Navajo who lives on the reservation. The New Mexico Attorney General announced a "Don't be taken for a Ride" campaign, warning people not to accept transportation from strangers to go to Arizona rehab centers.
The Navajo Nation and the Blackfeet Nation declared public health emergencies to free up resources to help affected members. The Navajo Nation also launched a program called Operation Rainbow Bridge to help members get into legitimate programs or back to the reservation.
Blackfeet members who recruit on the reservation for fake programs face thousands of dollars in fines and even expulsion, the tribal leadership decided.
Arizona has since suspended Medicaid payments to the center where Nelson stayed — a phone number on the provider's LinkedIn account no longer works — along with more than 300 other providers based on "credible allegations of fraud" as of Aug. 18. Some providers closed and some have appealed to stay open.
AHCCCS instituted tighter controls, including a six-month moratorium for enrolling new behavioral health clinics for Medicaid billing. Site visits and background checks with fingerprinting are now required for high-risk behavioral health providers when they enroll or revalidate.
The scams exploded during COVID-19 lockdowns.
"There were a lot of rules relaxed that allowed those scammers to get in," said Dr. John Molina, health service director for the federally funded Native Health, a health center serving Native Americans in Phoenix. He said addiction among Native Americans is rooted in generations of trauma.
"This takes us back to the early years of colonization and how Natives were taken advantage of for economic gain," said Molina, of Pascua Yaqui and San Carlos Apache ancestry.
Last year, Johnwick Nathan, 29, was indicted on multiple counts of fraud, money laundering and forgery. Authorities allege Nathan illegally billed Medicaid on behalf of Native American clients, a charge he denies. He is scheduled to be tried Sept. 18.
The scams can be highly lucrative. In a federal case, a woman who operated a fake recovery program in Mesa, Arizona, pleaded guilty in July to wire fraud and money laundering after raking in over $22 million in Medicaid money between 2020 and 2021 for services never provided.
Court records don't say whether patients were Native Americans, only that they were brought to the facility just once and billings were subsequently made in their names up to 90 days. Billings were also made for dead people and prisoners.
Diana Marie Moore, 42, will be sentenced Dec. 18 after an investigation by the Internal Revenue Service. A federal court required her to forfeit property obtained through the fraud, including four homes, seven high-end vehicles and luxury items including Rolex watches, diamond rings and a rainbow of Louis Vuitton handbags.
Navajo police visiting Phoenix in recent months have encountered hundreds of Native Americans living in the street after centers closed, said Harland Cleveland, special operations manager for Rainbow Bridge. Many are inebriated and don't have cellphones to call their families, he said.
Former clinic clients "are too scared" to testify before the state Senate, Hatathlie said.
Reva Stewart and several other Native American women living in Phoenix operate an online network to help find missing people they call "our relatives," posting details of those lost on social media.
Stewart, who is Navajo, got involved a year ago after watching drivers stop vans outside Phoenix Indian Medical Center, offering people a place to stay.
"Something didn't look right," said Stewart, who manages a Native American arts shop nearby. Around that time, her cousin disappeared into a similar vehicle in New Mexico.
After an hourslong trip, the cousin was kicked out of the Phoenix center she was taken to after refusing to complete intake forms, Stewart said. She said her cousin is now back on the reservation and sober.
Not all endings are happy.
Raquel Moody, who is Hopi and Apache, described a home where residents were allowed to drink alcohol. Moody said she left in December after quarreling with her cousin Carlo Jake Walker, who continued imbibing.
Months later, Moody learned Walker died from alcohol poisoning and was buried in a pauper's grave. Moody quit drinking and now volunteers with Stewart's group #stolenpeoplestolenbenefits to help Native American families find lost loved ones who went to rehab homes.
Addiction recovery is a challenge on reservations, where resources for residential treatment aren't always available.
Nearly half of the Navajo Nation's 25,000 arrests in 2021 were for public intoxication, even though federal law prohibits alcohol sales on tribal land.
A small residential addiction treatment program on the Blackfeet reservation is usually full.
Blackfeet member Laura McGee's brother went missing shortly after arriving at a Phoenix facility in the spring, she said. After a harrowing search, the family found him and brought him back to Montana. Arizona later suspended Medicaid payments to the provider while law enforcement investigates.
Now, McGee works with Stewart to help other families find loved ones. She recently crossed paths online with Nelson, who said she's optimistic about staying sober.
"That earlier situation traumatized me," said Nelson. "But now it has encouraged me to stand up."
Recent Headlines
---