Squeezed by ever more students, Marion asks voters to approve $8.2M school expansion bond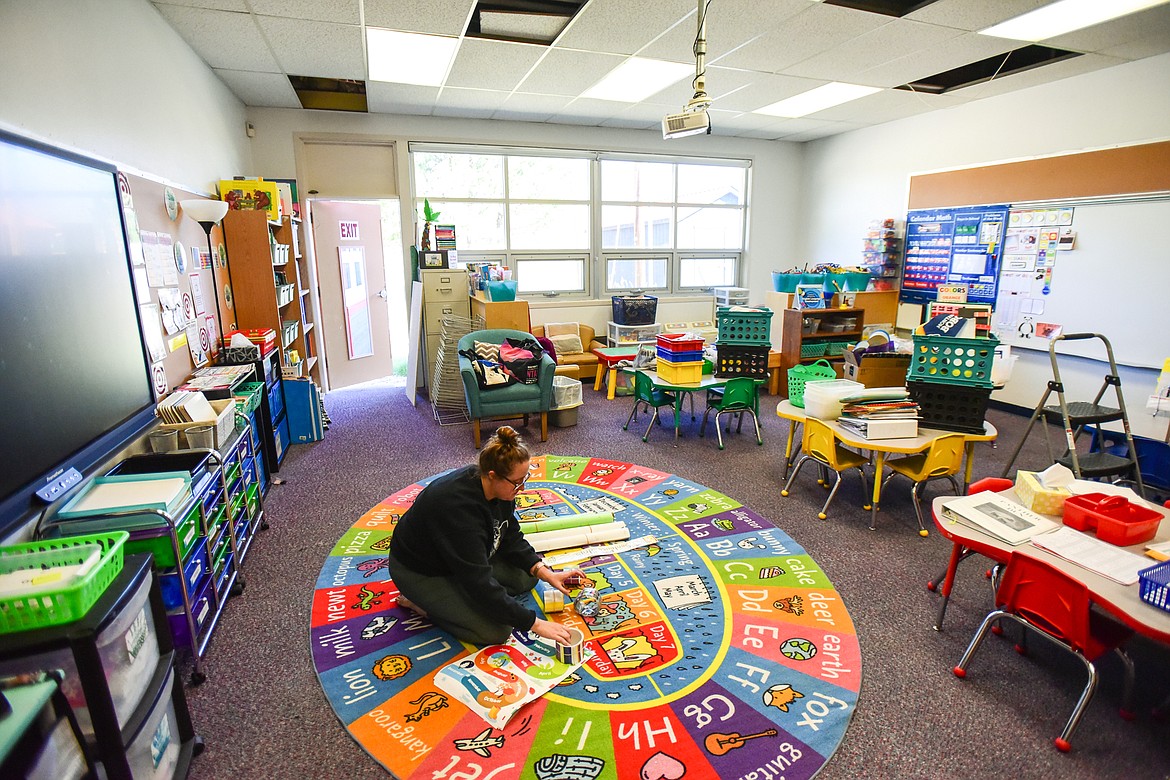 Kindergarten teacher Michele Hagen readies her classroom for the upcoming year at Marion School on Tuesday, Aug. 29. (Casey Kreider/Daily Inter Lake)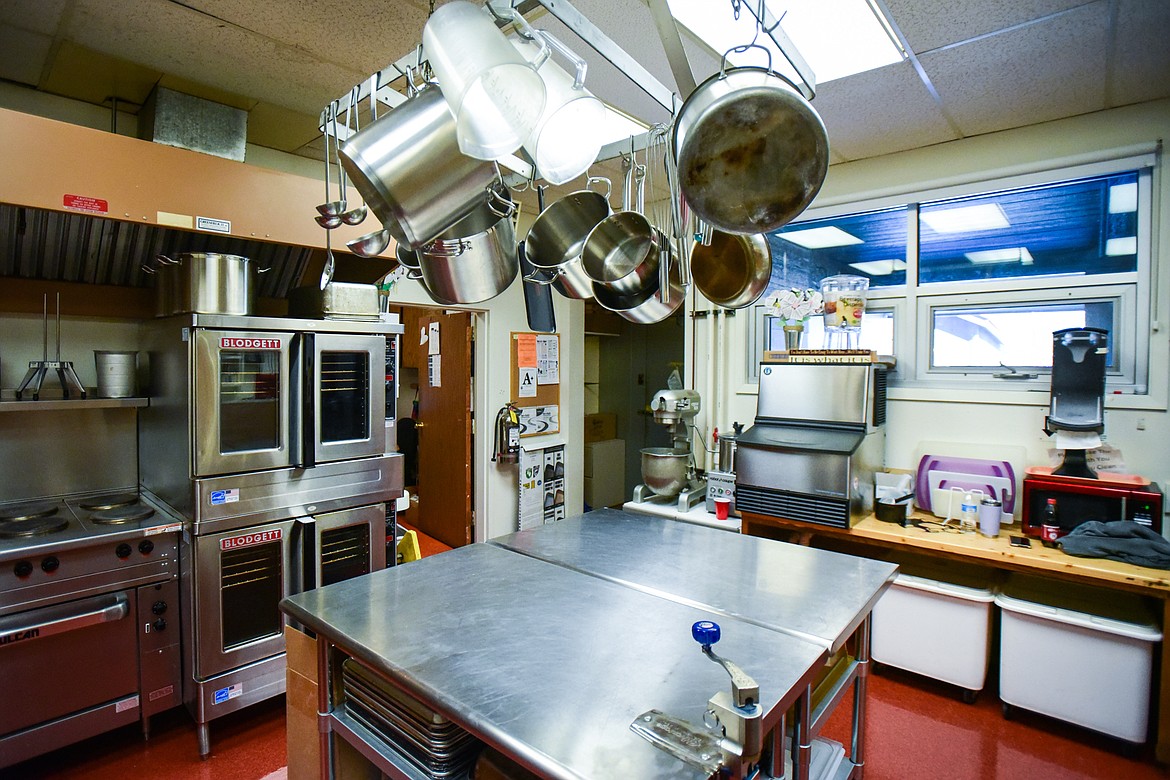 The school kitchen is shown at Marion School on Tuesday, Aug. 29. (Casey Kreider/Daily Inter Lake)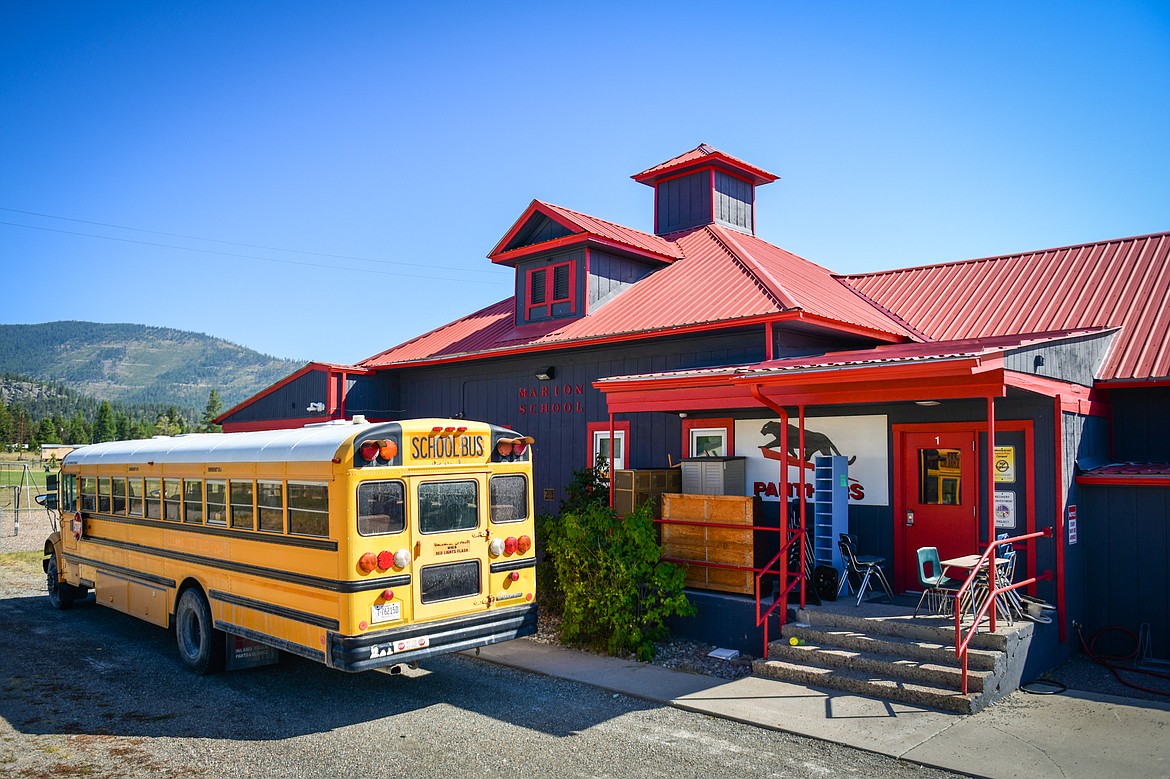 Classrooms for the seventh- and eighth-grade students are in this building at Marion School. (Casey Kreider/Daily Inter Lake)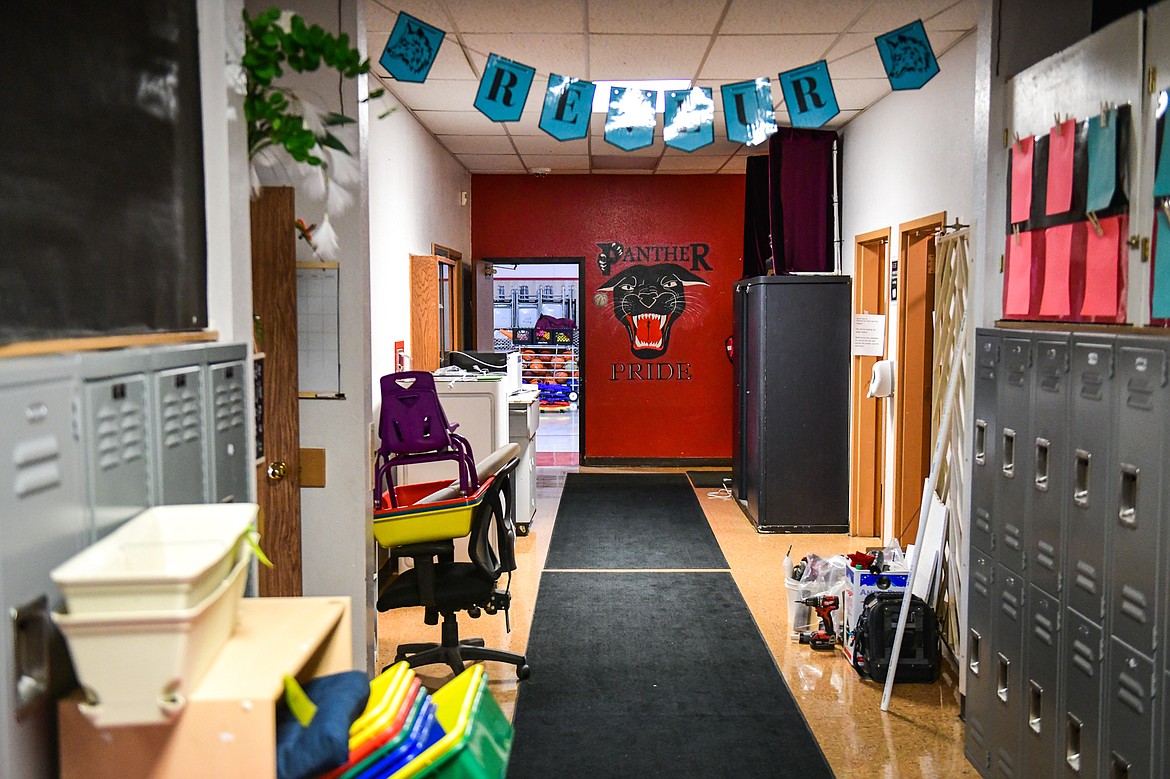 School supplies line the hallways as teachers prepare their classrooms for the upcoming year at Marion School on Tuesday, Aug. 29. (Casey Kreider/Daily Inter Lake)
The school's library also serves as a public, community library at Marion School on Tuesday, Aug. 29. (Casey Kreider/Daily Inter Lake)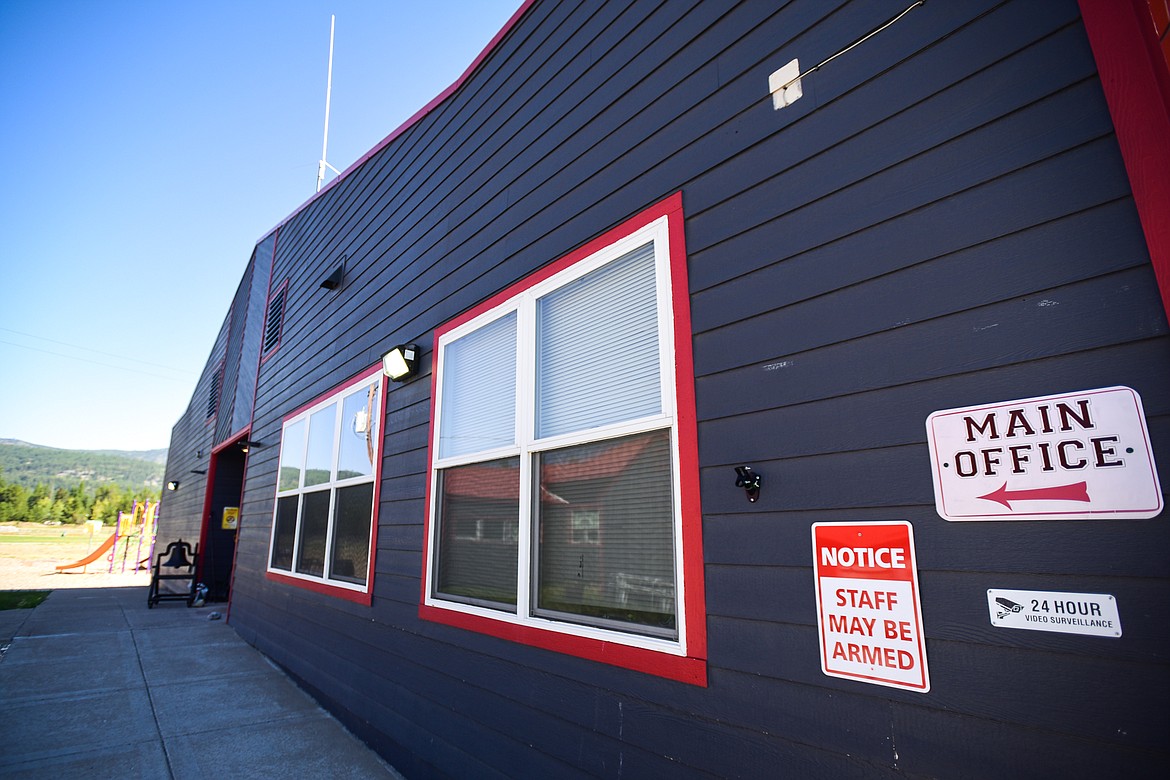 Students must go outside to travel to and from the middle school and the K-6 portion of Marion School on Tuesday, Aug. 29. (Casey Kreider/Daily Inter Lake)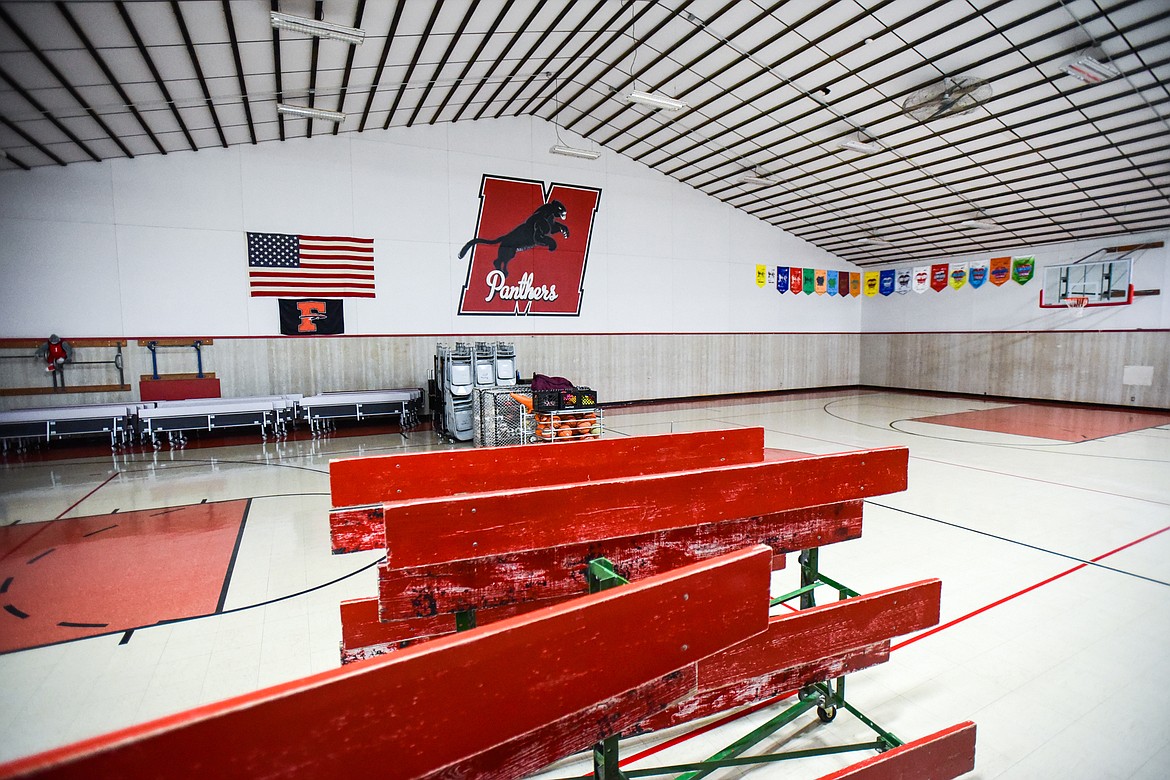 Sets of bleachers and rolling lunch tables have to constantly be set up and put away as the school's gym also serves as the lunch room at Marion School on Tuesday, Aug. 29. (Casey Kreider/Daily Inter Lake)
Previous
Next
Marion School District is seeking approval for a $8.2 million bond issue to expand the facility and improve building security.
As with many of Flathead County's larger districts, the rural K-8 school at 205 Gopher Lane is not immune to enrollment growth.
"We've grown 61%, as of last year's numbers, in the last 10 years and that's not including the big jump we just got this year," Marion Principal Julia Maxwell said.
Sixty-one percent translates to an additional 62 students.
"We're kind of at an impasse where we want to provide the best we can for our kids, but we don't have the space to try at this point."
She is also trying to keep track of residential development.
"This used to be a sort of bedroom community with a lot of lake lovers and older folks because it was more of a vacation area. Those houses are all selling to families now."
The bond issue would fund the construction of classrooms and bathrooms, a cafeteria/commons area, main office, and a secure entryway and kitchen expansion. The parking lot would also be expanded and reworked to create more efficient and safer student drop-off/pick-up and bus staging areas.
Student safety is also a concern when it comes to children walking between the district's buildings. Under the proposed plan, all the buildings would be connected.
Voters will decide the issue through a mail-ballot election. Approximately 1,497 ballots will be mailed out to voters Oct. 18. Ballots are due by 8 p.m., Nov. 7.
The duration of the bond is 20 years. If approved, owners of homes with taxable values of $300,000 can expect annual taxes to increase by $212.76.
"Our goal is to get what the school needs, while costing the taxpayer as little as possible," Maxell said.
As of Tuesday, total enrollment was 179 students, the majority of whom are kindergarten through fifth graders housed in the district's main building.
"This building was built for 100 kids," Maxwell said during an Aug. 29 tour of the facilities.
The original 1904 Marion schoolhouse, which Marion plans to continue preserving, houses about 40 sixth- through eighth-graders.
She said second and fifth are the largest grades this year, each at nearly 30 students.
"Both of those grades are in 800-foot classrooms," Maxwell said, noting that the tight work environment compounds the challenges of a job that is increasingly harder for schools to fill.
This year, a combination first- and second-grade classroom was created Maxwell noted.
"But we're quickly running out of options because our first grade gained more kids," she said.
DURING THE tour, she stopped at a classroom that kindergarten teacher Michele Hagen was busy staging in anticipation of the first day of school and the arrival of 20 kindergartners.
"My first year here five years ago, I had 10 kindergartners," Hagen said.
This year, she gave up a slightly larger classroom to a teacher with a bigger class size.
"So she has to figure out how to fit 20 kindergarten bodies in this room about 16 by 26," Maxwell said.
"The hard part about kindergarten is they need more stuff," Hagen said. "As you can see, that whole side is play stations. I have my sensory table, my Lego table, free play, [and] I have my STEM (science, technology, engineering and math) bins.
"I have some flexible seating but I had to get rid of some," she said.
Maxwell also points out a storage room that has been turned into a staff member's office.
"But I'm amazed at my teachers how versatile they are. They take every challenge you throw at them, no matter if it's a struggling kid, or you know, hey we got two more kids. They never stop trying to reach every single kid in their classroom regardless of the space they have," she said.
The school campus also includes a modular building with two classrooms that house special education and music this year.
"Unfortunately, we have to put special education next to the music room … because we have nowhere else to put them," Maxwell said. "Most likely because of the proximity to the music room, [teachers will] end up having to take most of the kids into corners of the library or in the hallway when music is going on."
Although Maxwell estimates the modular building is about 25 years old, the proposed plan includes retaining what is typically supposed to be a temporary building.
"Other schools, they're asking for gyms and STEM labs, and all of those things are amazing, but we just need a place to put kids," Maxwell said.
Outside of prioritizing classroom space, "the biggest issue is our bathrooms," Maxwell said.
In the main building, two single-toilet bathrooms serve around 23 employees, according to Maxwell. Down the hallway are the student bathrooms.
"The rest of the school gets served by these bathrooms. And it's the locker rooms," Maxwell said, where students change for gym class.
"The boy's [bathroom] is worse," she said, noting that it contains only two stalls in addition to urinals.
The middle school building also has bathrooms with lockers, making for cramped spaces.
THE GYM, which also serves as the cafeteria, is one of the busiest multipurpose hubs of the school. Preparing and serving breakfast and lunch is a test of time management.
"A good portion of our day is devoted to setting up and then we have to hurry up and get everything torn down so they can have P.E.," Food Services Director Teri Seymour said.
In order to have a quick turnaround between breakfast, lunch and P.E., students help staff clean and move tables Maxwell said.
A serving window opens to the small kitchen, which lacks counter space to prepare and serve meals.
"The kitchen was built in 1978 to serve 70 children and it hasn't changed since," Maxwell said.
Storage is also lacking in the kitchen as it is throughout the building. Seymour and two other kitchen employees sat at her desk, located in the storage room and surrounded by shelving units stocked with food items and kitchen equipment, planning for the coming school year. Staff would like to serve more fresh produce, but it's not viable given the current space.
"We're trying to incorporate a salad bar this year," Seymour said, getting up and opening the door to a walk-in refrigerator. "This is just snacks and salad bar [items]. Nothing else is in there at this moment. Like our milk hasn't arrived yet and this is what we have."
She then walked over to the walk-in freezer and opened the door.
"I have one more shipment coming and it will be full. It's better than our cooler. But it gets very tight once we get all our supplies," she said.
Maxwell added, "They just can't have the amount of fresh food they want because there's no place to put it so they have to buy canned, which isn't always necessarily cheaper. So our expenses are higher because they have to find something they can even fit to store."
With the bond, Maxwell said the goal is to create a lunchroom where the tables can stay out permanently to free up the gym.
As well as being a school, it's also a place shared by the community. The school library, for example, also serves the larger Marion community whose members can reserve books online and pick them up in the office.
If the bond doesn't pass?
"To be honest … the only other option would be to take half of the gym away," Maxwell said, later noting, "A modular building right now to rent is $150,000. Then we also have to have hookups and you have to pay to run electrical line and water."
Reporter Hilary Matheson may be reached at 7588-4431 or hmatheson@dailyinterlake.com.
This article was updated to reflect that the original schoolhouse was built in 1904.
Recent Headlines
---