Print shop transitions to new family ownership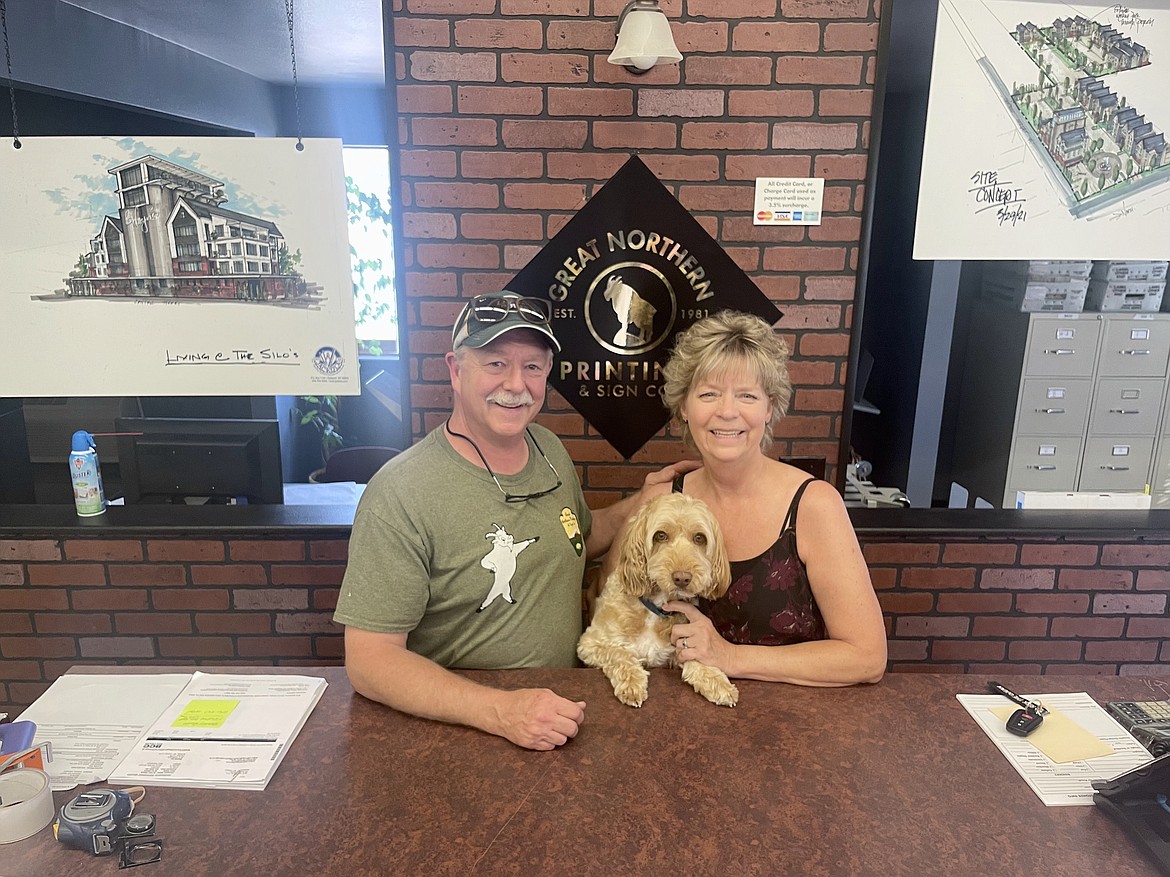 John and Julie Roberson and their dog Winston at Great Northern Printing. (Courtesy photo)
by
SUMMER ZALESKY Daily Inter Lake
|
September 10, 2023 12:00 AM
After 22 years in business, John and Julie Roberson are handing over the reins of Great Northern Printing Company to new owners Rod and Cheryl Klippenstein.
While Great Northern has been purchased by Minuteman Press, the Klippensteins don't anticipate huge changes to the everyday operations of the company.
Rod Klippenstein says the business is moving from one family to another family.
"The older generation is retiring, and the younger generation is stepping into their place. In that process, we're rolling [the company] into a Minuteman to offer customers more options. There's only so much that John could do, and by having the Minuteman franchise with us, we are able to offer customers more," said Klippenstein.
Minuteman Press Print is a company that has been in operation since 1973 and has nearly 1,000 franchises backed by local support teams around the world in five countries including the U.S., Canada, South Africa, Australia, and the United Kingdom.
The Minuteman Press website says the founder of the company wanted the business to be different than other franchises. Instead, he wanted to develop a unique model that would allow him to partner with "like-minded business people, where they could bring their own entrepreneurial spirit and ideas to the table."
Rod stated that having the franchise behind them will open the door to more products such as T-shirts, hats, window graphics, drinkware and more. In addition, the franchise support allows the Klippensteins to focus on providing quality customer service.
"Even though we have taken on the franchise part of it, it's very much a family run business," he said. "It offers support for us as we've had a rep here for three weeks just helping us get emails changed, software installed, dealing with leases, and they help with hiring too. This just helps the transition."
When John bought Great Northern Printing back in 2001, the company was going bankrupt, presenting an opportunity for him to become a business owner. Both John and Rod said that printing is alive as ever.
Cheryl Klippenstein said in looking for business opportunities they weren't sure about a print shop, but learned that it's a needed business.
"We've learned, everybody prints," said Cheryl. "You'd be really surprised at the amount of people that want to come in and touch and feel the different types of paper. So yes, you can go and order business cards, but you don't have that personal touch, and when you have a nice business card, people notice that."
Whether it's businesses or individuals, John says that everyone who walks through their door is treated the same. The company has had regular customers since 2001, and continues to provide full-service print, marketing, and advertising services.
"I've loved getting to know the community and getting to know my customers. They're not really customers, they've all become friends. They've become people that we know really well and we care about," said John.
During retirement, John and his wife look forward to spending their time with their children and grandson, running an AirBnb, and completing the Washington Backcountry Discovery Route, an overlanding route across Washington State from Oregon to British Columbia.
To contact Minuteman Press, call 406-752-8720, or visit www.minuteman.com. Minuteman Press is open Monday through Friday and is located at 65 Eighth Avenue WN in Kalispell.
Reporter Summer Zalesky may be reached at szalesky@dailyinterlake.com.
Recent Headlines
---