Indah Sushi menu thrives on creativity and freshness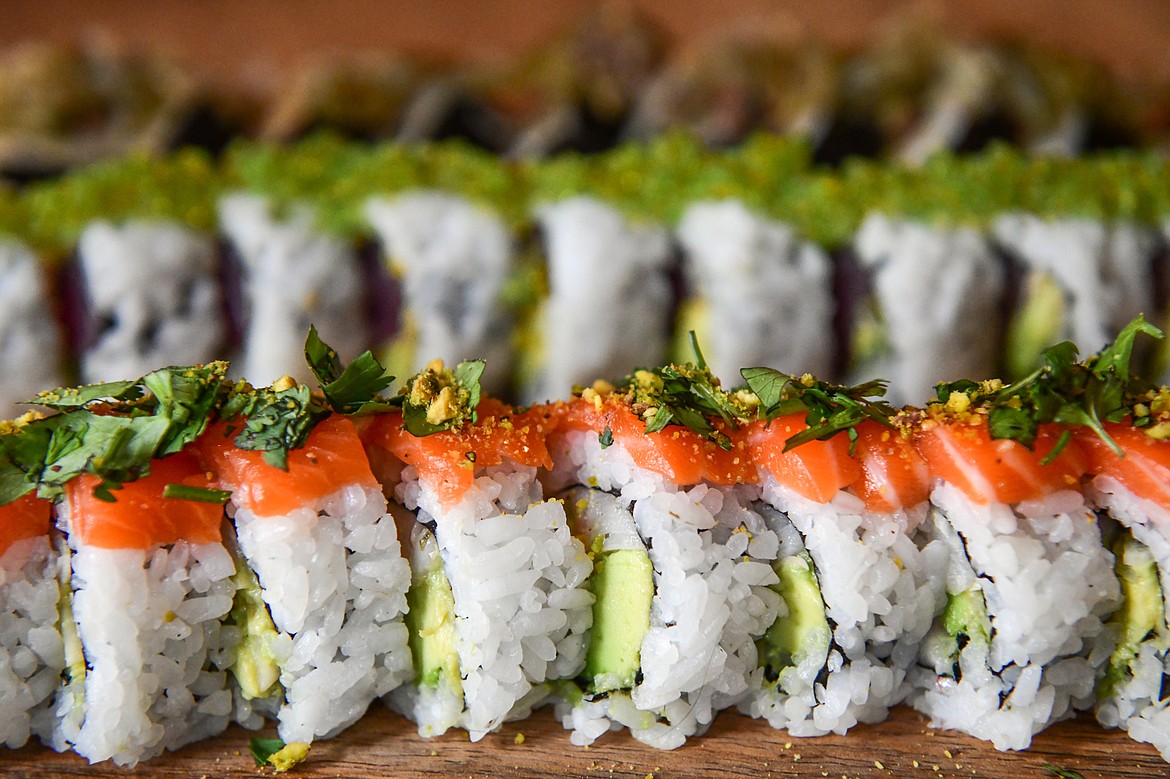 Lil' Chimmy sushi, foreground, featuring king salmon, black cod, avocado, fennel, cilantro, lime, pistachio, rosé ponzu and 5 spice at Indah Sushi in Whitefish on Wednesday, Aug. 23. In the background are Ahi Jewel and Skin to Win. (Casey Kreider/Daily Inter Lake)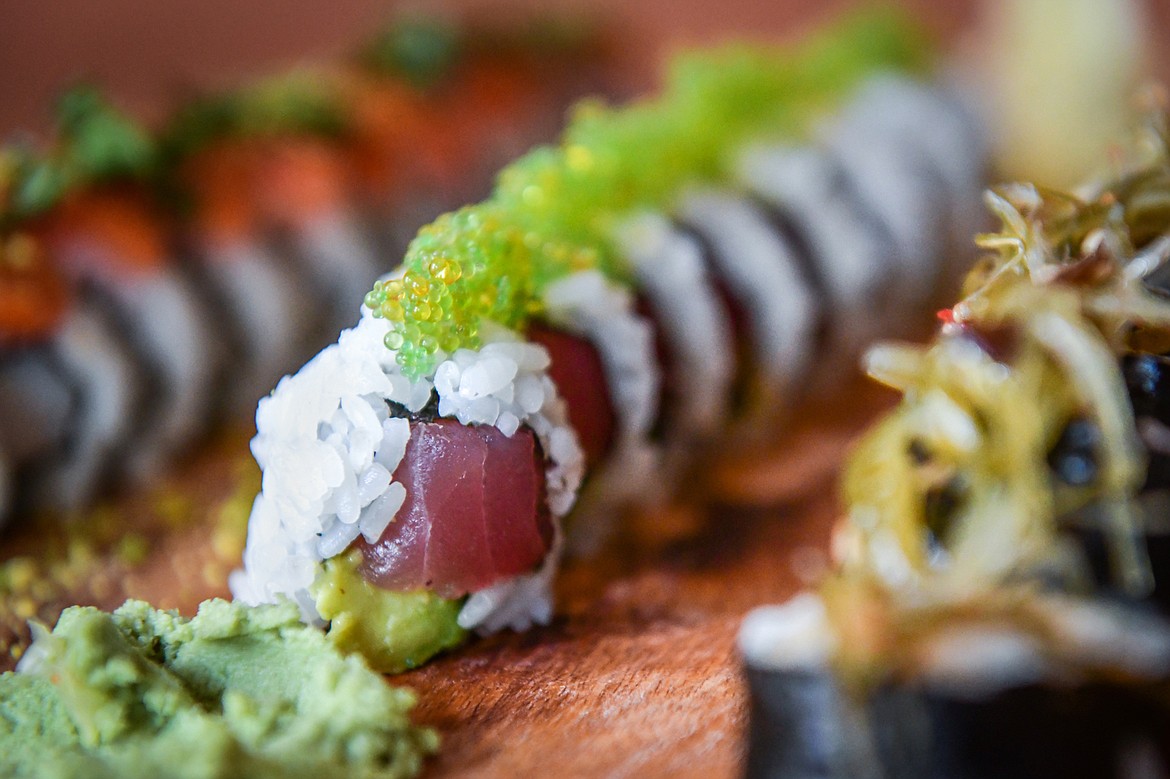 Ahi Jewel sushi featuring ahi, avocado, fennel, pistachios and wasabi tobiko at Indah Sushi in Whitefish on Wednesday, Aug. 23. (Casey Kreider/Daily Inter Lake)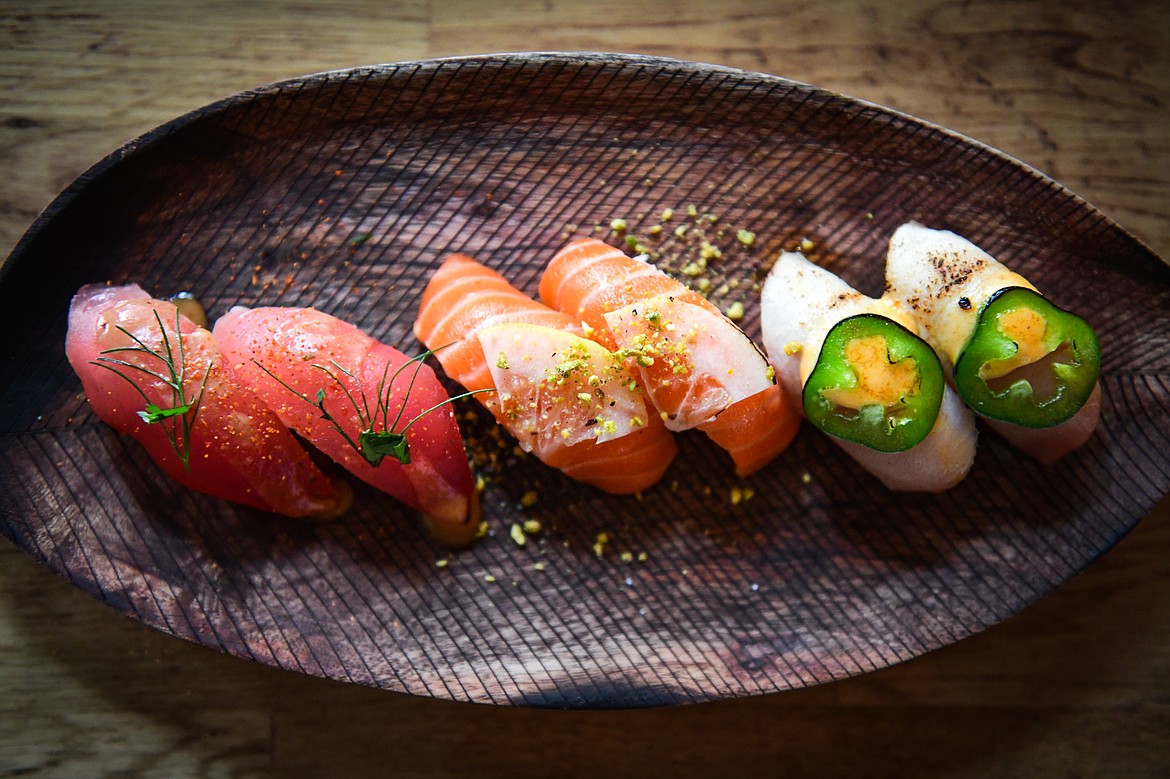 Ahi, King Salmon and Hamachi Fusion Nigiri at Indah Sushi in Whitefish on Wednesday, Aug. 23. (Casey Kreider/Daily Inter Lake)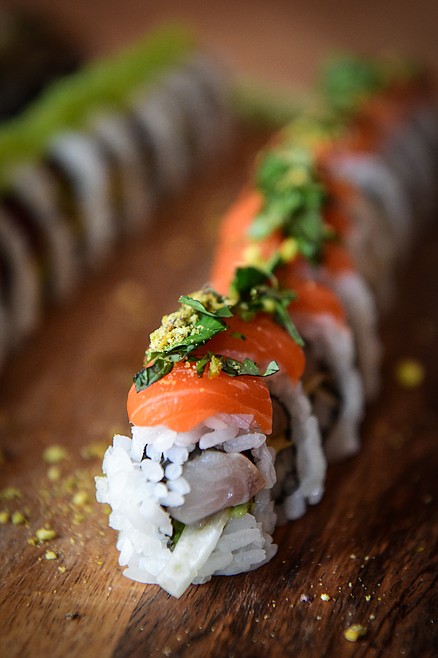 Lil' Chimmy sushi featuring king salmon, black cod, avocado, fennel, cilantro, lime, pistachio, rosé ponzu and 5 spice at Indah Sushi in Whitefish on Wednesday, Aug. 23. (Casey Kreider/Daily Inter Lake)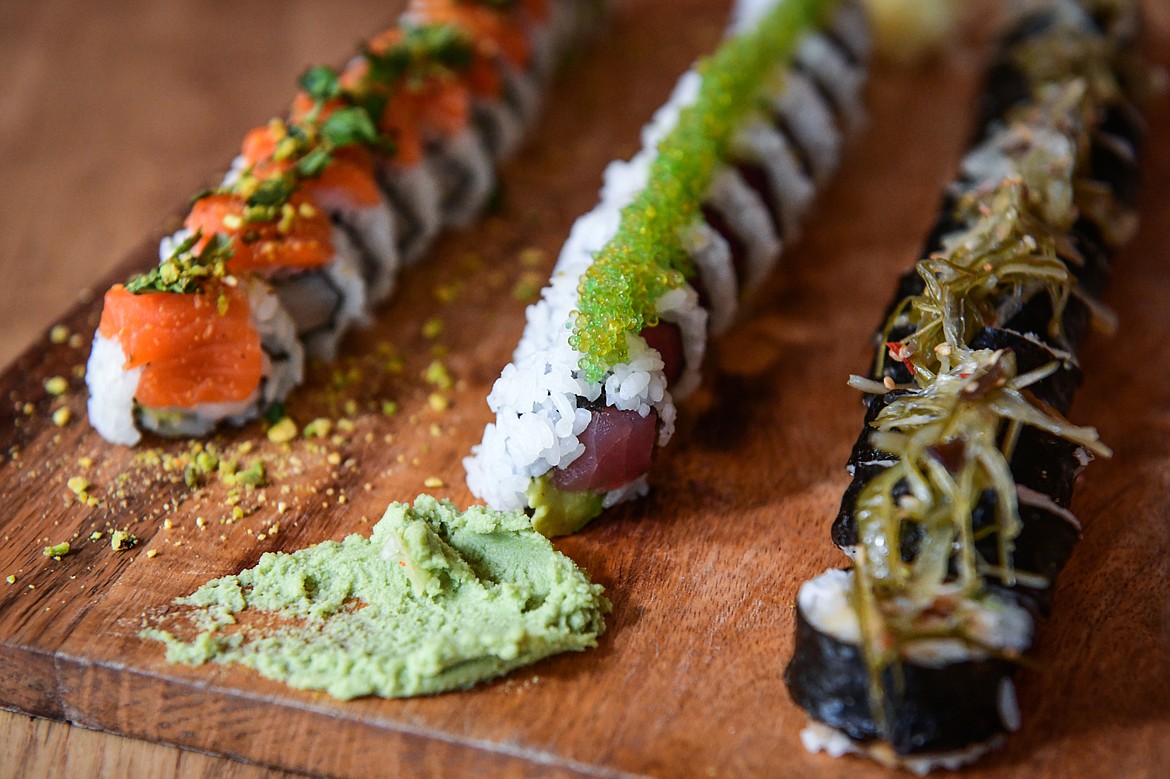 From left, Lil' Chimmy, Ahi Jewel and Skin to Win sushi at Indah Sushi in Whitefish on Wednesday, Aug. 23. (Casey Kreider/Daily Inter Lake)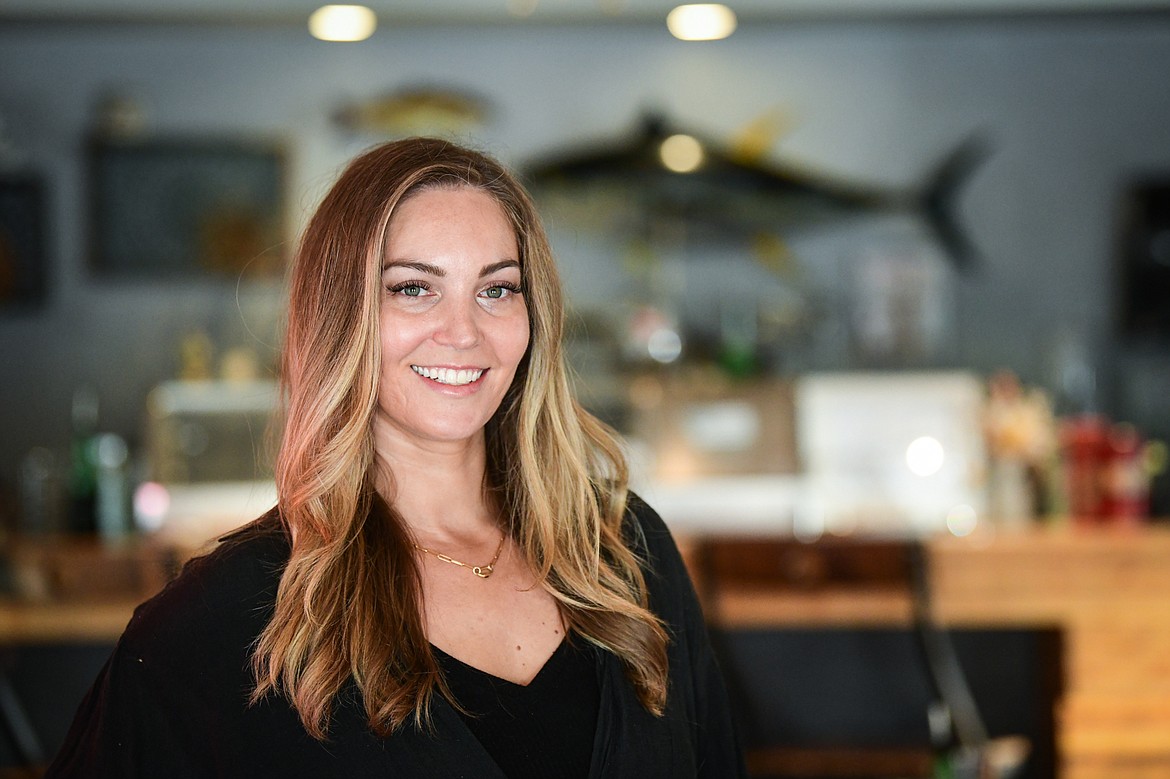 Owner Tiffany Newman at Indah Sushi in Whitefish on Wednesday, Aug. 23. (Casey Kreider/Daily Inter Lake)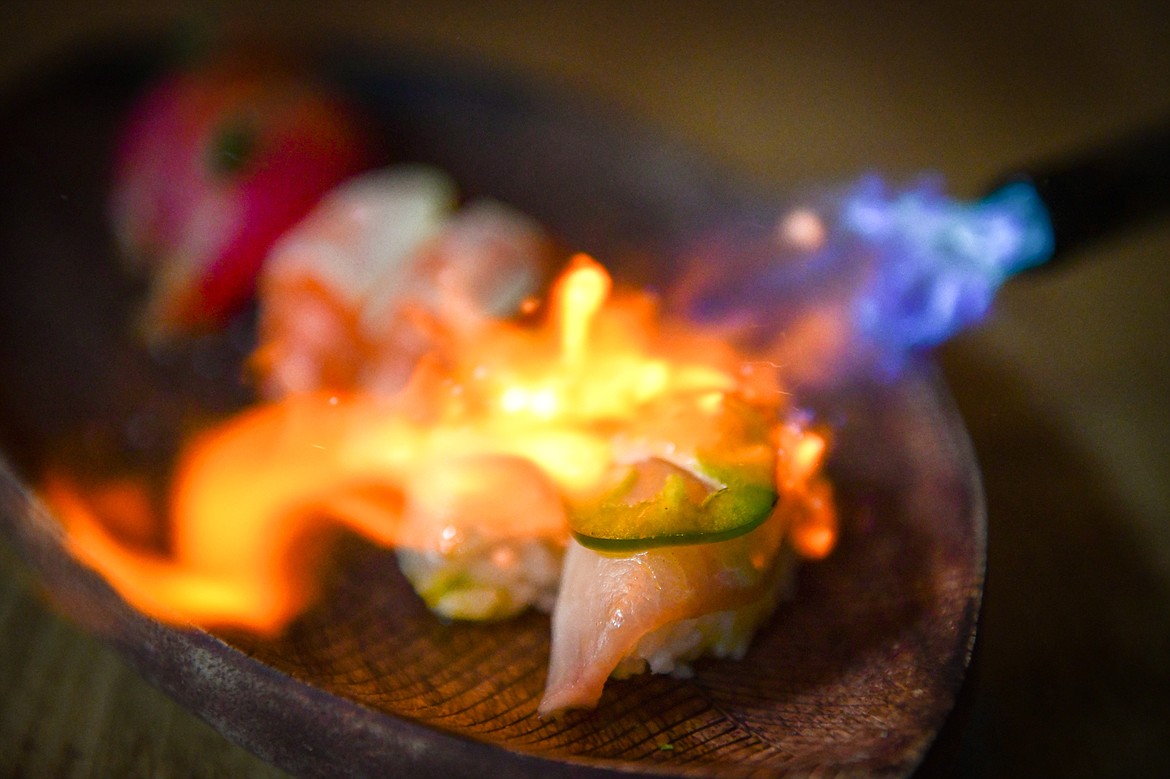 Owner Tiffany Newman sears Hamachi Fusion Nigiri at Indah Sushi in Whitefish on Wednesday, Aug. 23. (Casey Kreider/Daily Inter Lake)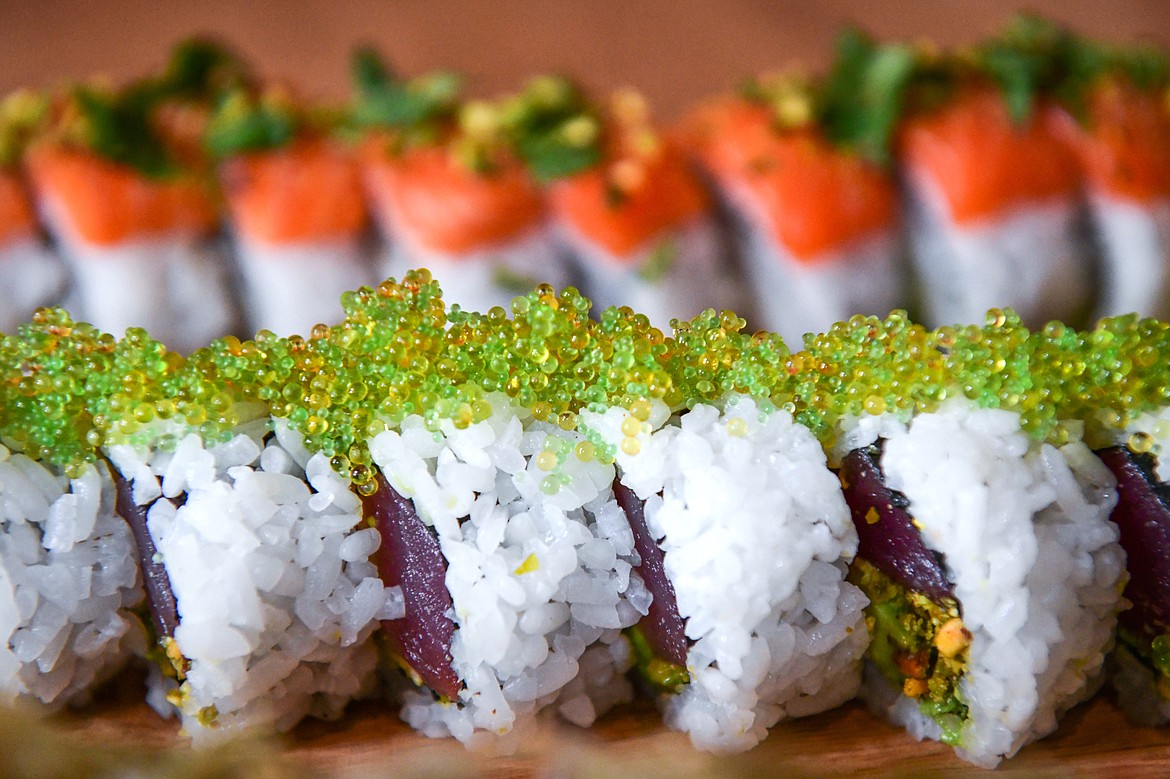 Ahi Jewel sushi, foreground, featuring ahi, avocado, fennel, pistachios and wasabi tobiko at Indah Sushi in Whitefish on Wednesday, Aug. 23. In the background is Lil' Chimmy. (Casey Kreider/Daily Inter Lake)
Previous
Next
During a trip to Vietnam, Tiffany Newman came across a side street near the coastline packed with vendors offering fresh seafood. From fish, clams, scallops, crabs, and other sea-faring creatures she'd never seen before, Newman had a buffet cooked right in front of her as she sat at a plastic Fisher Price table.
Newman hopes to parallel that same feeling of creativity, diversity, and freshness to anyone who sits down at her own restaurant. Newman started Indah Sushi in 2015 as a food truck, and in 2017, it manifested into a downtown Whitefish brick-and-mortar. Since then, the restaurant has become a culinary staple in the Flathead Valley.
"I think pushing the boundaries is what we do really well. It's really just like fun to branch out on flavors by using different nuts or a little bit of goat cheese. We like to play around with strawberries, mango, watermelon, and blackberries which is just a compliment to a savory style roll," said Newman.
Newman often experiments with new rolls such as her blackberry goat cheese or lemon cucumber. She focuses on more than just flavor, however, and says that a certain cut of fish, the precision of a roll, and texture all play a part in characterizing Indah's rolls.
Sustainability is also a highly sought after ingredient at Indah and Newman pays close attention to where and how their fish is caught. As for farmed fish, she said that the restaurant only uses sustainably bred fish that aren't given antibiotics, dyes, or that are heavily gassed with carbon monoxide.
"The way that companies fish is so important to us. Line caught can be really damaging to the ocean because it's this huge line and net that catches all kinds of sea creatures and corals and it can kill everything but what they want so it's really harmful," Newman explained. "If it's more of a pull, catch, and reel-in situation, it's more sustainable because they just get the fish that they're trying to catch."
One of their most unique rolls, Newman says, is "The Local" which is seared with local KM beef tenderloin, filled with shrimp, goat cheese, jalapeno, tempura, avocado, bonito, drizzled with truffle oil, and sprinkled with habanero sea salt.
"It's the little touches that make such a difference. Like adding cilantro or fennel, but you can still taste the fresh fish. It just highlights it in a different way."
Another part of what makes Indah special to Newman is the feeling of teamwork and camaraderie that emulates from the staff. Gerald Miller, Indah Sushi's director of operations, said that this was an element of what drew him to the job.
"One of the big reasons I joined Tiffany was not just her passion for food, but also the team oriented atmosphere," he said. "They have some team members that have worked here from the beginning, which doesn't happen very often."
With Newman pregnant last summer, and her business partner, Stacey Ingham, having moved to Costa Rica, the Indah team really stepped up, Newman said.
Indah sets itself apart by holding events, along with catering and its food truck, but ultimately it's the food.
"Our take on fusion and our flavor combinations of rolls are very different," Newman said.
Shoulder season is special to Newman as she says it allows them more time to connect with locals.
"We have people that come in to visit and people who want to make their own sushi rolls. We have a little black book that people can write in a sushi roll and name it and sometimes it becomes the special," said Newman. "You can come here to have a friend date with our sushi chef and feel comfortable and invited."
Indah is a Malaysian word meaning "beautiful," a word that Newman believes sums up both the menu and the atmosphere of the restaurant.
As for Indah's future, Newman alluded to new projects on the horizon, such as a Halloween party and a Valentine's Day speed dating social. She also hopes one day to brew sake in the basement, but that dream has currently taken a backseat to several other business ventures.
"I love to create and make food," said Newman. "The feeling of looking out into the restaurant and being like, 'Wow, we're having a dinner party tonight.' It's just fun to have that community base and be able to create a gathering spot. We get to meet so many people this way."
Indah Sushi is open for dinner Monday through Saturday and is located at 250 Second Street in Whitefish. To contact them, call 406-730-1340 or visit indahsushi.com.
Reporter Summer Zalesky may be reached at szalesky@dailyinterlake.com.
Recent Headlines
---