Lemon ricotta pancakes perfect brunch option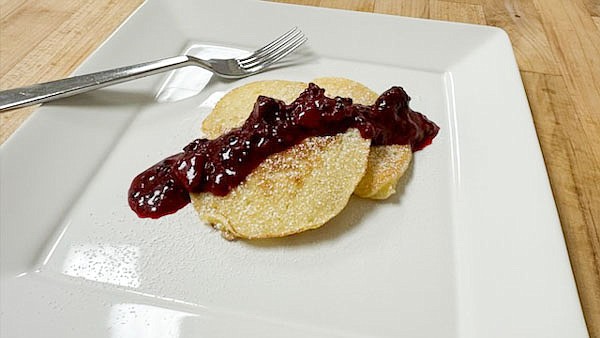 |
September 13, 2023 12:00 AM
This New York Times breakfast recipe is a favorite of mine to share and the perfect brunch option for the end of summer weekends. It's just light enough that you don't feel like you ate a super heavy brunch, but just filling enough to fuel you for the last few days boating on the lake or hiking in the mountains before our beautiful fall days call us to drink hot chocolate and watch a football game.
LEMON RICOTTA PANCAKES
YIELD: 8 to 10 small pancakes
INGREDIENTS
¾ c all-purpose flour
1 ½ t baking powder
¾ t fine salt
¼ c granulated sugar
1 lemon, zested and juiced (2 T juice)
1 ½ t pure vanilla extract
3 large eggs
¾ c whole milk ricotta
2 T buttermilk
2 T unsalted butter, melted
Compote
2 oz butter
½ c diced strawberries, fresh or frozen
½ c blackberries, fresh or frozen
½ c raspberries, frozen
½ c blueberries, fresh or frozen
½ lemon
INSTRUCTIONS
1 Whisk the flour, baking powder and salt in a small bowl. Heat a griddle or large nonstick pan over medium-low.
2 Add the sugar to a large bowl, then finely grate the zest of the lemon directly over the sugar. Gently rub the zest into the sugar. Add the vanilla and whisk to evenly moisten. Add the eggs and whisk until foamy on top, then add the ricotta, buttermilk, 2 tablespoons of lemon juice, and butter. Whisk until well blended. Add the flour mixture and gently stir until no traces of flour remain.
3 Generously butter the griddle, then drop a ¼ cup batter onto it. Repeat, spacing the rounds at least an inch apart. Cook until the bottoms are golden brown, and the tops are bubbling, 2 to 3 minutes. Flip and cook until the other sides are golden brown, about 2 minutes more. Repeat with more butter and the remaining batter.
4 Simmer all berries and butter until berries have released their juices and create a homogenous mixture.
5 Finish the compote with a little lemon juice.

6 Serve pancakes warm and top with compote.
Michaella Evert is an instructional assistant at Flathead Valley Community College's Culinary Institute of Montana. For more information visit fvcc.edu/culinary
Recent Headlines
---