Bigfork's Swan River Gardens grows into 25th year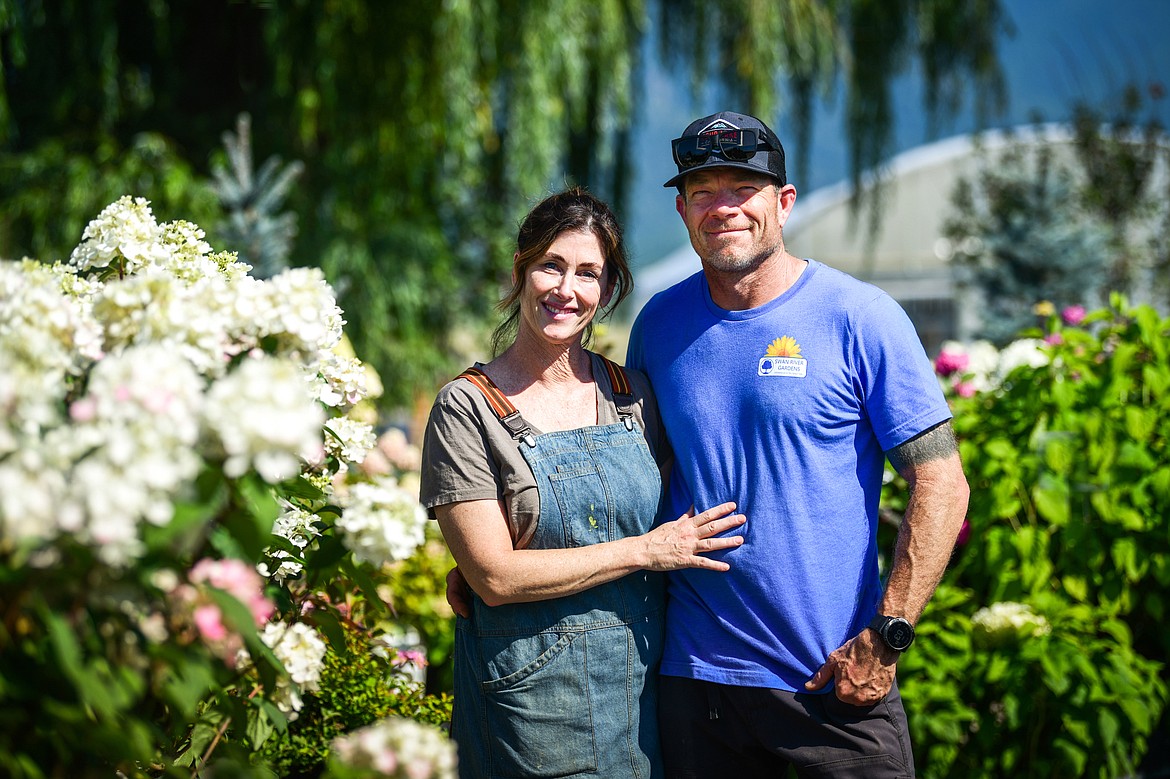 Owners Lisa and Tamus Gannon at Swan River Gardens and Nursery in Bigfork on Friday, Sept. 1. (Casey Kreider/Daily Inter Lake)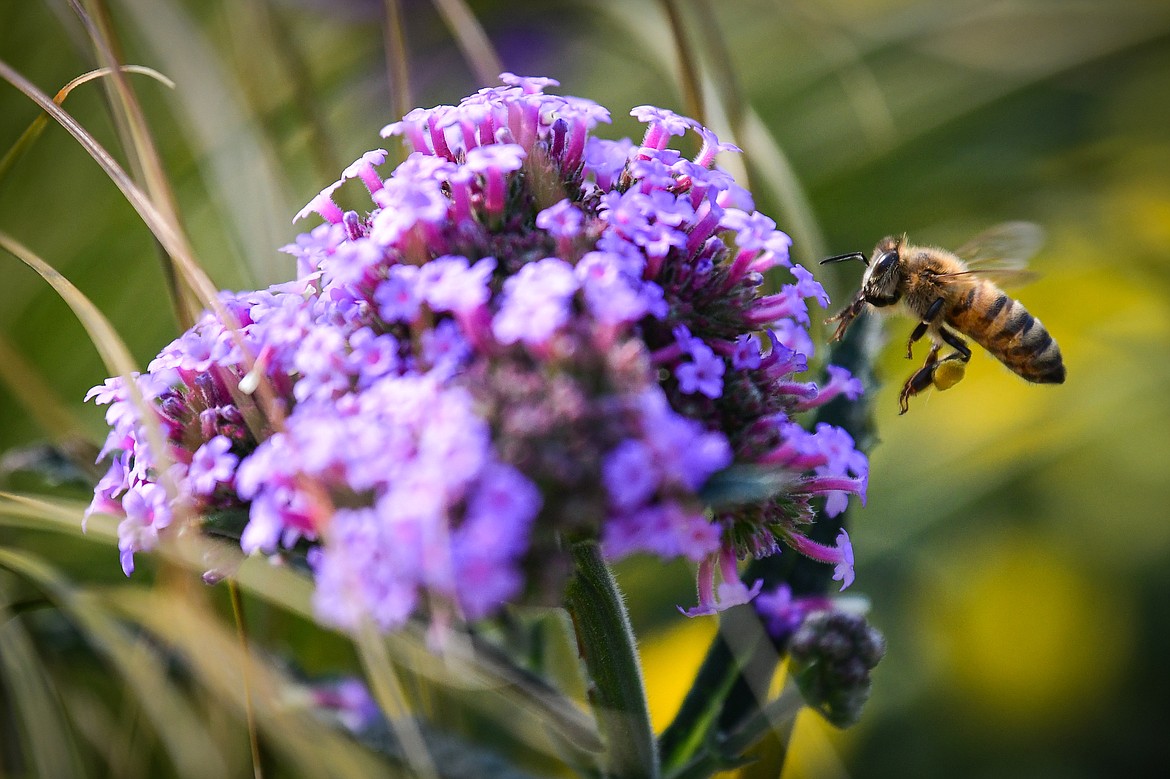 A bee buzzes around an upright verbena flower at Swan River Gardens and Nursery in Bigfork on Friday, Sept. 1. (Casey Kreider/Daily Inter Lake)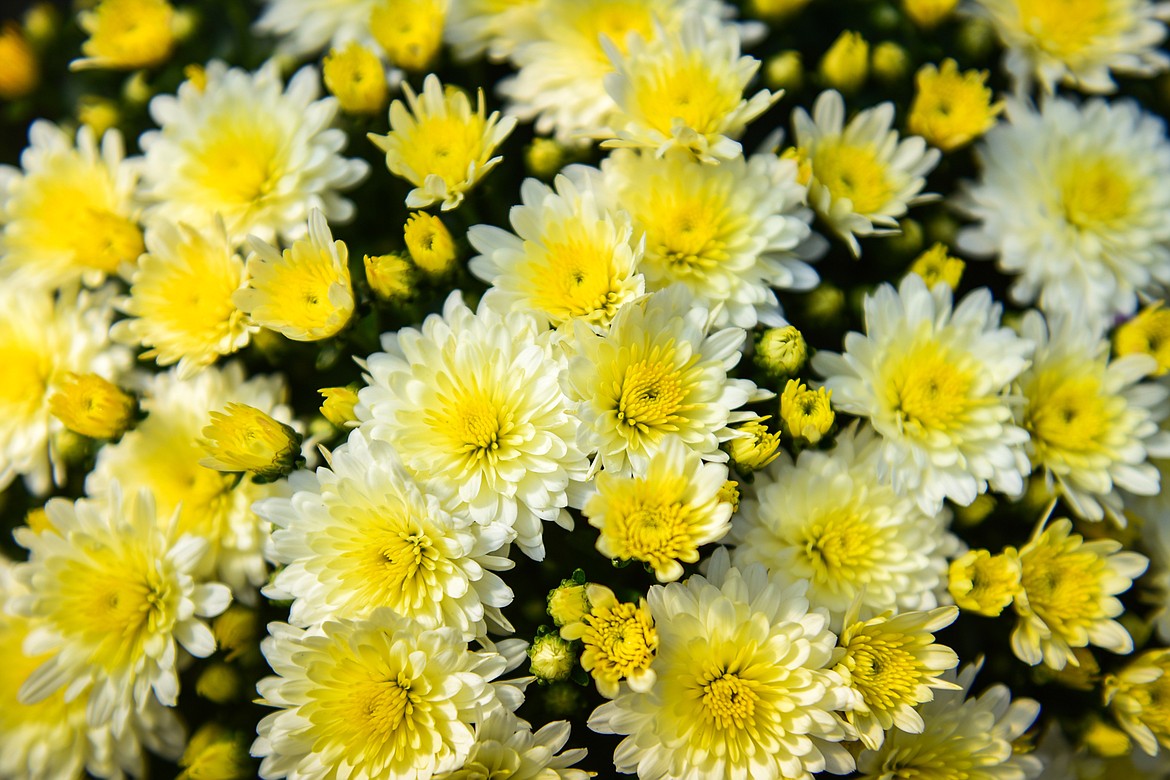 Morgana White Chrysanthemums at Swan River Gardens and Nursery in Bigfork on Friday, Sept. 1. (Casey Kreider/Daily Inter Lake)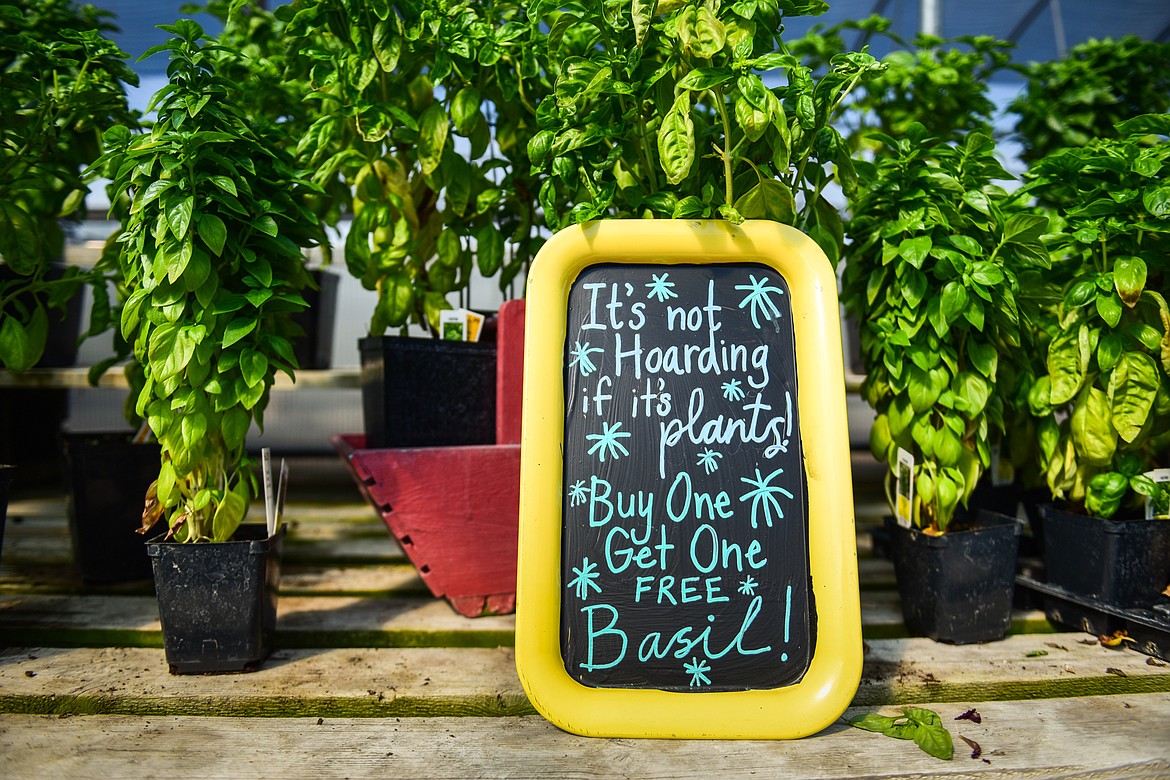 A sign advertising a sale on basil plants at Swan River Gardens and Nursery in Bigfork on Friday, Sept. 1. (Casey Kreider/Daily Inter Lake)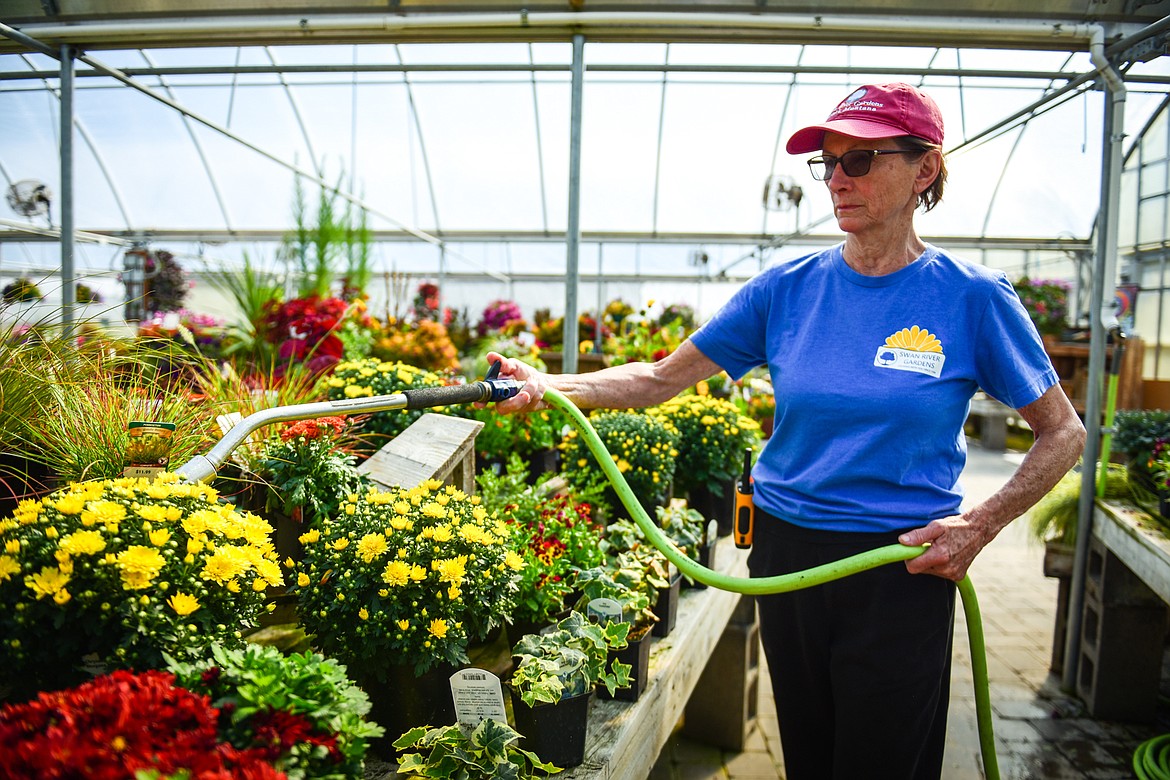 Shelley Gonzalez waters a row of flowers for sale at Swan River Gardens and Nursery in Bigfork on Friday, Sept. 1. (Casey Kreider/Daily Inter Lake)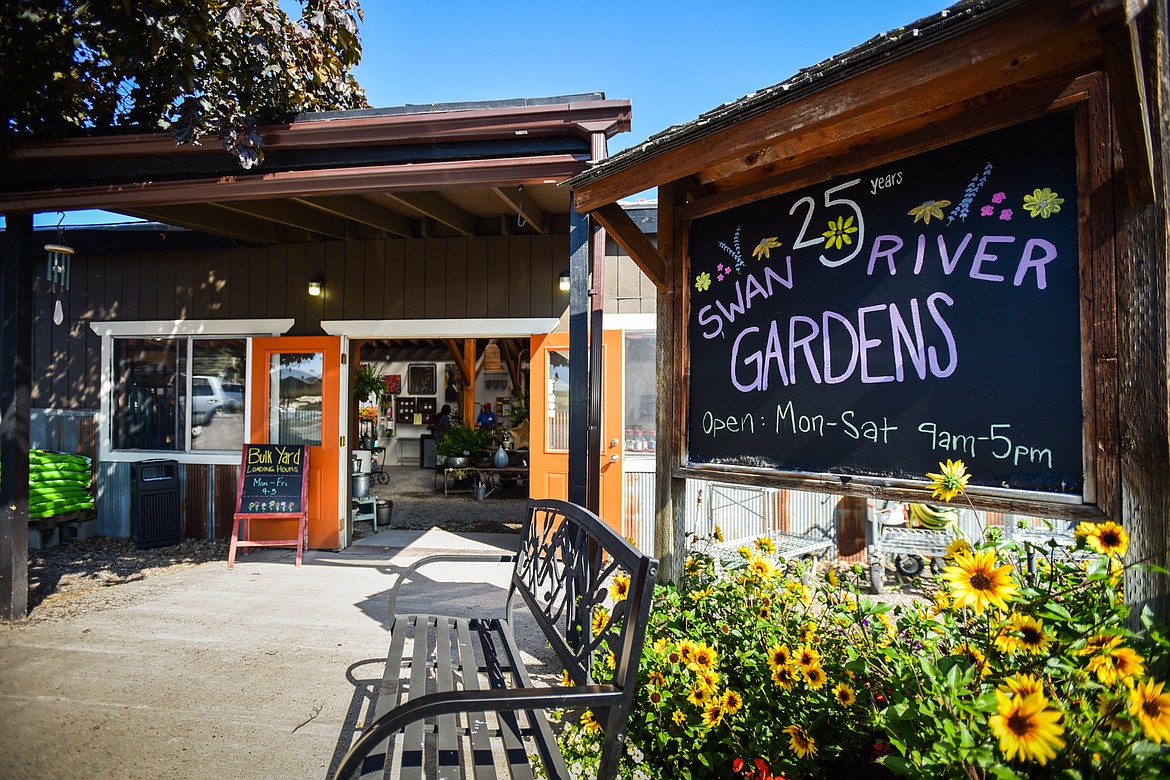 Swan River Gardens and Nursery at 175 Swan River Road in Bigfork on Friday, Sept. 1. (Casey Kreider/Daily Inter Lake)
Previous
Next
by
SUMMER ZALESKY Daily Inter Lake
|
September 17, 2023 12:00 AM
After suffering an injury during his career as a professional snowboarder some 25 years ago, Tamus Gannon shifted his focus to working with plants.
After a few years in the industry he and his wife, Lisa Gannon, came across the opportunity to become the owners of a plant nursery in Bigfork.
Though the dilapidated lot proved a challenging makeover, the young couple was undaunted. With a love for the community and sharing knowledge about plants, the Gannons are now celebrating Swan River Gardens' 25th anniversary.
"It's a lot of fun," said Tamus. "Anywhere we go, people are happy and want to talk about plants. No one's ever upset when they're talking to us. It's always smiles."
The Gannons are thankful to have shared their time with returning seasonal employees as well as their greenhouse manager, Carly Lang, who has been with the company for 23 years, and their nursery manager, Mary Thompson, who has been there 16 years.
"What sets us apart is our training," said Lisa. "It costs a lot of money to train, but it's amazing what you get back from it. It builds the employees up and they're able to pass that knowledge on. Every single customer that I run into is so happy with our staff."
In her role as nursery manager, Thompson said that she enjoys bringing new ideas into the nursery and adding an assortment of unique plants.
"There are plants you'll find here that you might not find in other places," said Thompson. "We have a lot of plant collectors so we try to cater to that in the greenhouse, and with the perennials, shrubs, and trees. Carly does the same thing where she'll bring in some new varieties and people get pretty excited."
Both experienced and beginner gardeners are advised on how to care for their plants and the Gannons said that staff are thoroughly trained to equip customers with the resources they need to be successful.
"We've literally been growing with this community in Montana," said Tamus. "We were only 24 years old when we showed up and half of our lives have been spent here so we know what works and what doesn't and we don't carry stuff that doesn't work anymore. We try new things but there are plants that we don't carry because they just don't work. We want our customers to be successful gardeners whether it's a 7-year-old kid or a 90-year-old."
Swan River Gardens has four greenhouses dedicated to custom growing and another dedicated to deer-resistant plants. Despite the expansive property and their 25 years in business, the Gannons said that many people are still surprised when they see the nursery for the first time.
"I don't know any other nursery that carries the amount of plants we do. You can go anywhere in Montana right now and I don't think you'll find the quality or the amount or variety of plants that we have. Most people stop ordering [plants] after Father's Day, but we keep ordering."
As the nursery connects with a popular 3-mile bike path, the Gannons hope to turn part of the property into a community area for people finishing their bike rides, or walks, or who are waiting for a table at Echo Lake Cafe just across the street.
"We feel like if we open up an area for people to sit and hang out, it would benefit the community. We also have plans to add a retail shop. Right now, the building is like a greenhouse and we aren't able to heat it in the winter." said Tamus.
While there's always something to do in the off-season such as ordering plants for spring and repair projects, having the retail space would allow the company to stay open during the winter and provide more year-round jobs for staff.
When asked how many more years they see themselves at Swan River Gardens, Lisa said, "We're just taking it one step at a time and we're still enjoying it."
Tamus continued, "I came from working at a nursery where one of the fathers was 100 and something years old, so who knows? I love plants and I love people."
Swan River Gardens is located at 175 Swan River Road in Bigfork. Contact the business by phone 406-837-3375 or email lisa@swanrivergardens.com.
Reporter Summer Zalesky may be reached at szalesky@dailyinterlake.com.
Recent Headlines
---