Regional bridge tournament comes to Kalispell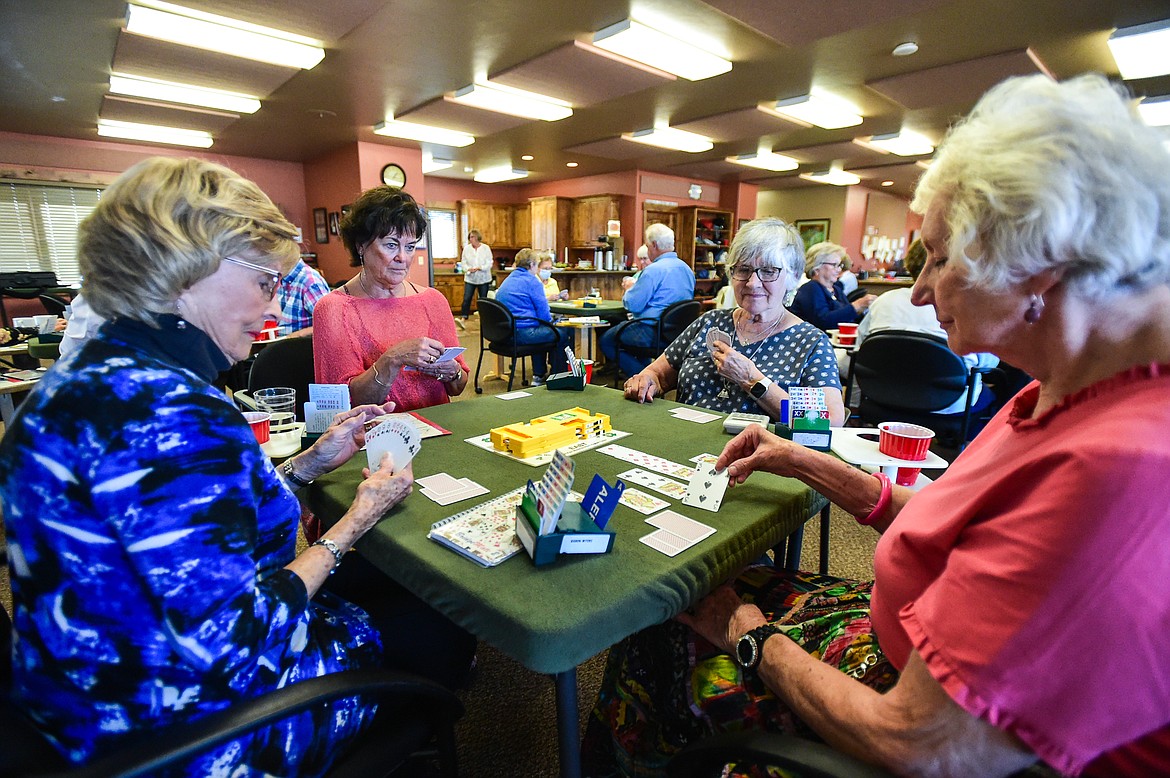 From left, Marion Streich, Tanya McCully, Susie Moore and Fran Ollendike play a game of bridge at the Flathead Valley Bridge Center in Kalispell on Friday, Sept. 15. (Casey Kreider/Daily Inter Lake)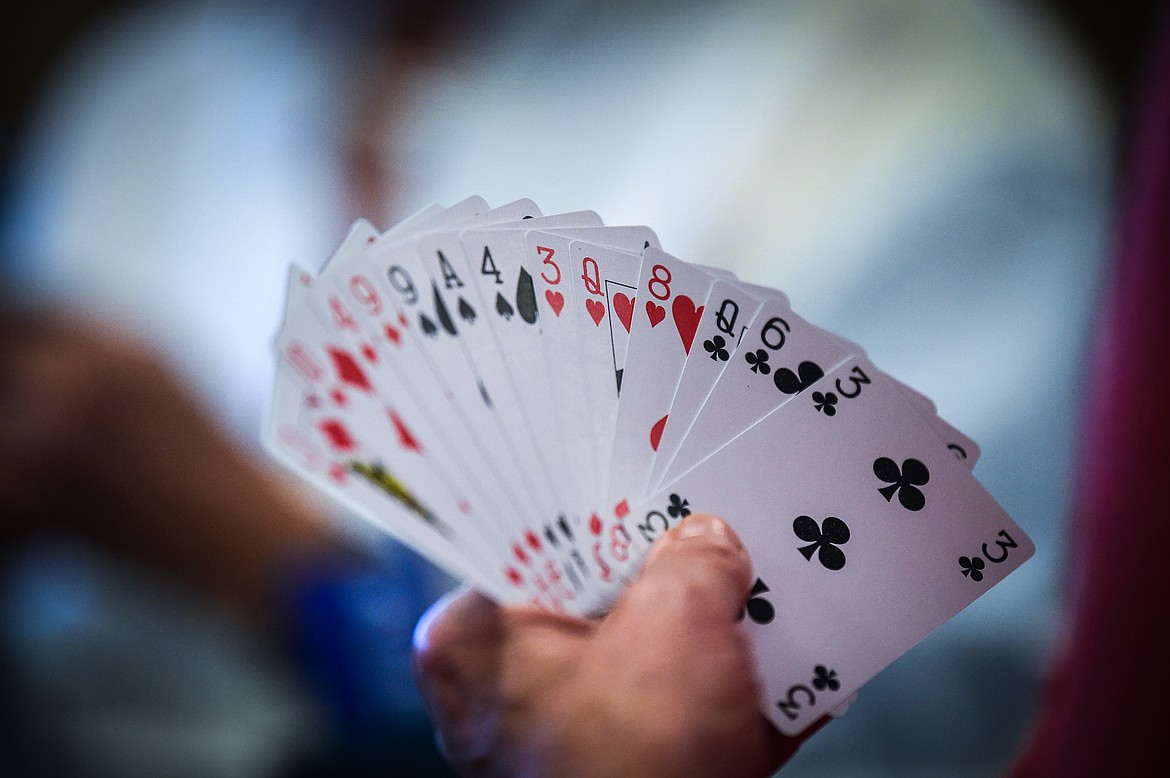 Players play a game of bridge at the Flathead Valley Bridge Center in Kalispell on Friday, Sept. 15. (Casey Kreider/Daily Inter Lake)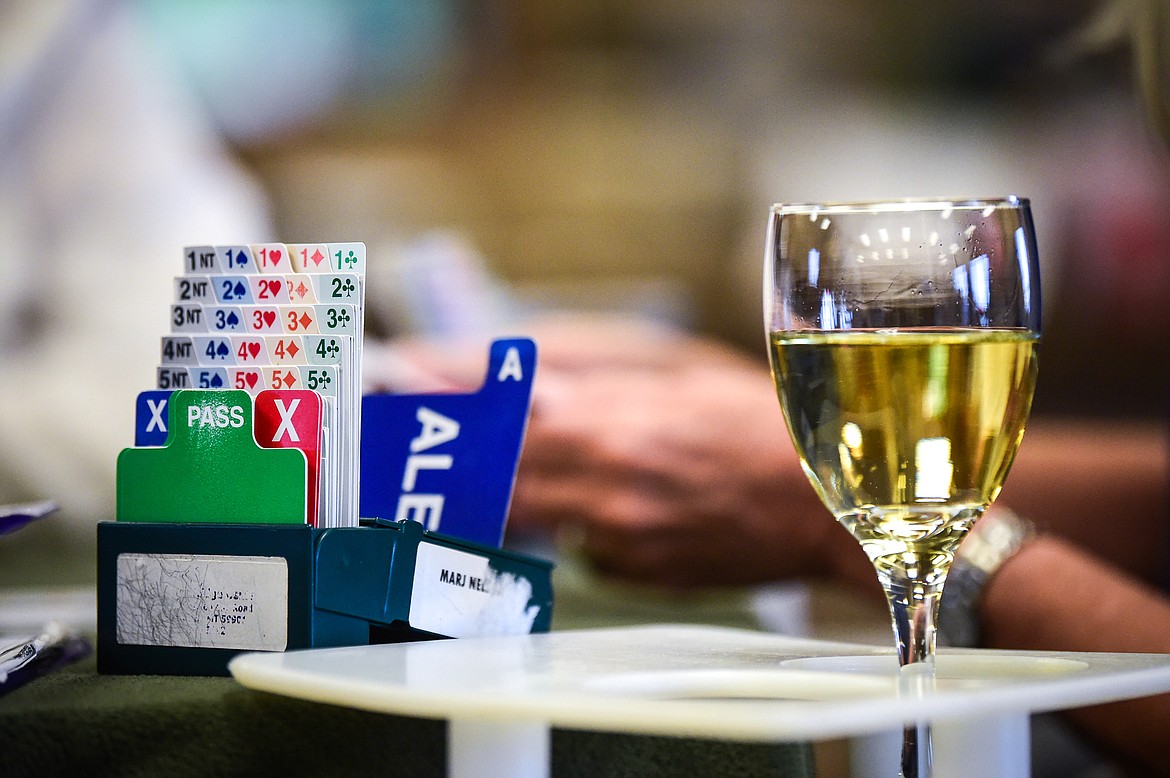 A glass of wine accompanies a bidding box as players play a game of bridge at the Flathead Valley Bridge Center in Kalispell on Friday, Sept. 25. (Casey Kreider/Daily Inter Lake)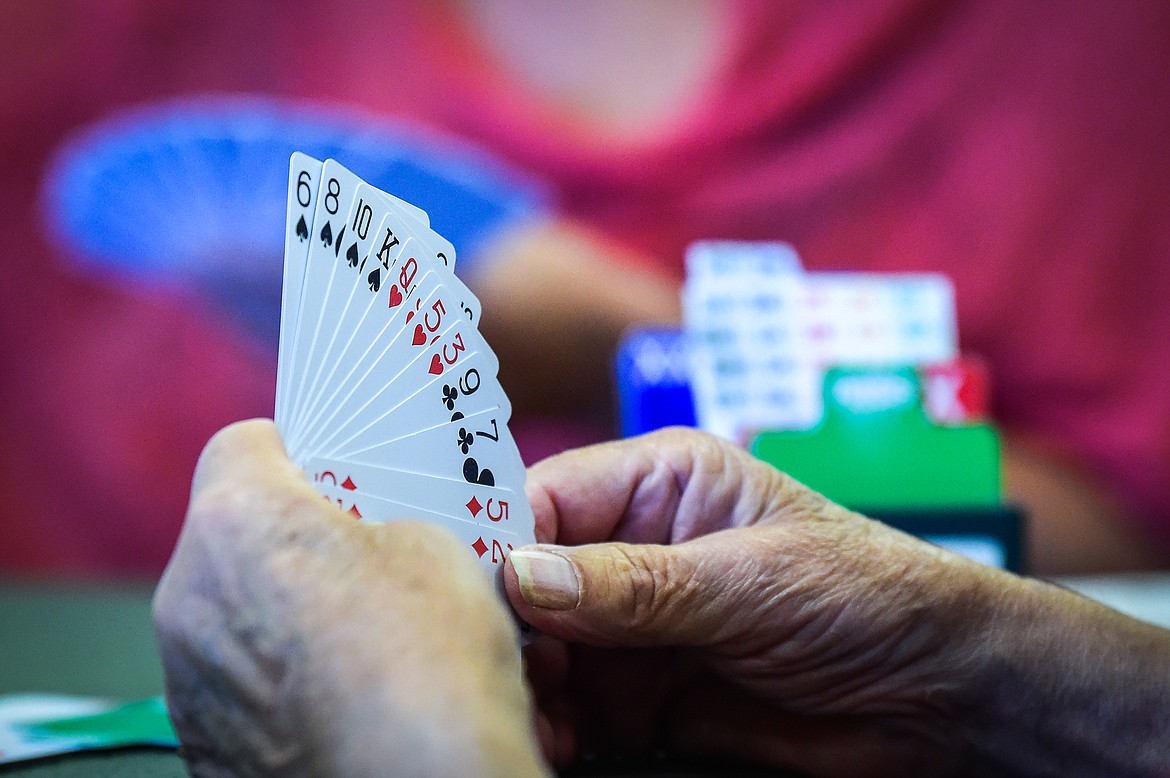 Players play a game of bridge at the Flathead Valley Bridge Center in Kalispell on Friday, Sept. 15. (Casey Kreider/Daily Inter Lake)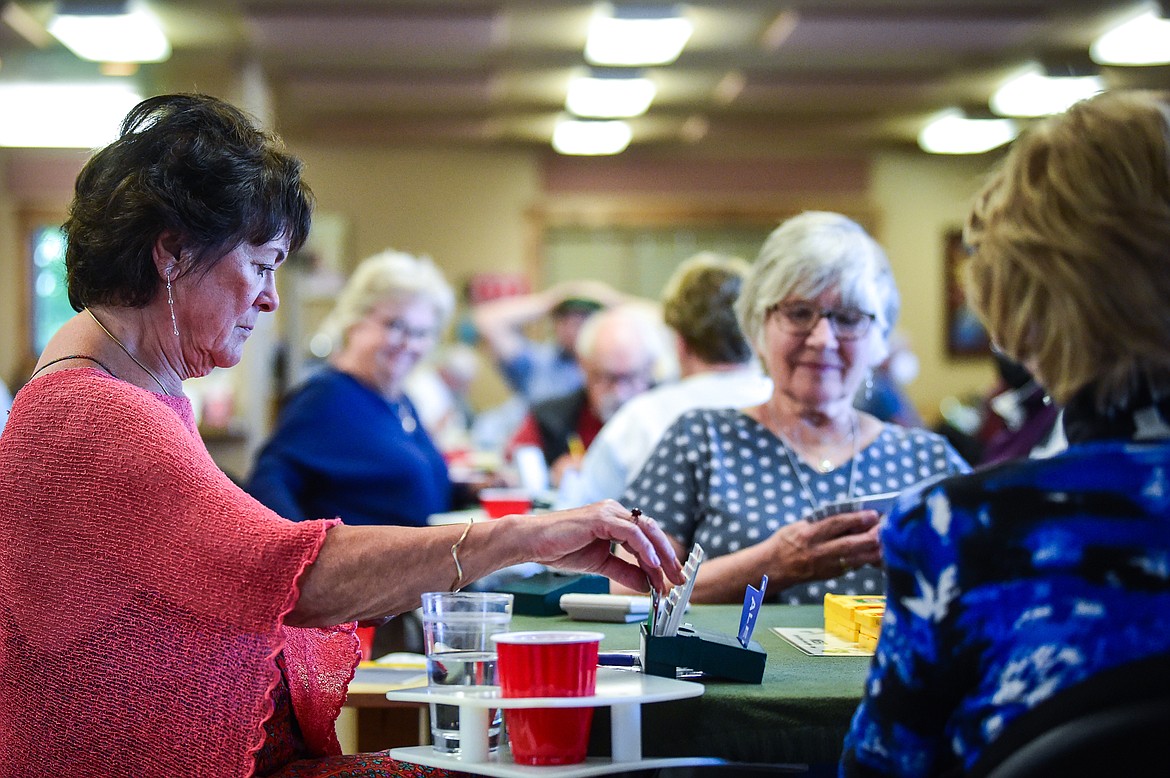 From left, Tanya McCully, Susie Moore and Marion Streich play a game of bridge at the Flathead Valley Bridge Center in Kalispell on Friday, Sept. 15. (Casey Kreider/Daily Inter Lake)
Previous
Next
by
KATE HESTON
Daily Inter Lake
|
September 17, 2023 12:00 AM
For Linda Peterson, playing bridge is much more than just a card game — it's about the camaraderie between players.
"It's a really good game for people to use their brains and get out and see people," Peterson said.
More than 200 card players are expected to gather to enjoy the card game this week during the Glacier Regional bridge tournament, which begins Monday at the Hilton Garden Inn. This is the first time in over 10 years that Kalispell has hosted a regional tournament.
Peterson, who is the partnership chair of the regional bridge tournament, is also a member of the Flathead Valley Bridge Center, where she and other members play up to four times per week.
Members of the nonprofit bridge center are hosting six days of bridge playing and socializing for players from the northwest United States, Canada and some from Europe.
It is a big event, said tournament chair Jim Swab, drawing people from all over the Northwest. This year it was Kalispell's turn to host the tournament for the first time since 2012.
"One advantage of having the tournament in Kalispell is that it's a wonderful town with a lot of good restaurants, museums and outdoor recreational activities that the participants can engage in in addition to playing bridge," Swab said.
Bridge enthusiasts are setting up 70 tables, expecting anywhere from 200 to 300 people in attendance from out of town alone.
Bridge can be traced back to 16th century England when prototype forms of the game were played under other names such as triumph, trump, ruff, slam and more. The name bridge stuck around starting in the middle of the 17th century, according to the English Bridge Union which promotes and organizes the game in England. The game has since adapted and grown.
No one individual can be credited with inventing the game in its entirety, but in 1925 Harold S. Vanderbilt perfected a new form of the game that included the element of vulnerability and a scoring table, according to the English Bridge Union. He succeeded and his game of contract bridge became the staple version.
The game of bridge is played by competing pairs where each player gets 13 cards. Partners are not allowed to communicate about their cards and attempt to score points by defeating the opposing team.
Bridge is considered one of the world's most popular card games.
There's a misconception that bridge is hard to learn, Peterson said, who encourages anyone, regardless of age or experience level to give it a try. After a few lessons and some practice, she quickly fell in love with the community behind bridge and the game itself.
Playing bridge is a great way to challenge yourself while learning and having fun, said Fran Ollendive, who has been playing bridge for over 50 years.
"If you like to play cards, there is not a better game in the world than bridge," Ollendike said.
At the upcoming regional tournament, there will be three games a day, each lasting over three hours, all while spending time with, and competing with, people from across the world.
"We just have a really nice time," Peterson said.
The Flathead Valley Bridge Center, located at 22 Village Loop Road in Kalispell, offers bridge games for all levels, including group classes, lessons and is currently developing youth programs. There are over 100 active members and the club is part of the American Contract Bridge League.
For more information, contact the bridge center at 406-260-6832.
The regional event is from Sep. 18-24 at the Hilton Garden Inn at 1940 U.S. 93 South. The event is open to anyone and all playing fees are $14.
Reporter Kate Heston can be reached at kheston@dailyinterlake.com or 758-4459.
Recent Headlines
---