Business owner, volunteer and coach, Lynn Foster never stops pedaling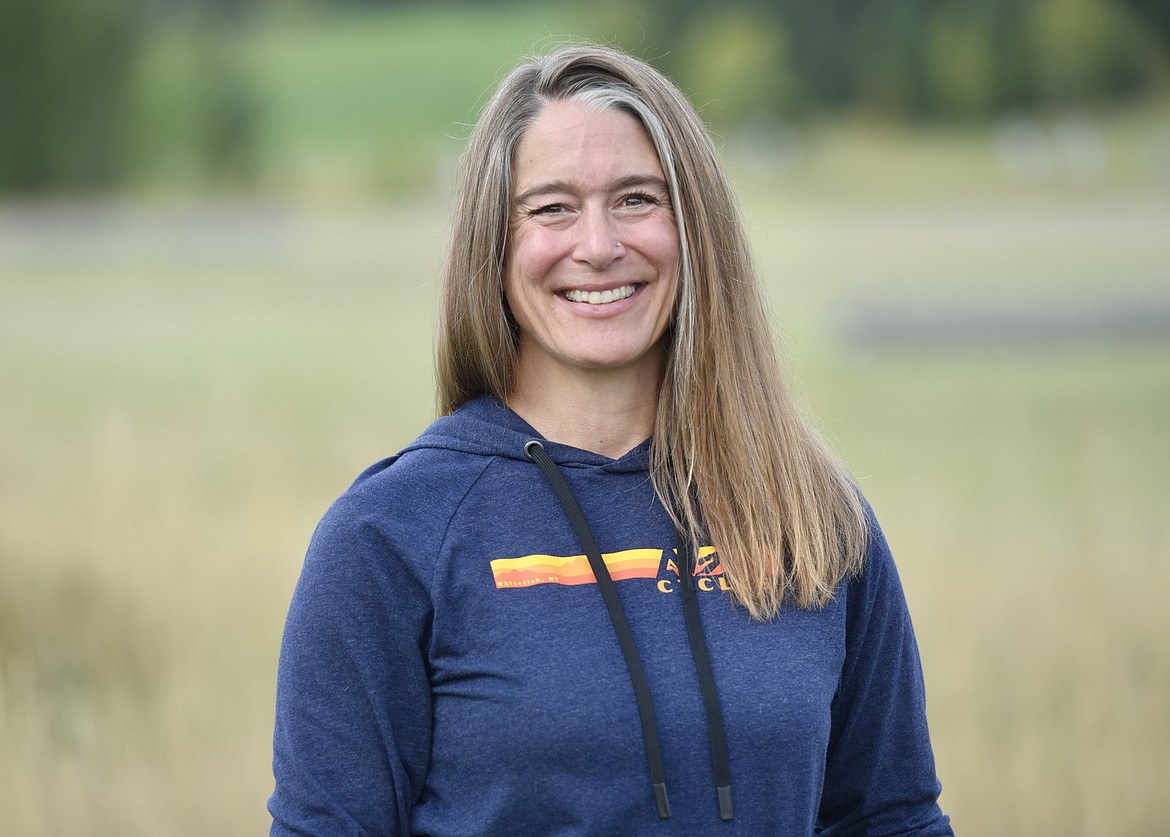 Lynn Foster is the chair of the nonprofit Foy's to Blacktail Trails which works to grow and maintain the Foy's to Blacktail trail system. She joined the group's board in 2019. (Heidi Desch/Daily Inter Lake)
by
DERRICK PERKINS
Daily Inter Lake
|
September 18, 2023 12:00 AM
When Lynn Foster decided to give cycling — and then mountain biking — a spin about a decade ago, the local community of enthusiasts welcomed her with open arms.
"I didn't go into mountain biking thinking I would fall in love with it," she said. "I just loved the family you build around it."
They encouraged her when she tried her hand at racing and she recalled her first mechanic patiently walking her through repair work. These days, Foster is returning the favor, leading women's mountain biking clinics, coaching for the youth Flathead Valley Composite NICA Mountain Bike Team, working with DREAM Adaptive Recreation's programs and serving as chair of the Foy's to Blacktail Trails board when she's not at A7 Cycles, the soon-to-be expanding bicycle service and repair shop she co-owns with Travis Coleman.
"It's a struggle in the summer," she said, laughing at her packed schedule.
One of her favorite rides, accessible from Herron Park, remains the Foy's to Blacktail Trail. It's "spectacular for mountain bikers," Foster said.
"On [the trail] you're not bored if you're an experienced biker but you can do it as a beginner," said Foster, who typically hops on a Yeti SB130 Lunch Ride, but is in the market for a new gravel rig and looking at getting into a fast cross country bike. "It has a little bit of everything."
The eponymous nonprofit played a major role in creating and maintaining that trail and others in the Herron Park area, though Foster is quick to note the yearslong effort took involvement from many stakeholders and property owners. She joined the group's board in 2019. Back when the campaign to create, improve and expand the trail system began, she was just a frequent user.
"I moved here 27 years ago and bought a house right off the bat and had my horse and got lost out here before it even had trails," she said.
Getting involved in the nonprofit struck her as fitting.
"I was using the trails and it seemed like an awfully good way to give back," Foster said last week, sitting on a picnic bench near the entrance to Herron Park after giving her 6-month-old Rhodesian ridgeback Denali a bit of exercise. "Watching the trail get built was inspiring, to say the least."
Though a weekday morning, the parking lot was full. Trail runners slipped by dog owners near the entrance while mountain bikers rolled their rides onto the rolling, grassy expanse greeting recreationalists.
"It seems to be getting more and more popular," Foster said, glancing around.
AN IDAHO native, Foster moved to the Flathead Valley in the mid-90s after graduating from the University of Montana, where she studied organizational communication and business. She took a job with Outfitters Supply in Columbia Falls soon after arriving. She worked there for about 25 years, handling sales, marketing and general manager duties while raising her daughter (now a student at the University of Montana) with her husband.
But in 2020, she and Travis Coleman, a nearly lifelong bicycle mechanic with stints at startups and in the corporate world, launched A7 Cycles together. The duo planned to open a full shop before the Covid-19 pandemic threw the world into flux. Bicycles were suddenly hard to come by; parts were just as tough, Foster recalled.
The pair knew there was an ever growing demand for repair and service work in the valley.
"So we started on the service needs — you can't buy that on the internet," Foster said.
It resulted in a temporary career switch for Foster, who went from sales and marketing to bicycle repair. Though she underwent the necessary training, Foster was "very lucky to have Travis check my work and go through the learning process."
"The repair work came out of necessity," Foster said. "Bike mechanics are tough to come by."
Times are changing, though. The pair are planning to move into a 3,000-square-foot space in Columbia Falls that will serve both as a service center and retail outlet. That means Foster can ease back into the marketing, sales and management side of things.
"We're hoping to open the doors there in a month or so," she said. "We'll move the service and repair over there immediately and then start filling it with the fun stuff."
Foster looks forward to filling what she describes as an unmet need in Columbia Falls as well as expanding the cycling community using the shop as a hub. Increasingly more people are getting into cycling and local organizations have galvanized that growing interest by opening up ever more trails for riding, she said.
"The fun stuff I was doing, those were the people I was around and those were the people I wanted to build a community with," Foster said. "We're uniquely positioned to help out and grow the community around the shop."
News Editor Derrick Perkins can be reached at 758-4430 or dperkins@dailyinterlake.com.
Recent Headlines
---