Chase through Columbia Falls ends in armed confrontation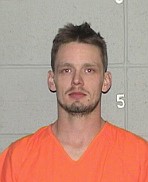 Charles Delaney Warren. (Photo courtesy the Flathead County Sheriff's Office)
A 29-year-old is behind bars after an apparent road rage incident in Columbia Falls over the weekend that allegedly nearly ended in gunfire.
Charles Delaney Warren faces one count of felony criminal endangerment and a misdemeanor charge of driving under the influence, third offense, in Flathead County District Court following his Sept. 16 arrest near Railroad Street. He is expected to appear before Judge Dan Wilson on Oct. 5 for his arraignment.
Columbia Falls Police officers arrived on the scene about 9:33 p.m. to find a gray sport utility vehicle stuck on the curb of Railroad Street and a tan pickup truck parked directly in front of it, according to court documents. Warren, who was standing by the driver's side door of the gray SUV, allegedly initially ignored orders to show his hands and drop to the ground, instead tossing an item into his tan pickup before complying.
One of the victims, the passenger of the gray SUV, told officers that he and the driver were heading down Railroad Street when the driver of the tan pickup — identified in court documents as Warren — began tailgating them. Warren passed them, coming close enough that the victim thought the two vehicles would collide, court documents said.
After swerving around ahead of them for a while, Warren pulled into a turnout, court documents said. Letting the SUV pass by, Warren allegedly pulled back out and resumed tailing them. Warren passed the pair a second time, again coming nearly close enough to strike the SUV, the victims told authorities.
This time the driver of the gray SUV made a U-turn and attempted to shake Warren off of their tail, court documents said. The passenger allegedly told authorities he fired one round from a shotgun during the chase.
Warren stayed on the SUV's tail, eventually cutting the vehicle off on Railroad Street, court documents said. The SUV's driver attempted to reverse, but became stuck on the curb.
After stopping the pickup a few feet from the stranded SUV, Warren allegedly got out armed with a black 10 mm pistol. Approaching the other vehicle, Warren racked the slide, resulting in a jam, according to court documents. He was racking it a second and third time when officers arrived, court documents said.
Investigators believe the object officers saw Warren toss into his pickup as they arrived was the handgun, according to court documents. Speaking with him afterward, officers noted the odor of alcohol on Warren, who also sported bloodshot eyes and slurred speech, court documents said.

A subsequent breath sample returned with a breath alcohol concentration of .156, court documents said. Officers found two previous driving under the influence or driving under the influence per se convictions dating to 2017 on Warren's record, according to court documents.
If convicted of the most serious offense, criminal endangerment, Warren faces up to 10 years in Montana State Prison and a $50,000 fine.
News Editor Derrick Perkins can be reached at 758-4430 or dperkins@dailyinterlake.com.
Recent Headlines
---