Sam Engellant plays big for deep Wolfpack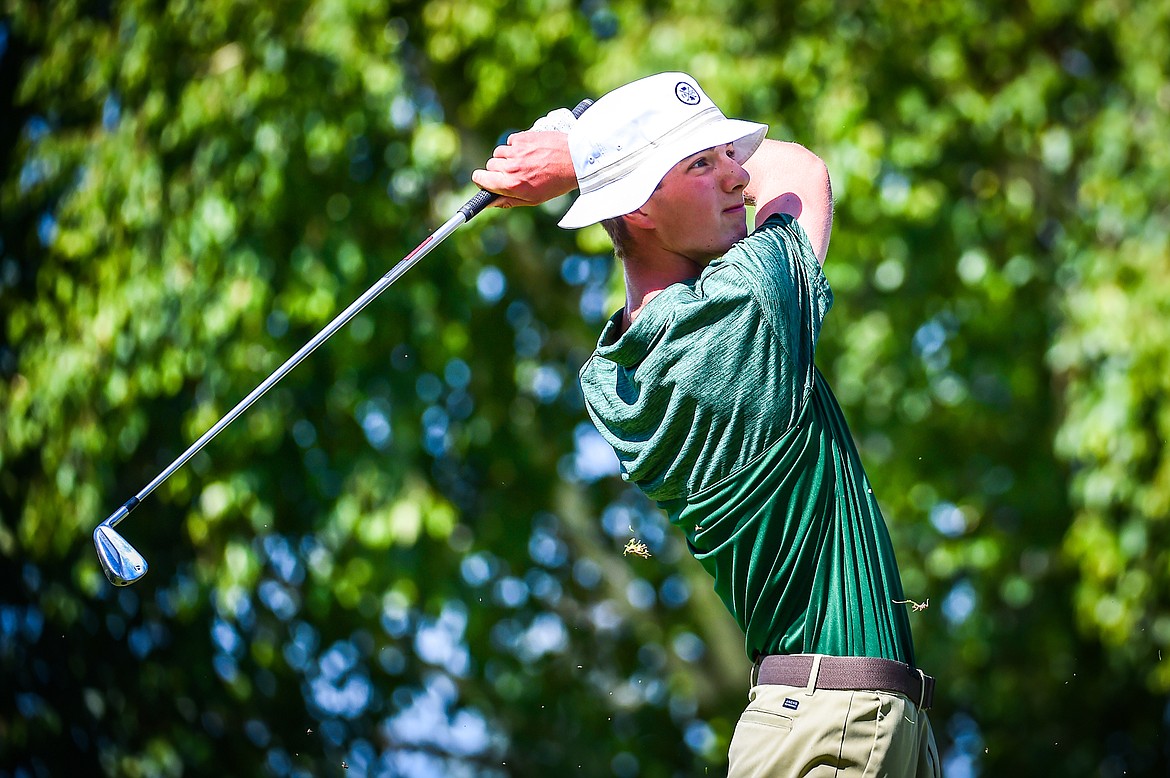 Glacier's Sam Engellant watches his tee shot on the first hole at Village Greens Golf Course on Tuesday, Aug. 29. (Casey Kreider/Daily Inter Lake)
Heading into the Western AA Divisional golf tournament Wednesday and Thursday at Bill Roberts Golf Course, the Glacier Wolfpack boys are cruising.
Cruising, as in winning the team title in all six events they've played. Dominant, as in having four players combine to shoot 4-under par on the second day of the Helena Invitational, which concluded Sept. 8 on that same Bill Roberts course.
Sam Engellant, Tanyon Murray, Torren Murray and Trevor Cunningham were throwing darts that day, and Jonah Wynne — he has battled Wes Weber for the fifth spot — wasn't far behind.
It's a talented Power 5.
"I feel like any week I could be beaten by everyone else," Engellant said of his teammates. "Just this last week at the Kalispell Invite I went to 75 the first day — which is not a bad score for high school golf, and at Northern Pines. And I was tied for worst on the team."
Engellant did shoot a bounce-back 71 on the second day at Buffalo Hill, and when this junior gets to graduation, he'll certainly be the Student Most Likely to Birdie. He's already done it a ton. The aforementioned Helena Invitational? Engellant closed with a 66 that included a 31 on the back nine. A few days before that, at the Whitefish Triangular, he shot a 68 that included a seven-birdie 30 on the back.
"Sometimes the putter just gets hot," he said. "(Whitefish) is a great course. It's a tough course. You have to be in the right spot."
Two more things stand out about Engellant and his golf game. One, he's only been playing for 7-8 years. Two, he stands 6-foot-6.
Not as tall as his 6-11 dad Darin, who played center on some great Grizzly basketball teams, but unusual on the links.
"With the height, golf is not the easiest sport," he said. "The further you get away from the ball, the harder it gets."
Custom-made clubs help, and so does location. Engellant remembers moving from one side of his street to the other and suddenly, he was living between Nos. 7 and 8 on the Champ Side of Buffalo Hill.
"Trey is the one who introduced me to it," said Sam, the youngest of three boys to Darin and Melissa (Drew, the oldest, played basketball at Glacier). "We taught ourselves at first. Then we had lessons, of course. But we literally moved across the street. We'd just hop out at night, and play a couple holes."
The Wolfpack, second at the State AA meet a year ago, lost ace Tyler Avery to graduation but obviously had talent coming back. Yet Engellant wasn't among the five Glacier took to State last season — his brother Trey, then a senior, was and tied for 26th.
This year the youngest Engellant has finished second, second, first, second and fifth (tie) in his team's stroke-play tournaments. He was second in Great Falls via a "scorecard playoff," and his runner-up finish in Helena saw him close his second round bogey-bogey — and still shoot that 66.
He then watched Helena Capital freshman John Gilbert run in a long eagle putt to win by one.
"Pretty heartbreaking," Engellant said. "But it's kind of nice to see the local guy win. We were thinking, 'two-putt to tie.' And of course he just drains it. Pretty deep putt, too.
"I ended up pretty poorly. I don't really feel like it was pressure, or that I felt nervous. I just played poorly."
And that's golf.
"Right when you're feeling confident in the game, and know where the ball's going, it all changes on you," he said.
After Helena comes the State AA meet at Lake Hills Golf Course in Billings Sept. 28-29. The young Wolfpack — no seniors are on the team, and Kalispell Invite medalist Cunningham is a sophomore — hope to keep the streak going.
Either way it has been an amazing run.
"I've played with Wes Weber for four or five years and I remember the days when we both were just barely breaking 100," Engellant said. "Just to see all of us finding that success and growth is really fun, and the energy on the team is really high.
"It's been fun."
Recent Headlines
---