State ban on medical treatments for transgender minors has first day in court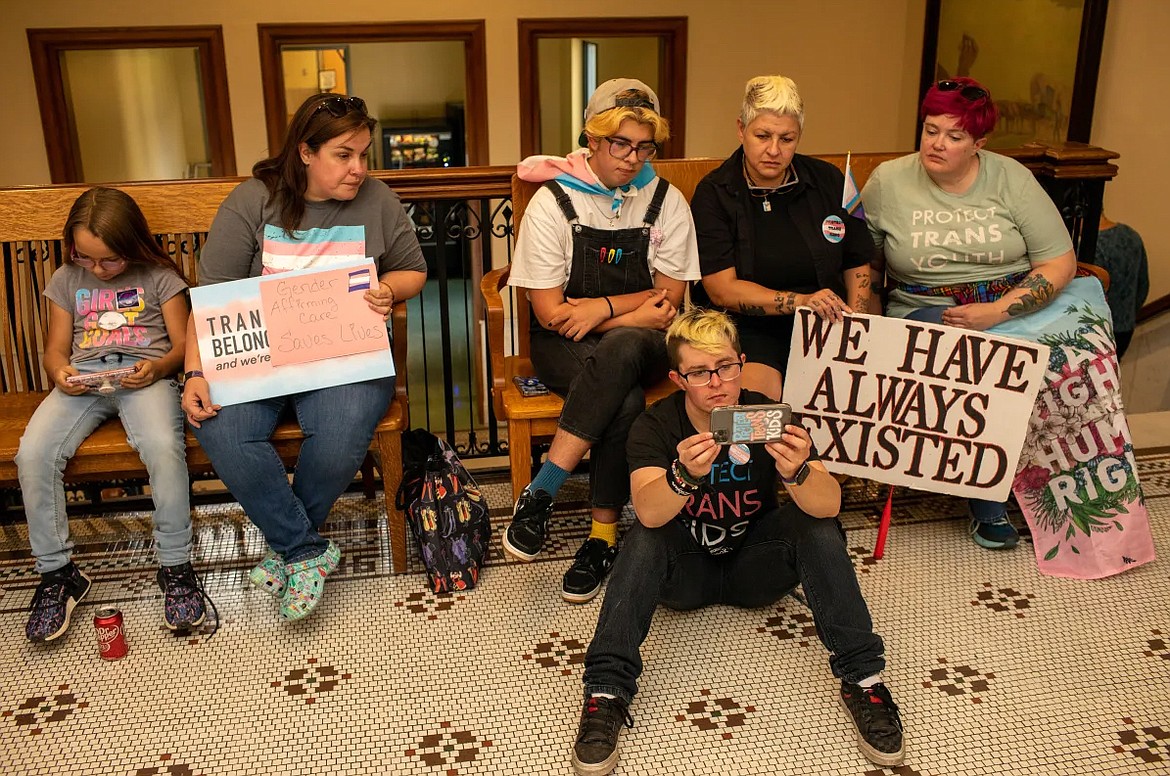 A group of plaintiff supporters watch a court hearing during Van Garderen et al v. State of Montana over Zoom at the Missoula County Courthouse on Monday, Sept. 18, 2023. (John Stember/MTFP)
In a full Missoula courtroom on Monday, attorneys for plaintiffs and the state of Montana traded arguments about whether a ban on certain medical treatments for transgender minors should be allowed to take effect Oct. 1 while a challenge to the law's constitutionality proceeds.
Senate Bill 99, passed this year by Montana's Republican-majority Legislature and signed into law by Gov. Greg Gianforte, prohibits Montana medical professionals from prescribing treatments and providing surgeries to youth for the purpose of treating gender dysphoria, a condition of distress that some transgender people experience arising from an incongruence between a person's gender identity and the sex they were assigned at birth.
Unlike some lawsuits over bans on medical care for transgender minors in other parts of the country, the Montana case is proceeding in state court rather than the federal system, prompting evaluation under the Montana Constitution.
The plaintiffs challenging Montana's law include two transgender minors, Scarlet Van Garderen and Phoebe Cross, their parents, medical providers and two additional anonymous parents on behalf of their 15-year-old transgender daughter. Defendants are the state of Montana, Gov. Gianforte, the Department of Public Health and Human Services, head of the state health department Charlie Brereton, Attorney General Austin Knudsen, the Board of Medical Examiners and the Board of Nursing.
The Monday arguments over whether District Court Judge Jason Marks should issue a preliminary injunction in the case was the first time the two sides had appeared in court. But over 2,000 pages of legal filings and feuding expert testimony have been piling up for weeks since the case was initially filed in May.
Attorneys for the plaintiffs have argued that SB 99 bans "a wide range of medical treatments and procedures when, and only when, they are provided to transgender youth for the purpose of treating gender dysphoria." In doing so, attorneys say, the law violates myriad constitutional rights, including equal protection under the law, privacy, dignity, parental autonomy and the right to seek health.
In the court hearing, the plaintiff's attorneys also sought to impress on the judge the real-life impacts the law would have on minors, including 16-year-old Cross, who has been taking testosterone after experiencing anxiety, depression and suicide attempts related to his gender dysphoria even prior to puberty, according to court filings. Cross was seated directly behind attorneys in the courtroom on Monday with his father.
"Gender-affirming care has been his lifeline and has allowed him to see a future for himself. It quite literally saved his life," Malita Picasso, attorney for the American Civil Liberties Union, said in a reference to Cross Monday. "These are the people whose pain the defendants cruelly referred to as the 'unhappiness of adolescence.' We're talking about people who are sitting in this room today desperate to know whether their lives are going to be upended and whether they're going to be able to continue to receive this care that has changed their lives."
Defendants, represented by attorneys from Knudsen's office, presented a wholly opposite view of gender, sex and reasonable medical interventions for minors diagnosed with gender dysphoria. Assistant Attorney General Michael Russell said that, by passing SB 99, the state was exercising its power to protect youth from medical decisions that may have lasting consequences even if a person were to stop identifying as transgender. Russell framed treating gender dysphoria with medicine or social affirmation, as opposed to the so-called "watchful-waiting" approach, as equivalent to putting minors on a one-way track toward a lifetime of medical treatments.
"The child will be trapped in an identity that was formed and frozen in childhood. Before puberty, before sexual awakening, and before he or she has had the opportunity to go through adolescence and put that difficult time of social, physical and emotional change behind," Russell said. "A child cannot possibly consent to that."
Picasso refuted that medical interventions such as puberty blockers or cross-sex hormones would be provided to a minor before puberty, referencing the established medical guidelines that support social affirmation for young children and adolescents. In her arguments, the attorney also panned the idea of "watchful waiting" as a method accepted by U.S. medical organizations and transgender health experts, or one that worked for the Van Garderens, one of the plaintiff families.
"The state's purported alternative to gender-affirming care, which is the watch-and-wait theory that's supported by absolutely no evidence whatsoever, failed to treat their daughter's gender dysphoria," Picasso said.
At other points in Monday's hearing, Russell argued that the issue of care for transgender minors was an evolving and not yet well-known part of medicine. He urged Marks to remove the judiciary from decision-making in this case and let stand the policy crafted by Montana's state representatives. Opponents, Russell said, could instead take issue with SB 99 in the political arena.
"They may lobby their legislators, they may continue advocating their position in public to generate the political will necessary to enact their preferred policies in law," Russell said. "Ultimately, this is a policy dispute."
Both sides rested after an hour and a half of arguments. Marks told the courtroom that he would issue a ruling on the request to temporarily block the law by next week but frankly acknowledged that the ruling would be appealed by the unsuccessful party. Looking ahead, Marks asked lawyers to begin deliberating over a date for a trial, which he said they could finalize after receiving a response from the Montana Supreme Court on the preliminary injunction matter.
"I'm also going to be, as part of that, requiring that you give me an idea about how many days will be needed for trial so I can get a schedule since I think the trial is likely to be lengthy," Marks said. "And I'm very interested in the expert evidence in this case. It's been some fascinating reading."
Supporters of the plaintiffs remained gathered outside the courtroom for the duration of the hearing, holding signs and wearing the pink, blue and white colors of transgender pride. Leaving the room, Cross said he felt both hopeful and anxious about the judge's decision — if the law were to take effect, Cross has said in written testimony that his family has considered leaving the state, despite his close group of friends and involvement in speech and debate.
"I'm anxious to see how it goes. It's going to have a large impact on my life," Cross said. "I am hoping it goes our way and I won't have to make big plans. I'm looking at other possibilities, but they're all frankly horrible."
Reporter Mara Silvers can be reached at msilvers@montanafreepress.org. The Montana Free Press is a Helena-based nonprofit newsroom. To read the article as originally published, click here.
Recent Headlines
---