Flathead wrestler Anders Thompson commits to Wyoming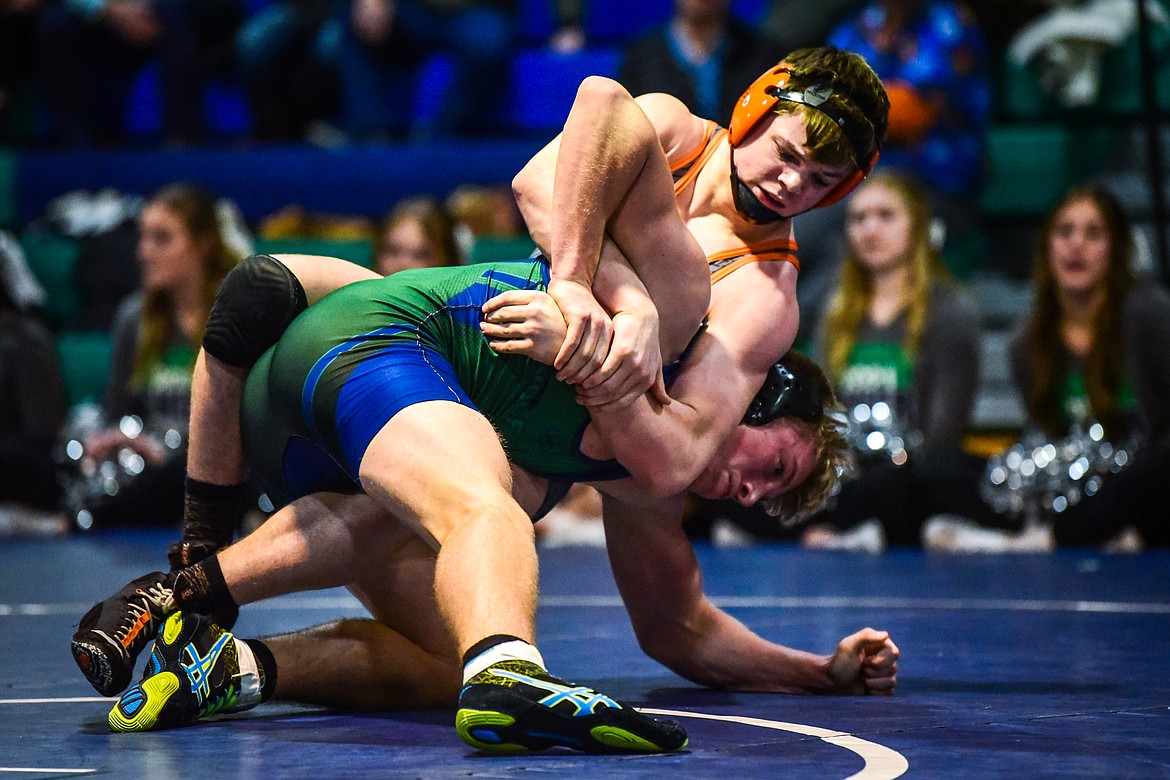 Flathead's Anders Thompson wrestles Glacier's Aiden Krause at 182 pounds at Glacier High School on Thursday, Jan. 13. (Casey Kreider/Daily Inter Lake)
A big spring and summer has taken a little pressure off this coming winter for Anders Thompson, who committed to wrestle for the University of Wyoming Sunday evening.
The senior at Flathead High School had five potential landing spots from across the U.S. recruiting him, and ended up visiting three.
"I visited George Mason last fall and then I did really well at the Junior Nationals this summer and was ranked 16th in the nation for MatScouts based on that showing," Thompson said. "That's how the recruiting process started."
He had scheduled visits with Arkansas-Little Rock, Wyoming, Chattanooga and North Dakota State, but only made it as far as Little Rock and Laramie.
"I had two more visits scheduled that I canceled after I went to Wyoming," he said. "All the other visits I scheduled they just seemed like a different world than where I'm from, if that makes sense.
"The culture there was super strong and it seemed like a family I wanted to be a part of."
There will be a familiar face in Laramie: Paolo Salminen, the Billings Skyview wrestler who defeated Thompson in the finals both in 2022 and '23 at 170 pounds, is a freshman at 174 for the Cowboys.
"We're both on Team Montana," Thompson noted, referring to the dual team that represents the state in USAW summer competitions. "It's not like we have bad blood. I'm looking forward to being on the team with him."
Another Montanan on the roster is Cooper Birdwell, the Lewistown product who went unbeaten in the Class A ranks. He is a graduate transfer from Oklahoma State, and wrestles at 133/141.
Thompson holds a 4.0 grade-point average and is student body president at Flathead, and said he found his passion for wrestling beyond high school recently.
He credits Columbia Falls native and Flathead assistant Shonn Roberts for helping him, and fellow Flathead assistant AJ Burnham has helped Thompson pack 25 pounds of muscle — he ranked at MatScouts and Flo Wrestling (No. 18) at 195 pounds.
"Obviously, cutting weight is kind of part of the state and guys buy into a routine," Burnham said Tuesday. "When Coach Thompson brought up how Anders had maybe outgrown the weight class, and it was time to put some weight on, we were given the task.
"I was constantly on him for protein intact and diet. … I've never seen a kid so bought in. Every single thing that was asked of him, he did – cardio, training with Shonn Roberts and Vince Turk, all of it."

Now he's university-bound.
"To be honest my freshman and sophomore years I didn't really want to wrestle in college," Thompson said. "Shonn Roberts became a coach here and with him I gained my own passion for the sport. He put me through all sorts of stuff I didn't like, but. … I just realized I want to keep doing this."
Thompson's twin Gunnar, fourth at 170 in February, is also considering wrestling in college, though he spent part of the summer going through Army basic training — he joined the National Guard.
"He has two visits scheduled this week," his brother said.
Anders Thompson plans to study business and marketing at Wyoming.
As for Burnham, he's loving how this plan came together.
"Going into Fargo (Junior Nationals) bigger and stronger helped," he said. "I think he's still wrestling at that 170 speed. I think in Fargo he caught some of those bigger guys by surprise with his speed.
"He's walking around like 198 pounds right now, The time comes along for every athlete where the hormones hit and everything clicks. He's got a heck of a gene pool, but he also just completely bought in."
Recent Headlines
---